Malaysia Is BMW's Fifth Largest Market For Plug-in Hybrids
所有资讯 Fifty five percent of all BMW models sold in 2017 were contributed by plug-in hybrid models, thanks to generous government incentive for locally-assembled energy efficient vehicles (EEVs).
Speaking at yesterday evening's launch of the all-new 530e, the first plug-in hybrid 5 Series, Mr. Raymond Tan, Head of Sales, BMW Malaysia revealed that Malaysia is the world's fifth largest market for plug-in hybrid BMW models.
"In terms of model mix share, we are also proud to share that 55% of our total models for the country are hybrid vehicles with eDrive technology. This also makes us the fifth in the world in terms of deliveries of plug-in hybrid vehicles," said Tan.
Last year, BMW Group Malaysia set an all-time high sales record for the BMW X5 xDrive40e by delivering over 3,000 units in 2017 alone, making Malaysia the second largest market after America for the model. Malaysia is also the third largest market for the BMW 330e and the BMW 740Le xDrive with over 2,400 units and over 450 units delivered respectively in 2017. In also interesting to note that across the world, only Japan and USA, both of which are much larger automotive markets, buy more of BMW's flagship 740Le xDrive than Malaysia.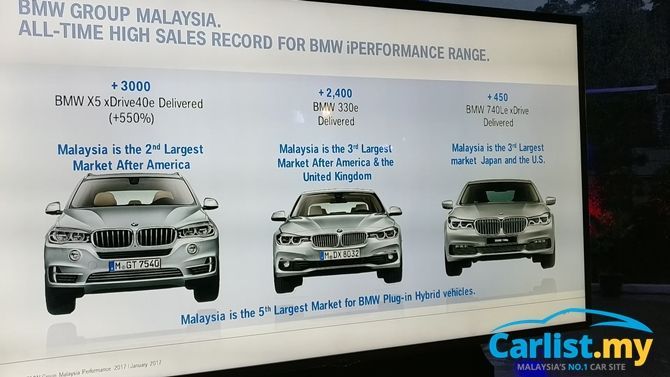 With four plug-in hybid models in its portfolio; 330e, 530e, 740Le xDrive, X5 xDrive40e, all assembled at BMW's assembly facility in Kulim, BMW Group Malaysia now has the largest offering of plug-in hybrid models in the country. Other rivals in the segment include the Mercedes-Benz C350e and E350e, and the Volvo XC90 T8 and XC60 T8.
Also present at the event was Dr. Mohd Azman Zainul Abidin, Group Chief Executive Officer of Malaysian Green Technology Corporation.
"A key strategy for Malaysia to move towards low carbon mobility is through industry wide cooperation and partnerships. We at GreenTech Malaysia are pleased to have BMW Group Malaysia as a partner from the very beginning, to ensure necessary and sufficient infrastructure is provided to support the new innovation of Plug-in Hybrid technology and eventually Electro Mobility. This will increase consumer confidence in the viability of electric vehicles and plug-in-hybrid vehicles. It is reassuring to see BMW Group Malaysia taking initiative to further propel Malaysia into a futuristic future of electromobility, while we continue to grow the number of ChargEV charging stations across the country," said Dr. Azman.
---
---
---
留言