Review: 2016 Honda Civic driven in Thailand – The Final Piece of the Puzzle
评论 If we look at Honda's product portfolio in Malaysia at the moment, almost every model is a best-seller in its respective segment. Somehow, the brand has managed to get things right and tickle Malaysian car buyers in the right spots with its offerings and Voila! – the CR-V, HR-V, City, Accord, and Jazz became favourites, elevating Honda to the number-one spot among non-national manufacturers.
However, in the midst of all the success, one model was in despair, finding it impossible to keep up with its siblings in the stable – the ninth-generation Civic. While its predecessor - the Civic FD was a huge success, Honda took a few steps back with the FD and basically shot itself in the foot. Truth be told, it wasn't even half as desirable as the FD.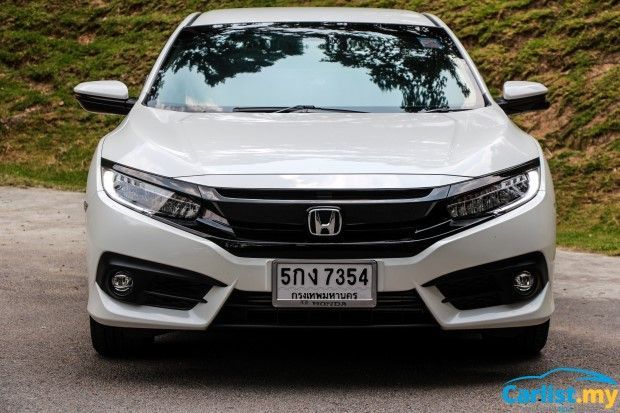 Fortunately, Honda got the message. And its response is what you're looking at now – the 10th incarnation of the Civic, which looks so good that it had most of us screaming 'shut up and take my money' the moment we saw it.
But wait, there's more…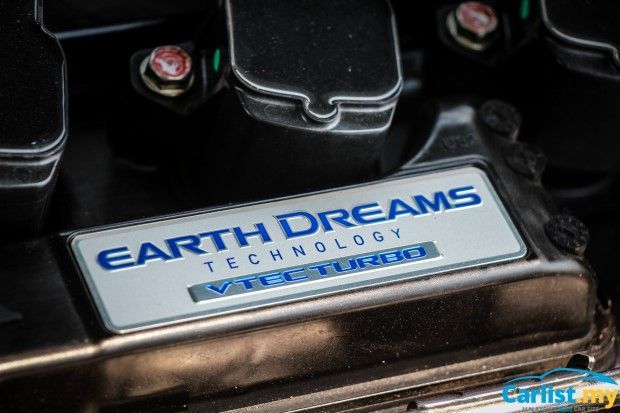 For the first time, the Honda Civic gets a 1.5-litre turbocharged VTEC engine. Yes, you read that right. Since Mazda has its SkyActiv technology to brag about and Ford has the EcoBoost, it was about time Honda brought something just as impressive to the table. So, there you have it – a Honda Civic with VTEC Turbo; every Honda fan's wet-dream-come-true.
But is it really as impressive as it sounds?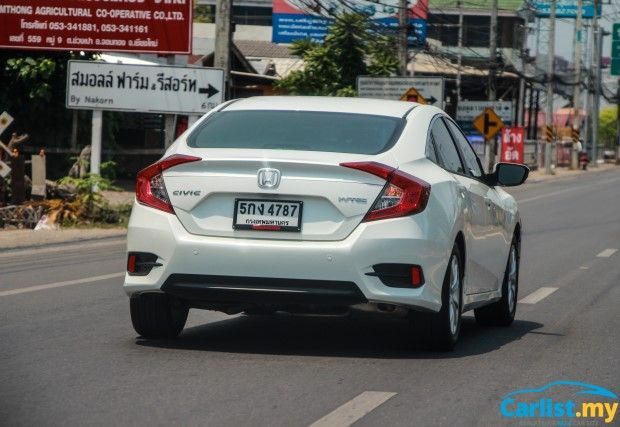 To find out, we got our hands on the Thai-spec models in Chiangmai earlier this month.
Specifications
Civic 1.8 i-VTEC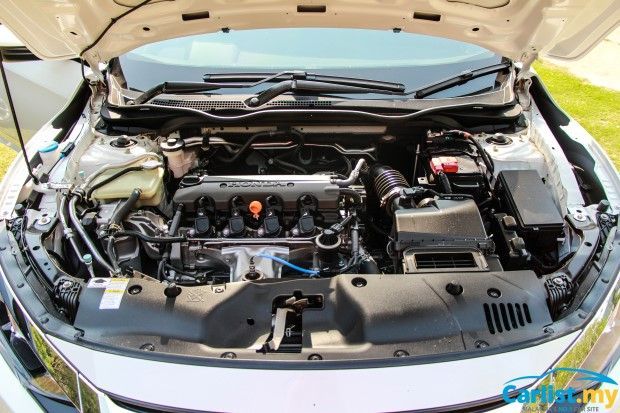 Engine: 1.8-litre i-VTEC naturally aspirated, 4-cylinder petrol
Max power: 141PS at 6,500rpm
Max torque: 174Nm at 4,200rpm
Transmission: Continuously Variable Transmission (CVT)
Price: TBA
Civic 1.5 VTEC Turbo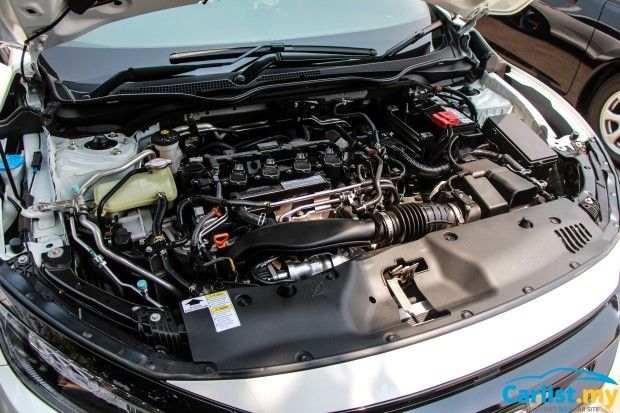 Engine: 1.5L VTEC Turbocharged
Max power: 173PS at 5,500rpm
Max torque: 220Nm from 1,700rpm to 5,500rpm
Transmission: Continuously Variable Transmission (CVT)
Price: TBA
Overview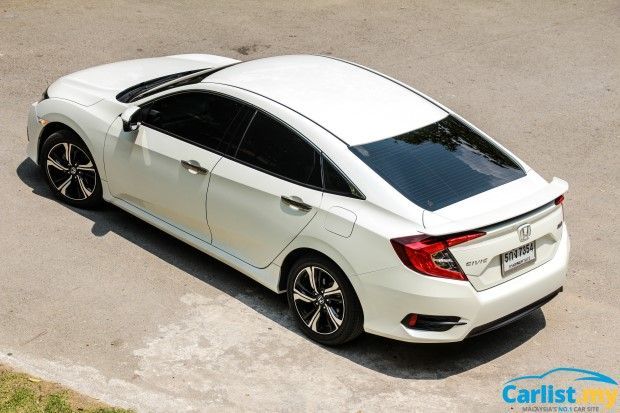 All set to be unveiled within the next few weeks, the 10th generation Honda Civic has been completely redesigned from ground up, featuring a fresh new design that finally outshines the FD.
Besides a new platform and new design, the big news with the car is that it gets a new 1.5-litre VTEC Turbo engine which delivers 173PS and 220Nm of torque. Additionally, this is the first engine where Honda Malaysia adopted the direct injection system. Mated to the 1.5L powertrain is a Continuously Variable Transmission (CVT).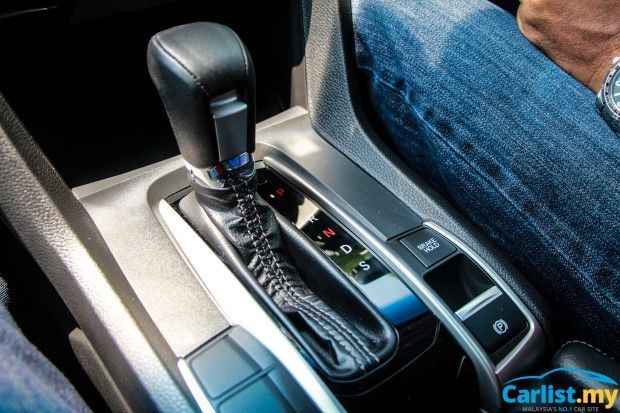 On the other hand, there is the 1.8L i-VTEC engine which is being carried over from the ninth generation Civic - producing 141PS and 174Nm of torque and paired with CVT transmission.
So, similar to the Thai market, the Civic will most likely be offered in two engine options – 1.8 i-VTEC and the 1.5 VTEC Turbo, both paired with a CVT.
Expected to be priced somewhere between the HR-V (tops at RM122,200) and the Accord (starting at RM141,000), the new Civic's closest rivals will be the new Ford Focus, the Toyota Corolla Altis, the Mazda3, and also the VW Jetta 1.4 TSI.
Exterior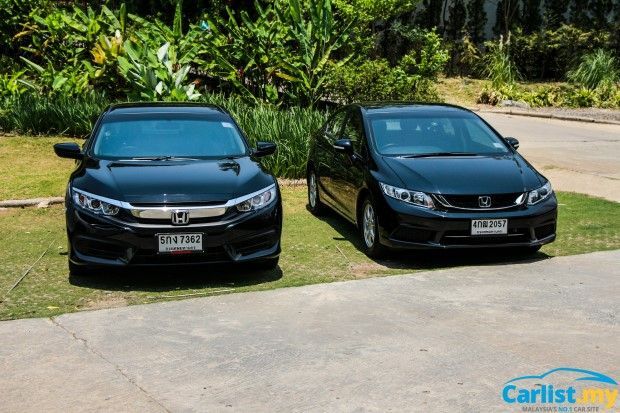 Measuring 4,630mm in length, 1,799mm in width and 1,416mm in height with a wheelbase length of 2,698mm, the new Civic is 105mm longer, 44mm wider, and 19mm lower than the outgoing model. The wheelbase length on the other hand, has increased by 30mm.
And this is how it measures against its competition:
| | | | | |
| --- | --- | --- | --- | --- |
| Model | Length (mm) | Width(mm) | Height (mm) | Wheelbase (mm) |
| Honda Civic | 4,630 | 1,799 | 1,416 | 2,698 |
| Ford Focus Sedan | 4,556 | 1,823 | 1,469 | 2,648 |
| Toyota Corolla Altis | 4,620 | 1,775 | 1,460 | 2,700 |
| Mazda3 Sedan | 4,580 | 1,795 | 1,450 | 2,700 |
| Volkswagen Jetta | 4,659 | 1,778 | 1,482 | 2,791 |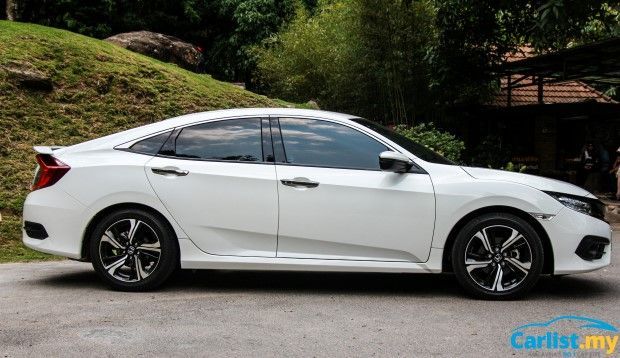 Design wise, the new Civic is arguably the best looking one yet. In fact, it would not be an exaggeration to say that would be one of the best looking Japanese cars in the market.
Unlike most of its rivals that look like either a bigger or smaller version of another model (in the name of so-called design philosophies), the 10th gen Civic looks very original. Plus, it did not remind us of any other model, and that is exactly what we love the most about its design.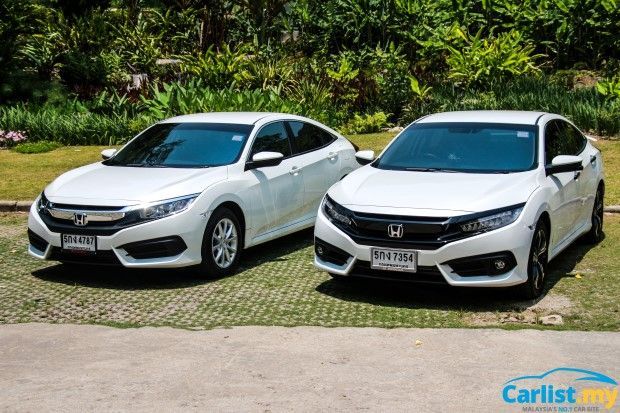 Looking at the Thai-spec models which we drove, the 1.8 variant comes with chromed front grille, 16-inch tyres, halogen headlamps, multi-spoke wheels, and no rear spoiler. The 'RS' or the VTEC Turbo came with more goodies like LED lights in front and at the rear, Daytime Running Lights, black grille, a 'floating' rear spoiler, as well as 17-inch wheels.
For our market, the specifications list have not been announced yet, but Honda Malaysia did announce that full LED headlights and LED DRLs will be offered.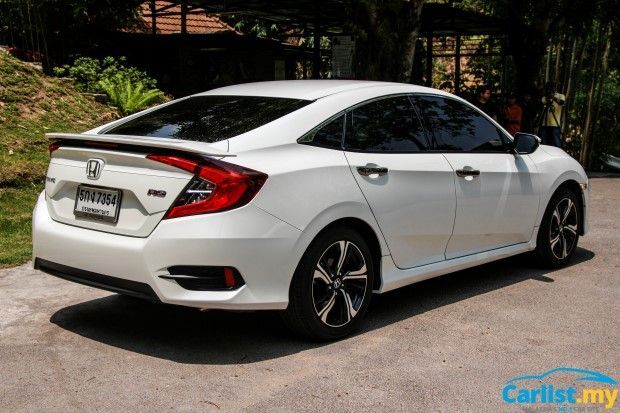 Interior
Inside, the Civic's cabin has been completely redesigned, looking similar to the one in the City and the Jazz. As flashy as the car looks on the outside, the cabin looked simpler than what we expected.
There were a few major differences between the 1.8 and the 1.5 Turbo in terms of features. For instance, the 1.8 variant came with fabric seats, analogue instrument panel with a small digital display, a more conventional centre-cluster with both touch-screen and levers to control the air-conditioning and audio system, and manually adjustable seats.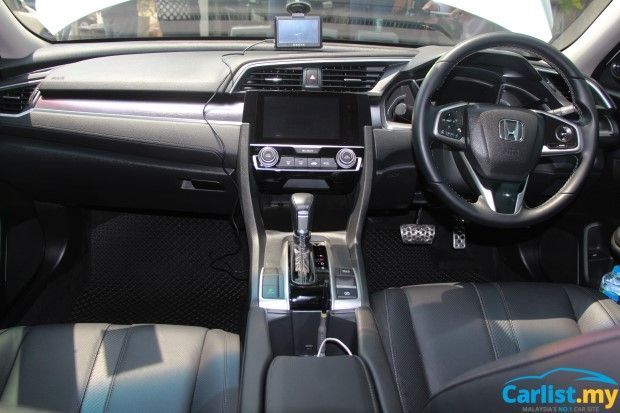 The range-topping variant in Thailand on the other hand came with fully-digital instrument panel, a digital centre-stack with touch-sensitive controls for audio and air-conditioning (similar to the high-spec City), paddle shifters, powered leather seats, two USB ports (opposed to the 1.8's one), and dual zone climate control.
Once again, we would like to remind you that these were Thai-spec cars and the list of features may vary from what will be offered in Malaysia.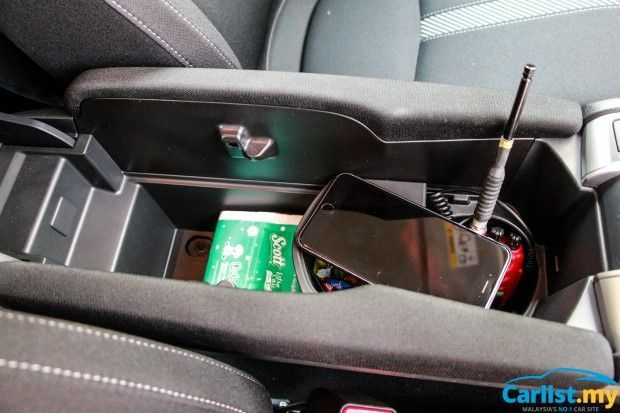 Other than that, it was a very comfortable and spacious car to be in. Visibility was top-notch, thanks to the redesigned 'slim' A-Pillar Honda is very proud of. Rear legroom has increased by 27mm from the outgoing model. So, it was very comfortable even for lanky individuals to sit through long journeys.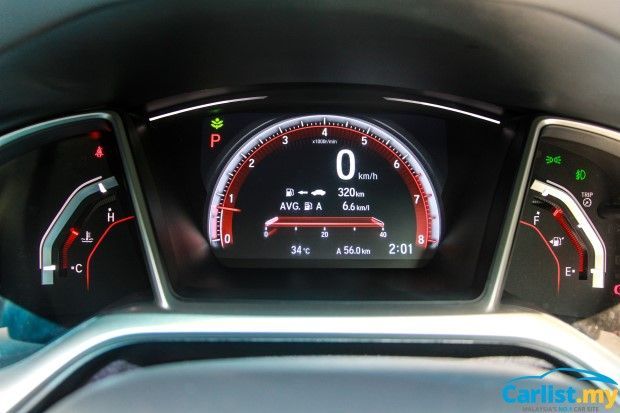 If we are to compare the new Civic's cabin with its rivals, its biggest strength is space – both for occupants and objects. The boot was huge as well. However, if we are to talk about refinement and build quality, the Civic is still inferior to the Mazda3 and the Ford Focus.
Driving impressions
The first variant which we tested was the range-topping 1.5 VTEC Turbo itself, through a route that comprised a combination of highway and twisty mountain roads in Chiangmai.
When Honda announced that the new Civic is going to be powered by a turbocharged 1.5-litre VTEC engine, Honda enthusiasts fell off their seats. In fact, some of them could still be on the floor rolling in awe.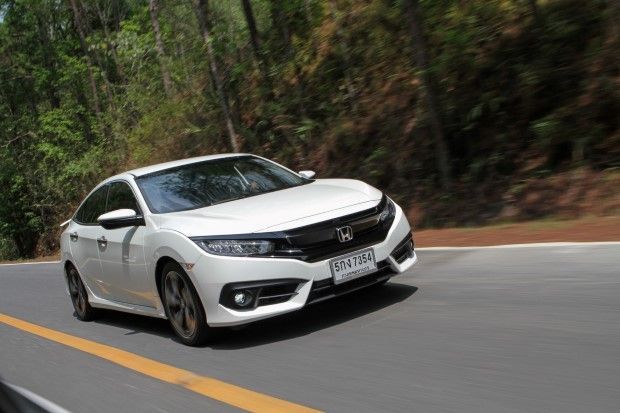 Plus, looking at how handsome the car is, many are living with the assumption that this could be the next best thing for those who cannot afford a Nissan GT-R or a Toyota 86.
"VTEC is back and it shall kick in yo!" they said.
Well, we have driven the car and let us make one thing clear – Nothing is gonna kick in yo!
There is not going to be any 'VTEC opening' or 'turbo kicking in' or anything of that sort with the new Civic. If you are expecting Integra-like handling or S2000-like performance, you will definitely be disappointed.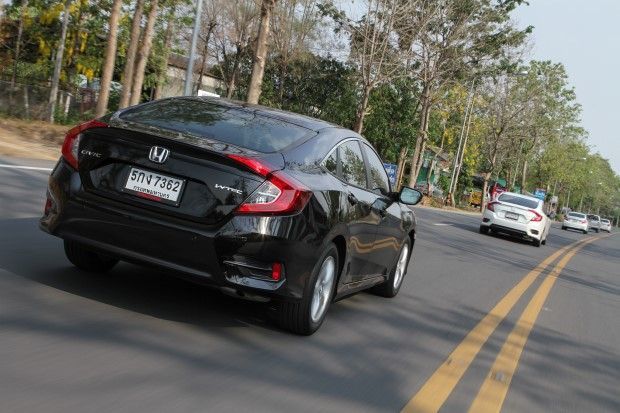 What we have here is a very refined 1.5-litre engine with a 'soft' turbo that makes the car just as capable as a naturally aspirated 2.4-litre sedan, where the power delivery is very linear and civilised. At the end of the day, it is still a comfort-oriented car for the masses, but with a dash of sportiness.
Honestly, the new Civic was anything but slow. Regardless of whether we were in town or cruising along the highway, there was adequate power at all times. However, there was a slight turbo-lag due to the nature of the CVT transmission.
When we slammed the accelerator pedal to the floor, it took about two to three seconds before the car pounced forward, unlike the new Ford Focus EcoBoost which just went for it the moment we put our right foot down.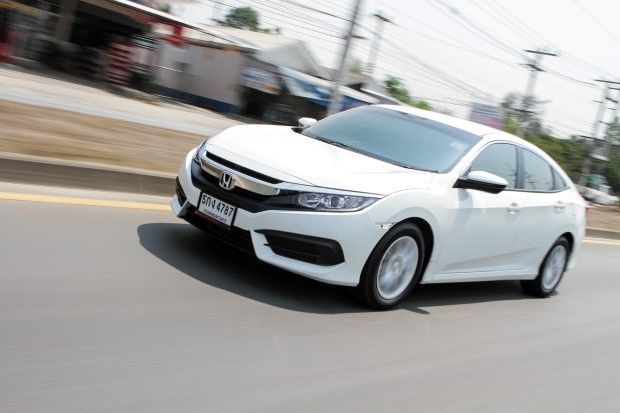 As for the 1.8-litre variant, the car is powered by a tweaked version of the 9th gen Civic's naturally aspirated R-Series engine, which pushes 141 PS and 174Nm of maximum torque. The only difference here is that it is mated to a CVT gearbox, unlike its predecessor's five-speed auto. Compared to the outgoing model, the car felt livelier at low rpm during city driving, but while picking up speed, the engine needed to be worked hard.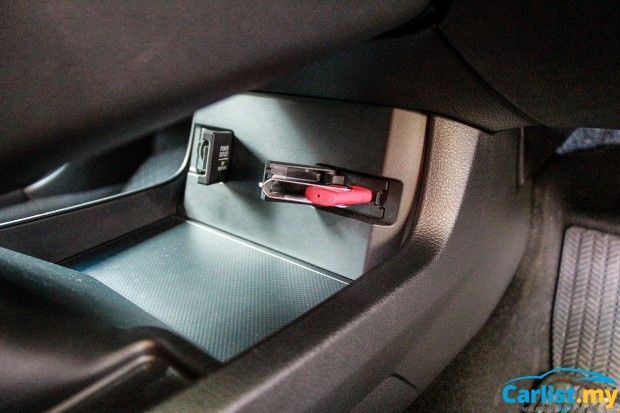 In terms of ride and handling, the new Civic's suspensions and chassis are setup more towards comfort, so there was still noticeable body-roll. But it was still a very enjoyable car to drive. The steering was well-weighted, and responded quite precisely to driver input. Noise insulation and refinement have also improved a lot from before.
Overall, if we are to describe the driving experience of the new Civic, 'comfortable' would be the right word. If we are to compare it with its rivals, it falls behind the new Focus and the Mazda3 in terms of outright driving pleasure, but as far as spaciousness, features, and comfort are concerned, the Civic is definitely up there among the best.
| | | | | |
| --- | --- | --- | --- | --- |
| Model | Engine | Max Power | Max Torque | Gearbox |
| Honda Civic VTEC Turbo | 1.5L Turbocharged | 173PS | 220 Nm | CVT |
| Mazda3 SkyActiv | 2.0L Direct Injection | 164PS | 210 Nm | 6-Speed AT |
| Ford Focus EcoBoost | 1.5L Turbocharged | 182PS | 240 Nm | 6-Speed AT |
| Toyota Corolla Altis 2.0V | 2.0L N/A | 145PS | 187 Nm | CVT |
| VW Jetta 1.4 | 1.4L Twincharged | 160PS | 240 Nm | 7-Speed DSG |
Conclusion
There is no denying the fact that the Civic is back to full-form. Just look at it! It has improved in almost every aspect imaginable. It might not be the best driving car or the most comfortable one in the segment, but it is definitely the best looking car in its class and also among the most powerful and most generous with features.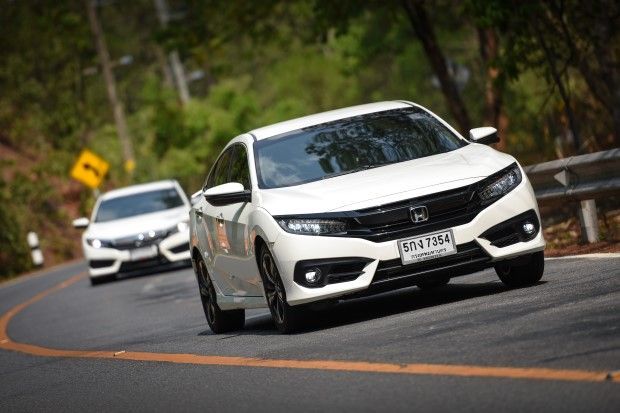 Among the equipment expected here, depending on variant, includes full LED lights with DRL, 17-inch wheels, 8-way powered seat, 6 airbags, Remote Engine Start, Electric Parking Brake, Push Start Ignition, Auto Brake Hold, and dual zone air conditioning among others.
Looking at what it has to offer, the new Civic might just be the final piece of the puzzle - Honda Malaysia's trump card to conquer the only segment that it hasn't won over.
You might also want to read the opinions of our colleagues from other publications:
Looking for a Honda? Find one now at Carlist.my
---
---
---
---
留言