Review: Audi Q5 2.0 TFSI Quattro - The CBU SUV Taking On Its CKD Rivals
评论 Audi in Malaysia has the unenviable position of being the only Completely Built Up (CBU) model among its premium competitors so how do they compete? By bringing in the right car with the right specs as is the case with the Audi Q5 2.0 TFSI Quattro.
---
On segment the Audi Q5 sits in the Compact Executive segment pitting it against the BMW X3, Volvo XC60 and Mercedes-Benz GLC. Those are the more mass competitors, besides which we also have the Lexus NX, Range Rover Evoque and Land Rover Discovery Sport. It is against the former where Audi has to make an impression if they want a bigger slice of the market.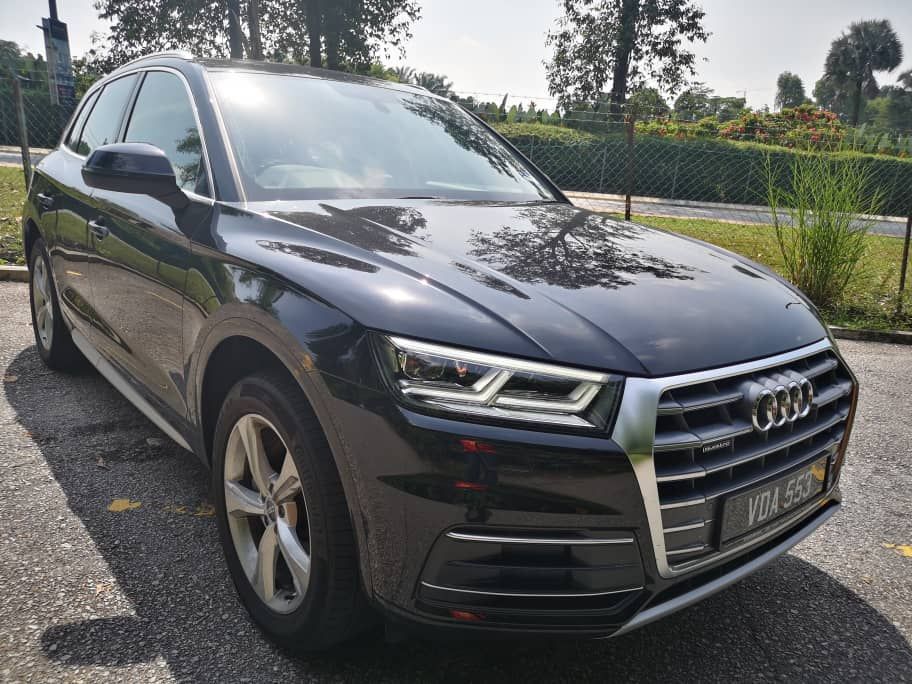 It is also however not a level playing field, all its main competitors are CKD whereas the Q5 is CBU. How can one then compare it like-for-like? Audi has to balance the price vs the specifications sheet. Its competitors get to enjoy a decreased amount of tax. Sure you could argue but is that not the benefit of having a local plant, contributing to job creation and a skilled workforce? Especially so in the case of Volvo who has had a manufacturing plant in Malaysia since the 1960's. Fair play to them.
I'm not here to argue a case for Audi but to highlight that when we do compare them against their three main competitors listed here we bear in mind that one is a CBU and the other a CKD. After all, many of you say you'd prefer a CBU but then rail and cry when it is priced accordingly. You can't have your cake and eat it (too).
And that leads us to the Audi Q5 2.0 TFSI Quattro - a thoroughly enjoyable driver's car that will make long journeys seem fast and very comfortable.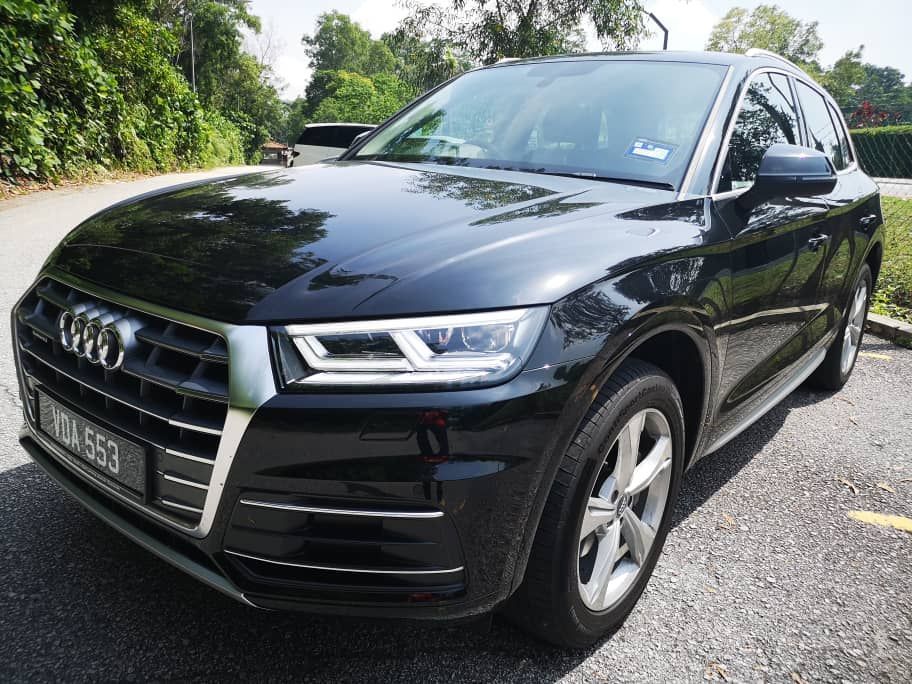 Having been made the de facto Minister of Transport in my family, I was once again summoned to make the trip to Johor and back to send my aunt back home. No one is comfortable using public transport yet so road-trip it was. Audi very graciously lent me the Q5 for the journey.
Audi Q5 2.0 TFSI Quattro Specifications:
Price: RM327,707 (OTR without insurance)
Engine: 2.0-litre turbocharged four-cylinder petrol engine
Power: 252 PS @ 5,000 - 6,000 rpm
Torque: 370 Nm @ 1,600 - 4,500 rpm
Transmission: 7-speed dual-clutch S tronic, AWD with ultra technology
Safety: 6 airbags, ABS with EBD, Electronic Stability Control, Tyre Pressure Monitoring System, ISOFIX child mounts, Hill Start Assist
Origin: Fully-imported from Mexico
First Impression: Audi Q5
She's striking and definitely looks the part of a German. Straight angular lines that give stance and presence yet with just the right amount of curves from rear to front. She is quite something to look at parked outside under the sun when the light plays off all her angles. She's the kind of car you'll park and do a double-take for. I got her in Mythos black metallic, it is the right colour for her. An understated elegance. I've also been a fan of the Audi headlight, now comes standard with LED daytime running lights.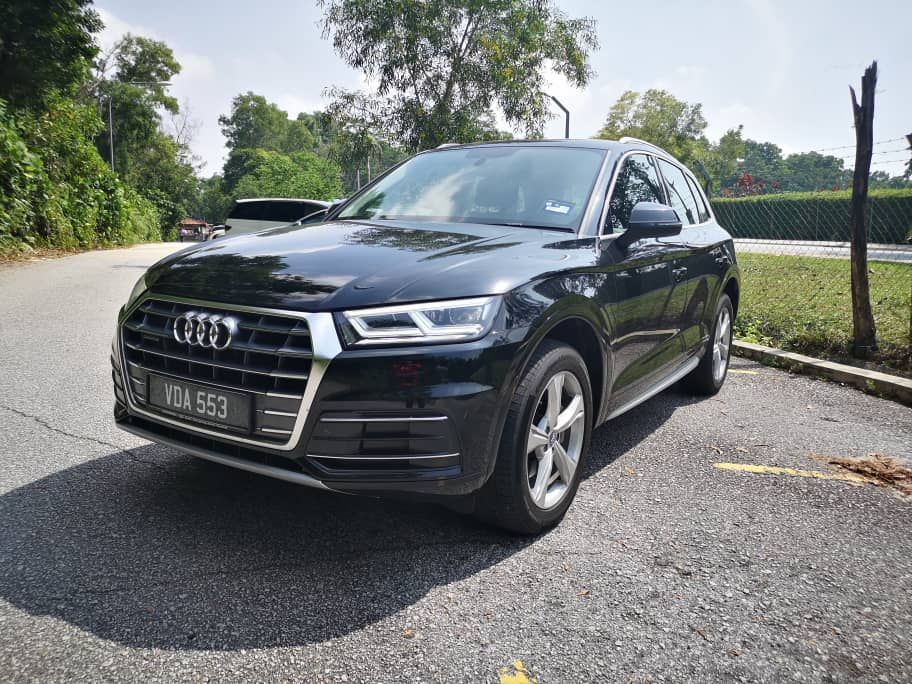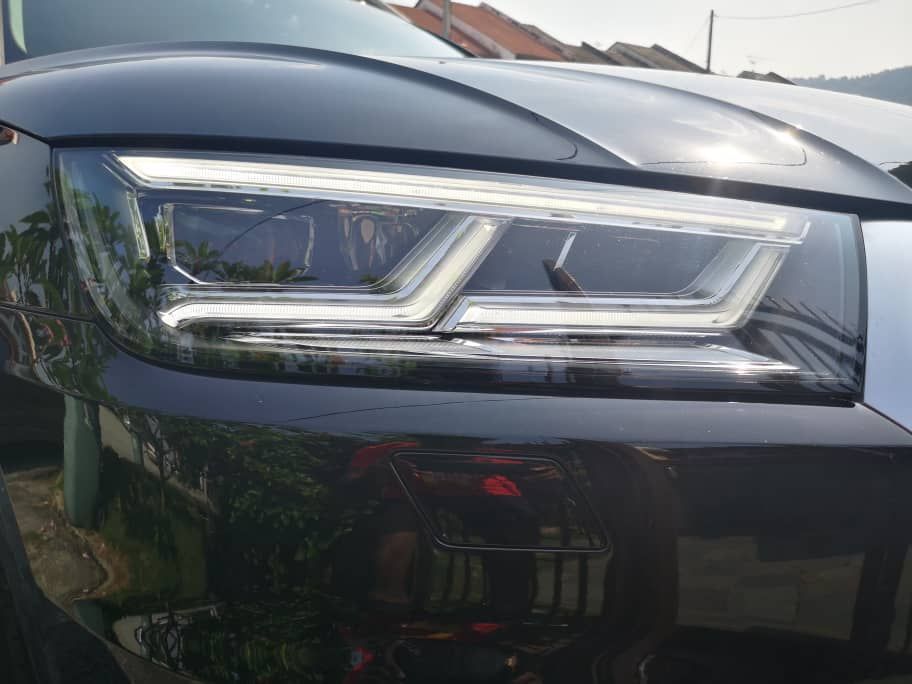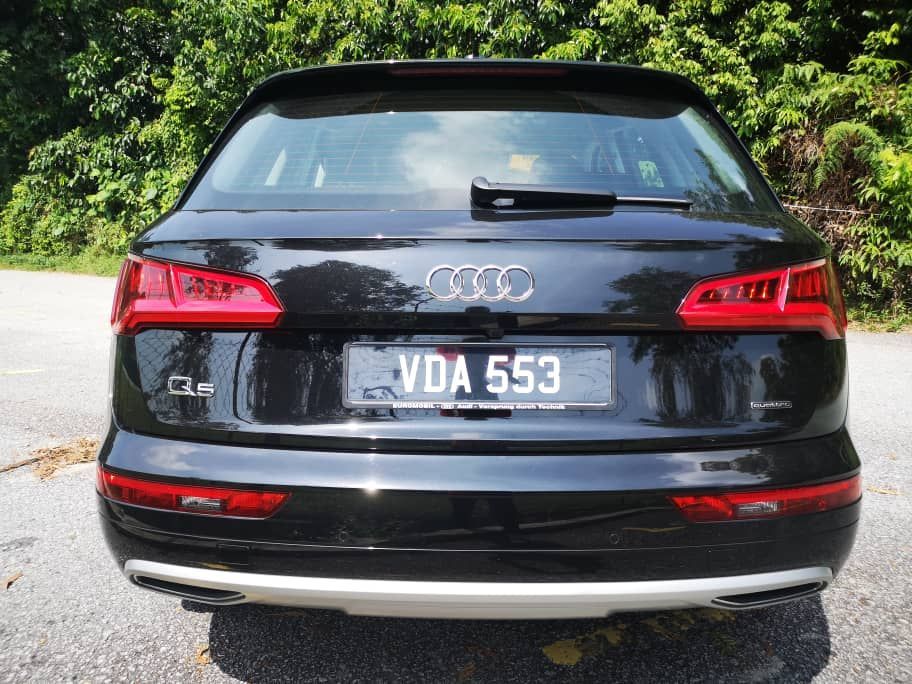 The Drive: Audi Q5
2.0-litre turbocharged four-cylinder petrol engine. 252 hp, 370 Nm of torque. Quattro all-wheel drive system. Those are the figures and specifications. How does that translate into real-world driving?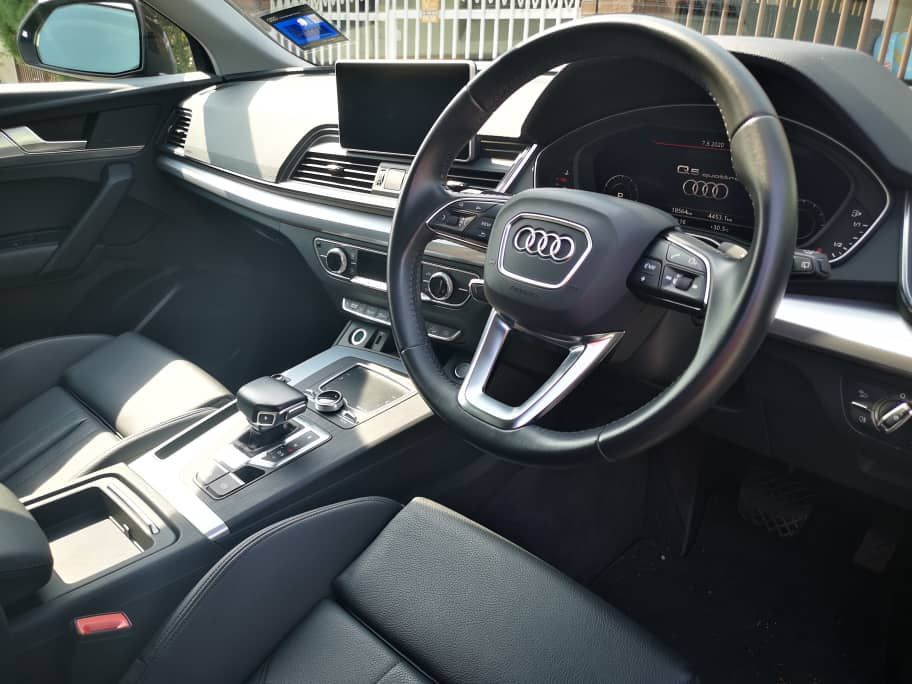 She goes off like a rocket! If you're not careful, you'll find yourself closer to 2xx km/h than 1xx km/h. The seven-speed dual-clutch S-Tronic gearbox pulls all across the rev-range. Overtaking bigger, slower, lumbering vehicles was never a problem but neither was overtaking the other kereta perangs you find hogging the fast lane. More than once she put a smile on my face.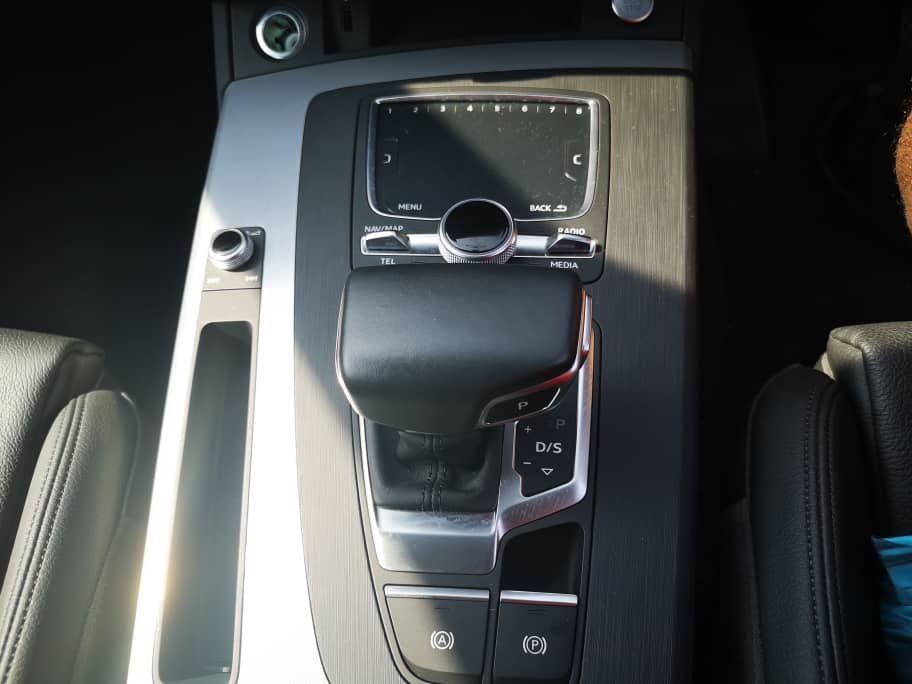 Also important to note is that due to her passive suspension with damper control and progressive steering, body roll was kept to a bare minimum, never at knots in your stomach levels regardless of the speed you were carrying. She inspired confidence and repaid your faith in her by staying true to her line. I alternated between Efficiency, Comfort and Dynamic drive modes. The latter had the 'heaviest' steering feel of the trio. It was focus on, both hands on the steering wheel and let's do this!
The Interior: Audi Q5
Plush, lush, chic, supportive - all of the adjectives and more can be used to describe the interior of the Audi Q5. The leather was soft and pliant to the touch - you may be paying a bit more than its competitors but you can see and feel where the extra money has gone. The lumbar and thigh support, in particular, deserves a mention because on long journeys having the ability to adjust this makes the journey all that much more comfortable. I'm now a little unhappy that my daily driver doesn't have it especially because I have long legs.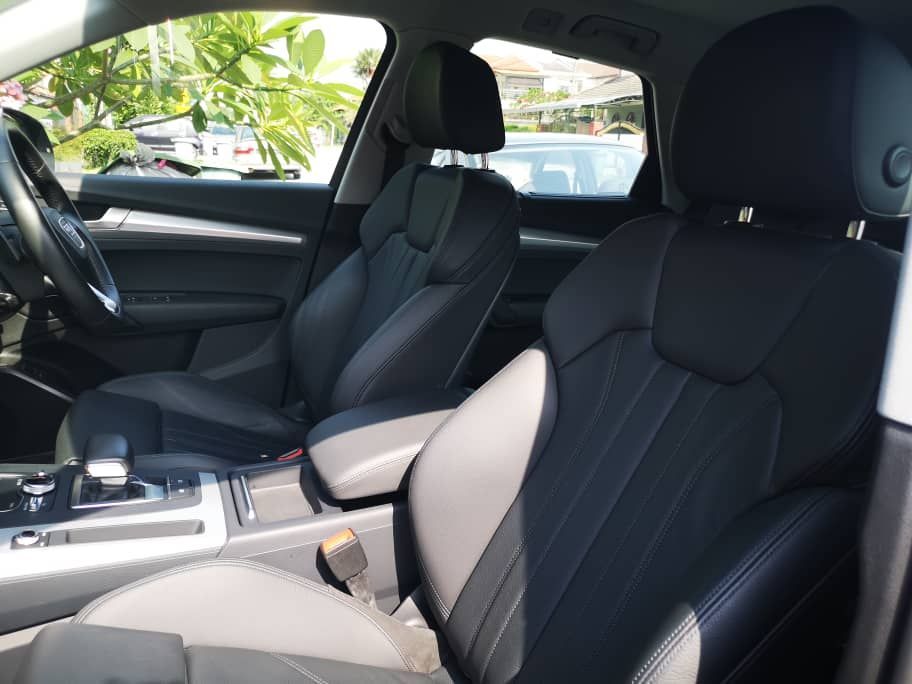 The Virtual Cockpit: Audi Q5
The Audi virtual cockpit was a feature that I was looking forward to seeing in action and boy did it deliver! The topography on the land was displayed in 3D, you got to see familiar landmarks as they are, whether high-rise buildings, lakes or forests. This helped with the navigation of course but more than that the layout on the Q5 was clean and crisp. You had all the information you required in one-view in one pane. RPM, drive mode, speedometer, time, fuel range and exterior temperature are all available at one glance. That's the brilliance of this system and one which once you get used to will want every day.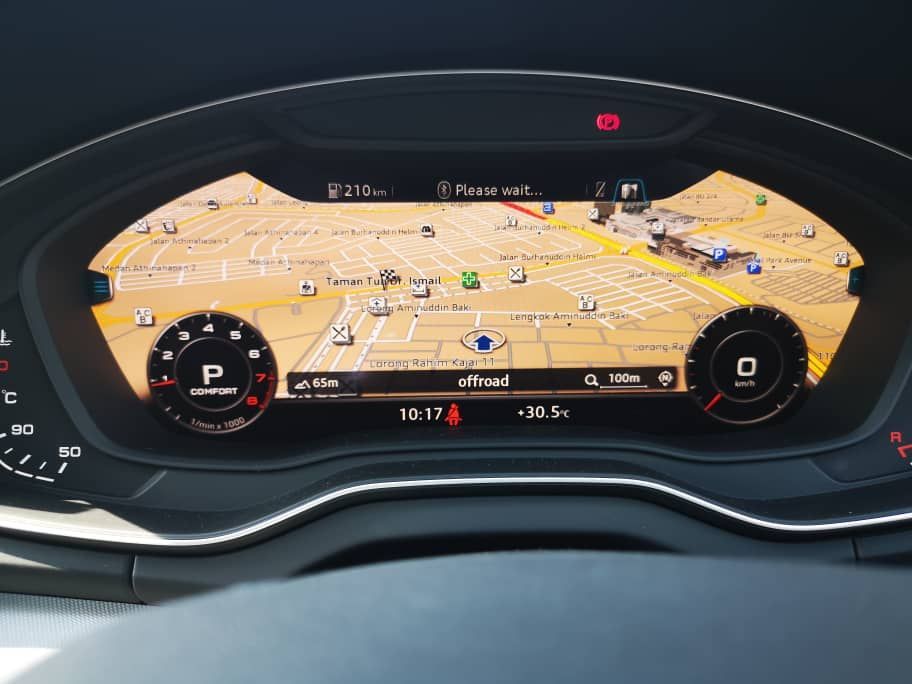 Conclusion
Priced from RM327,000 the Audi Q5 is the right amount of car for the right amount of money. It's a CBU that is specced according to what us Malaysians use/ need in a car, not want. It's smart in the sense that whatever is available in the car specifications or technology-wise will be utilized. Honestly, how many of you keep your Lane Keep Assist turned on?
In summary, bearing in mind that Audi has to keep the Q5 competitively priced yet also equip it adequately to be able to stand up to its competition, they have done well. The Audi Q5 is an all-rounder. It can be placid in the city yet carve the roads on the highway or twisties. It can carry four and luggage comfortably yet also remain planted on the tarmac for one.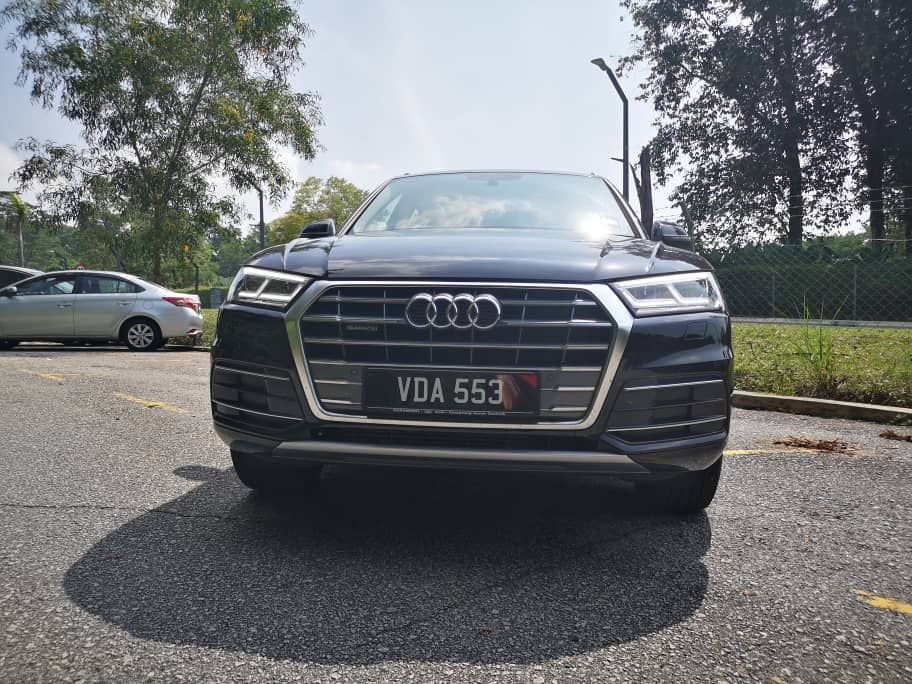 I enjoyed my time with the Q5, it's an SUV that I won't soon forget especially for the way it handles. I can't wait to get my hands on the RS5 next!
---
---
---
---
留言