Review: BMW 118i M Sport – When Balance Creates The Better Car
评论 As far as good ads go, I struggle to think of any in recent time that have been more engaging and yet clear in its message than BMW's Sleepwalking ad.
It features a young girl daydreaming about driving a BMW, cycling through a well-rehearsed routine – running her hand across the steering wheel, toggling the steering wheel controls before hitting an imaginary Start/Stop button on the dash.
It would soon appear that her moves are very much in sync with her mother when she drives her BMW. The little girl's repertoire even includes upshifting gears and showing off some fancy footwork.
If you've not already seen it, enjoy!
Note, literally eight words are spoken during the entire video and yet anyone between the ages of 5 and 55 will understand the gist of it.
One could so easily relate to that little girl and her sense of imagination, something we too had as children, before the realities of life set in as we grow older.
It's perhaps true as well, that experiences from such a young, receptive age are easily hardwired to become an enduring aspiration. How many times have you heard, "One day I want to own my very own BMW… just like my dad, my uncle or my boss."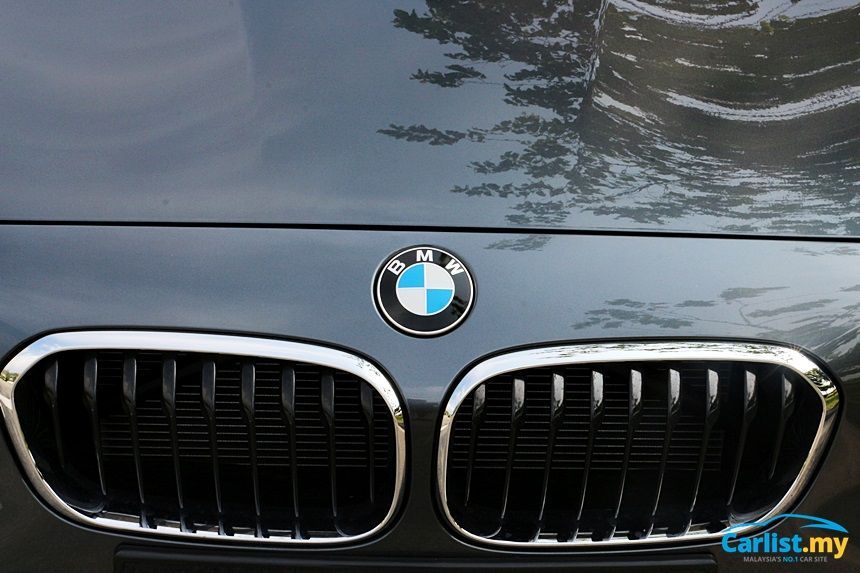 Then, this is where BMW want you to begin, and in style, if I may add – the BMW 118i M Sport.
Specifications:
Price: RM188,800 (OTR without Insurance)
Engine: 1.5-litre, longitudinally mounted, turbocharged, inline-3 cylinder
Power: 136hp @ 4,400rpm
Torque: 220Nm @ 1,250rpm
Transmission: 8-speed torque converter automatic, RWD
Safety: 6 airbags, ABS, EBD, ESC, ISOFIX, hill-start assist, lane departure warning
Origin: Locally Assembled in Kulim, Kedah.
Overview
The first generation (E87) 1-Series never quite provided that spark of excitement for a first-time owner of a BMW. It was a child of the Chris Bangle-era – too different for purists, incomprehensible for new buyers. The locally sold model wasn't specified very well, making that car altogether forgettable.
The second generation (F20) 1 Series was first launched locally in 2013, that didn't set the world on fire either. But, by and large it looked better, was more spacious and was offered here in 116i (136hp), 118i (170hp) and 125i (218hp) variants respectively.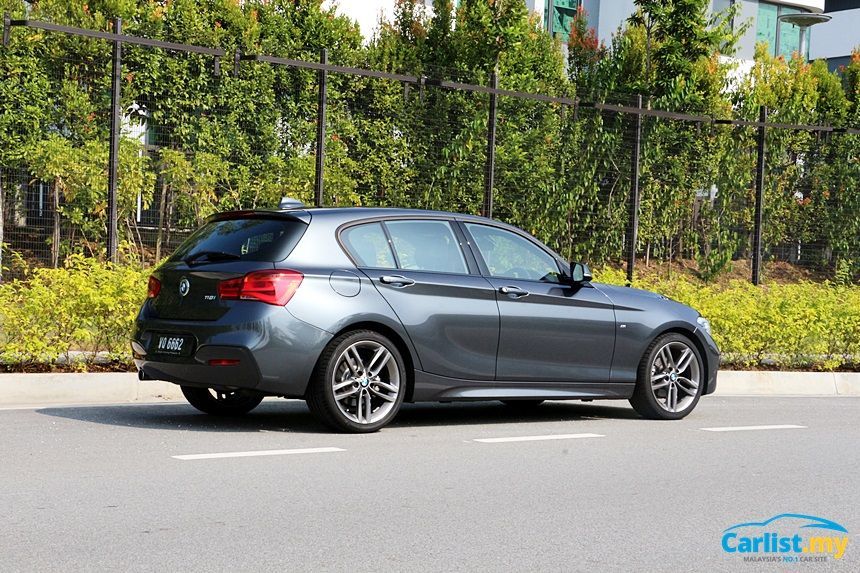 The facelifted (F20 LCI) model was introduced to the Malaysia market in June 2015, albeit only in (177bhp) 120i form until the 118i variant joined the pack at the tail end of 2015. Currently, the 118i is the only 1 Series variant on offer, offered in the either Sport or M Sport variants.
Priced as it is, there is only two major question the 1 Series needs to answer – is it better than the Mercedes-Benz A-Class, the A180 Urban Line to be exact, and two, beyond its looks, does it deliver on that trademark BMW driving experience.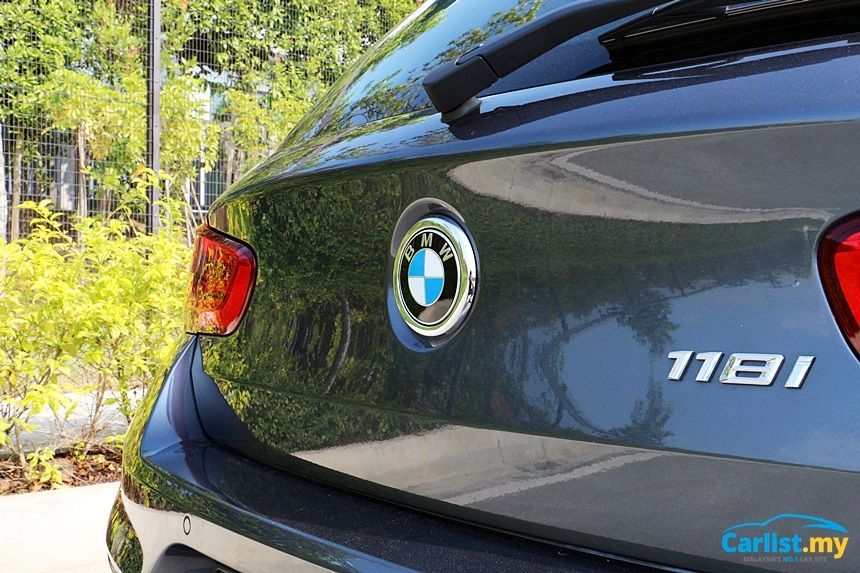 Given rivals Mercedes' runaway success locally with its compact car line-up, in particular, the AMG Line variants, introducing the zing-ed up 118i M Sport which crucially brings more "street cred" to the fore is a no brainer. Another thing the 118i M Sport has going for it is CKD production, which pips it on price to the A180.
Truth be told, if you weren't too particular about driving a German hatchback, one could take a gander at the recently launched Volvo V40 T5, which is cheaper and more spacious than both the Merc and BMW and wait for this… has 245hp. Talk about value.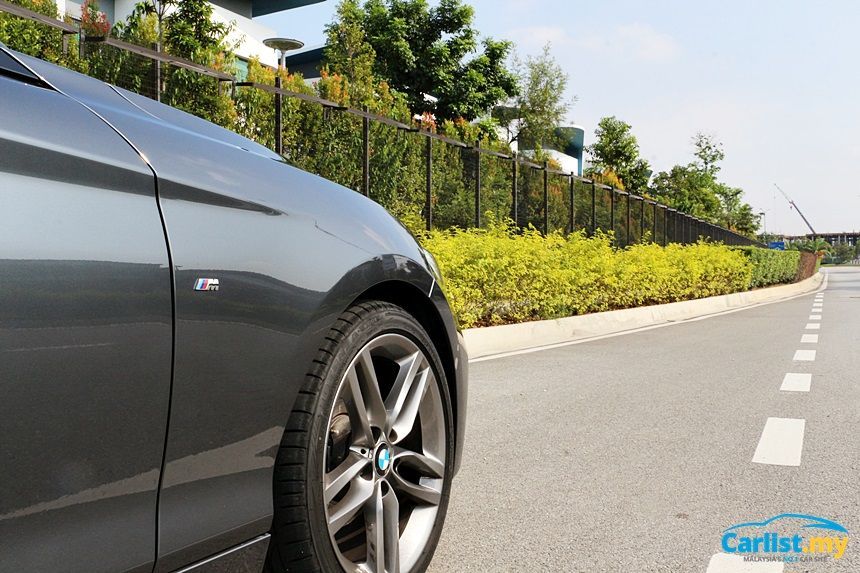 The M Sport badge brings with it a bolder looking exterior – compliments of the M Sport aerodynamic package which adds a new front and rear bumper and side skirts. The package also adds the lovely M Sport three spoke steering wheel sports seats and door sill plates with the M sport emblems.
But, the changes go beyond the aesthetics – the M Sport model also adds LED headlamps and foglamps, Park Distance Control functions (front and rear) for aided parking, Comfort Access' keyless entry and the 6.5-inch Navigation System Business which offers added ConnectedDrive functionality as well.
Driving Experience
It doesn't take very long to get to grips with 118i M Sport, the seating position is immaculate as you might imagine, made even better by the tactility of the M Sport steering wheel. The front seats are supportive and offers adequate lateral support through the corners even when driving enthusiastically.
The M Sport suspension lowers the 118i by 10mm on slightly stiffer springs. The setup gives the car lovely precision and ease of control at turn-in and mid-corner, without sacrificing too much ride comfort on the bumpier back roads.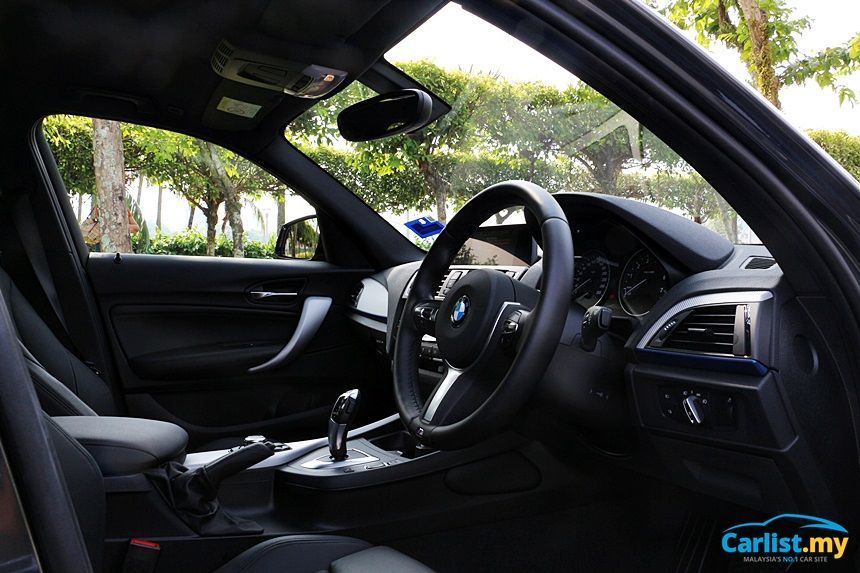 The larger 18-inch M Sport alloys are wrapped in 225- and 245-series tyres front and rear respectively, and this gives the 118i M Sport a superb amount of mechanical grip.
The 118i's variable effort (Servotronic) steering is quick and adept when driving in the city, and rather weighty once at highway speeds perhaps by too much for some, but the steering output remains predictable at all times.
If there's one area I applaud the 118i over its rivals, in particular, the Mercedes-Benz A-Class – it's how the 118i manages to dissipate bumps and undulations of the road. While some might argue, that certain drivers would appreciate a rigid, more connected ride – where the 118i M Sport aces it is the careful balance of poise and performance in almost every aspect, which in turn inspires far more confidence when driving.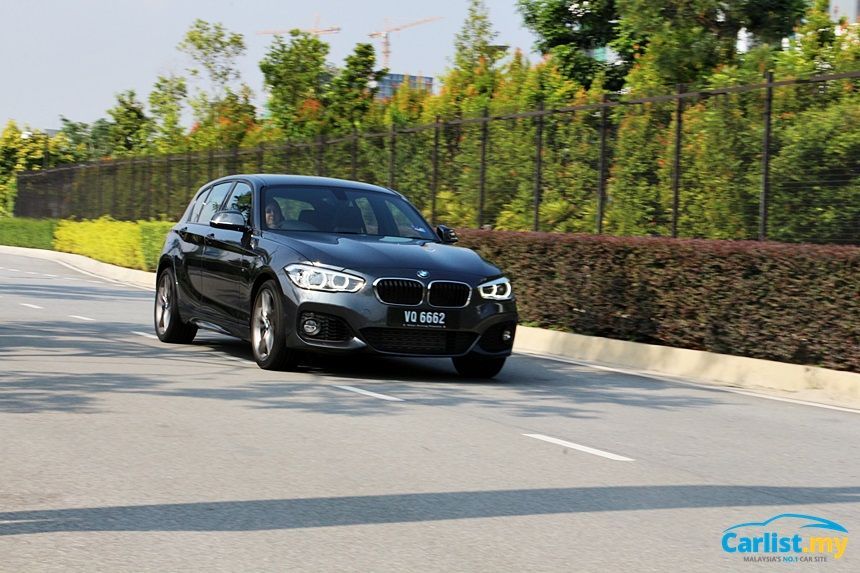 As for the powertrain, 136hp will not set your socks on fire, especially when even the Perodua Myvi 1.5-litre delivers 102hp at the flywheel. But, as for the 118i M Sport, it's what happens after its flywheel that seems to make all the difference – the car's eight-speed ZF automatic.
Suffice to say, it's the best in the business, in terms of refinement and quickness. And given its carefully calibrated eight-ratios, allows the 118i M Sport to cruise at 155km/h at roughly 2200rpm.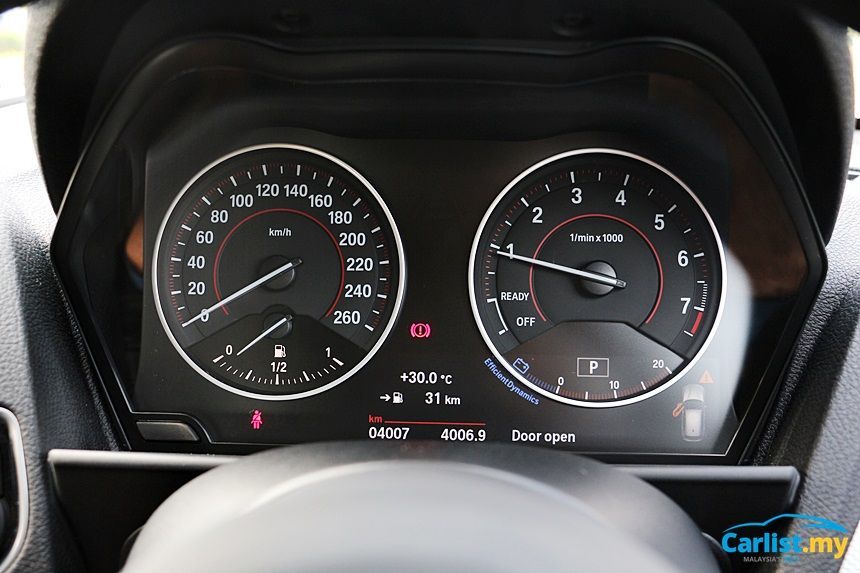 The inline-3 feels almost weightless within the engine bay, to the benefit of the car's handling. Internally known as the B38B15, the twin-scroll turbocharged 1.5-litre revs eagerly once past the 1500rpm mark and pulls eagerly till around 6400rpm giving the 118i M Sport a quantum of sporting performance.
That being said, fuel economy isn't particularly groundbreaking either, the car managed around 8.3litres/100km at a cruise on the highway, the 118i returns around 10.2litres/100km within the city. A full tank of returned circa 440km with the majority of those kms clocked with inner city driving.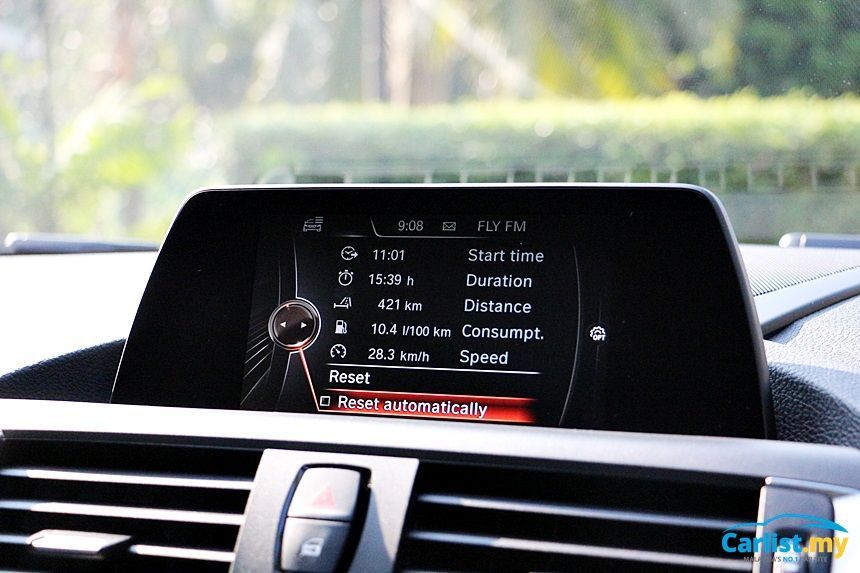 Comfort and Refinement
Having had my family in the car predominantly in the city, the 118i M Sport proved to be comfortable, adequately spacious for four and provides enough cubby holes for storing the usual bits and bobs like drinks and small bags.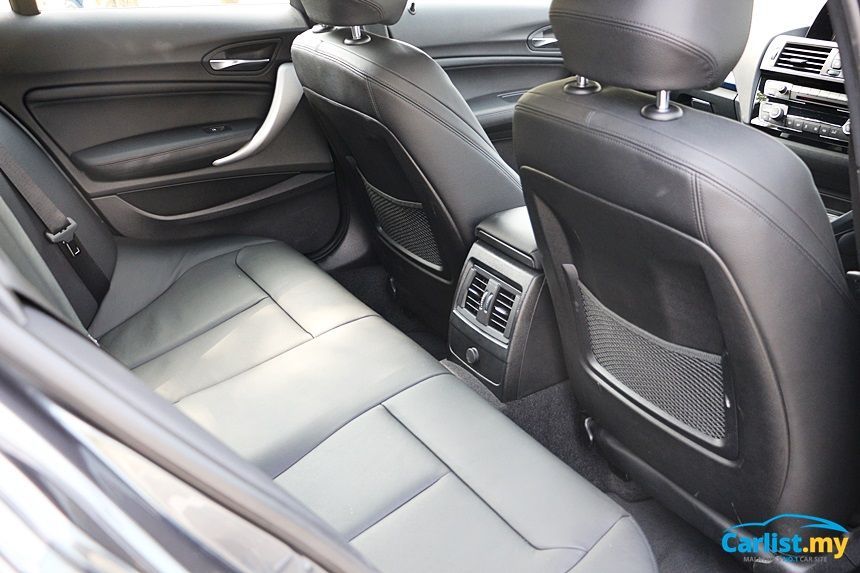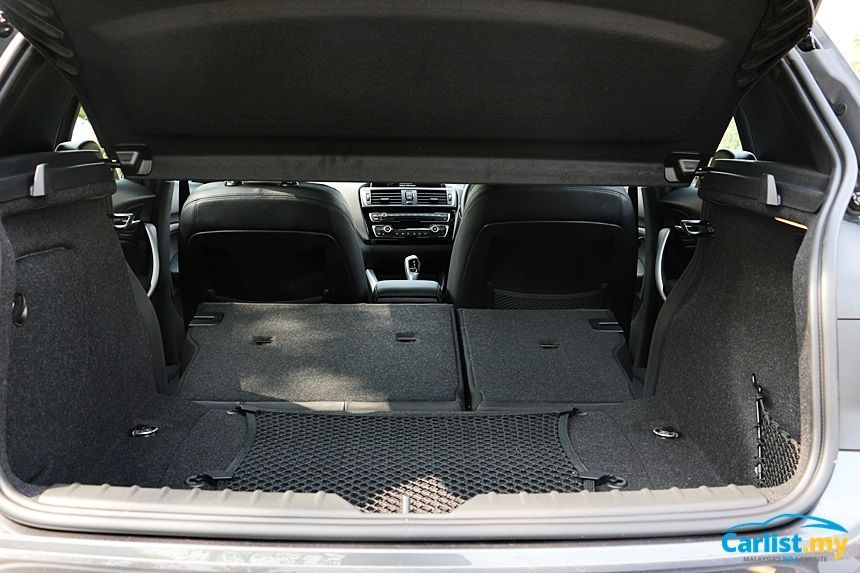 The boot is also decent sized, up there with the likes of the Volkswagen Golf and Ford Focus and more useable than the A-Class given its width and boot's loading aperture.
Conclusion
It would seem that 118i in M Sport guise finally delivers on aspiration of first time BMW buyer in Malaysia. Because let's face it, no one will buy the 118i M Sport because it's the most spacious, best value for money or the most powerful in its class. Not when cars like the Honda Civic and Ford Focus are so freakishly well sorted, offer superb driving characteristics and are substantially cheaper.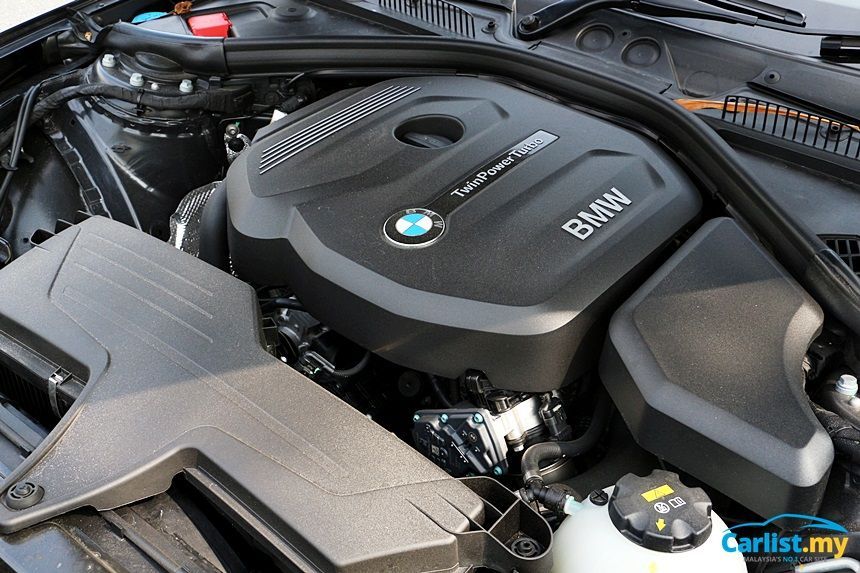 One buys this car because of what it stands for... decades of astute engineering, countless race victories and an aspiration that was hardwired into our sub-conscious many moons ago.
Not to mention, this is the only premium hatchback on sale that is rear-wheel drive, which will soon be replaced next year with a front-wheel drive all-new model based on BMW's (UKL) modular platform.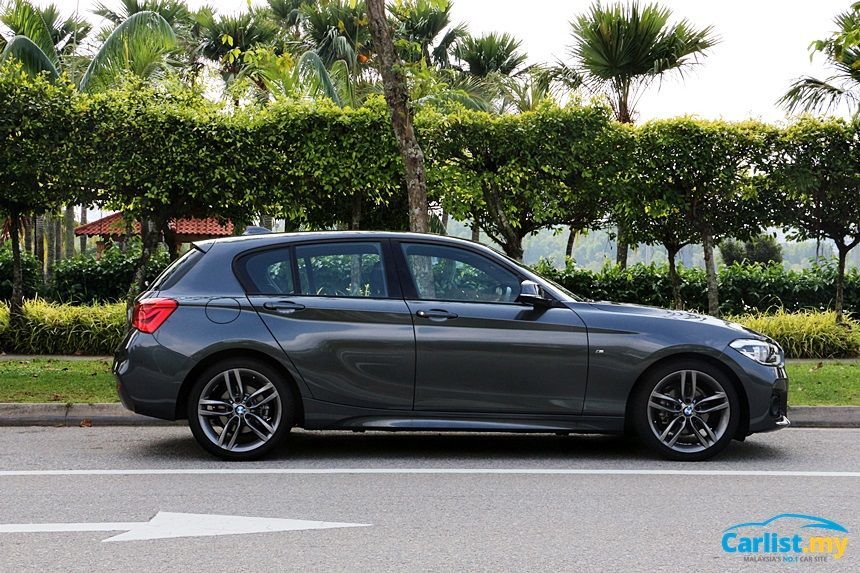 Therefore, 118i M Sport stands for much more than an entry to the brand, it's a bridge between the brand's past, and the high-efficiency and pragmatic future. If you were that little girl or boy who mimicked your father or mother's driving as a child, the 118i M Sport is a good place to start your BMW journey.
---
---
---
---
留言