Review: Honda CR-V 1.5 TC-P – All-Round Predictability
评论 Predicting the future may seem far-fetched to some, but in the case of the range-topping Honda CR-V, it's not quite science fiction stuff anymore.
The aforementioned model comes with Honda Sensing, Honda's suite of active safety equipment, featuring a monocular camera mounted behind the rear-view mirror and a millimeter wave radar mounted beneath grille on the front bumper designed to keep the driver safe.
Read more: Review: Honda Accord 2.4L VTi-L Advance – Living With Honda Sensing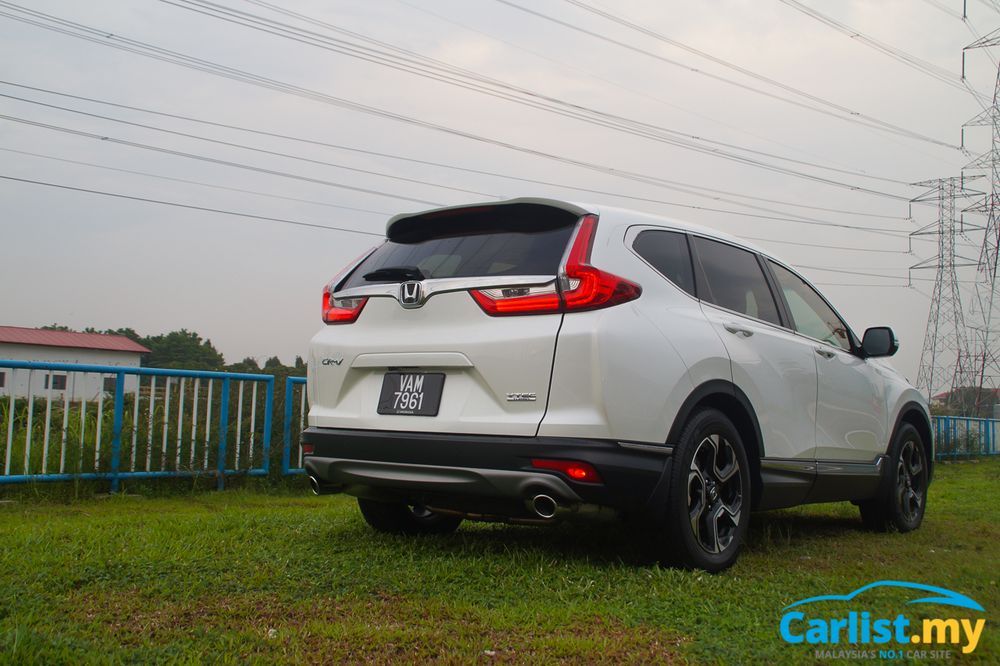 So back to the Honda CR-V.
Mention family SUV and the Honda CR-V is the almost definite choice for many, as the CR-V combines unrivalled practicality, reliability, and residuals - a solid reputation that it established over the last two decades since its inception.
Specifications for Honda CR-V 1.5 TC-P
Engine: 1.5-litre turbocharged 4-cylinder, transverse
Transmission: CVT-type automatic, front-wheel drive
Power: 190 hp at 5,600 rpm, 243 Nm @ 2,000 rpm
Weight: 1,549 kg
Safety: 6-airbags, ABS with EBD, Vehicle Stability Control (VSA), Hill Start Assist (HSA), Honda Sensing – Forward Collision Warning (FCW), Collision Mitigation Braking Sysem (CBMS), Lane Departure Warning (LDW), Road Departure Mitigation (RDM), Lane Keep Assist System (LKAS)
Price: RM163,191.00 OTR excluding insurance
Origin: Locally-assembled in Pegoh, Melaka.
Overview
This is the range-topping model in Honda Malaysia's CR-V lineup, with the key highlight of the model being the availability of Honda Sensing.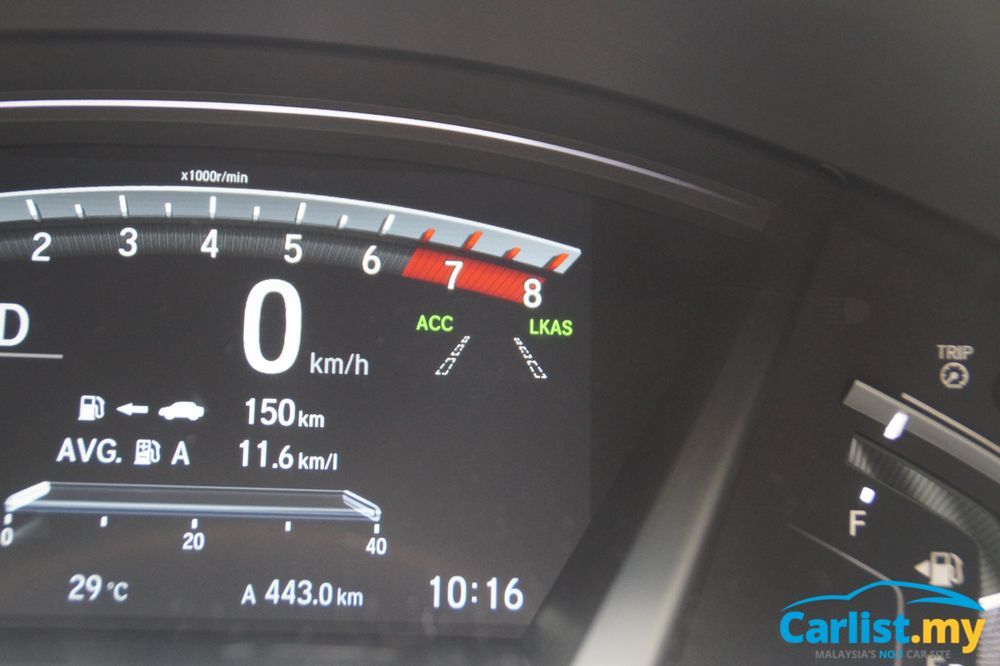 Honda Sensing is a suite of advanced driver assistance, which includes:
Lane Departure Warning
Lane Keeping Assist System
Road Departure Mitigation
Forward Collision Warning
Collision Mitigation Braking System
Adaptive Cruise Control
Low Speed Follow
But Honda Sensing aside, another feature we enjoyed using in the CR-V 1.5 TC-P is the Honda LaneWatch camera. As the name suggests, the LaneWatch system utilizes a camera mounted on the left side rear view mirror that projects a video stream onto the infotainment screen when the left signal is activated, thus eliminating blind spots. Drivers can also manually turn on LaneWatch via a button on the signal stalk.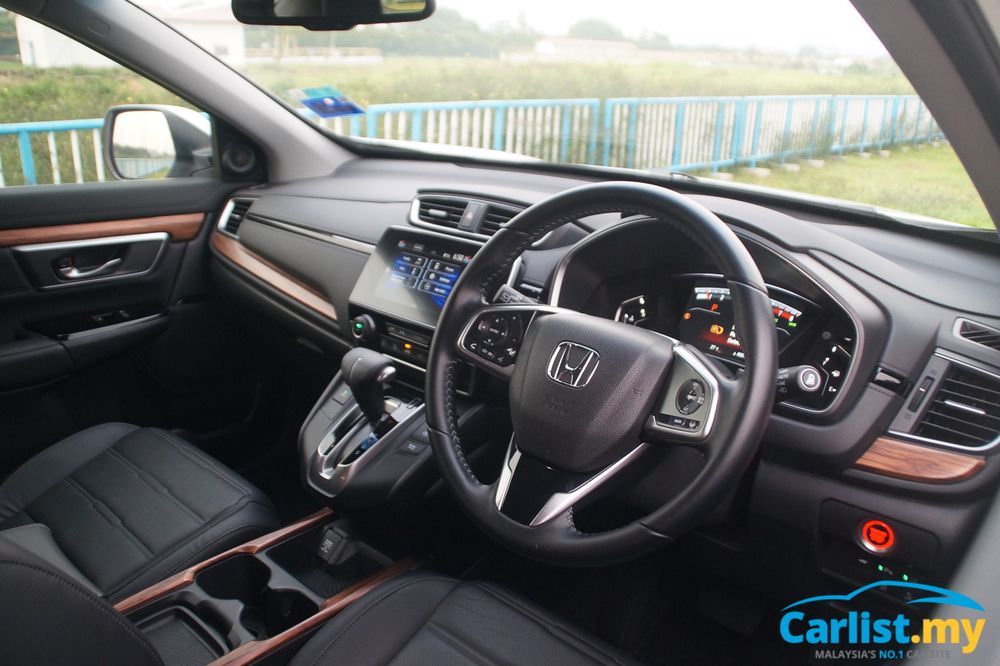 Other equipment, including cruise control, paddle shifters, smart entry with push start button, walk away auto lock, dual rear USB charging ports, and automatic dual-zone climate control are standard across the CR-V range.
Exterior
Now in its fifth generation, the Honda CR-V is now 4,584 mm long, 1,855 mm wide, and 1,689 mm tall. It is also 6 mm shorter in terms of length compared to its predecessor model, but adds another 35 mm in width, allowing the CR-V to offer improved shoulder room for passengers.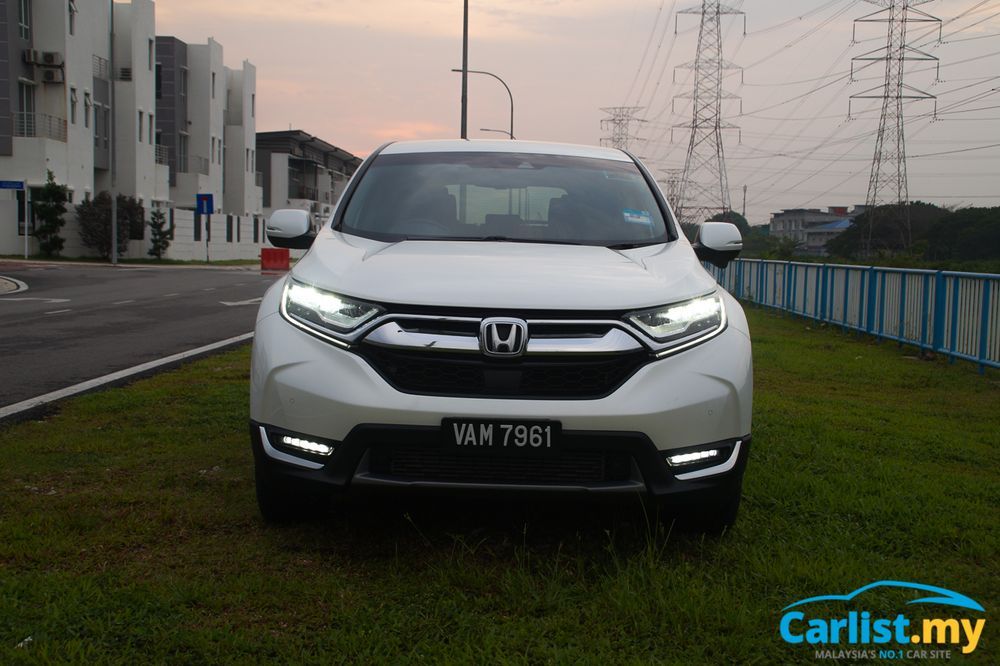 Similar to other Honda models with funky design language names, the CR-V you see here embodies what Honda calls 'Modern Functional Dynamic'. While the looks of the CR-V are completely subjective and up to personal preferences, it's hard to deny that the CR-V offers a rather imposing demeanor over its predecessor.
There's little differentiating the regular 1.5 TC and the 1.5 TC-P variants, but if you observe closely enough, you'll notice that the more expensive TC-P variant has a front radar module located just below the Honda emblem and the discreet LaneWatch camera.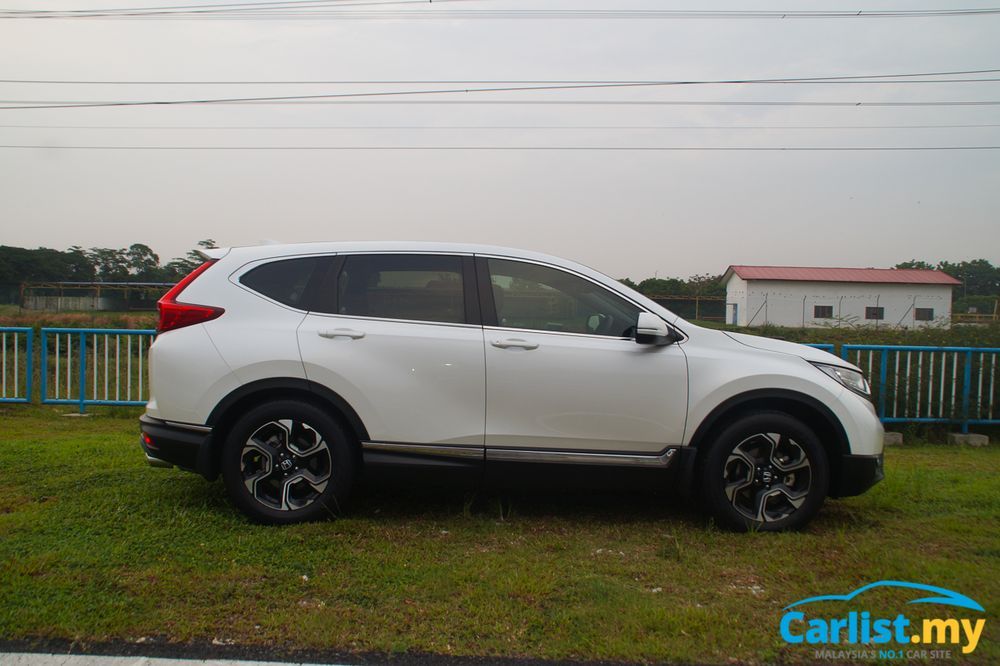 Similar to its turbocharged siblings, the 1.5 TC-P also gets LED headlights, LED front and rear fog lights, LED daytime running lights, and 18-inch dual-tone alloy wheels.
It is also worth noting that the White Orchid Pearl you see on this test unit commands a RM400 price premium over the other colours.
Interior
The interior is where the CR-V truly shines, but also falls short.
Let me explain.
For decades, Honda's interior has always been its selling point – offering class-leading practicality that no other rivals can defeat.
While the CR-V is truly remarkable when it comes to practicality, the new model appears to have some corners cut in terms of build quality.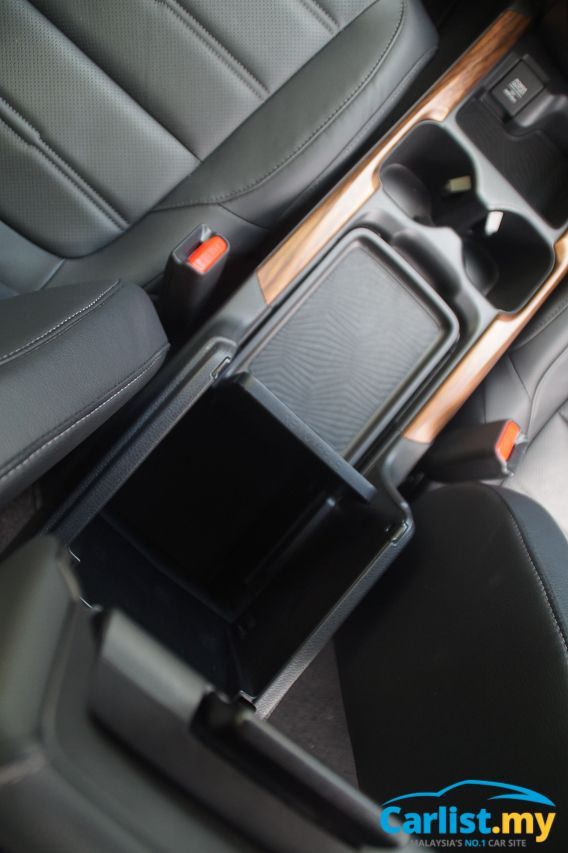 We noticed that the centre arm rest of this particular test unit creaking under light pressure, which is quite a distraction, especially when the need arises to rest our arm there.
In addition to that, we also noticed that the plastics used to mold the gear lever made it felt somewhat cheap, quite a letdown in such a nice cabin.
Now, before you folks start wielding your pitchforks, this particular Pegoh-built demonstrator/test drive unit might have gone through a rather tough life, despite only clocking just over 13,000 km.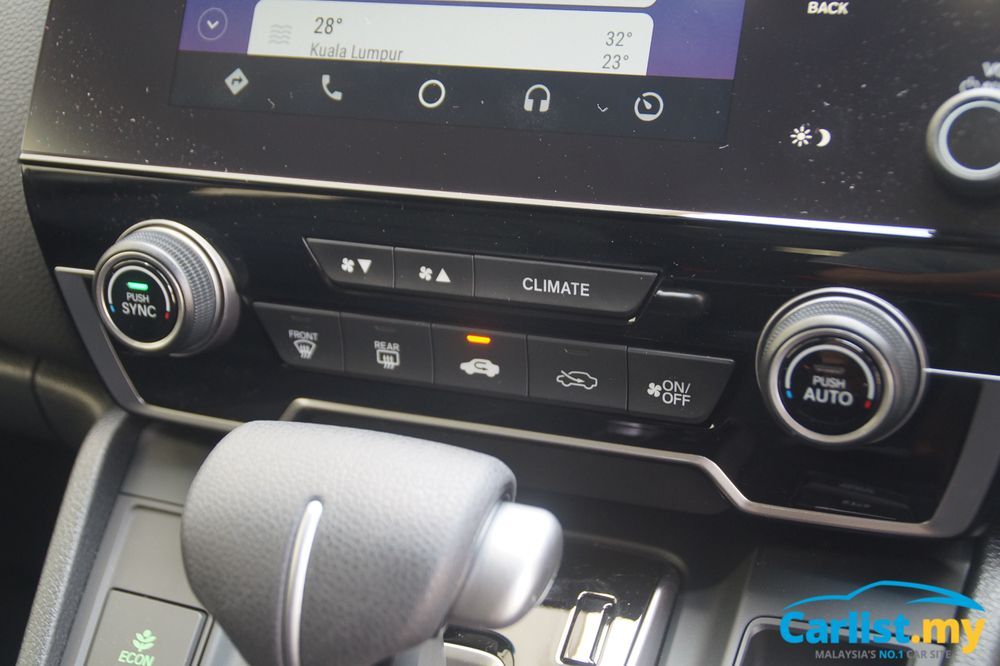 With that said however, the rest of the CR-V's cabin was well put together and controls were laid out in an easy to reach manner. When it comes to usability, there's little to fault here. Take, for example, the centre console storage which is massive enough to swallow an entire handbag.
As a family SUV, it is only natural for the CR-V to offer family-focused amenities, and it delivers.
The rear seats offer great comfort as the cushions are sufficiently comfortable while the seat backs can be reclined. Legroom, headroom, and shoulder room are also generous for most families. Comfort is further supplemented by rear air vents located on the rear of the centre console.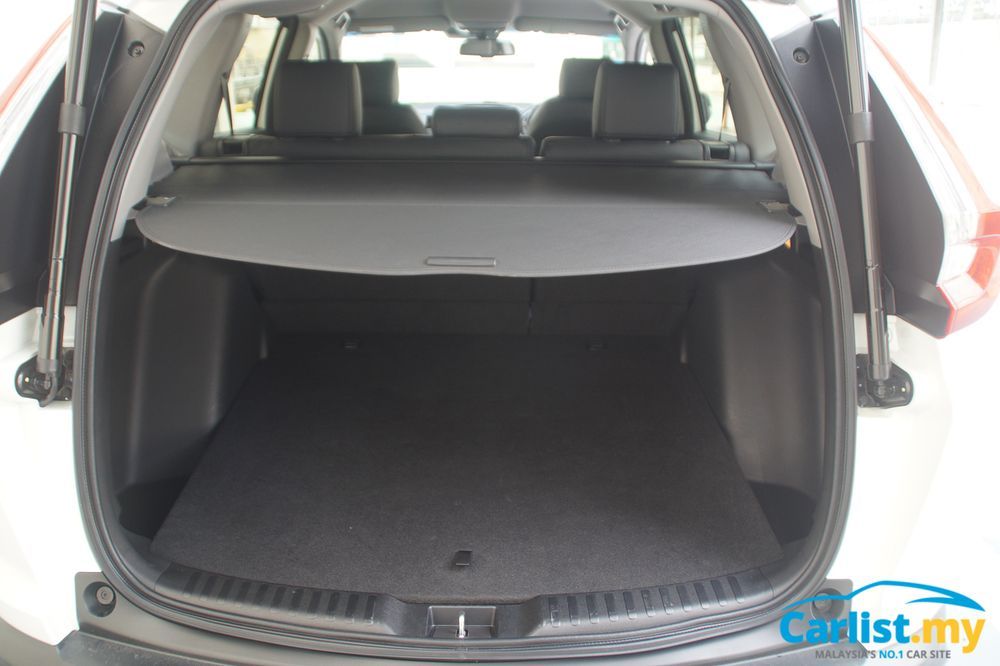 For those who need to load the CR-V up with stuff will be pleased to know that the tailgate aperture is sufficiently wide and low, which eases loading and unloading. 522 litres of boot space is available with the rear seats up, which can be further expanded to a massive 1,084 litres with the seats down.
Driving Experience
Sharing the same 1.5-litre VTEC Turbo mill as the one we sampled earlier this year, but without the extra AWD hardware, the 1.5 TC-P accelerates with more gusto.
The full 234 Nm of torque is available from a low 2,000 rpm, all the way up to 5,000 rpm, making acceleration and overtaking a brisk effort. Similar to the AWD model, the TC-P we sampled here also features Honda's Earth Dreams CVT, which does a swell job of being efficient.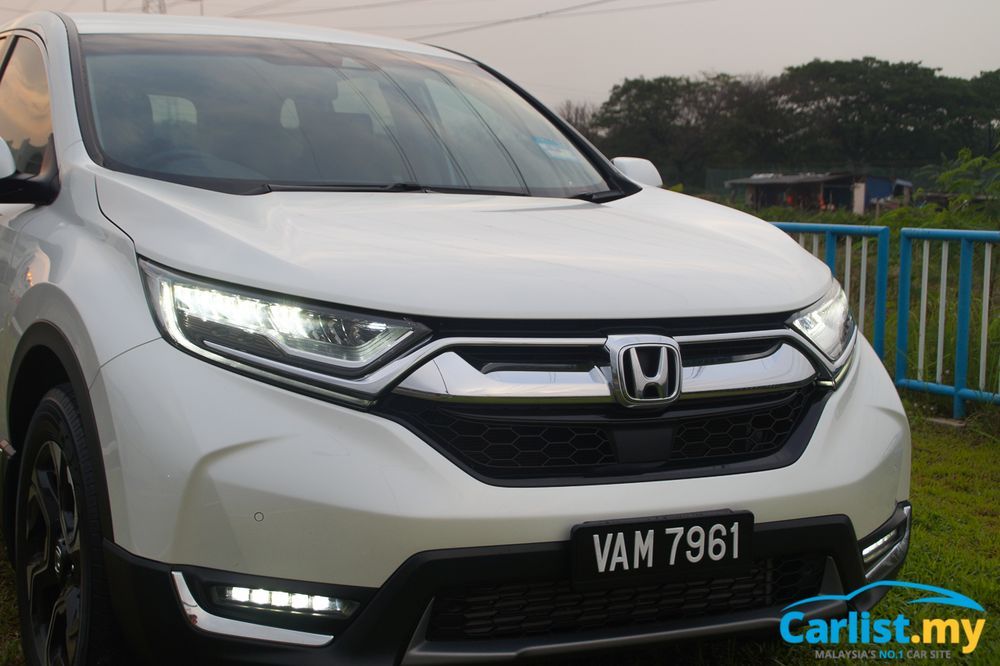 While the TC-P shares the same 243 Nm of torque as the AWD model, we noticed that acceleration felt more brisk. We reckon this could be due to the TC-P's lighter weight, as the AWD model weighs in at 1,595 kg, whilst the TC-P weighs in at 1,549 kg.
As for ride and handling, the CR-V handles reasonably well, but ride comfort was marginally behind the Mitsubishi Outlander than we sampled back in September, despite both models riding on 18-inch wheels.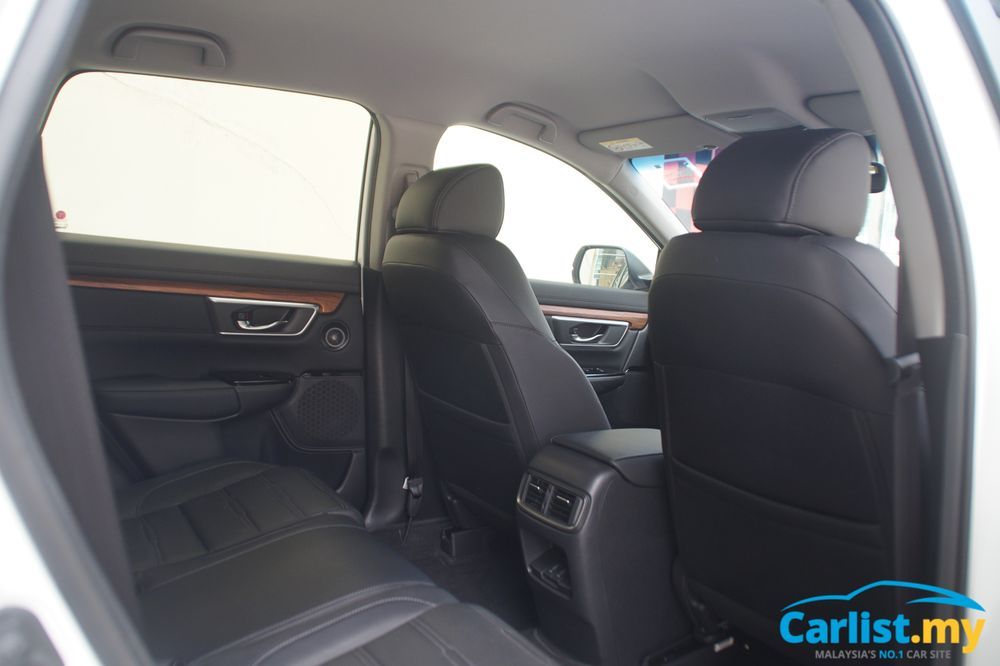 We also noticed that tyre noise was rather apparent whilst cruising at highway speeds, unlike the Outlander's much quieter ride.
Other rivals, such as the Mazda CX-5, offer a more engaging driving experience, though often sacrifice passenger ride comfort in the process. After all, no passenger likes to sway around the cabin whilst the driver is busy tackling corners aggressively.
Conclusion
Buyers of this segment are spoilt for choice, as they can choose between several models – the Mazda CX-5, theVolkswagen Tiguan, and the Mitsubishi Outlander.
We reckon that the range-topping Mazda CX-5 2.2D will be the closest rival to the CR-V 1.5 TC-P, with the added advantage of a torquey engine. The interior of the Mazda, while losing to the CR-V in terms of practicality, feels like a nicer place to be in thanks to snazzier-looking materials. The range-topping Mazda also offers numerous driver assistance systems, part of the i-ActiveSense safety suite.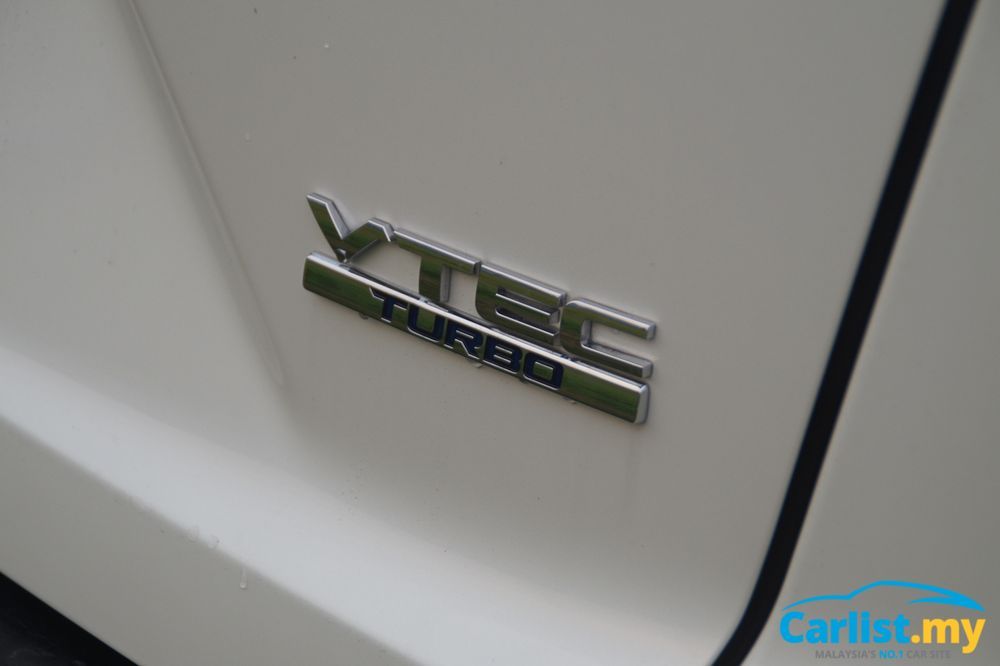 If comfort is your top priority, then the Mitsubishi Outlander should be shortlisted, as this SUV offers superior ride comfort.
For a relatively fuss-free SUV, there's little to fault the CR-V 1.5 TC-P. This particular model encompasses everything Honda is renowned for – class-leading practicality, advanced safety technologies, and proven reliability.
---
---
---
留言