Review: Michelin Pilot Sport 4 - Shifting the Goalposts
评论 We've got good news and we've got bad news. The good news is that the new Michelin Pilot Sport 4 is finally here, but the bad news is that it's only available in 16-inch to 19-inch sizes. That's not a problem if you own a continental car or a C-segment/D-segment model, but those who run 15-inch tyres may need to find an alternative. Michelin has said they will continue to produce and support the Pilot Sport 3 tyre for the next 2 years or so, beyond which they cannot say for sure if there will be a replacement. Let's face it- as good as the Michelin XM2s are at efficiency, they leave a little to be desired in the wet and dry grip departments.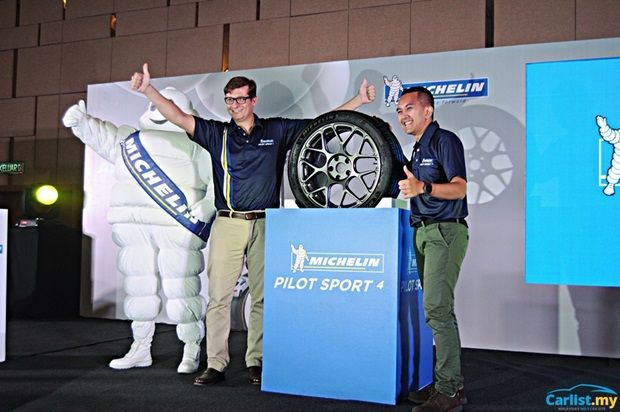 But on to the Pilot Sport 4s. There's a lot that Michelin has done with this new tyre, and they've drawn on their experience as tyre suppliers for various different race series. Most influential of these series was Formula E, and you can see the similarities in tread pattern and design between the race tyres and these road-going Pilot Sport 4s. In terms of construction differences, the Pilot Sport 4 has a new Aramid-Nylon hybrid belt which provides better dynamic response, along with the aforementioned tread pattern that provides 10% more contact area than the outgoing Pilot Sport 3.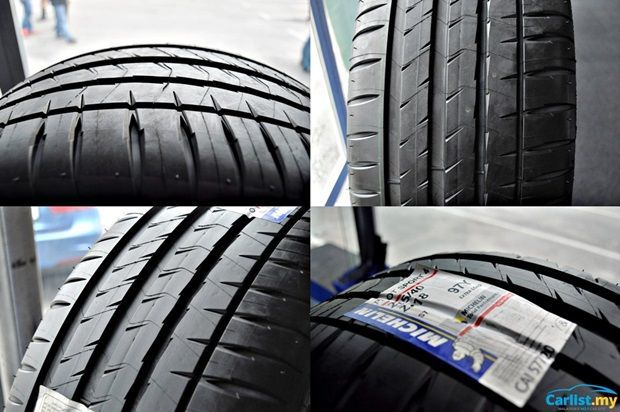 The compound has changed as well, with more 'functional elastomers' (or grippy rubber compound in layman's terms), and more silica as well. Silica (known as sand, and more likely a mixture of silica and silicane) helps to reduce rolling resistance of the tyre while increasing grip during aggressive driving. There's a fair amount of science to it, but what you need to know is it gives you better wet grip and higher braking thresholds. The wider and deeper grooves in the tyres allow for quicker drainage in the wet- and to be fair, wet grip was the Pilot Sport 3's claim to fame. The compound does vary a little between different tyre sizes; those marked with an "ST" label are using a compound developed for the ASEAN region, while those that don't have the label will use a European compound instead.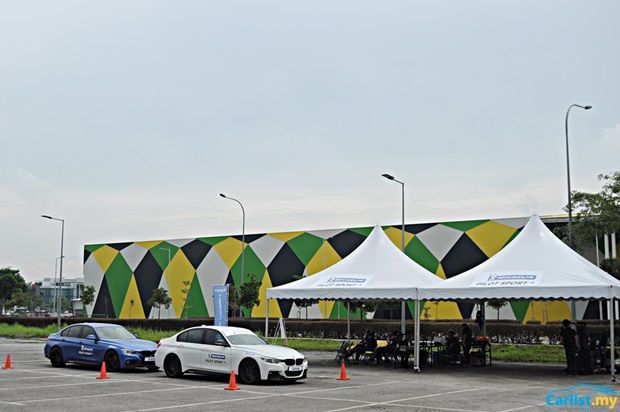 For dry grip one can always look towards stickier and grippier tyres like the Yokohama AD08R or the Toyo R888, but for wet grip it used to be that the Pilot Sport 3 would be your weapon of choice. Does the Pilot Sport 4 live up to these expectations? We were provided with two different courses to test the tyre out against the Bridgestone RE003, although arguably neither course nor condition were adequate to truly test the tyres. We'll disregard the RE003 for the review as they aren't exactly renowned for their wet grip, and instead we'll focus purely on the Pilot Sport 4.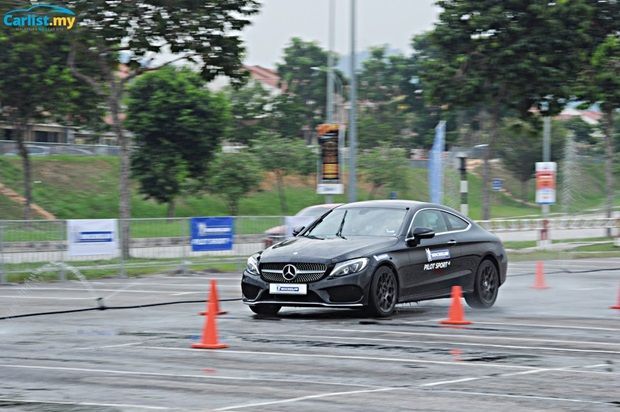 The first exercise was a simple wet slalom followed by wet braking, and we were made to run Mercedes-Benz C 200 Coupes. They're not known to be the most dynamic of cars, but they were adequate through the course- the Pilot Sport 4 bites well and reacts to directional changes as well as you would expect, even when loading and unloading the rear through the slalom. The gravel strewn around the car park didn't help with traction and provided the odd patch of low grip, but the tyres didn't seem too unhappy with these arrangements. Braking distances were appreciable, although again the inconsistent surface doesn't help with results.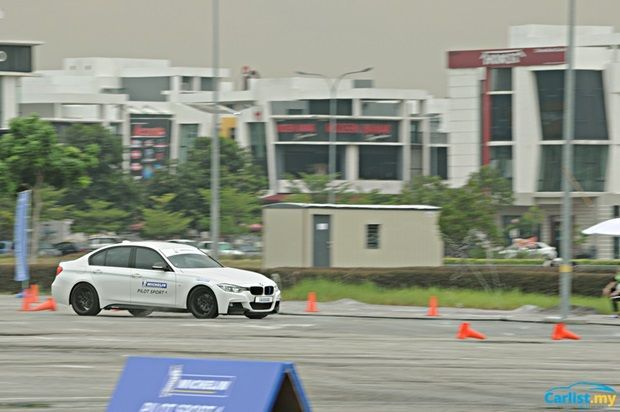 Our second course was a pair of slaloms fashioned into something resembling an autocross. This time we were driving current-generation BMW 320ds, which have no excuses in the dynamics department. Again, the Pilot Sport 4 tyres provided the kind of grip and steering response you would expect, but running across water in this kind of tight situation, with the kind of steering input required, is enough to unsettle any tyre. While both exercises were a lot of fun and proved the Pilot Sport 4's worth on a basic level, they didn't show us the kinds of things we really needed to see to assess it.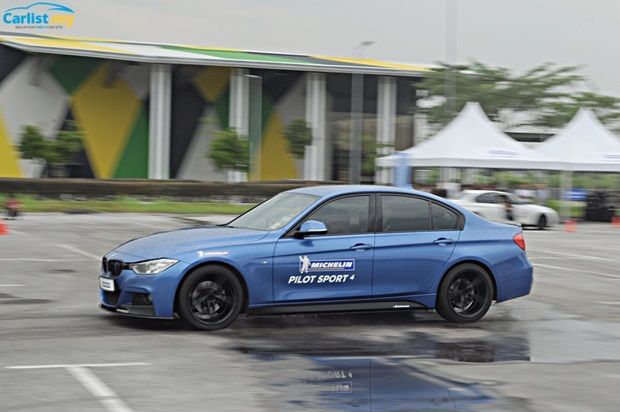 But this isn't Michelin's fault. A true tyre test would require days or weeks of testing in a variety of situations and in a variety of locations. Driving through torrential rain would be a prime example, because a bit of damp tarmac isn't nearly as frightening as a stretch of highway dotted with opportunities to aquaplane. A tight autocross course isn't going to show off a tyre's high speed stability, like the kind you need in a long sweeping highway ramp. Even the weak points of the Pilot Sport 3, road noise and tyre temperatures in particular, can only be evaluated on a long drive and on a racetrack respectively.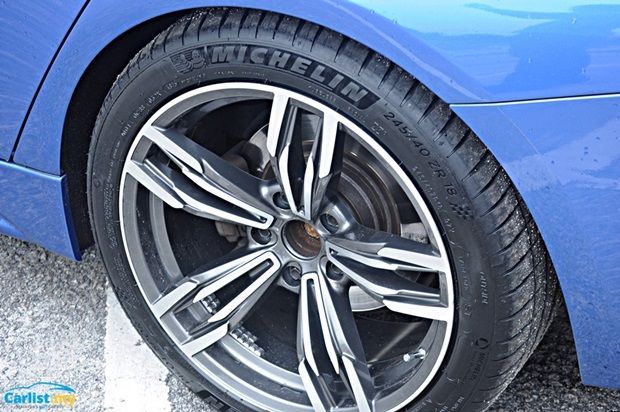 So we got a glimpse of what the Pilot Sport 4 had to offer, and it does what you ask of it. Even if it was at the very least as good as the Pilot Sport 3 that would be enough cause for celebration, but these tyres are appreciably better than their predecessor. To quote an instructor from the Michelin Pilot Sport Experience, " …the (Pilot Sport 4s) are almost as good Pilot Super Sports in the dry, and have slightly more wet grip than the Pilot Sport 3s…", and if this is any comparison to go by then it's a tyre that's definitely worth the money if you're looking for both wet and dry grip. Perhaps the only things to worry about is how quickly it wears out and how much noise it makes, but these are things that potential Pilot Sport 4 buyers probably wouldn't be concerned with; after all, it is a performance oriented tyre.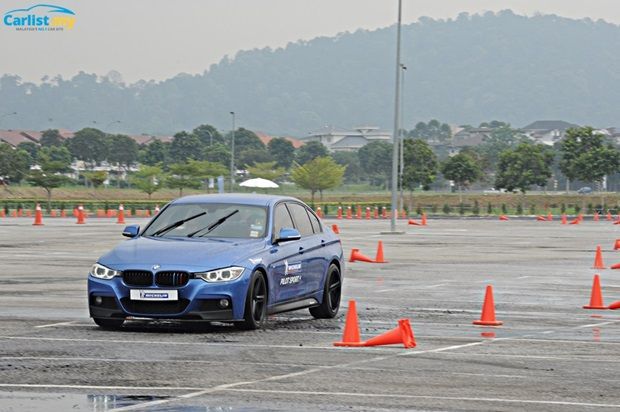 Recommended retail pricing is quite varied across the sizes, as you would expect. For the Pilot Sport 4, 16-inch tyres start at RM 481, 17-inch tyres start at RM 531, 18-inch tyres start at RM 852, and 19-inch tyres start at RM 1,229. If we compare this to Pilot Sport 3s, 16-inch tyres start at RM 466, 17-inch tyres start at RM 515, 18-inch tyres start at RM 827, and 19-inch tyres start at RM 1,219. Across the board it seems that the Pilot Sport 4 is 3% more expensive on average, with the exception of 19-inch tyres that have barely any difference in price; on the whole it's a very small price to pay for a big improvement, but it is a shame that there is no 15-inch option for the Pilot Sport 4.
---
---
---
---
留言