The 2023 Kia Sorento Is An SUV For All Seasons
汽车专题 There's a couple of things that sets the Kia Sorento apart from the usual crop of SUVs, but some of its most desirable attributes don't really make themselves known until you've experienced the vehicle for yourself.
---
It's been a while since we've seen an all-new Sorento generation hit our roads, allowing the anticipation to grow, but it's clear the model has been improved significantly in the lead-up to the launch of this all-new version. With the model having so much advancement progress built into it, where do we even begin? Nowhere is this more evident than Kia's overall approach to designing the Sorento.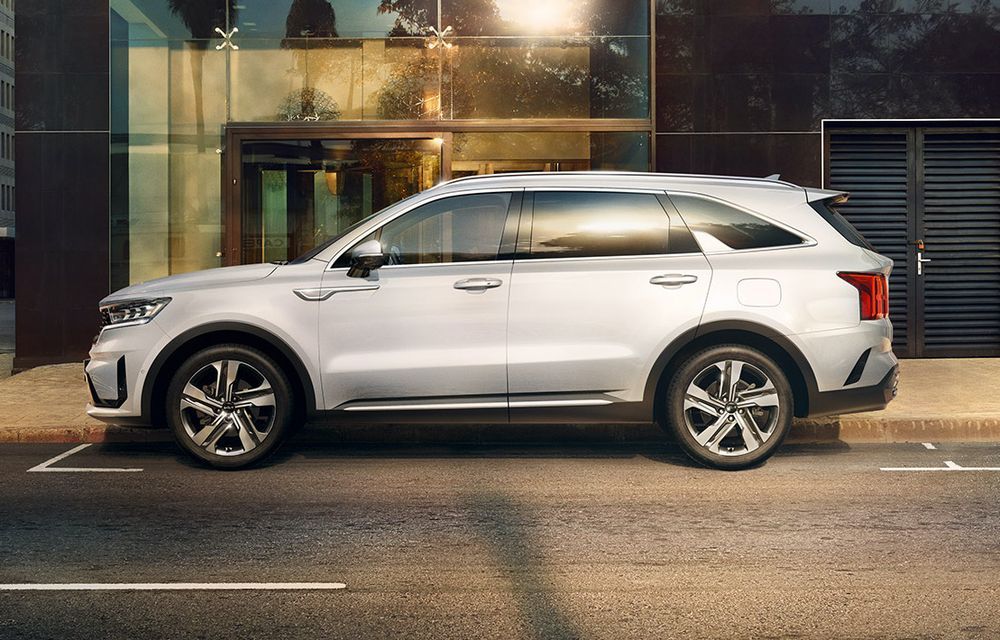 What Is 'Refined Boldness'?
By every dimension, the all-new Sorento is more substantial than its predecessor. However, its bold lines only serve to emphasise its athleticism. There are, of course, some classic cues here to make it obvious you're looking at a Kia. That hallmark Tiger Nose grille is unmistakeable, for example.
During its design process, Kia says it drew from a concept they call 'refined boldness', which seeks to maintain the robust, tough-looking aesthetic of earlier generations of the Sorento.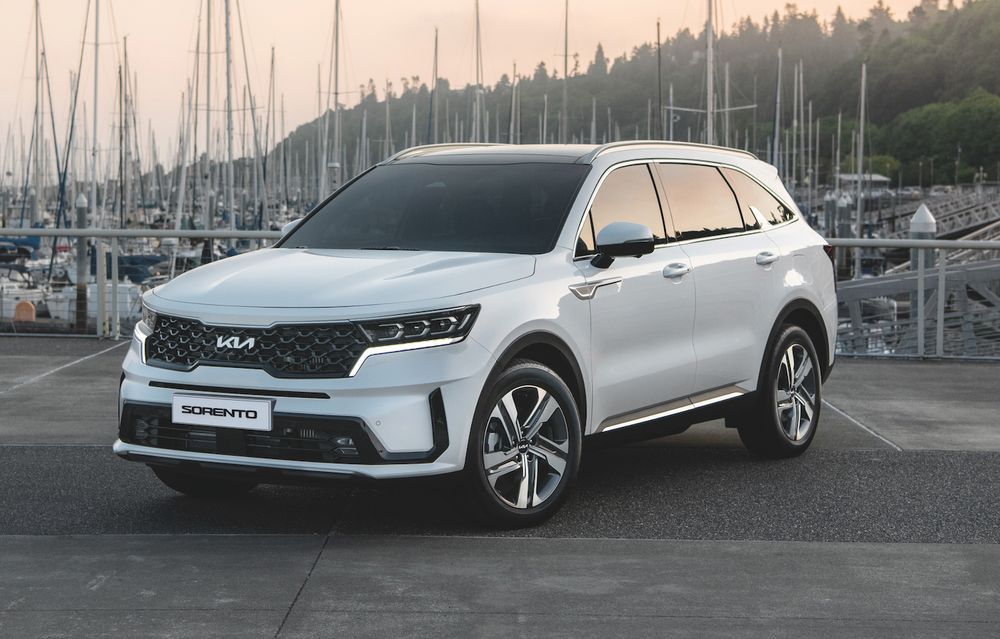 The Sorento's newest form applies a greater degree of refinement and elegance and even a sense of sportiness. The body work incorporated very deliberate character lines creases for a noticeably more sculpted look that results in a more contemporary design balance and more swept-back proportions.
Clean yet aggressive elements are featured throughout its exterior to the point you might notice yourself forgetting it can accommodate up to 7 passengers. However, its 6-seat configuration is positioned with a little more luxury in mind, which is complemented in the form of a standard electronically-controlled 4WD system which provides enhanced traction and stability in a variety of driving conditions in addition to the kind of all-weather stability and sure-footedness that so many of its rivals lack.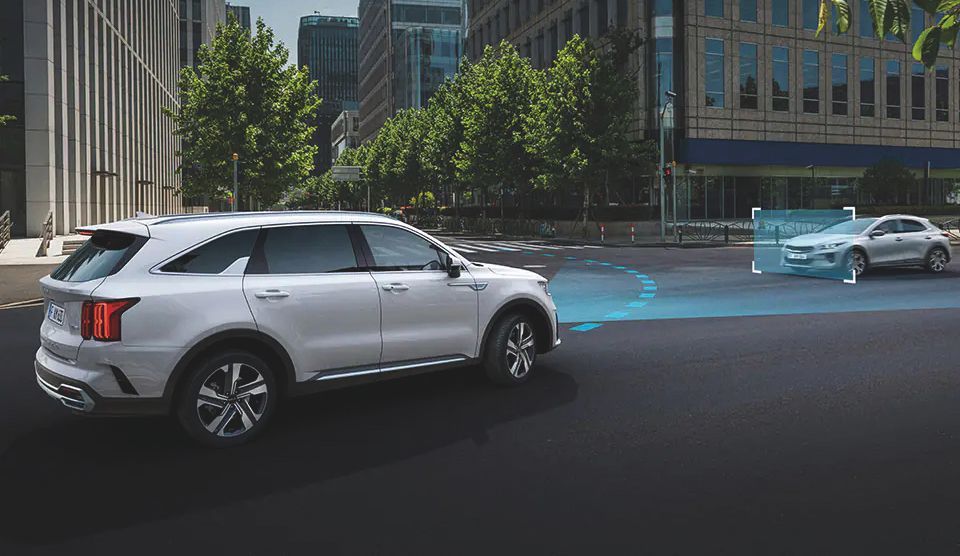 Performance & Technology For Seamless Journeys
Naturally, the Sorento is also designed with safety in mind as all variants come fitted with a suite of advanced active safety features, including Forward Collision Warning, Automatic Emergency Braking, Lane Departure Warning, Blind-Spot Collision-Avoidance Assist, and many others all to ensure the utmost driver and occupant protection.
When it comes to raw grunt, the Sorento delivers in spades here as well. The SUV is available with two engine options: a 2.5-litre naturally aspirated four-cylinder engine that delivers 177hp and 232Nm of torque, the other a 2.2-litre turbodiesel four-cylinder engine that delivers 199hp and 440Nm of torque.
This latter engine especially is a truly stout workhorse. As we've experienced in other models, it makes light work of supplying ample acceleration without seeming to exert itself yet is so casually able to settle down into a smooth, quiet cruise at the drop of a hat. Pair that with the Sorento's decisive 8-speed dual-clutch automatic transmission and the its fuel economy is stunningly impressive.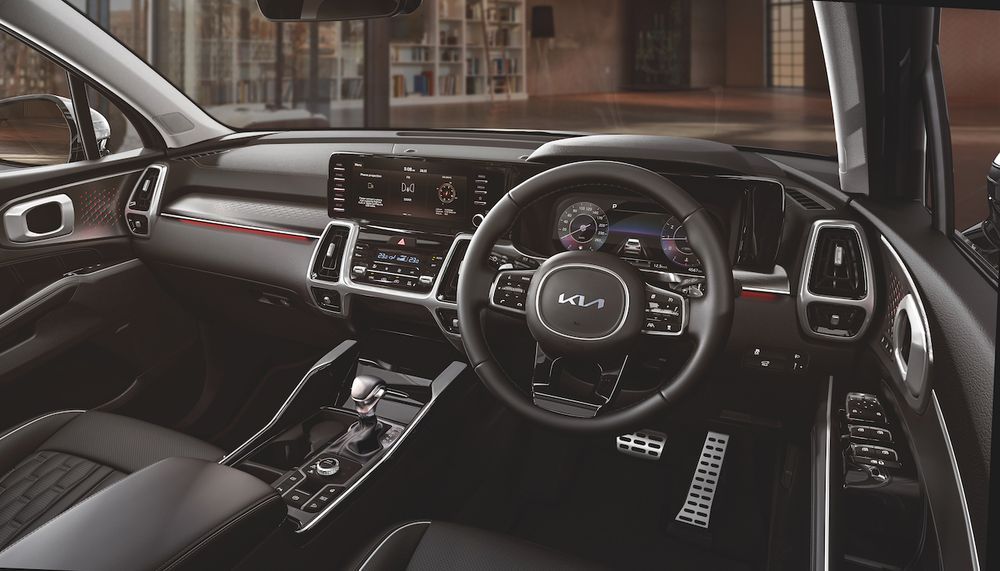 A Cabin Experience That Punches Above Its Weight
There's nothing quite like being wowed by an experience that surpasses expectations and it's clear that Kia had engineered the Sorento to elicit this exact reaction. The plush cabin brings together a sumptuous combination of premium materials that underscore its ergonomic design.
Great care has been given to the construction and placement of control surfaces and how they are meant to be interacted with to make every button push or dial turn one that feels cohesive and purposeful.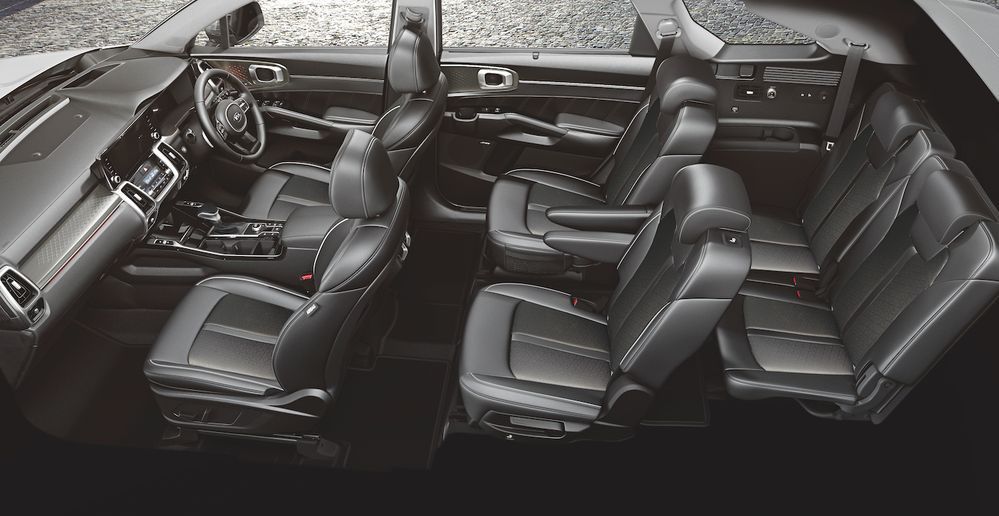 It's a blend of the analogue and digital in equal amount - from the expansive high definition 10.25-inch central touchscreen that's fitted as standard across the range to the convenient Head-Up Display exclusive to the 6-seat AWD variants (2.5L and 2.2D) to the driver-oriented shift paddles that's reserved for the range-topping 2.2D 6-seater AWD - the Sorento is a tactile and technological feast.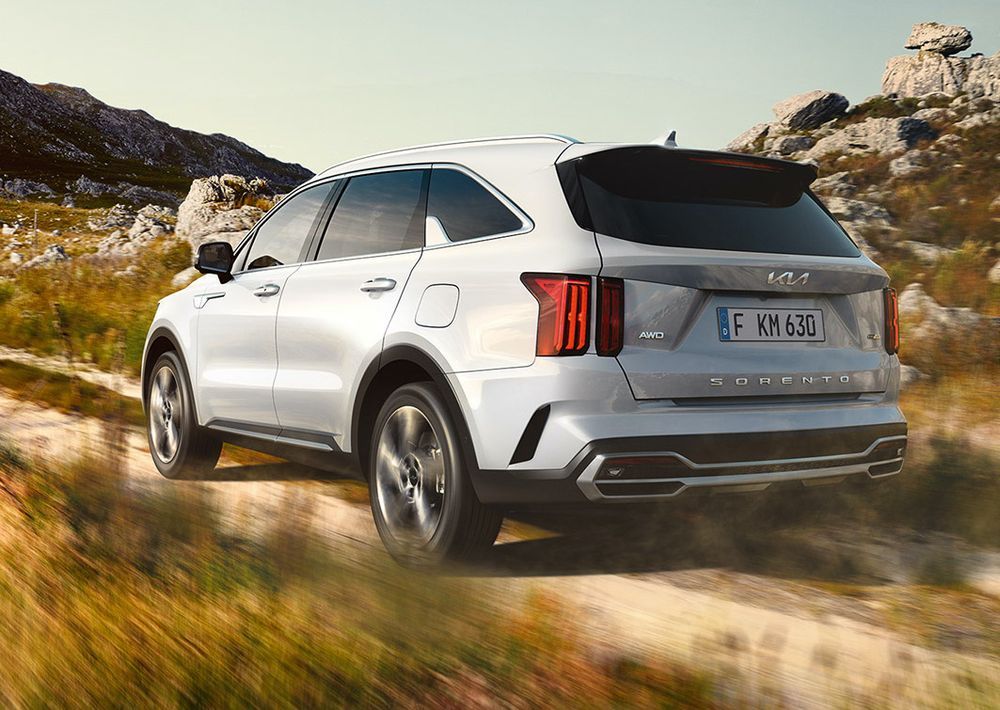 Touching, Feeling, Seeing Is Believing
As we've previously mentioned, there's nothing like first hand experience to cement the strong impression the Kia Sorento leaves as it starts to set a new benchmark in the SUV space, simultaneously reinventing in the eyes of the world while building on the rich lineage of its 3 generations of predecessors.
Don't miss your chance to see, touch, and feel the all-new 3-row SUV for yourself at the upcoming Kia roadshow happening from 12th to 16th April 2023 in GF LUXE, New Wing, One Utama Shopping Centre where they will showcase the rest of Kia's amazing Malaysian line-up, including the class-leading Carnival futuristic all-electric EV6!
---
---
---
留言