The Honda Type R Family – Its Origins And A Peek Into The Future Of Honda's Performance Cars
汽车专题 "Why don't you raise your target to 100 horsepower per litre?" That was the question posed by Nobuhiko Kawamoto, President of Honda R&D in 1986, to one Ikuo Kajitani, Large Project Leader of the NCE (New Concept Engine) project that later resulted in the VTEC engine.
At that time, it was commonly believed that it was not possible to produce 100 hp per litre from a naturally aspirated engine. Achieving it on a small capacity engine without compromising driveability makes the task even more difficult.
To overcome this, Kajitani looked to his colleagues from motorcycle engines who had been researching into variable valve timing mechanisms.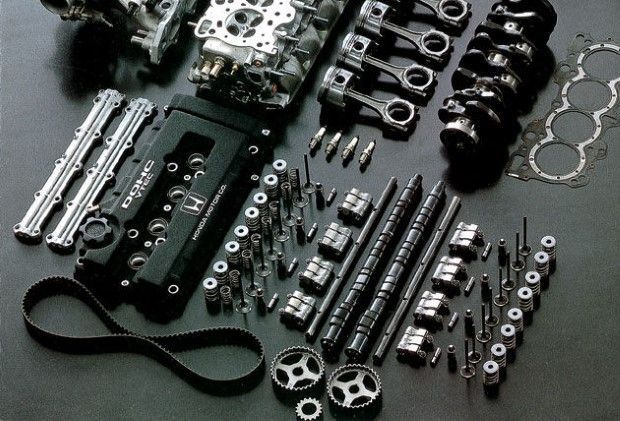 Variable valve timing for car engines are nothing new. Alfa Romeo had been using since 1980 in the Alfa Romeo Spider but reliability was poor, performance was average, and Alfa Romeo's system only worked on the intake side.
Back in his office, Kajitani gathered his 100-plus engineers and broke the news to them - 160 hp from 1.6-litres and 8,000 rpm.
"I have decided I'm going to try. It's an important project, but you don't have to participate if you don't want to," Kajitani told his staffs, who had mixed feelings about the project but the opportunity presented by Kajitani was too good to pass on.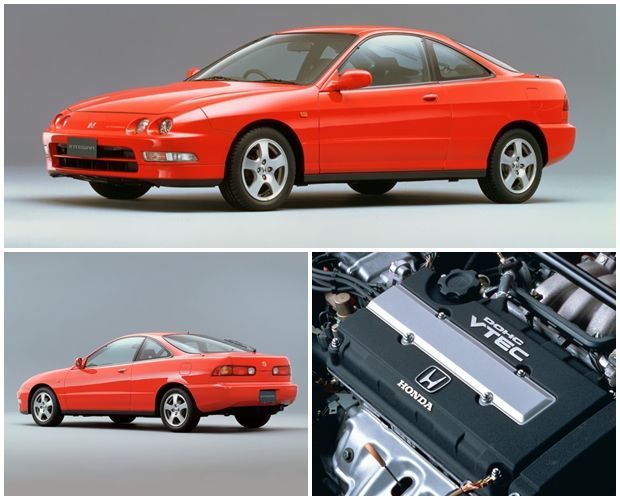 Three years and many broken test engines later, the Honda B16A DOHC VTEC engine debuted in Japan on 19-April 1989 in the Honda Integra XSi and RSi.
Five months later, on 21-September 1989, the VTEC engine was offered on the Japanese market CRX SiR, and by 1990 – VTEC was adapted for the 3.0-litre V6 in the Honda NSX.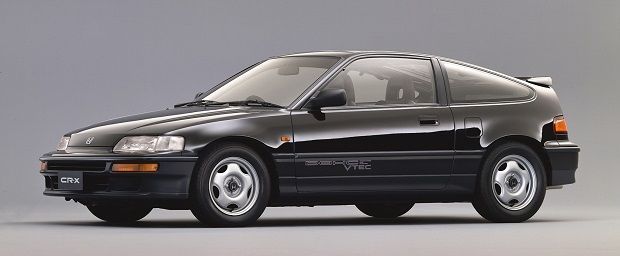 Birth of Type R
The next step in promoting VTEC was to put it inside an equally worthy chassis. The SiR badge wasn't good enough for Honda and so the Type R name was coined - R for Racing Spirit.
NSX-R
Championship White colour, red Honda emblem, semi-bucket red Recaro seats, Momo steering wheel, rebalanced engine, race-tuned suspension, lightened body - all hallmarks of a Honda Type R, began with the NSX Type R, officially known as the NSX-R. The Japan-only model was launched in November 1992, limited to just 483 units.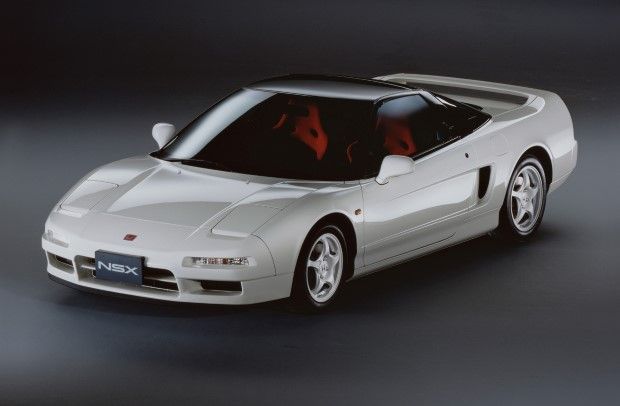 The 3.0-litre V6 pushed out a claimed 280 PS at 7,300 rpm, capped by a '90s era gentlemen's agreement among Japanese manufacturers but actual output was closer to 300 PS. Torque was rated at 294 Nm at 5,400 rpm.
Initially, the NSX-R had no air-conditioning, spare wheel, or audio system, and had minimal sound insulation – these omissions shaved 120 kg off the NSX-R (1,230 kg).
By 1994, air-conditioning and a Bose audio system were added as an option, along with the Championship White wheels seen on this 1994 model kept at the Honda Collection Hall at the company's Twin Ring Motegi circuit.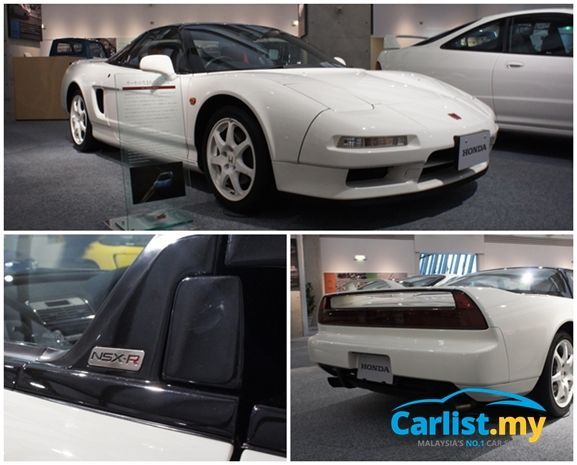 Integra Type R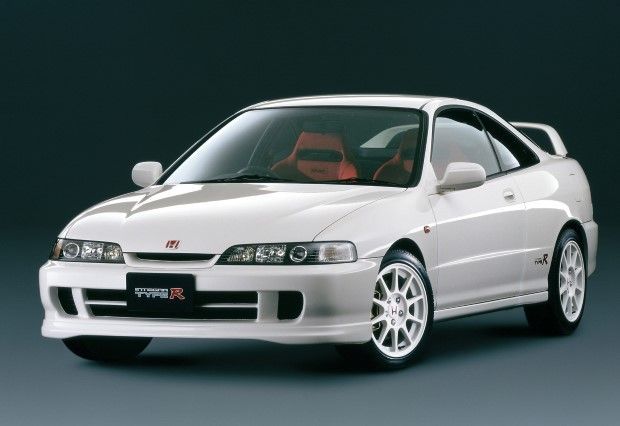 The next Honda model to wear the Type R badge was the Integra Type R (DC2 facelift), launched in August 1995 as a Japan-only model, priced at 1.778 million Yen.
Europe and USA would get its own Integra Type R later in 1998, but fitted with the pre-facelift model's quad round headlights.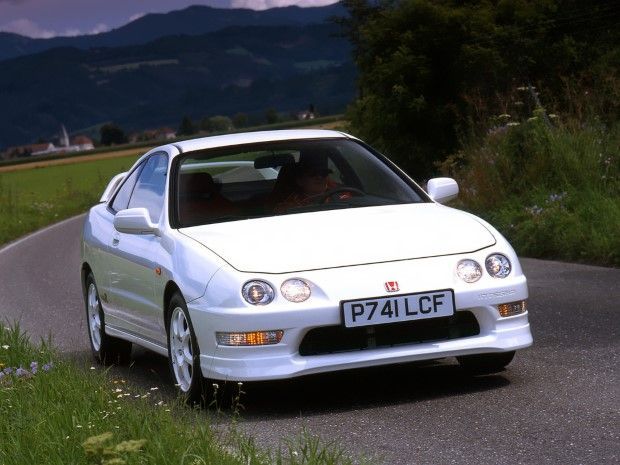 There was also a rare four-door variant.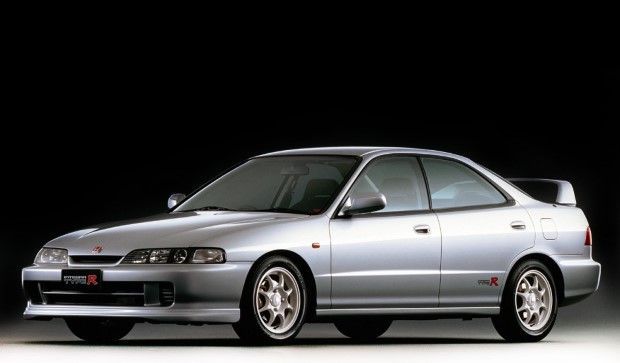 The Integra Type R had a B18C 1.8-litre engine that produced 200 PS at 8,000 rpm (over 110 hp per litre), 182 Nm at 7,500 rpm, and weighed 1,060 kg. Honda billed it as the ultimate front-wheel drive sports car.
This particular example had less 1,500 km on the clock and is kept at Honda's head office in Aoyama, Tokyo.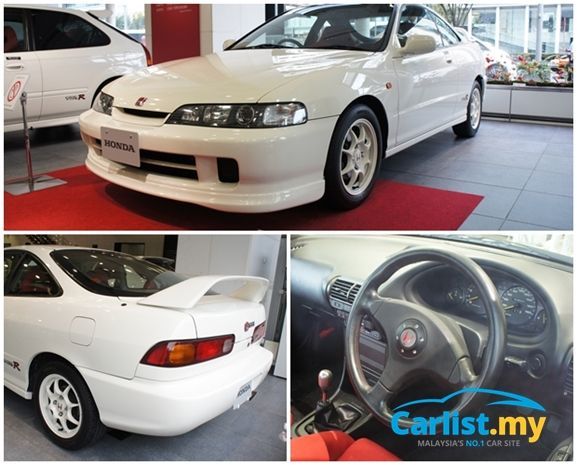 ​Civic Type R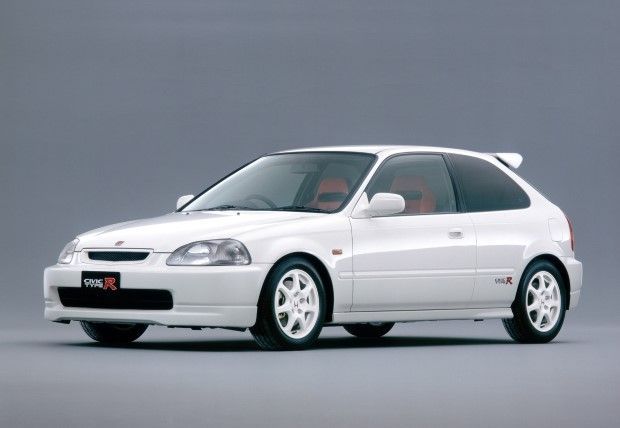 The third Type R model was the Honda Civic Type R (EK9), launched in Japan on 22-August 1997, priced at 1.998 million Yen.
Compared to the Integra Type R, the Civic Type R had a smaller B16B 1.6-litre engine that produced 185 PS at 8,200 rpm – that's 116 PS per litre, one of the highest ever for a naturally aspirated production car. Torque was rated at 160 Nm at 7,500 rpm. It weighed 1,060 kg.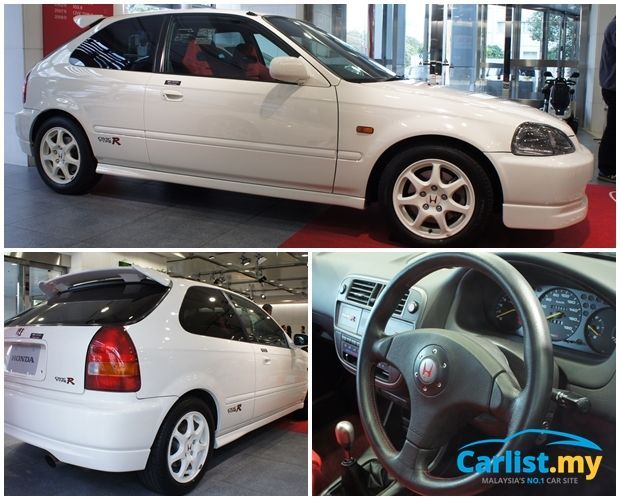 This immaculate example kept at Honda's Aoyama office had less than 1,000 km on the clock!
Accord Type R
1999 also saw the introduction of a Europe-only Accord Type R. It was powered by a H22A 2.2-litre engine that produced 212 PS at 7,200 rpm, and 215 Nm at 7,600 rpm.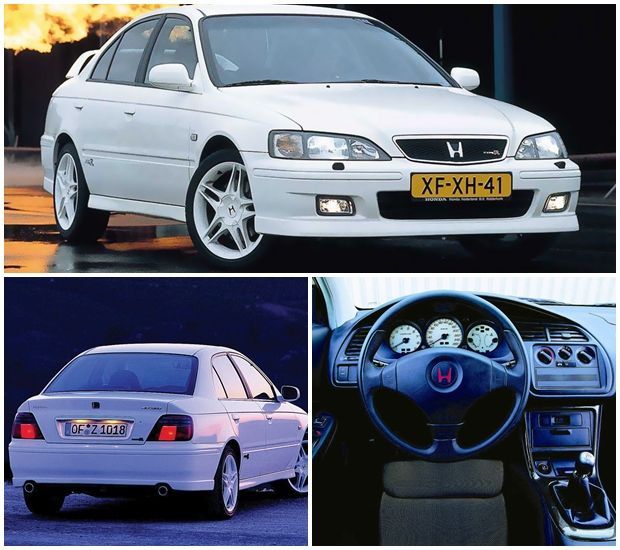 Type R Today
The '90s were indeed a glorious era for Japan, but 20 years on, the world that Honda exists today is very different from the roaring '90s, where cheap credit was bankrolling the Japan's car market, and young people dominated the country's demographics.
Today, consumption tax went from 3 percent in 1989 to 8 percent in 2014, the population is aging, and many households have reduced the number of cars they own to just one.
Honda's Type R line-up was also reduced from four to just one – the Civic Type R. In a reversal of trends, the present day FK2 Civic Type R is no longer made in Japan, but imported from the UK, and limited to just 750 units as finding more buyers would be too ambitious.
In the past, Honda had stubbornly refused turbocharging (at least for their road cars), as founder Soichiro Honda hated these 'add-ons,' preferring the purity of a naturally aspirated engine. In his earlier days, Honda-san also hated water-cooling. He was a bit like a Japanese version of Ferdinand Porsche. But just as Porsche now makes SUVs, Honda too has to evolve. Against today's stringent emission regulations, turbocharging and hybrids are necessary to stay in business.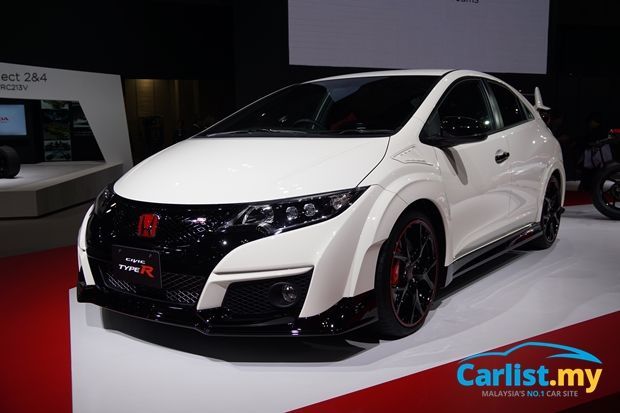 So while the EK9 1.6-litre 185 PS Civic Type R had almost 8,500 rpm of naturally aspired banshee screaming VTEC goodness, running on quaintly tiny 195/55 R15 tyres, today's FK2 Civic Type R has a 2.0-litre VTEC Turbo pushing out 310 PS at 6,500 rpm (redlines at 7,000 rpm), running on 235/35Z R/19 – a size that was unheard of for a Civic 20 years ago. It also costs more than twice as much as the original Civic Type R.
Today's hypercompetitive automotive industry simply leaves no room for engineers to indulge their enthusiast fans by producing four different Type R models.
The non-premium sports car market has also almost collapsed, not just in Japan, but also around the world. Save for cars like the Toyota 86 and Mazda MX-5 – both not a high volume model - the sports car segment has been reduced to a branding game, and is almost exclusively dominated by luxury and super-luxury brands.
The role of a sports/performance car today is not to indulge a small group of enthusiast drivers, but to serve as a technology demonstrator for the brand, and that usually means a very high asking price.
Their continued existence in the line-up must be justified by their abilities to promote a specific technology that's relevant to other regular, more family- and environmentally-friendly cars in the line-up.
The all-new NSX and the Civic Type R are the best examples of this.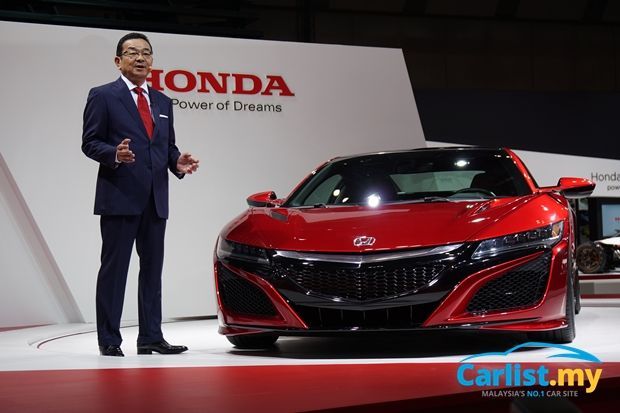 Speaking on the sidelines of the recent 2015 Tokyo Motor Show, Takahiro Hachigo, President and CEO of Honda Motor told Carlist.my:
"The NSX that we have today is equipped with a three-motor hybrid system. The Civic Type R was realized with what we call a downsized turbo. Therefore you can see that our sports-type cars are at the same time trying to introduce new environmental technology as well as sportiness. So for the time being I would like to focus on further developing these sports models that we introduced this time at the motor show. At the same time, we want to further evolve our environmental technology and consider about what type of sports cars are best for the future. However when it comes to sports cars, the volume – the numbers are limited. It's not that we can sell a lot of these cars. Therefore the production side will be limited. Meaning that there will be a number of issues such as the tariff, or import taxes of the countries. But Honda would love to supply these cars for all parts of the world and therefore we need your support."
Hachigo's answer also indirectly explains why there will never be another Integra or Accord Type R, or even an S2000 anymore. The market can no longer deliver any reasonable demand to support such cars.
As for Honda Malaysia, there is no confirmation yet as to whether will the FK2 Civic Type R be sold here. Malaysia remains the only country outside of Japan to ever sold the FD2 generation Japanese-market Civic Type R sedan via official channels. All other Civic Type Rs sold outside of Japan were of the UK-made hatchback version. So who knows Honda Malaysia might surprise us once again.
The Future of Type R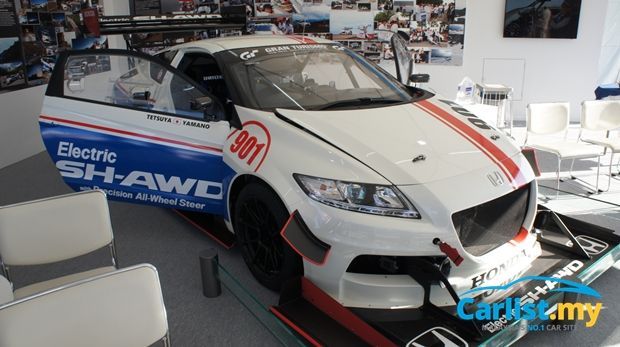 At a recent visit to the company's Tochigi R&D Centre in Japan, Honda granted us a two lap drive around a twisty course in an all-electric, all-wheel drive CR-Z equipped with an upgraded version of Honda's torque vectoring SH-AWD system - Electric SH-AWD with Precision All-Wheel Steer.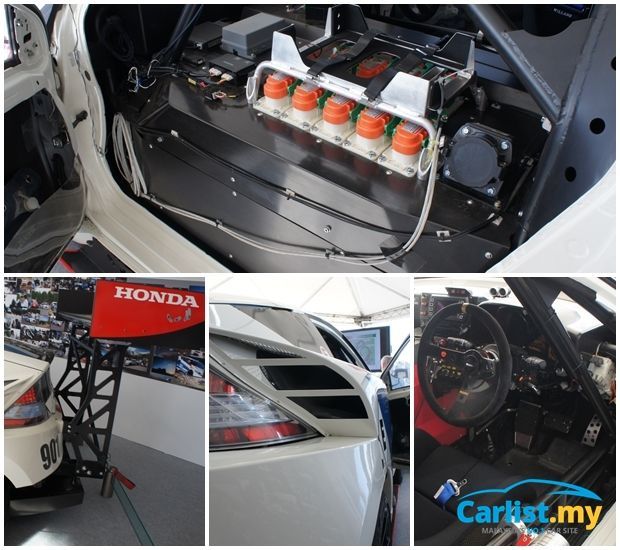 The 300-plus PS 4-Motor EV CR-Z that we drove is a detuned version of the 450-plus PS all-electric CR-Z that competed at the 2015 Pikes Peak International Hill Climb (above) earlier this year, which finished first in the exhibition class, and 11th overall. Honda pointed out that all other cars faster that were faster than the Pikes Peak CR-Z had over 1,500 PS, so the team was very satisfied with the results.
The difference in power output between the Pikes Peak car and this prototype is due to the omission of a secondary traction battery fitted in the front passenger side of the race car.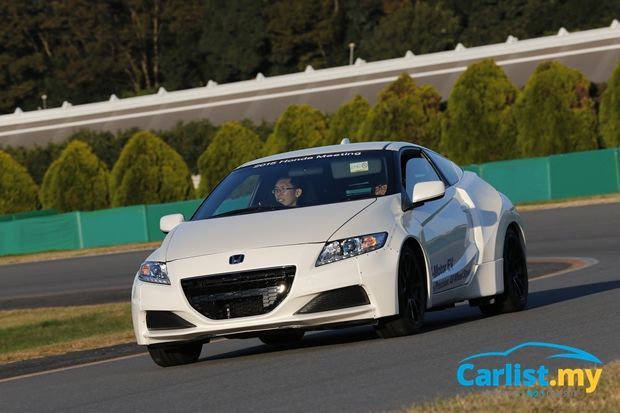 Instead of a 1.5-litre IMA hybrid system driving the front wheels, this 300-plus PS CR-Z uses lithium-ion traction batteries to drive four electric motors, one for each wheel. Not to be confused with an in-wheel motor system pioneered by Mitsubishi Motors many years earlier, the motors in the CR-Z are mounted in-board.
It's basically two sets of the Honda (Acura) Legend's SH-AWD's Twin Motor Unit (TMU) system integrated within the CR-Z.
The rear axle uses the Acura RLX's Precision All-Wheel steering system (video explanation below), allowing the CR-Z to independently adjust the toe angle of the rear wheels for optimum cornering.
As this is a prototype, we weren't allowed to take any shots of the 4-Motor EV CR-Z's interior.
Instead of a conventional gear lever, this CR-Z's transmission has only three buttons – P, R and D. The layout is similar to recent Acura models sold in the US.
Push the D button, and squeeze the throttle, this CR-Z shoots away so fast that I had to ease off the throttle momentarily as my body wasn't prepared for the unexpected rearrangement of my insides.
Round the bends, this thing just bit the tarmac hard and never let go. Turn in, I applied a bit more pressure on the throttle to find its limits, but all the CR-Z did was turned in even tighter, and gripped even harder. With a short wheelbase, the CR-Z is an inherently darty car, but punching the throttle mid-corner did not overwhelm this CR-Z's tyres. Instead, it only showed the impressive abilities of the Precision Steer system, and the all-wheel drive grip.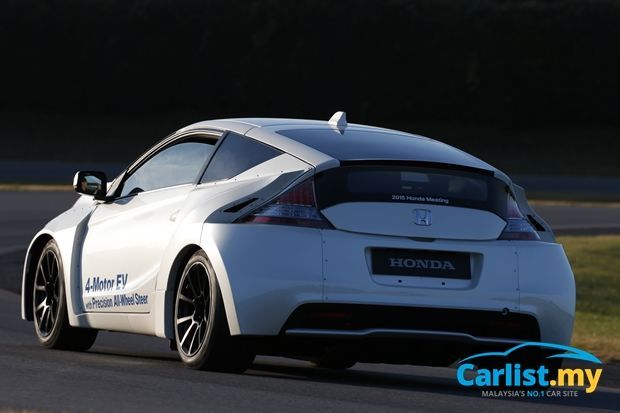 As it is an EV, all you hear is an eerie silence punctuated by the faint whine of the motors, and some wind noise.
The regenerative braking was very aggressive too. Diving into the corners, I only had to tap the brakes briefly. The car slows down very quickly the moment you lift off the throttle, almost as if it's being held back by engine braking, but minus the noise.
By the second lap, I had a better understanding of the car's limits and began to push it harder. Through all types of cambered, reducing radii turns, the 4-Motor EV CR-Z's kept taunting me, egging me to push it harder.
Some of bends were taken at 120 km/h, and still there was not even a chirp from the tyres. Normally, when driving on a track, you have to straighten up the car after exiting a corner before applying full throttle. Not in this 4-Motor EV CR-Z though. The engineer riding shot gun (brave guy) in the car assured me that I can to open throttle earlier than usual and still be able to hold the racing line.
Driving this car fast became matter of: 1. Aim for the line, 2. Be brave with the throttle, and 3. Brace yourself for the g-force as the car keeps its line as if its held by some imaginary rails.
My time with the car ended all too soon. If this is going to be the future of Honda's performance cars, I will gladly welcome it.
Honda also pointed out that rather than screaming VTECs of the '90s, the performance car of the future will likely be electric, as demonstrated by the plug-in hybrid Porsche 918 and BMW i8.
Yes the market may be changing, and that's just how life is, but you can be certain the 'racing spirit' will always be cultivated within Honda.
By the way, the 4-Motor CR-Z EV project was the brainchild of two young engineers, part of Honda's 'Young Engineers Challenge.' So rest be assured that the company isn't getting 'old.'
---
---
---
---
留言