Top 7 Things You Need To Know About The New W206 2022 C-Class
所有资讯 The much anticipated 2022 C-Class (W206) has finally been unveiled, and with it comes a new interior and exterior design, engine options and lots of current technology.
---
The current generation C-Class (W205) is five years old now, which is why it was high time that a new C-Class was introduced to the world. In those five years, Mercedes has come up with a lot of new design and tech, and it seems they have crammed all of it into the W206.
For those who think the car looks familiar, it's actually because it looks like a shrunken W233 S-Class; however, the C-Class does have some of its own characteristics, which includes a new slightly longer platform.
Without further ado, let's take a look at the top 7 things you need to know about the new W206 C-Class.


1. Exterior Design
While we did mention that the W206 looks like a shrunken W233, it only does this from afar because if you take a closer look, it does have its own attributes going for it. Thanks to a new front bumper with gaping intakes and squinty headlights, the C-Class now looks meaner than ever.
If this look is not menacing enough for you, the AMG line C-Class will get an angrier grille consisting of lots of little three-pointed stars, just in case the big one in the middle is not enough for you. The transformation continues at the rear, headlined by some new sleek triangular pointy taillights instead of the chunky ones found on the W205. The overhaul in looks continues at the wheels with some new 19-inch alloys instead of 17 found on the W205.


2. Interior Design
It seems the S-Class-ness continues inside, starting with that new enormous central infotainment system (10-12 inch depending on model) similar to its bigger brother. The infotainment system is a touchscreen and will sport Mercedes' latest MBUX system - "Hey Mercedes". The dashboard now features a swooping design which joins up at the centre console giving the W206 a simpler cleaner interior look. The cleaning up continues at the centre console, as there is no longer a rotary wheel or touchpad infotainment navigation tool but instead just a row of buttons underneath the infotainment system.
The driver display (10-12 inch depending on model) is also now disconnected from the infotainment system, just like the S-Class. The W206 also receives Mercedes' latest steering wheel design, with think spokes and lots of touch-sensitive buttons. The turbine design air vents seen on the old car have been replaced with a simpler squarish looking set of vents. All this cleaner simpler design might have helped make some room in the C-Class, as the W206 is said to be roomier than the W205 including 30mm more headroom and 35mm more knee room at the rear.


3. Engine
The W206 will be made with a variety of 4-cylinder mild-hybrid petrol engines, and yes ladies and gentleman, there will be no 6-cylinder engines for the new C-Class. A 9G 9-speed automatic transmission will be mated to all the powertrains as standard. 4Matic configuration is also on the cards for the new C-Class.
Instead of talking about all of them, We thought we would list down some of the possible engines that will make their way to Malaysia. A plug-in hybrid is also available but we're not sure if it'll make its way here.
C180 = 1.5-litre with 170hp and 250Nm
C200 = 1.5-litre with 200hp and 300Nm
C300 = 2.0-litre with 258hp and 400Nm


4. Mild Hybrid System
Every W206 will come with Mercedes' 48-volt mild-hybrid system as standard, including the entry-level model. What this means is that every model will come with a small electric motor which adds 20hp to the performance. This electric motor adds boost mostly during acceleration and helps recharge the car's battery when braking. Unfortunately, you will not be able to drive the new C-Class purely on electric.


5. Suspension setup
The W206 will come with either a conventional steel spring and absorber setup or an optional adaptive suspension system. There's also now rear-wheel steering on the C-Class making it easier to drive around tight city streets.


6. AMG
Although Mercedes has been seen testing AMG versions of the new C-Class, they are being really secretive about them. What we have figured out is that there will be no monster engines for the AMG versions, instead, a four-cylinder turbocharged hybrid engine will be tasked to power these AMG C-Classes.
It's not all bad news, because the engine will probably be based on the 421hp engine found on the A45s and the hybrid system will probably be based on the 129hp hybrid system found on the new W206 plug-in hybrid. Combined, it'll probably make around 550hp which is 40hp more than the W205 C63 AMG. Don't expect the AMG C63 till 2022 though.


7. Safety Tech
Compared to the W205 C-Class, the latest generation of the Driving Assistance Package in the W206 has additional and advanced functions.
Active Distance Assist DISTRONIC can automatically maintain a preset distance from vehicles ahead. One new feature is the response to stationary vehicles on the road at speeds up to 100 km/h (previously: 60 km/h).
Active Steering Assist helps the driver to stay in the lane at speeds up to 210 km/h. New features include additional lane recognition with the 360° camera, forming an emergency corridor especially at low speeds, significantly improved availability and performance in bends on country roads and improved lane centring on motorways.
In addition to conventionally posted speed limits, Traffic Sign Assist recognises signs on overhead gantries and at roadworks. Even conditional instructions (e.g. "when wet") are recognised by evaluation of all onboard sensors. New are the stop sign and red light warning functions (as part of the Driving Assistance Package).
For parking, thanks to improved surround sensors, the parking systems give the driver even better support when manoeuvring at low speed. Operation is faster and more intuitive thanks to integration into MBUX. The optional rear-axle steering is integrated into the parking assistants, with the calculation of the trajectories adapted accordingly. Emergency braking functions also serve to protect other road users.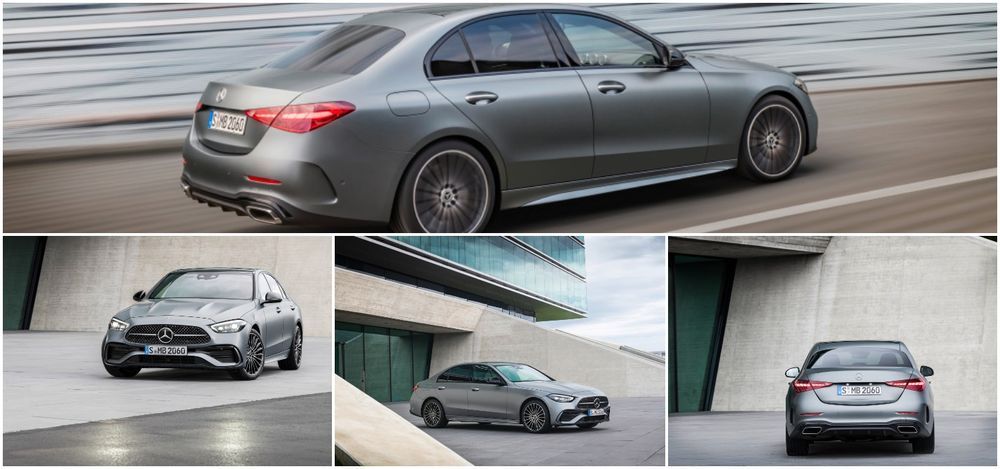 The Mercedes W206 C-Class will go on sale in Europe in March and is expected to fetch a price tag from RM217,000. If we look at the W205, it took Mercedes-Benz Malaysia nearly a year to introduce it in Malaysia so we can probably expect the same for the W206.
---
---
---
---
留言