'Tis The Season Of Unsurpassed Joy And The Best Deals
汽车专题 There is no better time to own your dream BMW than now. In this season of giving and renewed hope, take advantage of great deals from BMW Malaysia courtesy of special year-end offers and the government-mandated Sales and Service Tax (SST) exemptions that are in place until the end of the year.
---
Purchase your dream luxury continental before 31st December 2020 to enjoy special rebates and 0 percent financing interest rates on selected models so you can drive your way into the new year with unsurpassed joy and style. These year-end offers cover a wide range of BMW models ranging from the bold BMW 2 Series Gran Coupe to the all-conquering BMW M8 Coupe.
From growing families to executives at the top of their game, BMW has an array of cars in their arsenal to suit everyone's needs. Here are a few of the attractive year-end deals by BMW Malaysia.
BMW 530e M Sport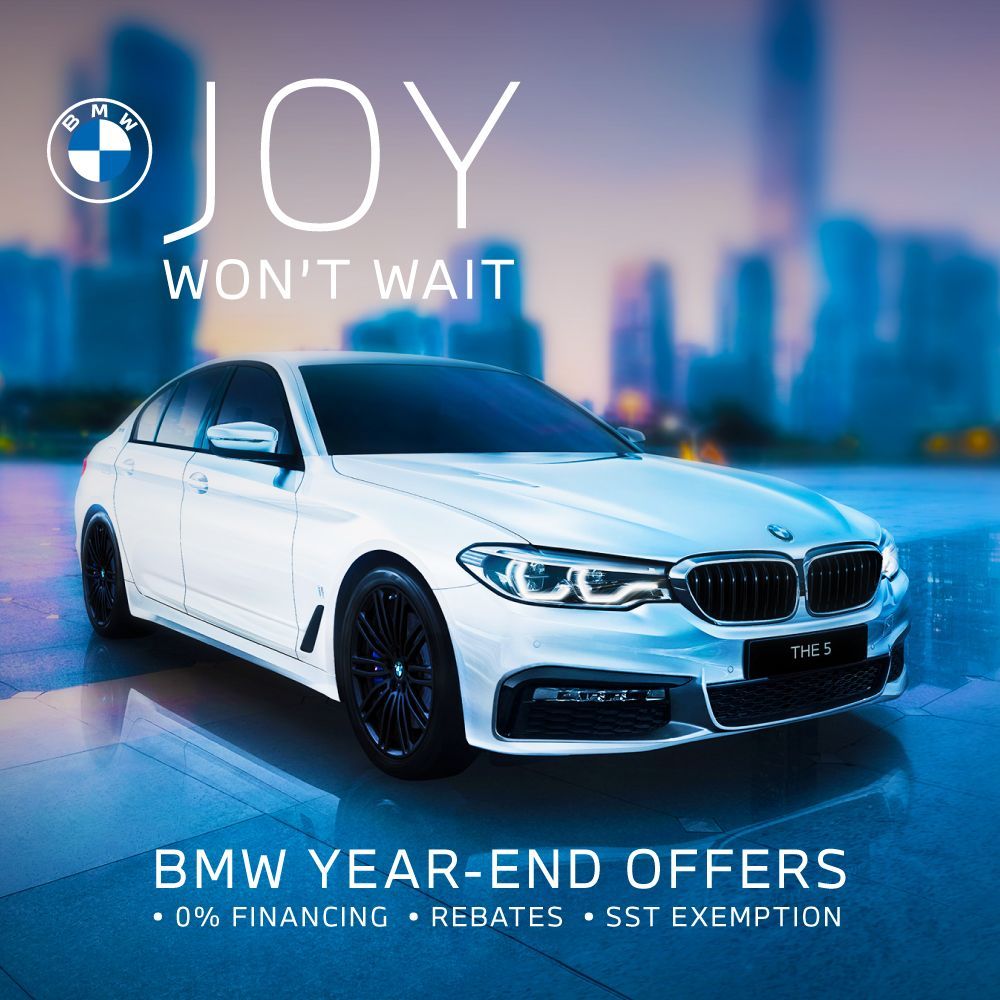 Going green has never looked so good. The transcending 5 Series executive sedan combines dynamic performance with hybrid efficiency for the best of all worlds. It is a car for people who have discerning taste and even more specific requirements of style, practicality, and power.
With a 2.0-litre engine and PHEV hybrid system that generates a combined output of 252hp and 420Nm the 530e M Sport is pretty much suited for everything; from your board lunches to the spirited weekend drive. The 530e M Sport's XtraBoost feature, on the other hand, temporarily raises its power output to 292PS – giving you that extra boost of speed just when you need it. Decked out in the M Sport package, the 530e M Sport characterises one basic statement: I mean business.
However, it's not all about power, the 530e M Sport is just as adept being a comfortable and efficient sedan for the whole family – with a 9.2kWh Lithium-Ion battery, the 530e M Sport is able to deliver up to 43km of zero-emissions travel range depending on driving conditions (at speeds up to 140km/h). This means fewer trips to the pumps, and more time experiencing joy on the open roads.
Retail price with SST Exemptions: RM333,692 (Savings up to RM5,107)
From 0 percent financing interest or RM3,080 monthly
Additional rebates of up to RM40,000
Now with 6+2 PHEV Battery Extended Warranty
BWM X1 sDrive18i
The BMW X1 premium-compact SUV has forged a status of sublime practicality, premium style and great value for money. The xDrive18i is for perceptive buyers with efficiency and value in mind. Powered by BMW's latest 1.5-litre turbocharged three-cylinder engine, it develops 140hp and 220Nm of torque. The X1 sDrive18i proves that one can have superb fuel efficiency without the drawbacks of reduced power.
The superbly designed and crafted interior offers a nicely elevated driving position and superb visibility for all its passengers. The rear is especially spacious for your loved ones with up to 56cm of legroom making it a relaxing place to be in on long journeys, even for taller passengers. A beautifully designed exterior, on the other hand, fuses BMW's trademark design elements and proportions for a purposefully modern SUV.
Retail price with SST Exemptions: RM208,368 (Savings up to RM7,431)
Financing as low as 1.88 percent or RM2,176 monthly
Additional rebates of up to RM5,000
Driving joy awaits, but not for long - current offers apply until the 31st of December 2020, so test drive your preferred BMW today and drive into the new year in style!
---
---
---
---
留言