Top Malaysian Racers Ready To Battle It Out At Inaugural Toyota Vios Challenge
所有资讯 All set to rock Penang on August 12th and 13th, the inaugural Vios Challenge race is anticipated to be one of the more thrilling racing competitions in Malaysia.
Despite being new, the race has already received very positive feedback from big names in the local racing scene like Keifli Othman, Boy Wong, Kenny Lee, James Veerapan, Syafiq Ali, Mark Darwin, Mitchel Cheah, Rocky Seow, Akina Teo and Tengku Djan Ley who are participating in the race.
The local racers gave their comments after their first shakedown session at the Sepang International Circuit last week.
"It is going to be a very close race," said Keifli Othman, a veteran of saloon and open wheel racing and an early favourite in the Vios Challenge. "The Vios is very responsive and easy to handle so newcomers and seasoned racers will have a lot of fun driving this car in the race," said Keifli.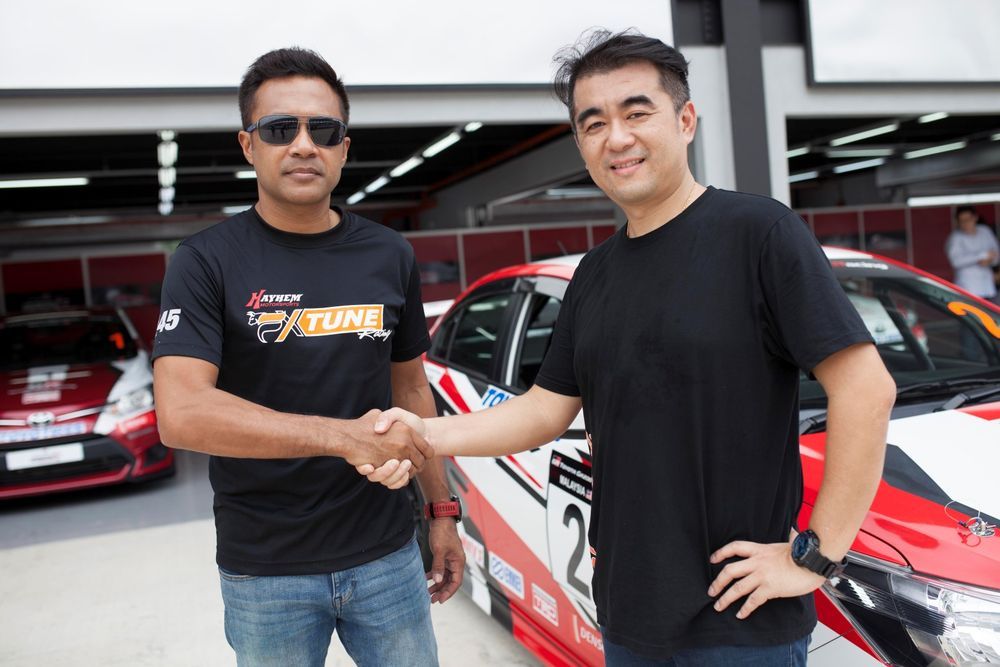 Echoing Keifli's statement, rally ace Kenneth Koh who cut his teeth on international rally circuits but making his debut on a race track in the Vios Challenge was quick to praise the ease of settling into a quick rhythm with the Vios.
"The car is so easy to drive, I got used to it after just a few laps. It is very balanced with the right amount of power, handling, braking and acceleration so I think it is equal for beginners and expert drivers to handle the car," said Kenneth.
All 40 units of Vios Challenge racing cars have been built to identical specification using racing parts sourced from Toyota Racing Development (TRD) including its exhaust system, suspension and most of the aerodynamic kits. The rims, tyres and fuel are controlled items supplied by the organizers during the race which further restricts the variables that drivers can exploit.
According to another early race favourite Boy Wong who will be racing under Team ST Wangan's banner, the nature of a one-make race negates the need for any racing strategy. "This is going to be a pure pedal-to-metal race from lights to flag. You won't have any opportunity to think of strategies in the race. Everyone will be jostling to get ahead of the pack so you either keep up or defend," said Wong.
"Having driven the Vios, I believe that this car will reward the gentle and smooth driver. If you're too aggressive, you may lose too much momentum and actually fall behind. The way to drive it is by being smooth through the corners. I think that the driver who realizes this quickly will do very well," said owner of Dream Chaser Team CY Ong.
"We have not had a race of this nature and competitiveness in a very long time. I've waited so long for something like the Vios Challenge to come by and I am getting so excited about fighting it out in the first race in August. I simply cannot wait," added Keifli.
The Vios Challenge will be the headlining event at the Toyota GAZOO Racing (TGR) Racing Festival that kicks off with the first event on 12thand 13th August at the Batu Kawan Stadium in Penang.
The Festival will host a myriad of activities including drift shows, celebrity performances, food trucks, test drives, and a showcase of the upcoming Toyota C-HR. Entrance to the event is free.
---
---
---
---
留言