更新于: 一月 22日, 2021
更新于: 一月 22日, 2021
经销商
Carlist.my认证这个"受信赖的经销商"在维护的最佳汽车销售实践方面拥有良好的记录
Selangor » Kajang » 卖家的留言
Carlist.my推荐最好的交易

*WELCOME TO THAM MOTOR TRADING (M) SDN BHD*

THAM MOTOR TRADING (M) SDN BHD is a LICENSED & TRUSTED company in used car trading industry with more than 10 years of experience and good dealing. (Since 2008)

*WHY CHOOSE US ???
OUR SPECIAL [OFFER] AND [SERVICE]
- TRUSTER CAR DEALER VERIFIED BY CAR – L1ST & MUDAH
- WE MAKE LONG TERM BUSINESS WAY
- WE DIDN'T HIDE OR CHEAT ANY INFORMATION FOR CAR
- WELCOME VIEW AND TEST
- FRIENDLY AND PROFESSIONAL SALES ADVISOR TEAM
- OVER 200 UNITS READY STOCK TO CHOOSE
- WE HAVE OWN TECHNICAL STAFF TO MAINTAIN OUR STOCK FOR KEEP RUNNING IN WELL
- OUR STOCK ALWAYS KEEP IN GOOD EXTERIOR, INTERIOR AND PERFORMANCE
- FREE 6 MONTHS of WARRANTY package to protect your car AFTER DELIVERY (T&C)
- OUR PRICE ARE REASONABLE AND VALUABLE
- WE HELP YOU TO GET UR DREAM CAR WITH REASONABLE PRICE AND BEST CONDITION
- We PROVIDE CAR LOAN SERVICE WITH ALL LOCAL BANK
- LOW INTEREST RATE WITH PLATINUM DEALER
- TRUSTED & RELIABLE
- WE ALSO PROVIDE LOAN SERVICE FOR PROBLEM IN , CTOSS , CCRISS AND PTPTN
- HIGH VALUE TRADE IN
- WE DON'T ACCEPT ANY INVOLVED ACCIDENT CARS.
- FAST DELIVERY AND EASY PROCESS
- FREE SERVICE FOR RENEW ROAD TAX AND INSURANCE
- FREE VALUE APPRAISAL FOR ANY CARS.
- FREE MYSTERY GIFT
*JUST TAKE AND DRIVE, NO REPAIR NEEDED!!!*
### Welcome View The Car!!! ###
### Must View!!! ###

### FOR MORE INFORMATION & INQUIRY, PLEASE CONTACT OUR SALES REPRESENTATIVE ###
***********************************************************************************

* 显示电话号码 017-6266302 TAN

* 显示电话号码 017-6266093 LIN

* 显示电话号码 017-6266525 RAYMOND

* 显示电话号码 017-6266829 JIMMY

2017 Proton PERSONA 1.6 (A)PREMIUM FULL SPEC
********************************************************************

- 6 MONTH / 1 YEAR WARRANTY !! (T&C)

- MYSTERIOUS FREE GIFT !! (T&C)

********************************************
Features & Specifications
****************************
* Well Maintain By Previous VIP Owner
* Tip-Top Condition
* Like New
* 100% Accident Free
* Low Mileage
* Non Smoker Owner
* Clean Interior
* Engine Running Smooth
* Gearbox Running Good
* Suspension Working Good
* Air-Conditional Working Good & Freezing
* Auto Adjust side mirror
* SRS Airbag & ABS
* Push Start Button
* Reverse sensor
* Reverse camera
* Multi steering Function
* Full Leather Seat
* Front Light
* High Performance Sound System
**************************************************************

* 显示电话号码 017-6266098 VINCENT

* 显示电话号码 017-6266079 PAUL

* 显示电话号码 017-6266055 NICK

WE ACCEPT TRADE IN ALL CAR MODEL
HIGH VALUE PLS COMPARE

$$$ FAST LOAN $$$
###CHEAPEST IN TOWN!!!###
###TRADE IN ARE ACCEPT!!!###
###LOW BANK INTEREST!!!###

DOCUMENTS NEEDED FOR LOAN (EMPLOYEE)
1) IC
2) LICENSE
3) 3 / 6 MONTHS PAYSLIPS
4) 3 / 6 MONTHS BANK STATEMENTS
5) EPF (KWSP)

DOCUMENTS NEEDED FOR LOAN (OWN BUSINESS)
1) IC
2) LICENSE
3) 6 MONTHS BANK STATEMENTS
4) SSM (3 PAGES)
5) Form 9, 24, 44, 49 and M&A (Only for SDN BHD)

Address: NO.3 JALAN TIMUR LOT 3/1, 43000 KAJANG SELANGOR DARUL EHSAN.

(Behind of Hospital Kajang, Behind of Balai Polis Kajang, Behind of Hospital KPJ Kajang, Beside of SJK(C) Yu Hua)

GOOGLE MAPS: THAM MOTOR TRADING
WAZE: THAM MOTOR TRADING

###IMPORTANT NOTICE###
!! WE ONLY ACCEPT ONLINE BANKING TO ( THAM MOTOR TRADING (M) SHD BHD ) ACCOUNT !!
!! WE WON'T TAKE RESPONSIBLE ONLINE BANKING TO ANOTHER BANK ACCOUNT !!
!! THE PRICE WILL BE DIFFERENT FOR LOAN BUYER !!
!! SOME OF THE CONTENT MIGHT BE DIFFERENT, PLEASE CONTACT US FOR INQUIRY !

THANK YOU!!!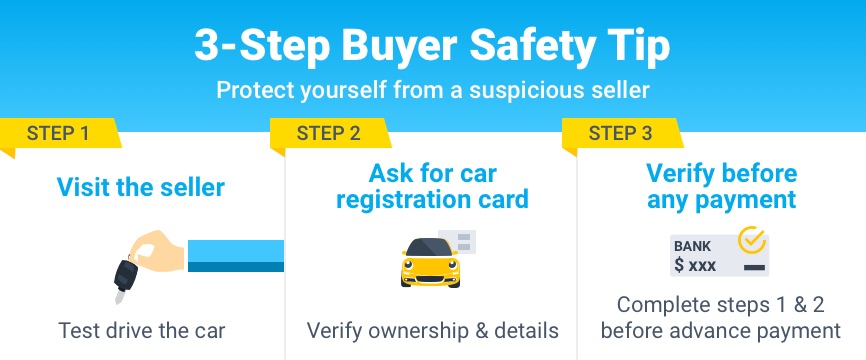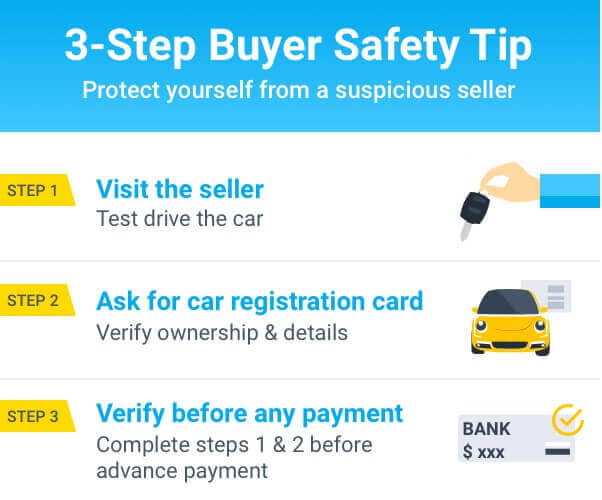 财务计算器
车贷每月分期付款* RM 490.05
* 使用此计算器仅适用于参考指南而已。所有利率,金额和条款均基于您的个人模拟和您的假设计算。任何情况下的计算结果都是大约而已,可能出现落差。 Carlist.my不保证其准确性或适用于您的情况。

配置与装备
---
变速器
基本
引擎配置
直接注入
Multi-Point Injected
汽油/能源种类
Petrol - Unleaded (ULP)
表现与经济
方向盘
尺寸和重量
刹车器
悬挂
轮胎和轮子
* 配置和装备来自RedBook,并基于制造商的标准规格。该车的实际配置可能不同,请与卖家确认。
舒适配置
其他
Number Plate Holder Rear Spoiler Remote Trunk Release Seat Height Adjuster for Driver Tinted Film
便利配置
Auto headlamps
Automatic On/Off headlamps
Engine start
Push Start Button
Hill start assist
Hill hold assist
Navigation
Navigation System
Power side mirror
Mirrors, Electric Foldable Side
Remote locking
Keyless Entry
Reverse camera
Reverse Camera
Split fold read seat
60:40 separately fold rear seats
方向盘按键
Steering wheel mounted audio control
娱乐配置
CD
2-DIN-1-CD,MP3 / 4 Speakers Audio - CD / DVD Player Radio/CD/MP3/AUX/RDS
Multi function screen
Audio-Touch Screen
USB
Rear USB Charger USB and Bluetooth connectivity
灯光配置
头灯
Headlights Follow-me-home function
Rear foglamps
Fog Lights, Rear
安全性能
ABS/EBD
Brake Assist System (BA/BAS) Brake, Anti-Lock (ABS) Brake, Electronic Force Distribution (EBD)
Alarm
Alarm - Immobilizer
安全气囊(气帘)
Side and Curtain Airbags
前排气囊
Airbag, driver's Airbag, front passenger's
ISOFIX
2nd row seats-ISOFIX with top tethers
安全带
Front Seatbelt Pretensioners
Stability control
Traction Control System (TC/TCS)
其他
First Aid Kit Warning triangle
轮子和轮胎
* 配置和装备来自RedBook,并基于制造商的标准规格。该车的实际配置可能不同,请与卖家确认。
Proton Persona 的用户评论
Mohammad Azlan Bin Baharuddin
Proton Persona 2010 的车主
10 years...
A cheap and good car. Bought new in June 2010. Mileage 300k km. Nice to drive, durable, comfortable and dependable. Can drive all day such as KL to Penang day trip with ease. Still keeping it. Almost
更多
更多 »
A cheap and good car. Bought new in June 2010. Mileage 300k km. Nice to drive, durable, comfortable and dependable. Can drive all day such as KL to Penang day trip with ease. Still keeping it. Almost standard car only change to Alloy rims and better audio speakers 收起
Janson Wong
Proton Persona 2018 的车主
Budget
Persona 2nd gen (launched in 2016) Purchased new in 2018 Proton Persona 1.6 CVT Premium Pros (Strengths): 1. Ride & handling: For price below RM60k, delivers best steering feel for an EPS (not numb
更多
更多 »
Persona 2nd gen (launched in 2016) Purchased new in 2018 Proton Persona 1.6 CVT Premium Pros (Strengths): 1. Ride & handling: For price below RM60k, delivers best steering feel for an EPS (not numb like certain competitors), bodyrolls are expected especially above highway speeds because of its higher center of gravity. But in windy roads, the car feels really stable at turn-in, steering feel is not too light, brakes are relatively okay, but the pedal feel initially abit soft. Suspension soaks speedbumps with minimal rebound rate (rear dampers abit soft). Town driving is nice with minimal steering effort. Go test drive it, driving confidence ada, just my personal opinion. 2. Safety: Dual front airbags, ABS, EBD & ESC are standard equipments for all variants. Specs are specs, but when you are driving, please drive sanely. No point having 100airbags if you drive dangerously and end up in an accident. Safety first! 3. Space: Biggest usable boot volume for the price, best headroom for the price (1.9m adults can sit without their heads touching the roof), comfortable supportive front seats, great rear seats' reclined-angle (many passengers praised this). 4. Others: PROTON AIRCOND LO!!! hahaha... Cold wehhhh especially in early morning, ok ok sound system. Cons (Weaknesses) 1. Transmission refinement: Yes yes... I know. Proton's Punch CVT. The jerkiness is apparent at traffic crawls below 30km/h, stop n go conditions the throttle response is not tally with the gearbox (delay abit). But service center did update & reset the TCU (ECU stuffs), improving the throttle response & reducing the delay. Highway cruising around 110km/h, the rpm is at approx. 3000rpm, noise is on the louder side since other CVT competitors can deliver less than 2000rpm. 2. Space: wait a minute... I thought space is a pro. In this case, rear legroom is the main weakness. It is not cramped but if compared to other competitors, it feels the tightest back there if the front seats are pushed quite far behind. Go try it for yourself but it's sufficient for average adults (less than 1.8m tall). 3. Design: this one many people said the new Persona is bulky, ugly. But for me, memang the proportions memang lari sikit here and there. But once sit inside, the interior design not too bad la. Design is subjective also, don't judge a book by its cover? 4.Others: NVH level... Wind noise quite loud above highway speed, tyre roar too during highway cruise (can try replacing with better tyres), abit rattling noise in the dashboard (creaks) so better turn the music volume up? Haha... Fuel usage: errrm.... If you are a hypermiler, then confirm can drive more than 20km/l. But as for me, I'm just an average working person, this car serves as a workhouse, carrying friends and family, balik kampung trips once while. Throughout one year+, city driving (jam alot): average 10-12km/l, highway cruising average 14-17km/l. Differs for everyone, since some people drive like F&F, some drive delicately. In short, below RM60K, if really want a new car, a not very compact sedan, that can ferry 5 with relatively good comfort level, with huge boot, decent performance & handling (really not that bad la), cannot complain so much anymore, for the budget, then the new Persona 1.6 is the option. Cheers peeps!!! 收起
Rajiv Jayasiri
Proton Persona 2016 的车主
Very Good car for family use
Good car for your daily driving and well as highways. Excellent handling and adequate safety features. Tad bit higher on fuel consumption compared to rivals but you trade it in for more safe and
更多
更多 »
Good car for your daily driving and well as highways. Excellent handling and adequate safety features. Tad bit higher on fuel consumption compared to rivals but you trade it in for more safe and steady driving. 收起
最新浏览 首先查看汽车,并在这里显示
专家评论