2017 BMW 5 Series (G30) Revealed; Petrol, Diesel, PHEV Variants From 190hp to 462hp
所有资讯 Just a day after official images leaked onto the Internet, BMW has promptly pulled the veils off its seventh-generation 5 Series. Set to renew its fierce rivalry with the Mercedes-Benz E-Class in the premium executive segment, the all-new G30 5 Series receives a whole suite of cutting edge technology from the 7 Series above it.
Built on a shortened version of the 7 Series' OKL platform, the G30 seeks to build on the outgoing F10 model's success by embracing an evolutionary styling over its predecessor. Whilst its front fascia carries the new family look that started with the G11 7 Series, the overall profile is a familiar one.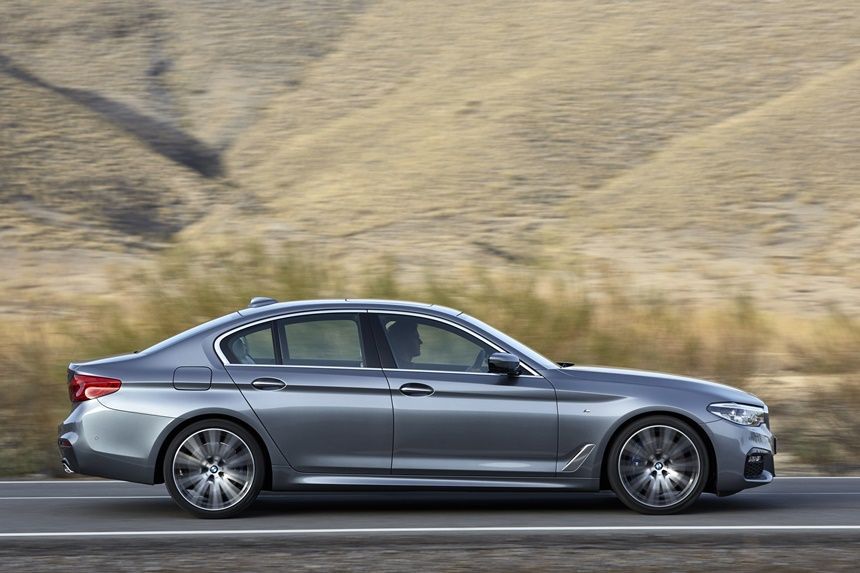 Design – Bigger, More Aerodynamic
Despite its apparent similarities with the predecessor's shape, however, the new 5 Series is more slippery through the air, cutting through the wind with a low Cd of 0.22 – a new segment benchmark, claims BMW.
Dimensionally, the G30 makes incremental gains over the F10, though make no mistake, this car has grown in all directions (F10's size in parenthesis):
Length: 4,936mm (4,907mm)
Width: 1,868mm (1,860mm)
Height: 1,479mm (1,464mm)
Wheelbase: 2,975mm (2,968mm)
Separately, a China-only long wheelbase model will be introduced at a later date.
A total of 21 colours will be offered with the G30, and rim sizes range from 17 right up to 20 inches. LED headlamps are standard across the board. Trim packages on offer are Sport Line, Luxury Line, and the full-on M Sport package with lowered suspension.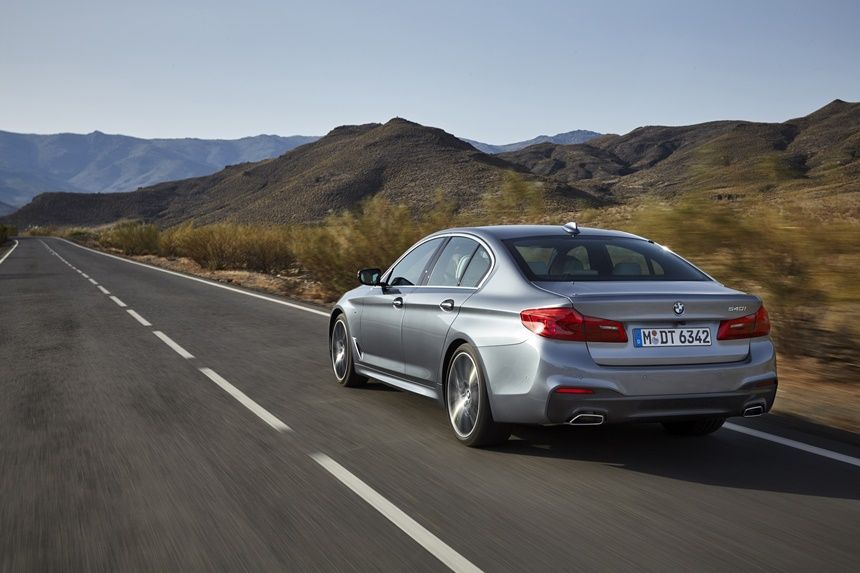 Engines – Petrol, Diesel, PHEV; 190hp – 462hp
A suite of petrol, diesel, and plug-in hybrid powertrains will be made available, most of them built around BMW's latest B-series modular engines. Cylinder count varies from four to eight, with Munich's famed inline-six layout slotting in between. Displacement ranges between 2.0 and 4.4 litres, all engines being turbocharged and direct injected.
Four powertrains will hit the ground running on its global launch date of 11 February 2017. Each engine can in turn be paired with either rear- or all-wheel drivetrains, those opting for the latter configuration gaining an xDrive suffix in their model designations.
530i: 2.0-litre 4-cyl petrol, 252hp, 350Nm
540i: 3.0-litre 6-cyl petrol, 340hp, 450Nm
520d: 2.0-litre 4-cyl diesel, 190hp, 400Nm
530d: 3.0-litre 6-cyl diesel, 265hp, 620Nm
The above catalogue of engines will then be swiftly followed by a further three a month later:
530e iPerformance: 2.0-litre 4-cyl petrol PHEV, 252hp, 420Nm
520d EfficientDynamics Edition: 2.0-litre 4-cyl diesel, 190hp, 400Nm
M550i xDrive: 4.4-litre V8 petrol, 462hp, 650Nm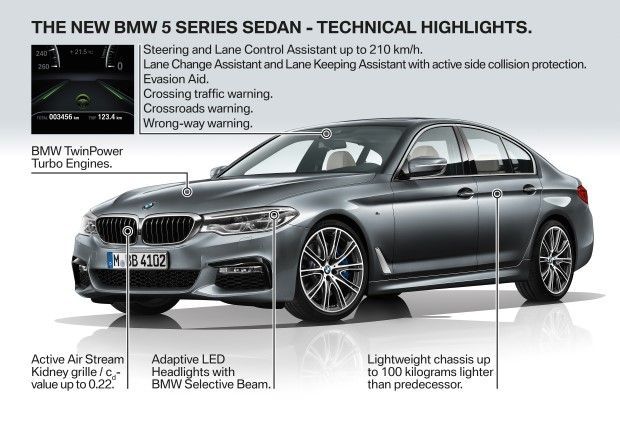 Further along the way, we expect a further widening of the powertrain portfolio, particularly with regards to the petrol offerings as far as our market is concerned. There is also the matter of the M5 performance flagship that will arrive in due course to crown the range.
An increasing rarity in the segment, BMW will still be offering the 5 Series with a 6-speed manual transmission, although this option will only be available in the 520d. All other variants in the range come with an 8-speed automatic as standard. It is worth noting that, as in the outgoing F10 model, the 520d automatic is faster to 100km/h and also more frugal than its manual transmission counterpart.
The table below summarizes the performance and fuel economy stats of the new 5 Series (xDrive models indicated in parenthesis):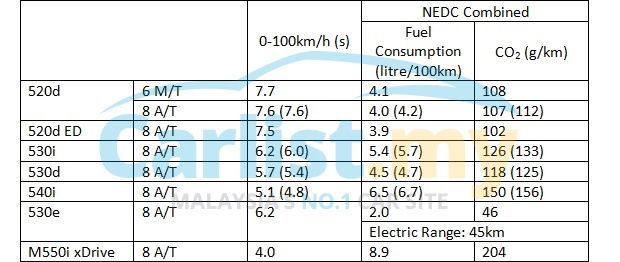 Chassis – 100kg Weight Reduction
An intelligent mix of materials has helped the G30 5 Series reduce up to 100kg of weight over the F10 whilst also increasing body strength and torsional stiffness. For the environmentalists, this translates to better fuel economy; for us the enthusiasts, we are anticipating even better dynamics as a result.
Whilst it does not get the Carbon Core structure of the G11 7 Series, the G30 gets a generous dosage of aluminium, high-tensile steel, and magnesium in its structure. BMW also claims to have reworked the acoustics package with better materials that are able to simultaneously reduce noise levels whilst also weighing less.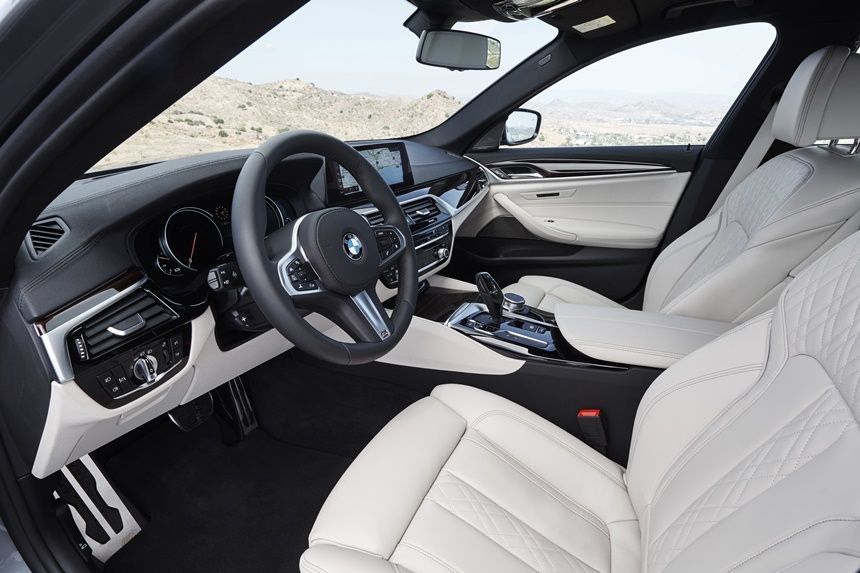 Critical load-bearing members of the G30 utilize high- and ultra-high-tensile steel for strength, whilst outer body panels, engine cross member, rear side member, and roof are made of aluminium. The passenger safety cell, meanwhile, mixes hot-stamped steels, aluminium alloys, and multi-phase steels for maximum crash protection. Finally, instrument panel mountings are made of magnesium for weight reduction.
The G30 features double wishbone front suspension coupled with a five-link rear setup. Whilst nominally similar to its predecessor, both front and rear suspensions are of completely new design. Adaptive dampers are optional. As with the F10, the G30 also offers the option of rear-wheel steering which in the BMW options list will read 'Integral Active Steering'.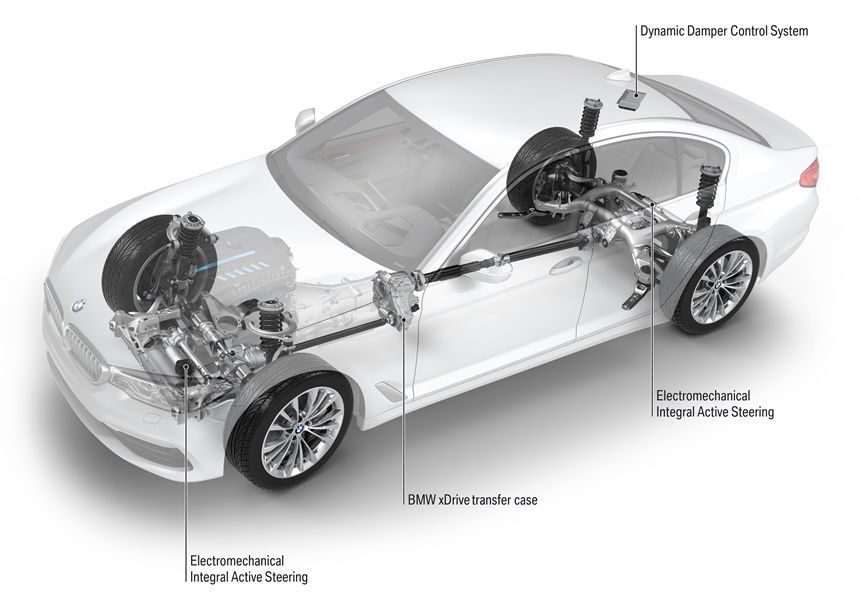 Driver Assistance – Keeps You From Being A Douchebag
A wide range of active and autonomous driver assistance systems are offered in the G30 5 Series.
Car-to-Car Communication, Hazard Preview: Much like Waze, if another car detects a hazard, everybody in the vicinity is warned. The difference here is that the function is automated and integrated to the vehicle; subject to it being part of the inter-connected BMW fleet, of course.
Side Collision Warning: An extension Lane Keeping Assist and Lane Departure Warning already available today, Side Collision Warning warns of vehicles encroaching from your blind spot and will autonomously apply steering inputs to steer your vehicle away. Part of the optional Driving Assist Plus package and operational from 70 to 210 km/h.
Evasion Aid: For situations where an obstacle (car, cow, human, whatever) suddenly appears in your path, evasion aid works in tandem with the electronic stability control system and assists your steering input to allow you to steer your vehicle around the obstacle without losing stability. Part of the optional Driving Assist Plus package, and operational at speeds up to 160 km/h.
Priority & Wrong-Way Warning: May be BMW is taking all those jokes about their drivers to heart. Priority warning sounds visual and audio warnings if detects that the driver is violating another vehicle's right of way. Wrong-way warning is even better; it detects if the driver is turning the wrong-way into a one-way street. Also part of the optional Driving Assist Plus package.
Adaptive Navigation: The integrated GPS system has an adaptive logic that learns the driver's pattern. If the driver consistently diverts from a suggested route, the system will in future adjust its routing to follow the driver's preference. In certain markets, maps are automatically updated FOC for the first three years.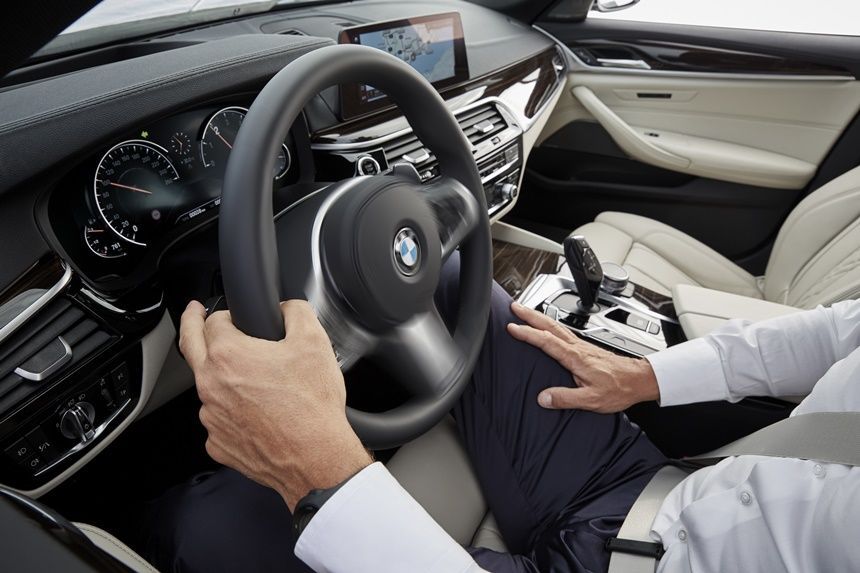 ​
The above features come in addition to a number of others that were already introduced earlier in the G11 7 Series, such as Gesture Control, Steering and Lane Control Assistant, Remote Controlled Parking, and Surround View parking camera.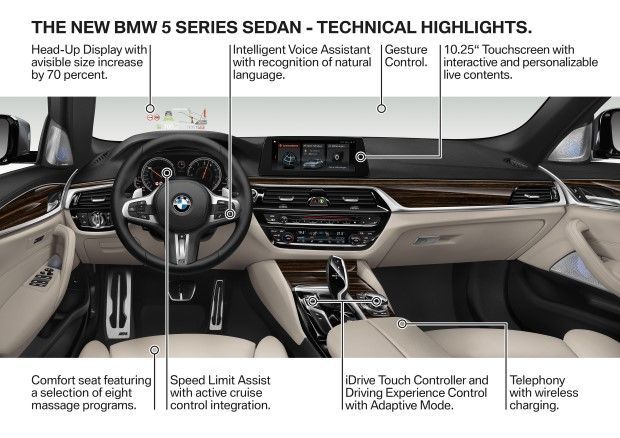 New Convenience Features
Semi-automated driving - Like the 7 Series, the all-new 5 Series is capable of semi-automated driving. When the optional Active Cruise Control (ACC) system and Steering and Lane keeping assistant is paired with the optional Intelligent Speed Assist feature, the 5 Series can drive itself at speeds of up to 210 km/h. The driver is relived of acceleration, braking and steering duties, but of course, for legal reasons, the driver is still required to keep his hands on the wheel – else the system will disengage after three repeated warnings.
Intelligent Auto Start Stop – The engine's auto start-stop function is now improved further. It now adjusts its responses to the route and traffic conditions and therefore offers even greater driving comfort.
Remote parking - Like the 7 Series, the all-new 5 Series comes with an optional the optional Remote Parking system. It allows the BMW 5 Series Sedan to be manoeuvred into even the tightest parking spaces remotely using the car key.
New iDrive - In top specification, it displays navigation, telephone and entertainment features, plus vehicle functions, on a high-resolution 10.25-inch screen. The system can be operated using the iDrive Controller, by voice command or gestures, or by touching the display controls directly.
Larger HUD - The latest-generation full-colour BMW Head-Up Display has a projection surface that is 70 per cent larger than before and displays traffic signs, telephone listings, radio stations, music tracks, navigation instructions and warnings from the assistance systems.
Improved comfort for rear passengers - The rear section of the cabin now features extended storage options, greater legroom, and comfort seats with massage function, which can be controlled using touch sensors. The four-zone climate control system comes with ionisation and discreet air fragrancing functions.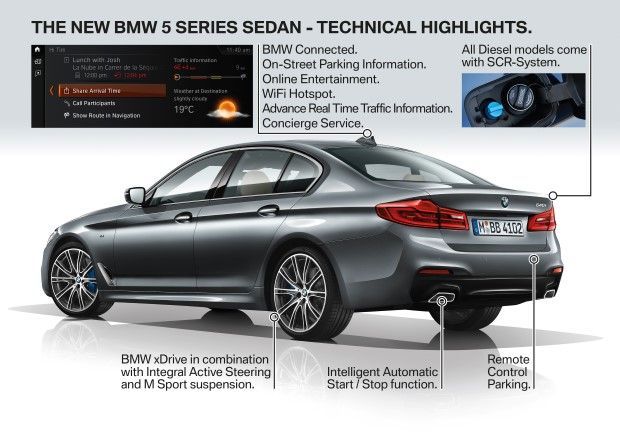 Production – Dingolfing, Magna Steyr, Shenyang
Like all its forebears since 1973, global production of the all-new 5 Series will be led by BMW's Dingolfing plant in Bavaria. The vehicle will roll off two production lines – on one line it will be built alongside the 3 Series GT and 4 Series, on the other along the 6 Series and 7 Series.
In anticipation of strong demand, BMW will also be rolling the 5 Series off the Magna Steyr plant in Graz, Austria from Spring 2017. The China-only long-wheelbase models will be built in Shenyang.
There is no official indication of when the G30 will be launched in Malaysia, but we are speculating a similar time table to what the company practiced with the F10 – launch of CBU models within six months of its global premiere followed by local assembly shortly after. Expect the 2.0-litre turbo versions to once again form the core of our line-up.
---
---
---
留言