ETCM's 'Riang Raya' Campaign Offers A Fully Paid-For Raya Celebration Party Worth RM50,000
购买指南 Edaran Tan Chong Motor (ETCM), the sole distributor of Nissan vehicles in Malaysia, has launched it's Riang Raya campaign for this upcoming festive season.
The campaign, they say, is one unlike anything ETCM has offered to customers before. It will run throughout the months of June and July 2015 and by the end, will award six lucky winners the opportunity to host their own Celebration Party.
The Celebration Party will be organized and paid for ETCM, which will cover the expenses worth up to RM50,000. In addition, the prize will come with the full facility of an even organizer, decorator, venue manager, sound system, food and beverage catering, and many more amenities.
All that is required from participants are to submit an entry form with their purchase of any new Nissan vehicle.
"We are always looking for innovative ways to reward our customers, and we believe that the concept of this 'Riang Raya Campaign' has never been done before here," said Mr Tan Keng Meng, Director of Marketing and Product Planning, ETCM. "Being able to plan their celebration is a way of us at ETCM to be closer to our customers, and playing a part in creating a wonderful moment for them to share with friends and loved ones. This is something we are extremely honoured to be doing."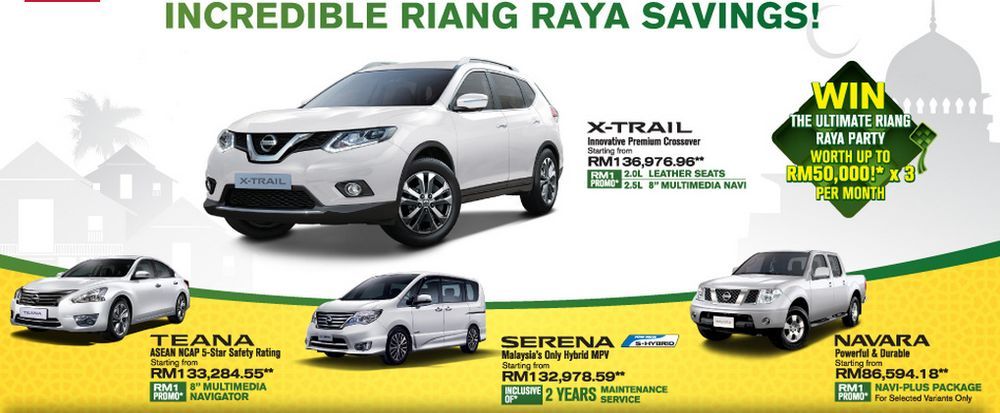 Additionally, ETCM is also extending its "RM1.00 Promotion Campaign" as part of its Riang Raya celebrations. With just RM1.00, customers are able to purchase the NISMO Aerokit for the Nissan Almera, or an IMPUL Aerokit for the Nissan Grand Lavina or Nissan Sylphy.
With the purchase of a new Nissan Teana or X-Trail 2.5, the RM1.00 promotion allows customers to add on the 8-inch display Multimedia Navigation System. Nissan X-Trail 2.0 customers will be entitled to upgrade to leather seats for RM1.00 as well.
This extension of the RM1.00 Promotion Campaign expands to allow owners of selected variants of the Nissan Navara to upgrade to the Navi-Plus Package. For the Nissan Serena S-Hybrid, customers will enjoy free two years maintenance service.
ETCM is also offering the chance to win an iPad Air 2 when they test drive any Nissan model in showrooms nationwide.
More information can be found at www.nissan.com.my or by calling ETCM's Nissan Customer Care Centre at 1800-88-3838.
---
---
---
---
留言