Nail-Biting Finish For Race Fans Concludes Round 2 Of Vios Challenge
所有资讯 Clear sunny weather conditions continued to bake the asphalt of the 1.99-kilometre street circuit at the Malaysia Agro Exposition Park Serdang (MAEPS). The layout that was used in November's Vios Challenge round remains unchanged, as both fans and drivers loved the technical layout that promised plenty of action and overtaking opportunities.
Super Sporting Class
You can always count on the professionals to put up a spectacular show and that was precisely what they gave race fans when Race 2 had to be stopped just two corners immediately after the start of the race when Kegani Racing's William Ho overturned after coming into contact with Telagamas Toyota's Freddie Ng.

Alif Hamdan, making his debut in the Toyota Vios Challenge driving for Team Laser Motor Racing, had his entire front bumper ripped off while trying to avoid William's free-rolling Toyota Vios.
William Ho waved at fans as he crawled out of the wreckage and walked away unhurt from the incident. The race was delayed by 30 minutes as officials worked to remove the heavily damaged Kegani Racing Team Toyota Vios that was blocking the track and to rectify the damaged barrier.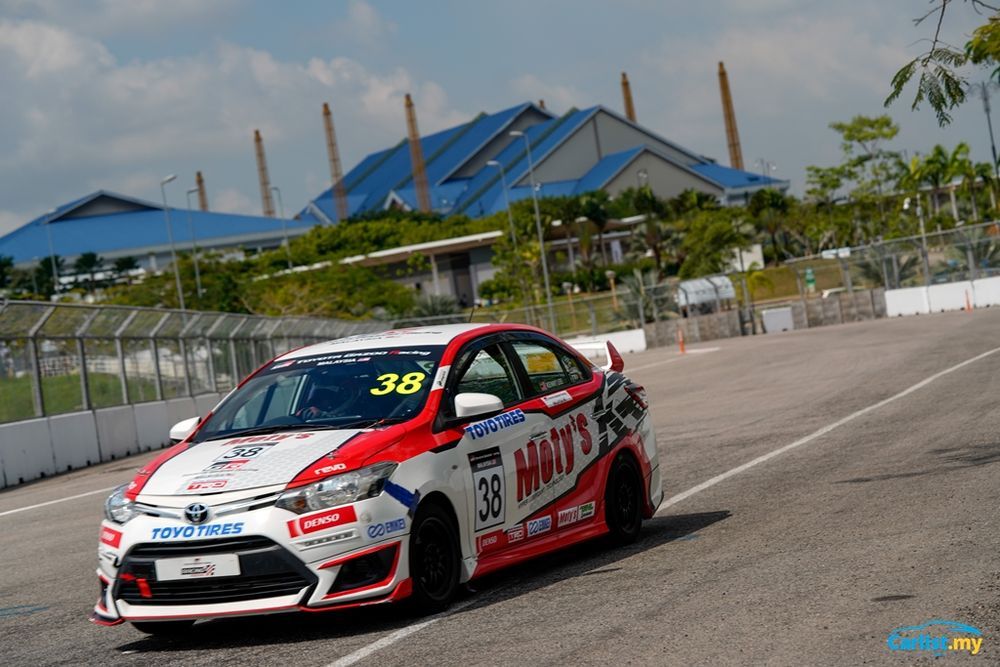 At the restart, Freddie Ng who lined up from second made a brilliant getaway to get ahead of leader Kenny Lee, with Brendan Paul Anthony in hot pursuit in third place.
Kenny Lee piled on the pressure trying to find a way through and eventually forced Ng into making a costly mistake two laps later when hit the concrete barrier, coincidentally at the very exact corner (turn 2) responsible for the run-in between him and William Ho.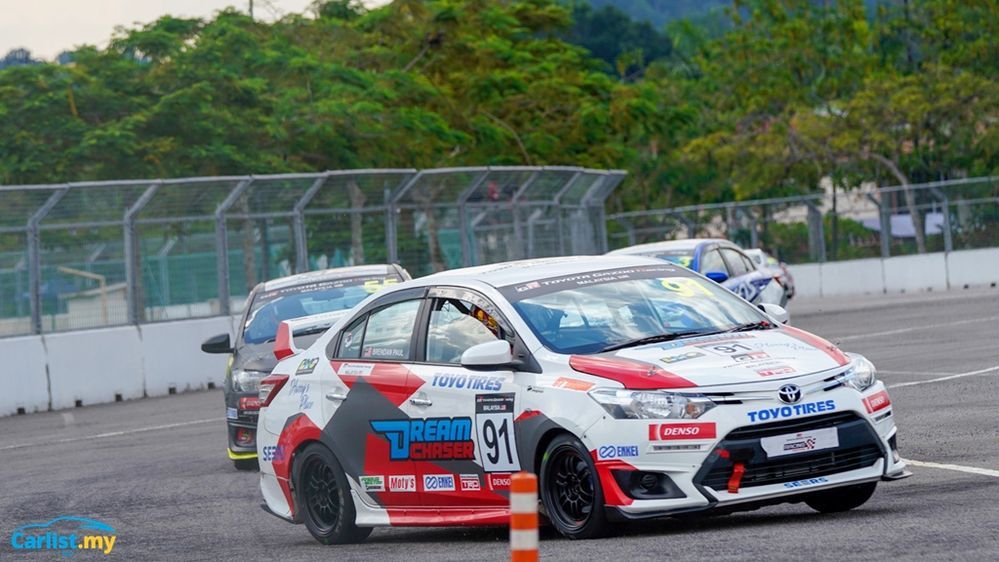 The race then slowly settled into the steady-state rhythm with Kenny Lee finishing ahead of Brendan Anthony and Race 1 winner Boy Wong in third position.
Sporting Class
Patrick Tam of Team Nanoplus led Race 2 from start to finish. But it wasn't a cruise to victory as a late introduction of the safety car brought second place Distinctive Model's Clement Yeo into attack mode.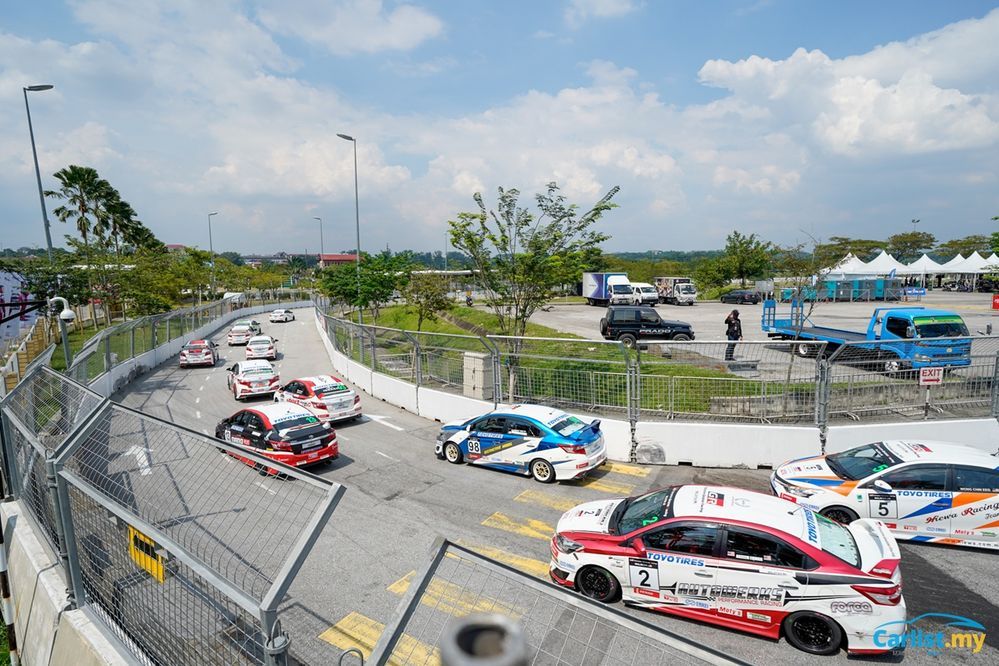 Clement Yeo had earlier been fending off a challenge from Prodigy Racing's 14-year-old Hayden Haikal. Hayden Haikal's attempt to passed Clement at turn 10 resulted in contact to both of them, with Hayden losing the most as only conceded track position to Eric Yong but also Race 1's winner Kenneth Koh but was later served a 10-second time penalty.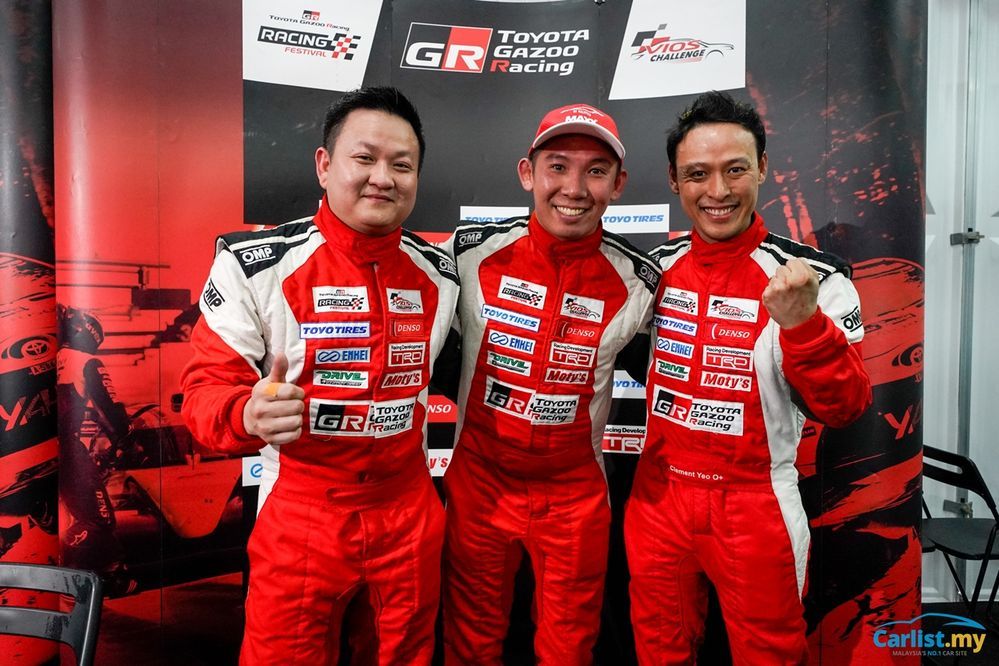 Koh's third place was, however, short-lived when he was called into the pit to repair a damaged rear bumper resulting from the earlier contact with Hayden. Eric Yong took the final podium position, finishing just 0.25 seconds behind Clement Yeo at the end of the 18 lap race.
Promotional Class
Racing in the Promotional class also brought out the best in the celebrities who put on a thrilling race for the fans, with singer Aiman Tino clinching his first race victory and second consecutive podium finish over the weekend following yesterday's third-place finish.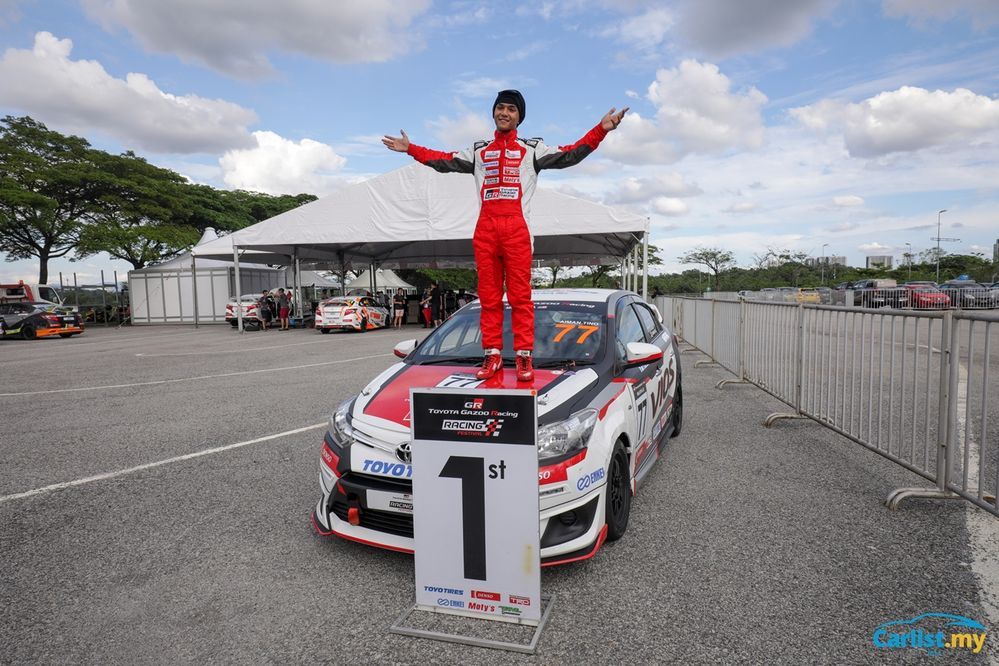 Although the 20-year-old was placed third position on the grid, he again repeated his remarkable start to lead the race into the first corner, with fellow singer Akim Ahmad in close pursuit and Akio Takeyama in third. In chase and fourth place was race 1's winner television host and presenter Nabil Ahmad and actress Diana Danielle in fifth.
"Like yesterday, my focus has always been on trying to get a good start," said Aiman. "I felt a lot of pressure with Akim, Takeyama and Nabil chasing me down but I was able to keep my cool and gradually extend my lead in the race."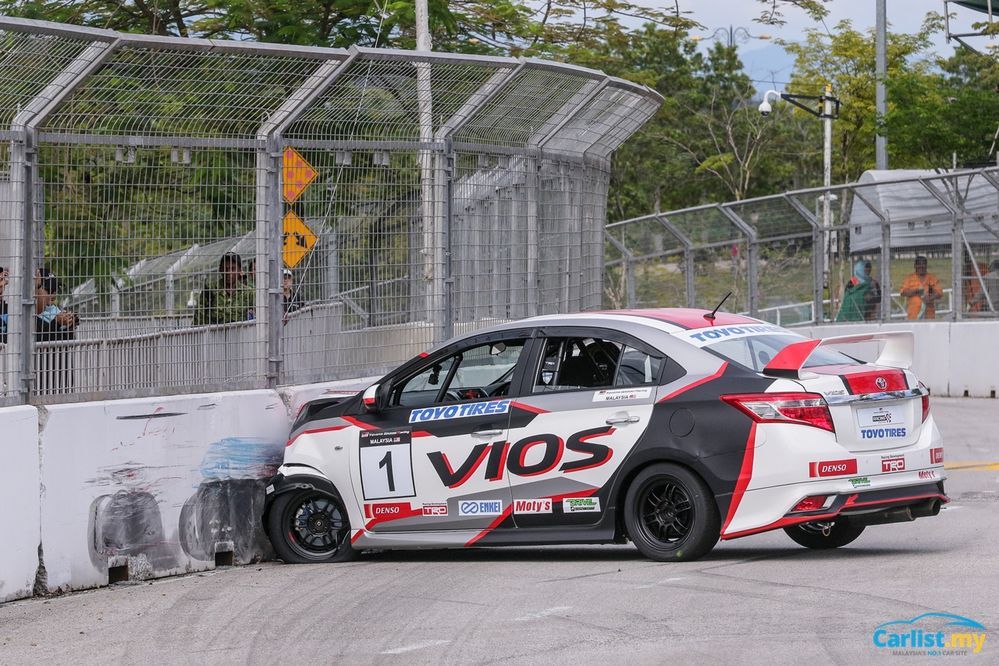 The top five positions remained unchanged for three laps until Takeyama was handed a 10-second penalty for a starting offence, and later involved in an incident when Nabil's overtaking move sent him into the concrete barrier, bringing out the safety car. Nabil crossed the finish line in third place but was subsequently served a 20-second penalty classifying him sixth. That promoted Diana into third place for her second podium finish.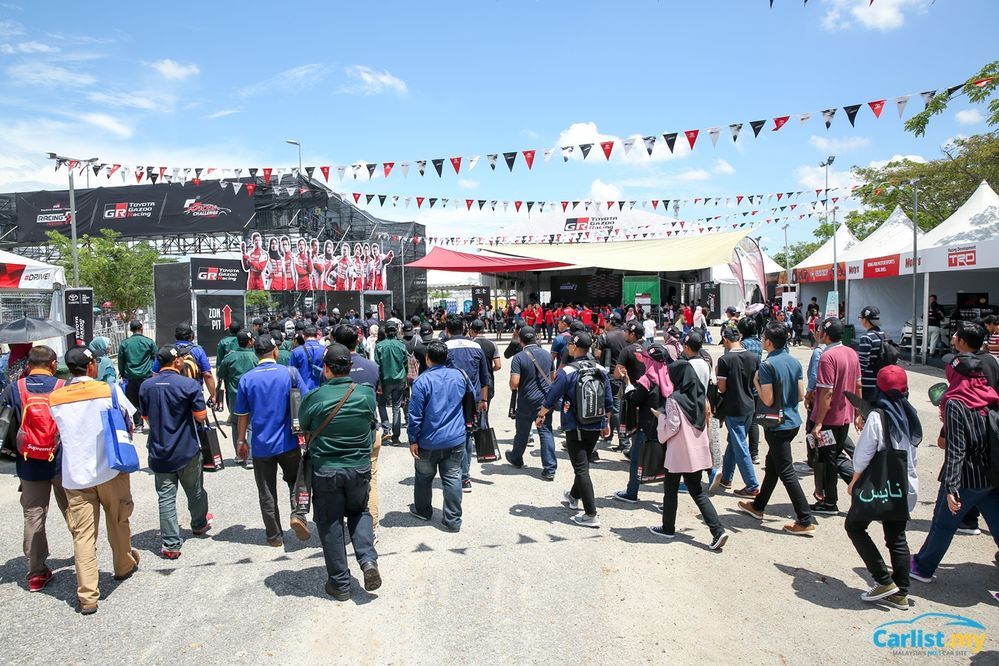 The two-day Toyota Gazoo Racing Festival concluded with an array of activities for fans and spectators that included the preview and public test drive of the all-new Toyota Rush, test drives, promotions, and celebrity performances. A revamped paddock area also brought fans even closer to their favourite drivers.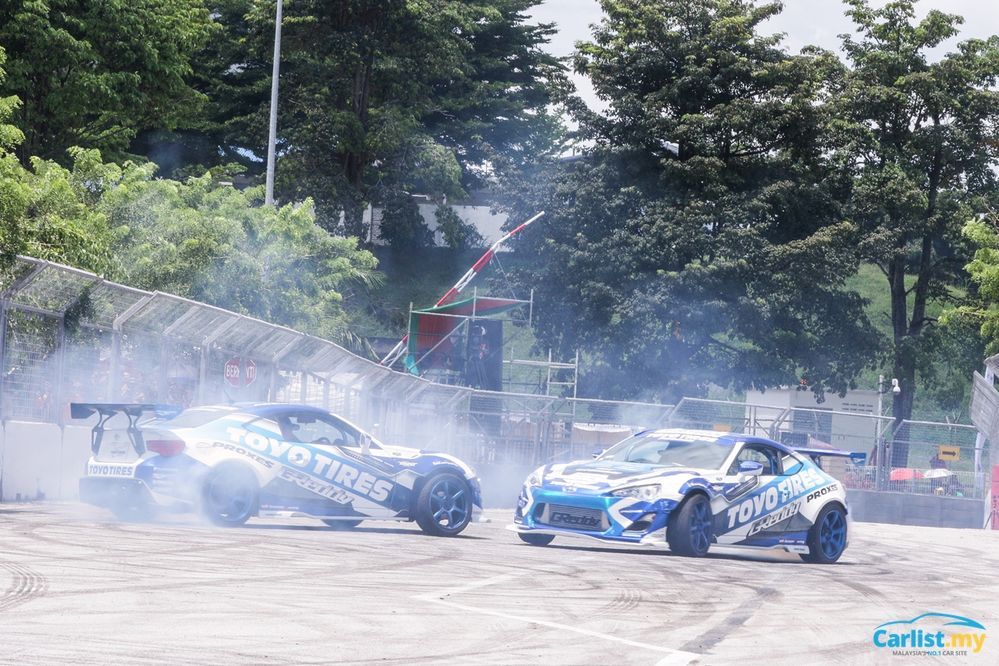 Other activities included a fun run around the street circuit, a concert by the Promotional Class celebrities, a pit walkabout, the appearance by the world famous Baby Shark mascot, display and sales of merchandise booths, simulator racing challenge anchored by Shawn Lee, and a drift performance by professional Japanese drifters from Toyo Tyres.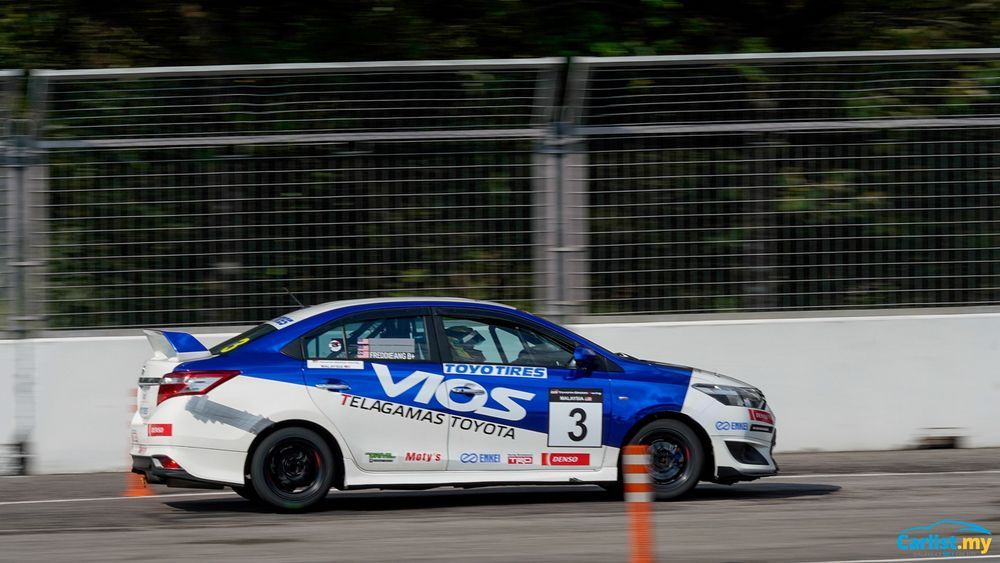 Also organized was a Mural competition that was won by a group of college artists who called themselves Yaulacap, beating eight other participants to take home a prize of RM3,000.
Round 3 of the Toyota Vios Challenge and Toyota Gazoo Racing Festival will take place at Stadium Batu Kawan, Penang, from 22nd to 24th February 2019.
---
---
---
---
留言