Paris 2016: Audi RS3 Sedan Debuts With 400hp 2.5 TFSI Engine
所有资讯 The most dynamic model of the Audi A3 range has debuted in Paris in the form of the Audi RS3 Sedan, following on from the introduction of the RS3 Sportback earlier this year in February.
Taking the 2.5-litre five-cylinder TFSI engine from the TT RS, the RS3 Sedan interestingly enjoys a 33hp advantage over the five-door Sportback equivalent, making 400hp from 5,850 to 7,000rpm. On top of that comes a 15Nm boost in maximum torque to 480Nm produced between 1,700 and 5,850rpm.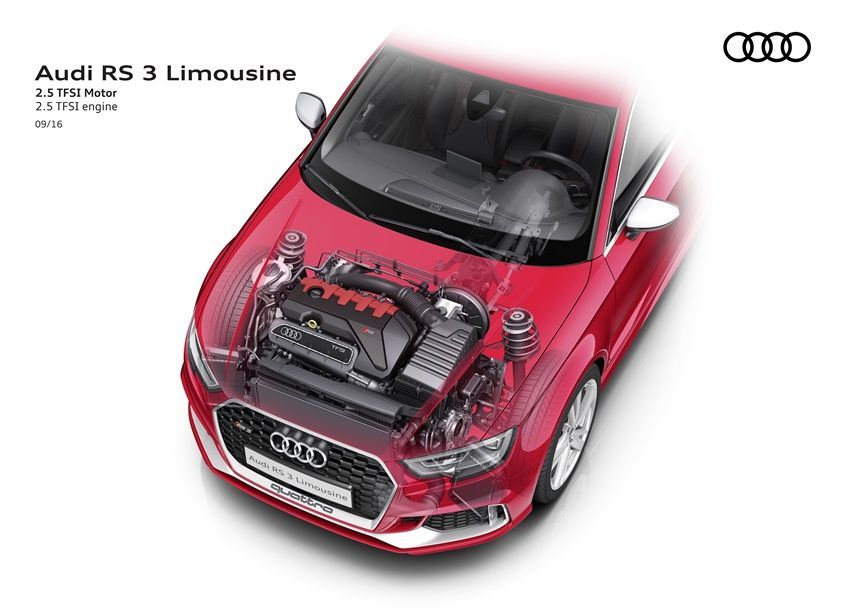 On top of turbocharging to maximize outputs, the award-winning five-pot is able to vary the lifting of its exhaust valves for improved efficiency. The engine also employs a dual injection fuel system that alternates between traditional port injection and high pressure direct injection into the combustion chamber according to engine load.
Mated to the engine is a 7-speed dual clutch transmission that connects the 2.5 TFSI engine to a permanent all-wheel drive system. An electro-hydraulic multi-plate clutch at the heart of the drivetrain continuously varies front-rear torque distribution for optimum grip and traction. When an aggressive style of driving is detected, the system will shuffle a bigger share of torque astern.
Fully deployed, the engine's power and drivetrain is able to propel the RS3 from 0 to 100km/h in just 4.1 seconds. Customers who opt for de-restriction of its top speed can potentially see their RS3 hit a top speed of 280km/h.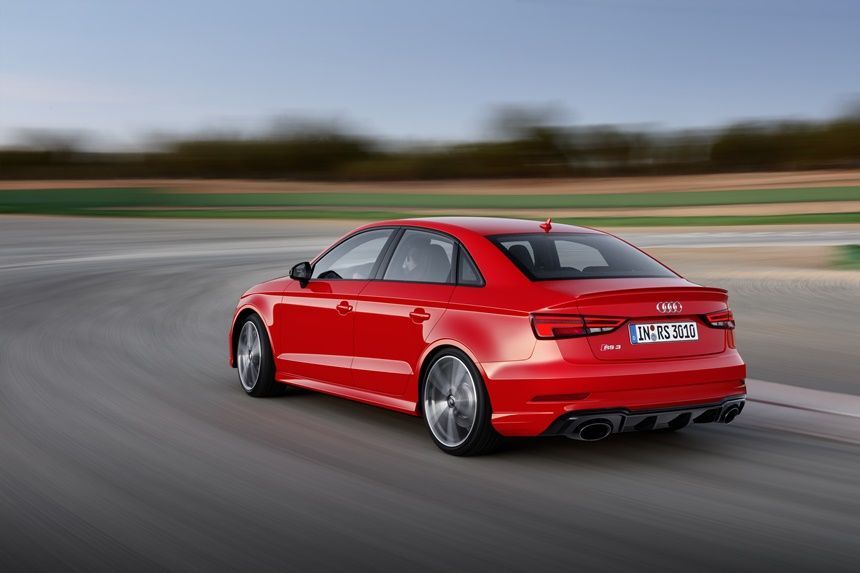 The RS3's electronic stability control software incorporates a brake-actuated torque vectoring control system that brakes the inner wheels around a corner for sharper turn-in. When switched to sport mode, the ESC is tuned to allow controlled drifts; full de-activation of the nanny is also allowed.
Besides getting flared wheel arches and wearing bigger wheels, the RS3 does get some significant chassis enhancements over a regular A3 Sedan. The body sits 10mm lower, whilst the front and rear tracks are both widened by 20mm and 14mm respectively.
Behind enlarged 19-inch wheels lined with 235/35 tyres come similarly enlarged brake discs which can be optionally upgraded to carbon-fibre ceramic items for fade-free stopping power.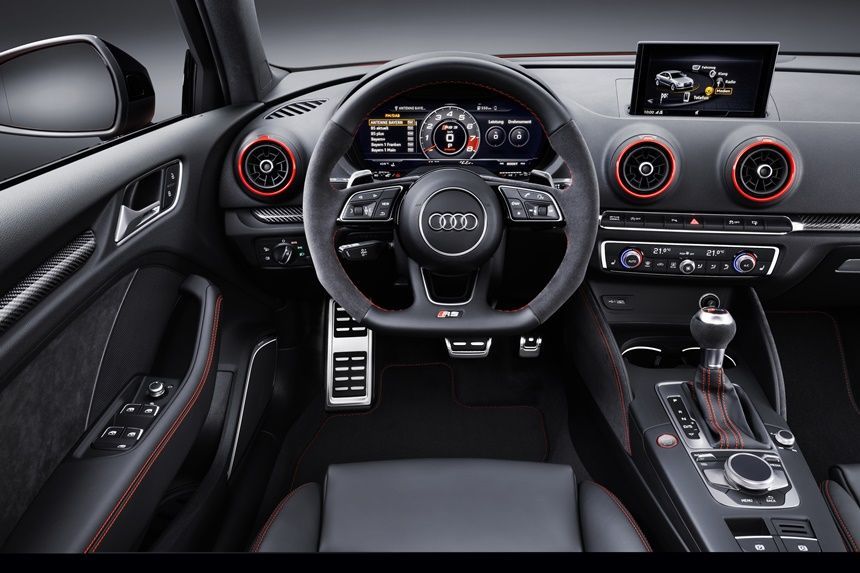 ---
---
---
---
留言