Review: 2017 Mazda CX-9 – Bona Fide Premium Credentials
评论 During the early days of SkyActiv Technology, Mazda engineers were very adamant about not going the path of turbocharging its petrol engines. The firm's persistence on natural aspiration has produced engines that are not only supremely linear in their behaviour, but also impressively efficient in the real world.
This insistence on breathing atmospheric air is good for cars up to the size of the Mazda 6, but in developing a replacement model for the CX-9 flagship SUV, it was found that the naturally-aspirated 2.5-litre petrol engine isn't quite sufficient in punching out the required low-end torque for the vehicle to move about in any dignified manner.
Faced with the choice of either going for a bigger engine or yielding to the forced induction solution, Mazda opted for the latter – but rather than merely strapping a turbocharger onto the familiar 2.5-litre SkyActiv-G engine, the engineers, in true Mazda fashion, developed an altogether more innovative approach.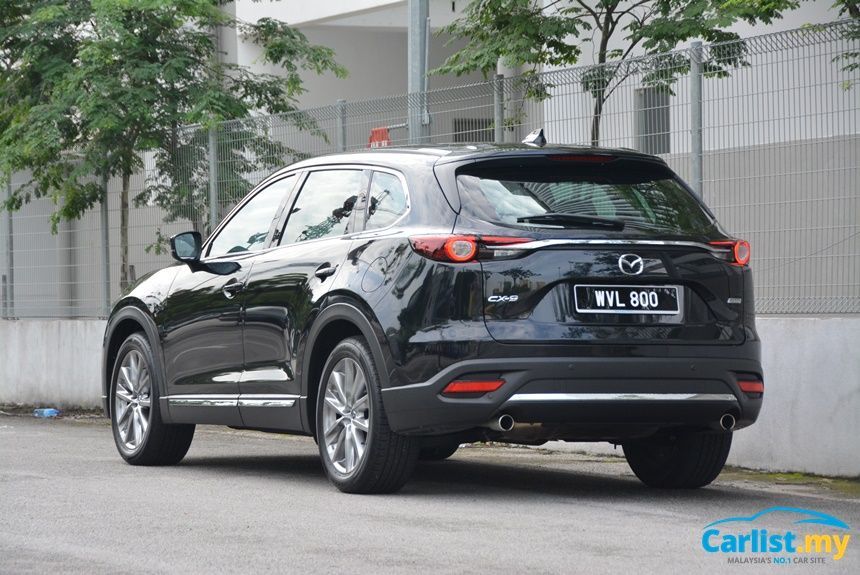 Specifications:
Price: RM250,000 (estimated, launch expected mid-2017)
Engine: 2.5-litre, Inline-4 Transverse, Turbocharged, Petrol Direct Injection
Power: 228hp @ 5,000rpm
Torque: 420Nm @ 2,000rpm
Transmission: 6-speed torque converter automatic, FWD
Safety: 6 airbags, ABS, EBD, ISOFIX, Electronic Stability Control, Blind Spot Monitoring, Reverse Camera, Autonomous Emergency Braking
Origin: Fully-imported from Japan. Australian-spec.
Overview
Forced induction in the CX-9's SkyActiv-G 2.5T engine is facilitated by what Mazda calls a Dynamic Pressure Turbo. The design is a world's first, according to Mazda, and it's operating principle is best described with the analogy of a garden hose.
To generate high boost at low RPMs, Mazda engineers placed a valve to 'squeeze' the flow of exhaust gas flowing into the turbocharger, much like how your gardener squeezes his hose to increase water flow pressure. With this solution in place, Mazda only needed a simple fixed geometry turbocharger in place of more complex alternatives to deliver boost over a wider range of engine speeds.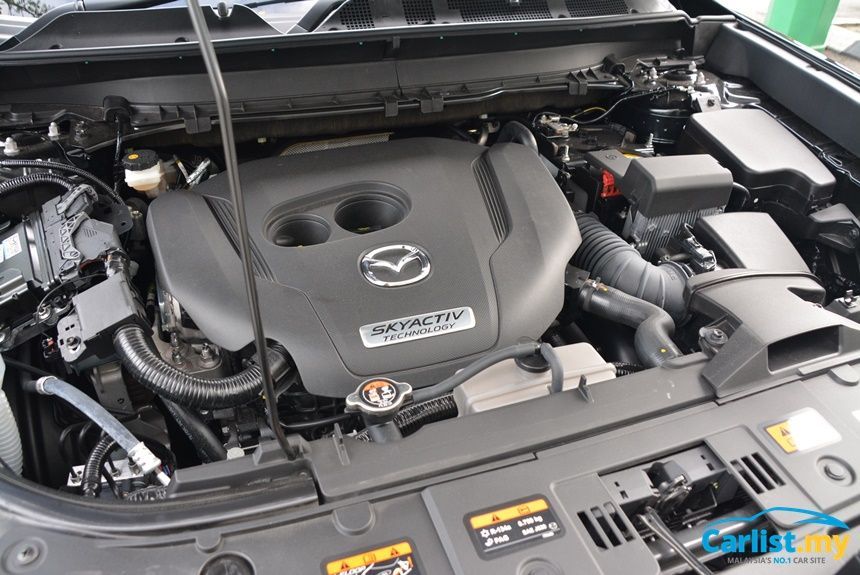 In accordance to typical Mazda practice, the CX-9 can be specified in front- or all-wheel drive configurations without differentiation in trim. Standard transmission is the venerable 6-speed SkyActiv-Drive automatic transmission with manual overriding although shift paddles were not provided.
Our test car featured in this story is a preview unit brought in by Mazda for evaluation. Furnished in Australian specification, it is only loosely representative of what we can expect for the Malaysian market come mid-2017. Representatives of the local distributor, Bermaz Motor, have nevertheless indicated that the plan is to offer the CX-9 in a higher trim level than is seen here.
Targeted pricing for the CX-9 when it comes to Malaysian shores is in the RM250k ball park with the following equipment levels promised:
255/50 R20 tyres
LED headlamps with bulb-type DRLs, LED tail lamps
Remote-operated power tailgate
Power sunroof with sliding and tilt glass
Heads-up display
Keyless entry, engine start/stop button
Triple-zone climate control
MZD Connect – 8-inch touchscreen, GPS navigation
6 airbags
ABS, EBD, Electronic Stability Control, Brake Assist, Traction Control
Autonomous emergency braking
Blind spot monitoring
ISOFIX mounts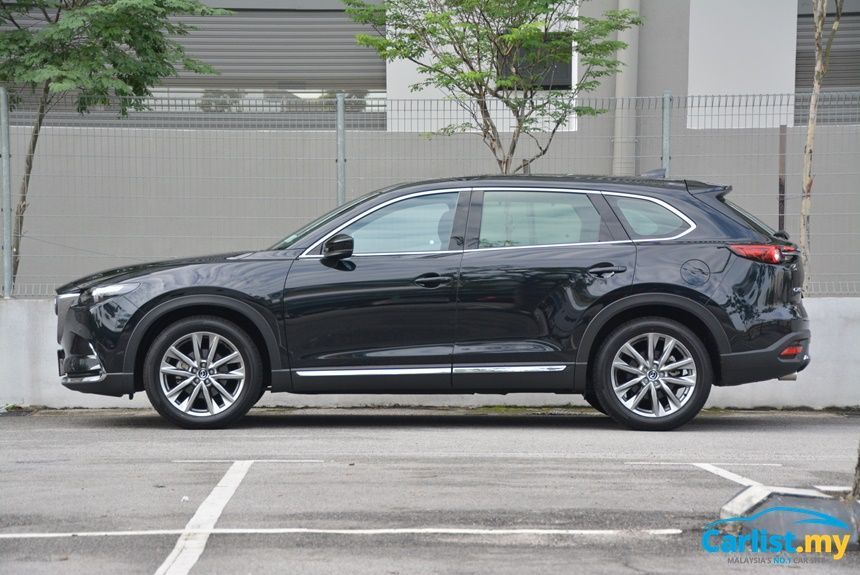 Exterior
Mazda's Kodo styling language needs no further introduction to even the most casual observers; the CX-9 to date represents the biggest canvas upon which the distinctive curvaceous lines of the brand's trademark family look is applied.
As with other members of the range, a large gaping grille dominates the fascia, its size further accentuated by the narrow-slit headlamps and similarly small front fog lamps tucked at each corner of the front bumper. A long-running chrome strip spanning the entire lower edge of the bumper adds further emphasis to the vehicle's considerable width.
Make no mistake, the CX-9 is huge. Stretching past 5 metres in length and spanning nearly 2 metres in width, this takes up no less than 10 square metres of floor space – fitting this car properly within some parking bays can be a challenge. It says something about the CX-9's girth that even 20-inch rims hardly look oversized.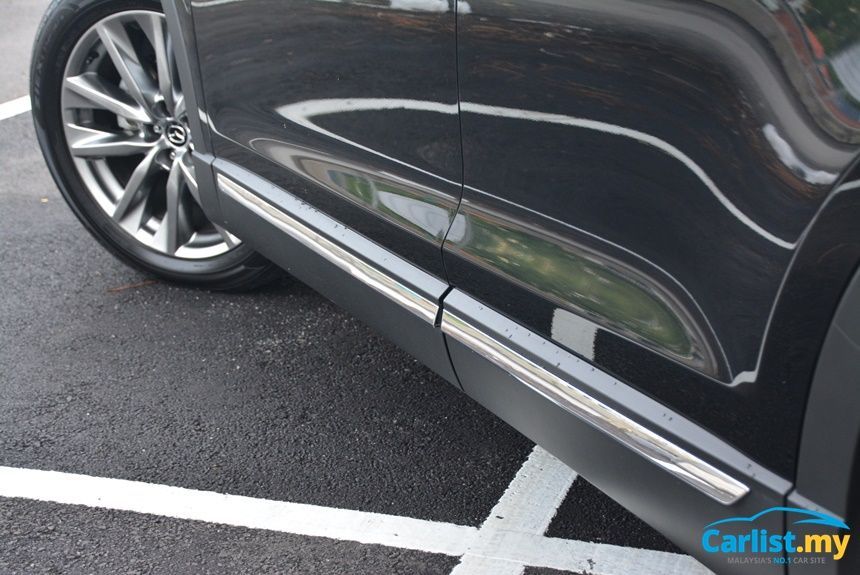 Interior
Consistent with its smaller siblings, the CX-9 interior reeks of quality with materials that draw justified comparisons with premium marques. The generous usage of high grade soft touch plastics across the dashboard paired and tasteful use of brushed metal inserts has resulted in a cabin that is pleasant to view and touch.
Utility factor of the cabin is decent. Overall ergonomics are clear and functional; we particularly appreciate Mazda's unconventional usage of the heads-up display to show the blind spot warning symbols in addition to the usual speedometer, tachometer, and transmission indicator displays.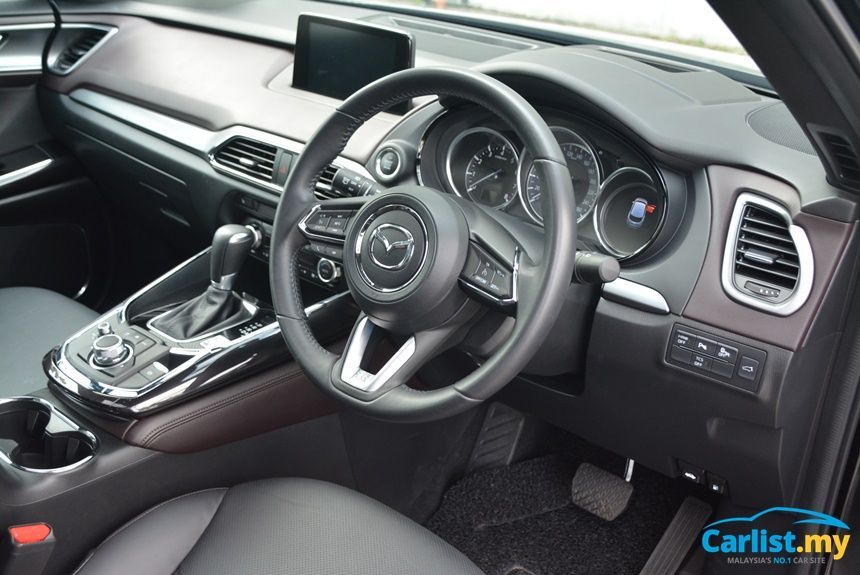 By Mazda standards, configuration of small item storage spaces is rather good. The deep tray ahead of the gear selector lever takes care of your bulky phones and Smart Tags, with the cup holders and larger lidded storage box further astern swallowing whatever else that's left from your pockets.
Accommodation at the back is good, but as you would expect, the third row is not for full-sized adults over extended journeys. Rear air-conditioning is provided, albeit only through a pair of blowers mounted aft of the centre tunnel.
Seat folding mechanisms are easy enough to operate, and the cargo floor is usefully flat, if a little slanted toward the rear. For the occasional Ikea trip, it's sufficient to carry some of the bulkier pieces of boxed DIY furniture.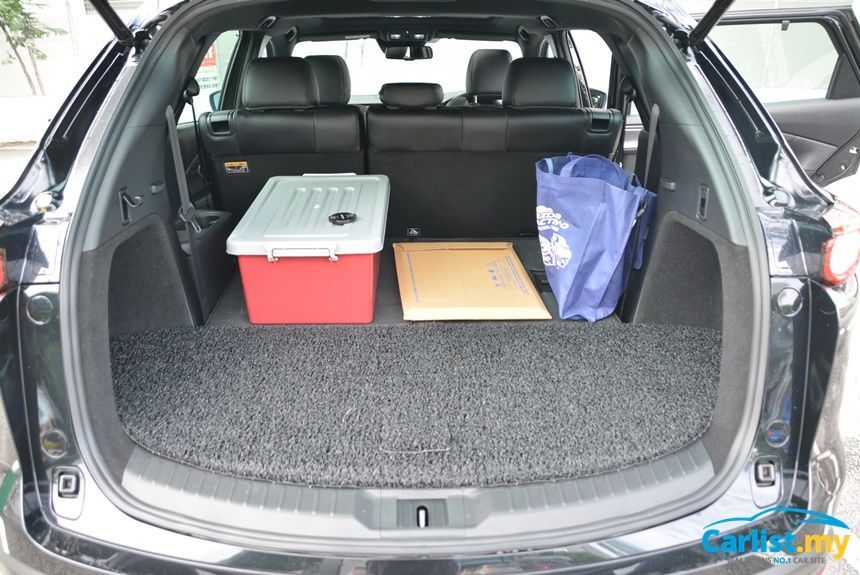 Driving Experience
The CX-9 certainly makes its bulk felt in tight urban confines; the lengthy frontal overhangs, in particular, make judging tight margins tricky and further amplifies the vehicles already bulky dimensions.
Which is why, when you emerge from the parking lot to the highway, you'd be surprised at how easily and composed the CX-9's suspension manages its body movements. At speed, the car feels planted as you'd expect, but rapid directional changes seem unhindered by its weight. There is that trace of understeer at the limit, but well within reason for a front-wheel driven vehicle of this size and bulk.
The absence of rearward traction also did not seem to penalize the CX-9's dynamic surefootedness significantly, though if you corner it hard enough, there is a distinct sensation of 'lightness' at the rear end. For the most part, the vehicle felt adequate with front-wheel drive; although considering the outputs of the engine, we'd prefer the security of all-wheel drive in bad weather conditions.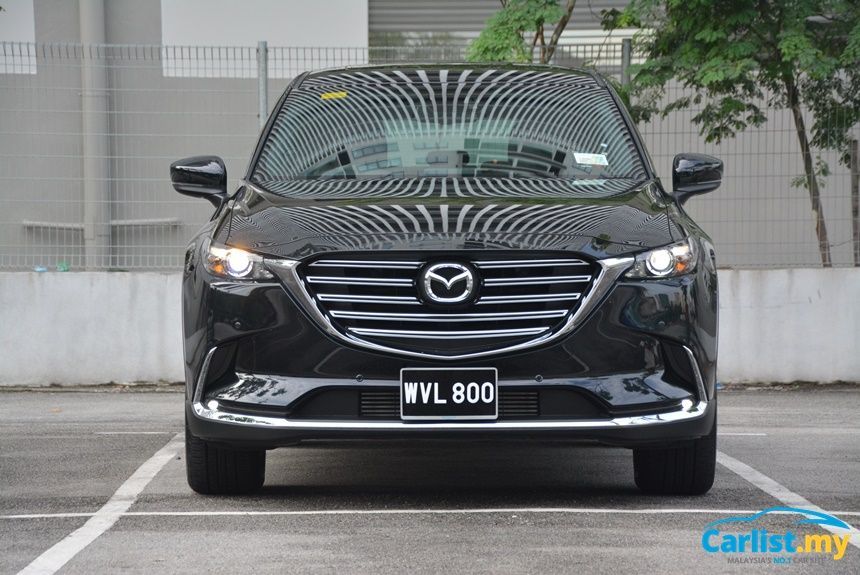 Comfort & Refinement
Ride comfort and sound insulation are the usual weak area of Mazda vehicles; the CX-9 being the new flagship of the range, however, these two areas have undoubtedly received greater attention than other members of the line-up. To sum up, the CX-9 rides more comfortably and moves quieter than what we've grown accustomed to with Mazda's current generation of cars.
The engineers have dialled a commendable level of pliancy into the chassis, the suspension soaking potholes and patched surfaces with considerable competence. Only the sharpest of ripples send any form of jiggles into the cabin.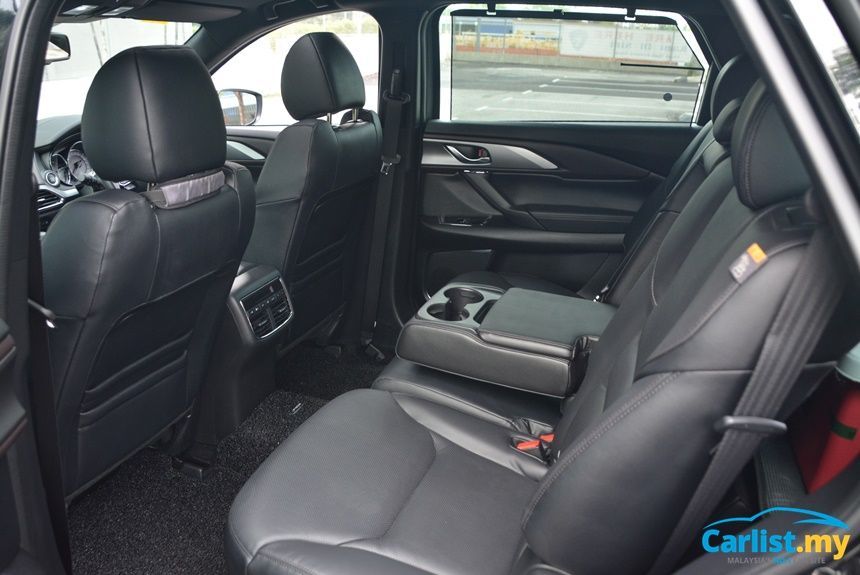 Economy & Maintenance
Servicing costs of the SkyActiv turbo engine have yet to be published, but Bermaz Motor typically sell their cars with servicing for the first three years or 100,000km covered in the purchasing cost.
Those moving over from the previous-generation CX-9 3.7 V6 are also looking at a substantial reduction in annual road tax from RM2,801.60 to RM830.40 in Peninsular Malaysia.
Anticipate some reduction in fuel bills too, but don't expect anywhere near the kind of numbers achieved by naturally-aspirated versions of Mazda's SkyActiv mills. Over 300km of mixed driving conditions covering both stop-go traffic and moderate speed highway cruising, our test car's trip computer returned a reading of 12.8 litres/100km – a little on the thirsty side, considering that the Q7 3.0 TFSI with quattro AWD is able to do 13.0 litres/100km.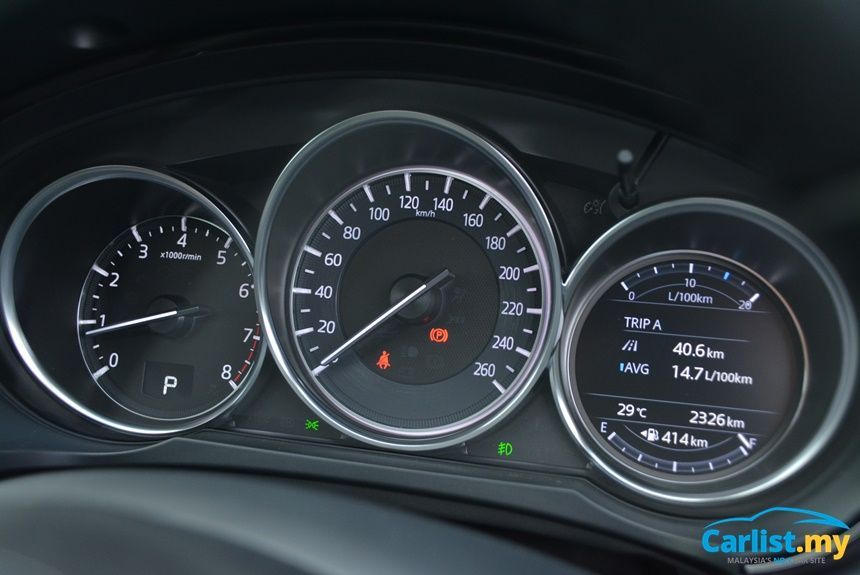 Conclusion
Previously, the CX-9 was a tricky preposition to sell, but not anymore. Granted, the SkyActiv Turbo engine does not seem as economical as promised, but the savings it provides in reduced duties, road tax, and insurance already go a long way in lowering the overall asking price and running cost.
It is also a genuinely better product in many aspects. In both styling and build, the CX-9 looks and feels convincingly premium, whilst also feeling genuinely good to drive. It is fair enough that the estimated RM250k price tag qualifies you to shop over at Mercedes-Benz or BMW, but that would also require to settle for a smaller five-seater models such as the GLA or X3. The CX-9 is a full-sized seven-seater and is built with no less admirable craftsmanship.
A final verdict is pending upon the CX-9's arrival on our shores, but as tested, the car already feels like it has enough to justify the estimated asking price. If, as promised, the Malaysian CX-9 comes even better furnished, the merit of this product is beyond question.
---
---
---
---
留言