Review: 2023 Mercedes-Benz EQS 450+ AMG Line - The luxury EV that can cope without a charging network
评论 The Mercedes-Benz EQS 450+ might have been late to the local EV party, but as we found out, it's probably the only EV we would buy right now.
---
Consumers who are looking for the most technologically advanced sedans are often early adopters of technology and are interested in features such as advanced driver assistance systems, infotainment systems, and connectivity features.
These consumers may also be interested in sustainability and eco-friendliness and may prefer vehicles with advanced electrified powertrain options, such as hybrid or electric vehicles.
Such consumers are typically interested in the latest innovations and may prioritise technology over traditional factors such as convenience and price tag. They are also willing to pay a premium for the latest and greatest technology, as they just want the best.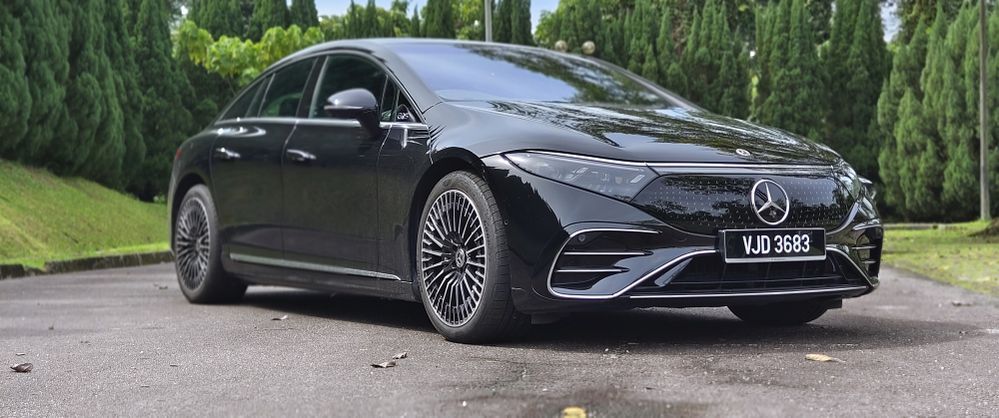 Well, suppose you're this type of consumer, in that case, there's no doubt that the Mercedes-Benz EQS is the car for you. As far as the latest and greatest electric vehicle sedan available in Malaysia goes, there are no better options right now than the Mercedes-Benz EQS 450+.
The Mercedes-Benz EQS 450+ is an electric luxury sedan that can deliver a luxurious electrified experience. It is part of the Mercedes-Benz EQ sub-brand, dedicated to electric vehicles.
The EQS 450+ is positioned as the flagship electric vehicle in the Mercedes-Benz lineup, similar to how the Mercedes-Benz S580e is their flagship vehicle for their internal combustion lineup of vehicles.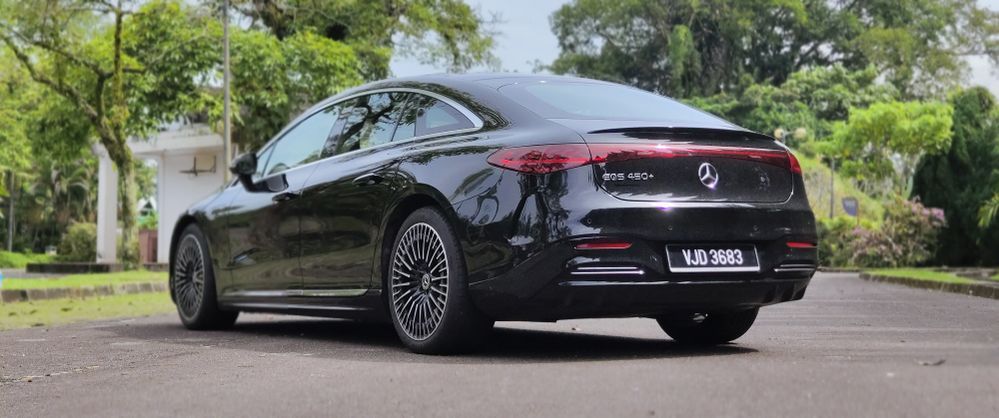 It was introduced locally mid-last year, nearly a year after it was launched globally. Mercedes-Benz Malaysia (MBM) launched a single variant called the EQS 450+ AMG Line, which in our opinion, delivers the best of what you can have for now, even if MBM were to introduce the EQS 500 4Matic in the near future, which sacrifices driving range for performance.
Speaking of driving range, the EQS 450+'s claim to fame is that it is an EV with the longest driving range in the world. Thanks to a single motor setup and slick bodywork - which gives the car the title of the most aerodynamic car in the world - the Mercedes EV is probably the most usable EV in Malaysia right now.
While the EQS 450+ must seem like an EV that's all hunky dory, there are some slight niggles about it, but generally, the pros outweigh the cons.
Exterior - Function over form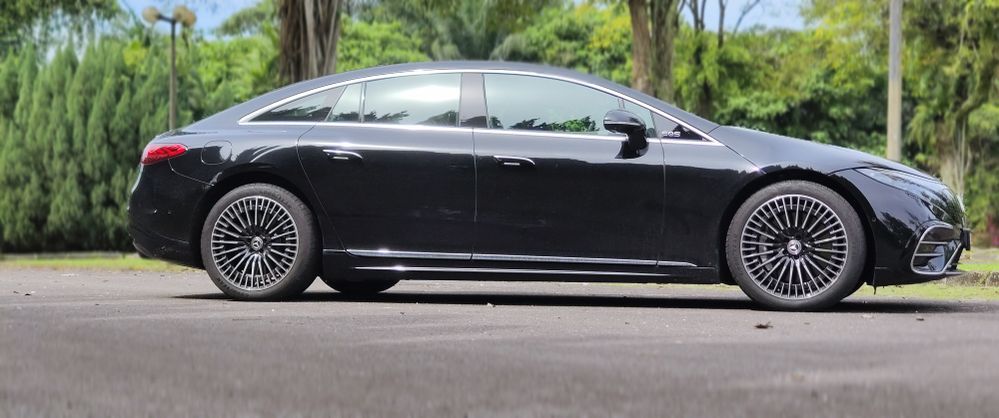 Although the EQS 450+ is nice to look at, its general overall design is quite bland. In our opinion and according to the opinions of many others, it looks like a big metal jelly bean.
Even the come as standard exterior AMG add-ons, such as the more aggressive front and rear bumper, disappear into a bubble-like shape. The only significant bit of exterior AMG beautification is its 21" AMG wheels, which give the car some much-needed attitude.
Everything is just a bit too round and it seems that Mercedes-Benz has played it safe. Well, there's actually a reason for it, as the EQS's exterior was designed to improve its efficiency, range, and driving experience by reducing the aerodynamic drag and maximising the vehicle's aerodynamic performance.
Mercedes-Benz even claims that the EQS is the slipperiest car in the world as it has a low coefficient of drag (Cd) of around 0.20. To put that in context, a typical Ferrari has a coefficient drag of around 0.36, and they are pretty slick cars.
Interior - Typical Mercedes interior but from the future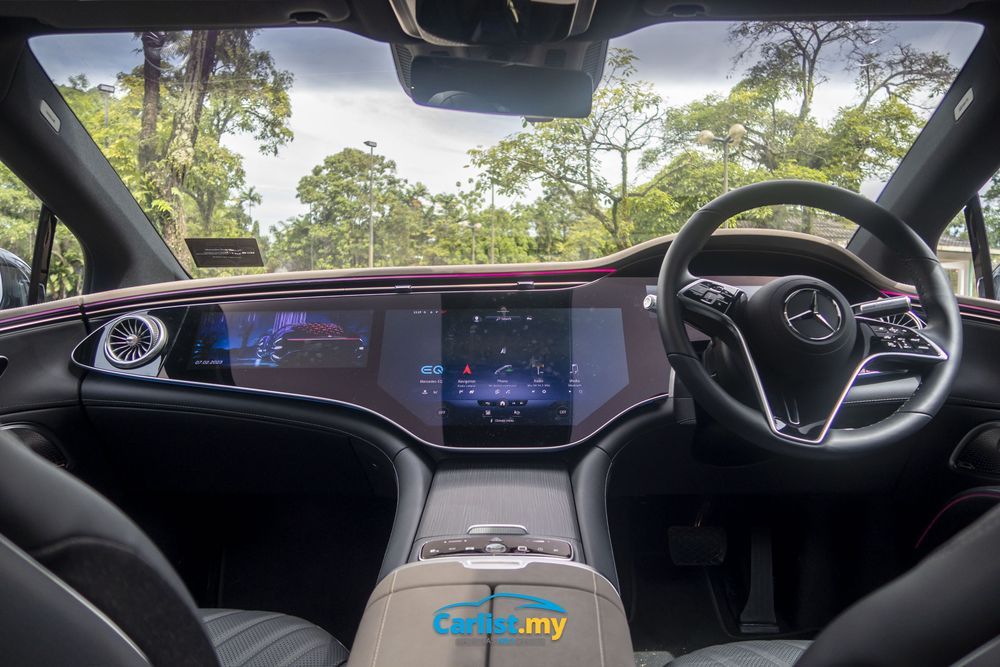 Just like most modern Mercedes, the interior is pretty darn nice. In the EQS, we feel like they have concentrated more on delivering a technologically advanced driving experience than a luxurious one because an S-Class feels more luxurious than its EQS sibling.
Nonetheless, the interior of the EQS is impressive and is definitely headlined by that one-piece 56-inch MBUX Hyperscreen. The MBUX Hyperscreen is a high-resolution display that spans across the entire width of the dashboard, creating an immersive and intuitive user experience.
It's not actually one large display, as it is divided into three parts, the centre and main infotainment screen, a meter cluster for the driver and an auxiliary screen for the front passenger. While it impresses anyone who gets into the car, the auxiliary passenger screen is a bit of a gimmick, as the passenger can control everything from the large centre touchscreen just right next to it.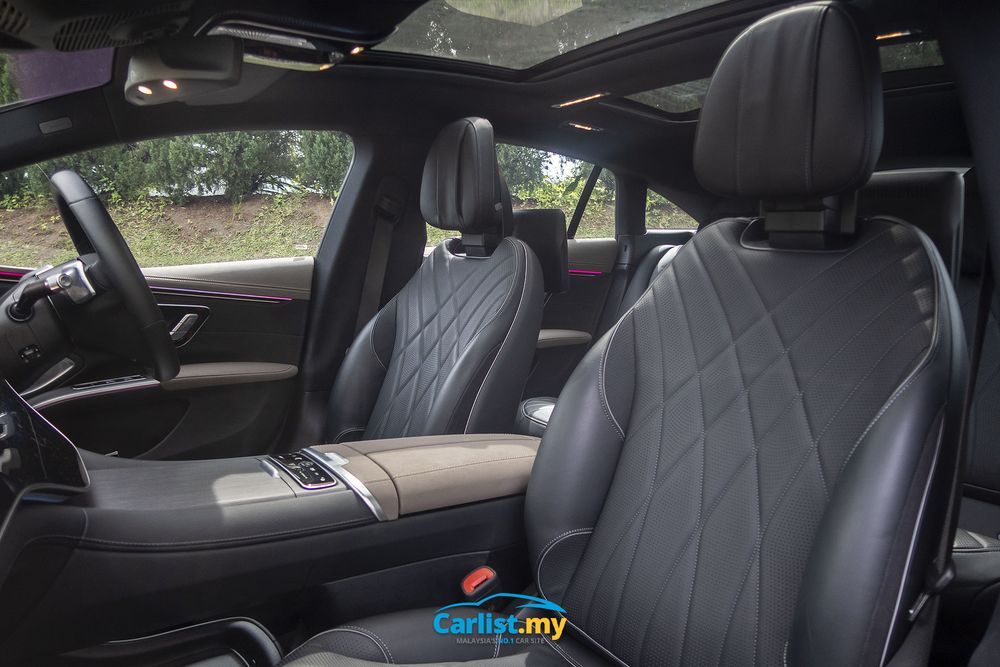 Because the meter cluster has to follow the angle of the whole Hyperscreen as it is one large piece of glass, it doesn't face the driver flat, which gives it a funny viewing angle. Nonetheless, it's still visibly clear just like the other OLED screens on the Hyperscreen.
The seats are also typically Mercedes with adjustments and air conditioning all around, but once again, they are not as lovely as the ones found in the S-Class.
Powertrain and battery- Why this is the best EV right now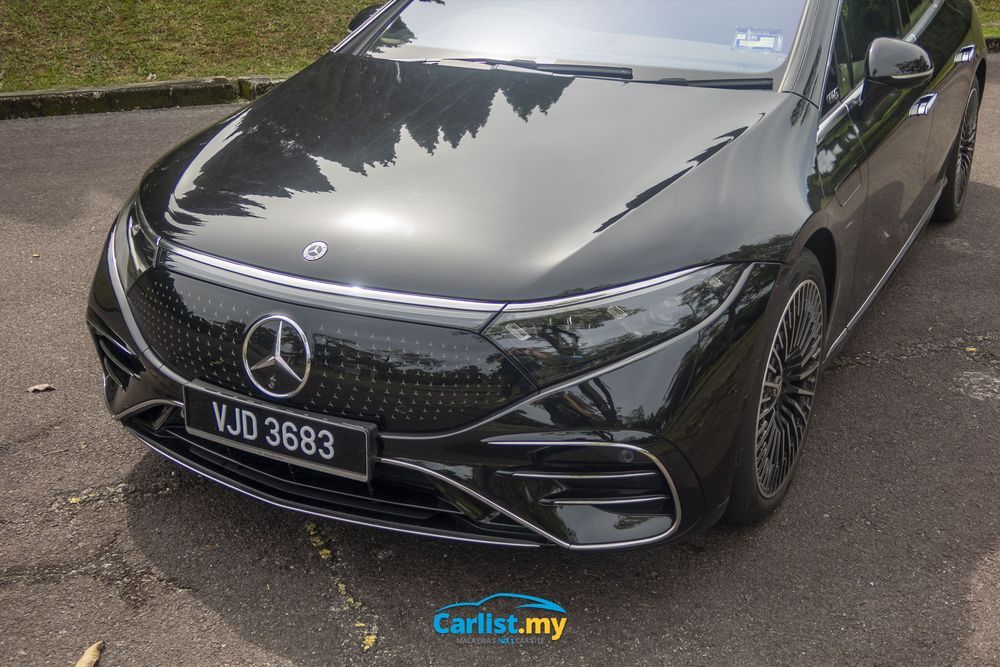 The electric motor in the EQS 450+ has a maximum power output of 329 hp and 500Nm of torque. This gives the vehicle quick acceleration, enabling it to reach 0-100km/h in approximately 5.0 seconds. While this is not particularly blistering speed for an EV, it's still fast enough to get your blood pumping.
The battery pack in the EQS 450+ has a capacity of 107.8 kilowatt-hours (kWh), which Mercedes claims gives the vehicle a range of up to around 728 kilometres on a single charge, according to the WLTP testing cycle. While it's generally accepted that most claimed ranges will never be accurate as claimed, the EQS 450+ still had 727km of range when we picked it up from MBM.
Without going into it in too much detail, we pretty much drove it around and carried out our everyday lives for four days, which included sending the kids to school, going to work and gallivanting around the Klang Valley. When we had to return it to MBM, the EQS still had 200km of range, and we never charged it once.
For those who have range anxiety, the EQS's long-range would eliminate that problem once and for all, as you never really have to keep tabs on how much juice it has, especially if you charge it daily.
Speaking of charge, the large battery pack is designed for quick and efficient charging, with the ability to charge from 10% to 80% in around 38 minutes using a fast-charging system.
In summary, the powertrain of the Mercedes-Benz EQS 450+ is designed to provide the vehicle with powerful and efficient propulsion.
Driving impressions - Luxurious refinement at its best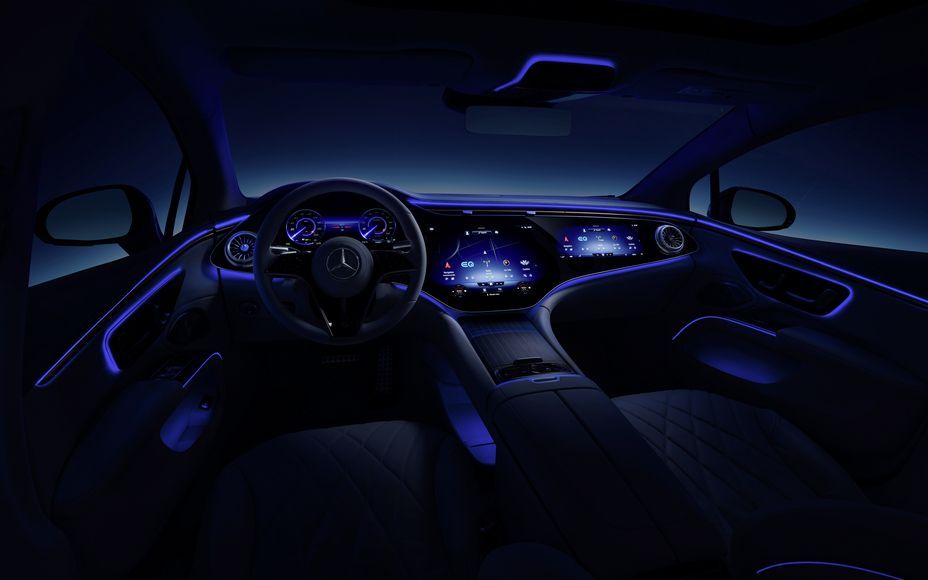 The EQS' electric drive system provides instant and smooth acceleration with minimal noise and vibration. This creates a quiet and relaxing driving experience, especially compared to traditional internal combustion engines.
Because the battery is packed way down low in the floor plan, the EQS features a low centre of gravity, which helps give it good handling and stability. While it's not the most engaging thing to drive, it's a comfortable vehicle, similar to the experience you will get in the S-Class. In addition, it has the S-Class air suspension system, which constantly monitors the road through some sensors to give you the best and most cushioned of rides.
Conclusion - Best EV right now cause range will not be an issue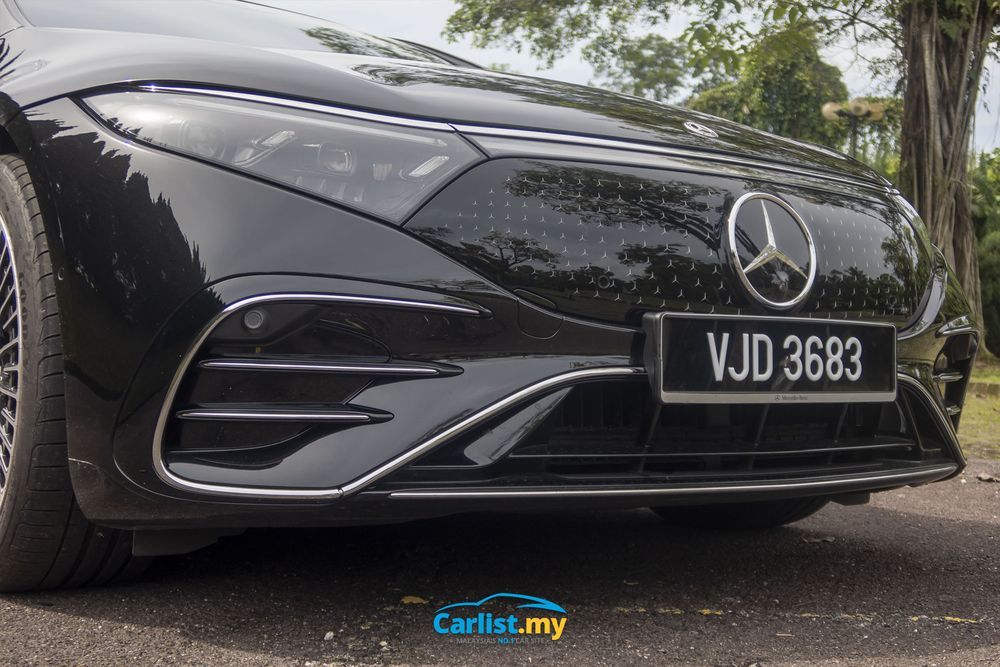 There are currently several problems with the infrastructure for electric vehicles. Some of them include limited charging networks, slow charging speeds, and sometimes malfunctioning chargers.
To beat this, you need all of the things mentioned above to be rectified, but in a Mercedes-Benz EQS 450+, you have a way around them, as its long range means that you don't need to depend on chargers constantly.
When you combine this long range with Mercedes' luxurious build, attention to detail and support, you have an EV that's close to perfect. Of course, the only thing that can make the EQS any better is the availability of more chargers and charging networks, but till then, you'll just be fine and happy with the Mercedes-Benz EQS 450+ as long as you can charge it at home.
---
---
---
---
留言