2015 Audi A6 1.8 TFSI Review – Value Alternative to the E 300 BlueTec?
评论 At RM338k on-the-road complete with a full set of the AMG Sports pack thrown in, the tax-exempted Mercedes-Benz E 300 BlueTec Hybrid is a fantastic value preposition among premium mid-sized sedans.
The E 300 is clearly a convincing product that is well suited to the needs of the Malaysian market, but is it truly the best value buy in the segment? BMW and Lexus certainly don't have answers to it. That leaves us then, with the Audi A6, which was updated last year with a facelift to keep it competitive in the last legs of its model cycle.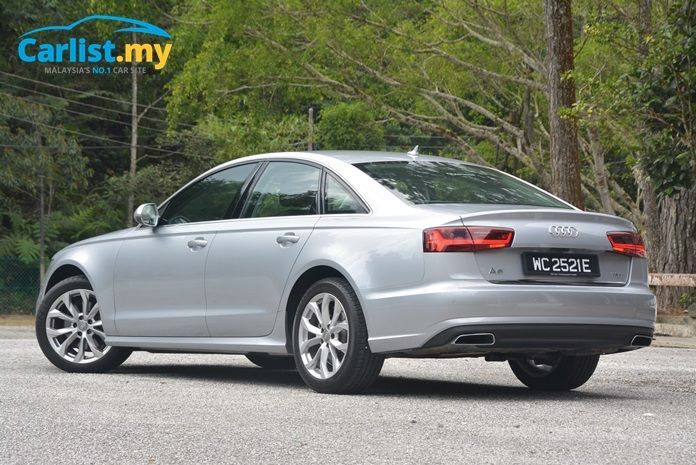 Interestingly, the A6 was an even earlier benefactor of hybrid vehicle tax exemptions that enabled the now-discontinued A6 Hybrid be offered at an eye-opening RM286k. Globally, the A6 Hybrid was a commercial failure. It was a vehicle uniquely suited for Malaysia during that brief period when it was sold. In fact, Audi has our market to thank for snapping up nearly half of the 4,000 A6 Hybrids it produced globally.
Last year's facelift of the A6 unsurprisingly saw the hybrid variant dropped, but Audi is notably keen to sustain a value-for-money offering within the segment, and the result is the A6 1.8 TFSI here which, despite having duties to pay, is priced lower than the Mercedes E 300.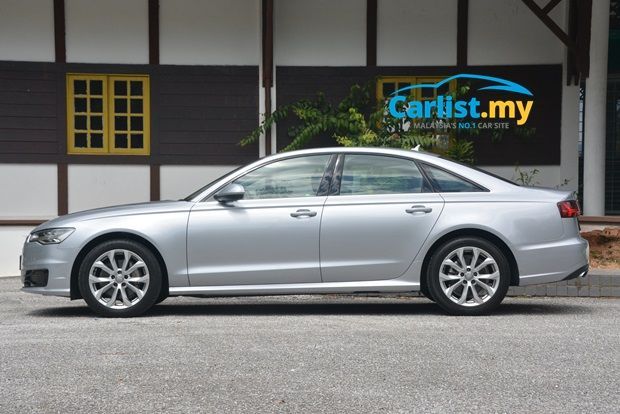 Specifications:
Price: RM327,900 OTR without insurance. Add RM23,000 for Tech Pack option
Engine: 4-cylinders longitudinal DOHC
Power: 190hp @ 4,200 – 6,200rpm
Torque: 320Nm @ 1,400 – 4,100rpm
Transmission: 7-speed dual clutch automatic with paddle shifters
Safety: 6 airbags, ABS, Electronic Brake Force Distribution (EBD), ESC, Traction Control (ASR), ISOFIX, Electronic Differential Lock (EDL), Front and Rear Parking Sensors with Display, Immobilizer
Origin: Fully imported from Germany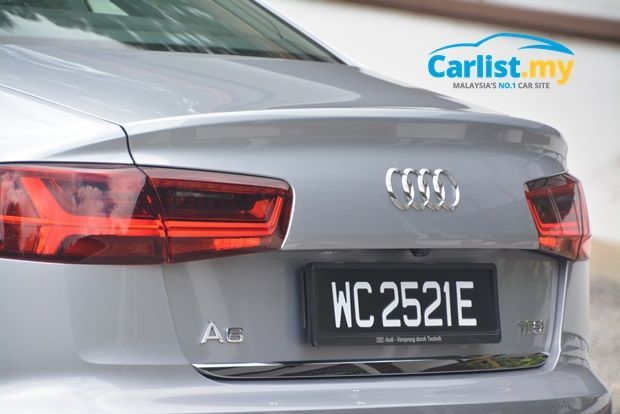 Overview
What was previously known as the Audi 100 became the A6 in 1994. Today's model, the C7, was first launched in 2011 and facelifted in 2015. It is the fourth model generation to identify itself with this nameplate.
The 1.8 TFSI variant featured in this review is the entry variant to the range, and it replaces the outgoing 2.0 TFSI model. If you have more cash to splash, consider the 3.0 TFSI quattro at RM487,900. The extra money pays for 333hp and 440Nm, along with the superior traction of all-wheel drive.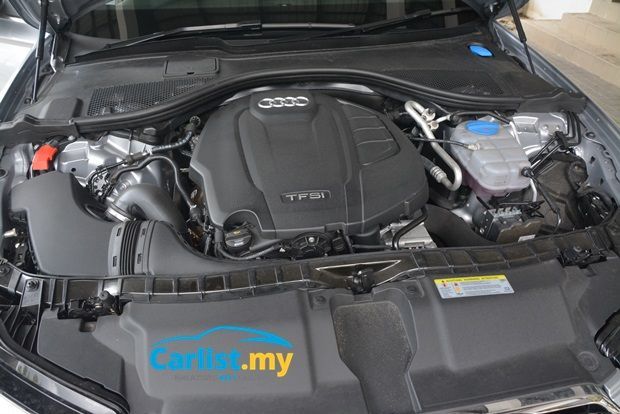 Besides new looks and new equipment, the facelifted A6 is more affordable than before. Previously, you would have been required to fork out RM345k and RM515k for the 2.0 and 3.0 TFSI variants respectively.
Our test car came additionally fitted with an optional RM23,000 tech pack that brought enhancements that include LED headlights, 18" alloy wheels, MMI navigation plus with MMI touch, reverse camera (what? not standard?), electric steering wheel adjustment, Audi connect with Google Earth, and wifi hotspot. Also part of the pack is a pair of rear side airbags in addition to the six already fitted in the standard vehicle. These features are standard fit in the 3.0 TFSI.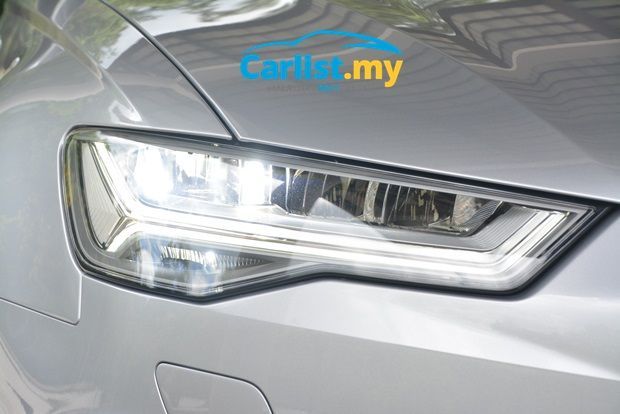 Exterior
Recent Audi designs depend heavily on signature lighting to underscore their distinctive looks. Predictably, the facelift incorporates revised light clusters front and rear to go with other minor cosmetic changes.
As standard, the 1.8 TFSI model comes with xenon plus headlamps, which can be optionally upgraded to LED units as seen in our test car. A further upgrade to Audi's proprietary Matrix LED headlamps is also offered.
Elsewhere, changes can be spotted at the air intakes, bumpers, side sills, and tailpipes. The Audi signature singleframe grille is given a widened appearance and lined with chrome horizontal louvres.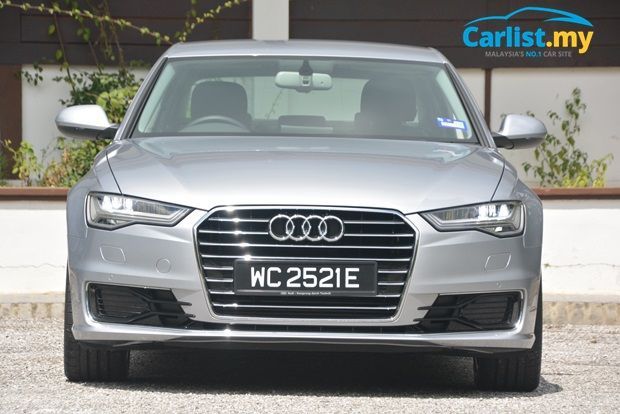 Interior
The building of solid and impeccable interiors has been the Audi call card for many years. It is a trend that is maintained in the A6 which, even in its most austere 1.8 TFSI trim as tested, manages to exude a proper sense of luxury and occasion. Material selection at the relevant touchpoints do not betray this model's entry-level positioning.
Bearing the in mind that the current A6 actually dates back to 2011, the cabin is inevitably beginning to feel its age – a BMW 5 Series is not likely to embarrass it, but upcoming models such as the W213 Mercedes E-Class and Volvo S90 may make the A6's interior feel second rate in terms of atmosphere and ambiance.
As standard, the A6 1.8 TFSI comes Audi's MMI radio plus infotainment system, which features a retractable 6.5-inch screen and 10-speaker audio. The tech pack option fitted on our test car raises that to the MMI navigation plus system which includes a touch pad, 8-inch screen, and 14 speakers. Through this uprated system, you can insert a SIM card (own data charges apply) and hook your A6 up to the Internet with LTE connection.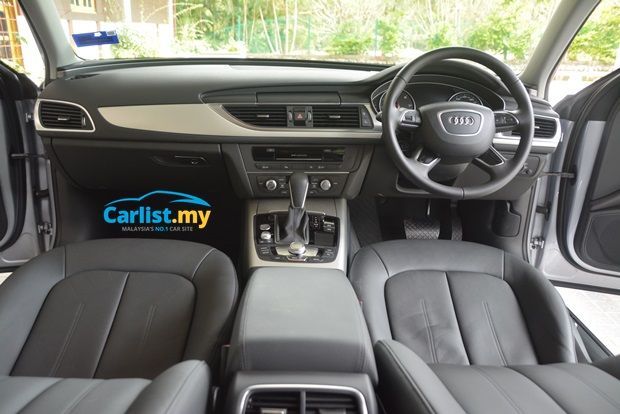 How does it drive?
Despite having the smallest engine amongst its competitors, the A6 1.8 punches well above its weight. Claimed outputs of 190hp and 320Nm comfortably surpass both its closest rivals, namely the BMW 520i (184hp/270Nm) as well as the Mercedes-Benz E 200 (181hp/300Nm) both of which, remember, have powertrains displacing two litres.
But where the 520i and E 200 both drive their rear wheels through torque converter automatic transmissions, the A6 puts its power down on the front axle through a 7-speed dual clutch gearbox, ending Audi's practice of using CVTs for their FWD models. In keeping with Audi's curious engineering tradition, the engine is slung ahead of the front axle in a longitudinal orientation.
Disregarding the traditionally-acclaimed benefits of rear-wheel drive for a bit, Audi's set-up offers the advantage of minimizing driveline losses compared to its aforementioned rivals. In both top speed and 0-100km/h times, the A6's numbers of 233km/h and 7.9 seconds are identical to the 520i and E 200.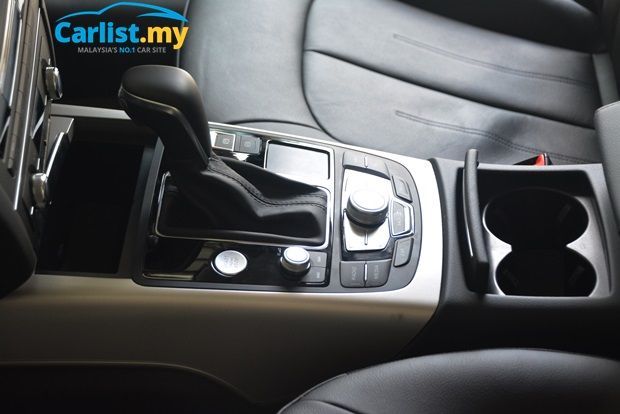 In the real world, the setup gets the job done in a way we've come to expect from downsized turbo engines prevalent in the premium segment, which is to say it is punchy, efficient, and exhibits only a hint of lag. It hardly feels overwhelmed by the task of hauling A6's 1.6-tonne kerb weight. Pleasingly, the transmission's spread of ratios and the engine's good low-end torque mean that very few revs are needed to sustain high speed cruising.
Typical of non-quattro Audi models, the A6 exhibits nose-heaviness at the limits, an inevitable by-product of its unconventional engine-driveline arrangement. Its helm is neither as sharp nor communicative as a 5 Series. The chassis has just about enough balance and progressiveness to feel secure at speed, but ultimately lacks the final degree of finesse and sophistication that require us to reconsider the segment's dynamic hierarchy. In short, you can keep up with most cars on a straight line, but don't challenge a 5 Series, E-Class, or even a Ford Mondeo on a winding road.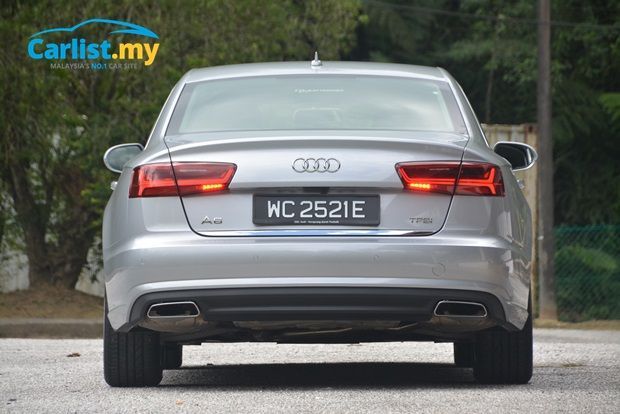 How comfortable is it?
In more mundane driving conditions, the A6 throws up no surprises. It is as comfortable and as easy to drive as one would reasonably expect. Like most European vehicles, there is an underlying firmness to the ride quality that the usual by-product of chassis tuners prioritizing high speed stability, but it's not what we would call harsh.
The suspension does a fair job ironing out long undulations whilst at the same time taking enough sting out of pot holes and bumpers to be not jarring. External noises are kept at manageable levels, although the 1.8 TFSI engine is not the most aurally arousing power units around. If you're looking for a vehicle to drive at a relaxing pace without feeling strained, the A6 1.8 does the job as well as can be expected.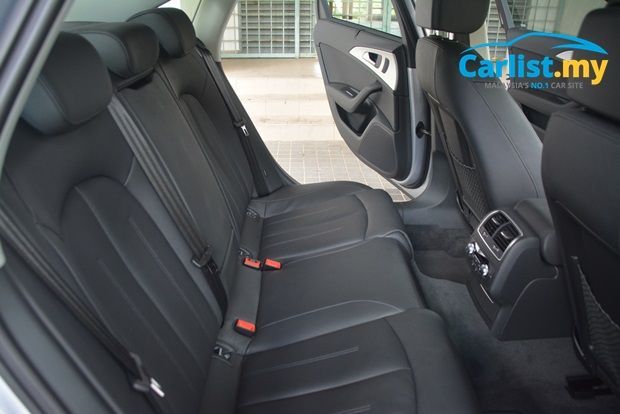 How economical is it?
Dieselgate scandal notwithstanding, the VW Group knows a thing or two about extracting healthy amounts of horsepower from an engine without sucking too much fuel. Audi claims rated consumption of 5.7 litres per 100km for the A6 1.8. We observed a little over 10 l/100km on our test car's trip computer; a decent figure given that our 200km test route consisted of mixed driving conditions that included high-speed runs on the highway, uphill sprints, and urban congestion.
Similar to other cars in the Audi line-up, servicing for the A6 1.8 is recommended at intervals of 15,000km or one year, whichever comes first. The vehicle is covered by a 4-year 120,000km factory warranty.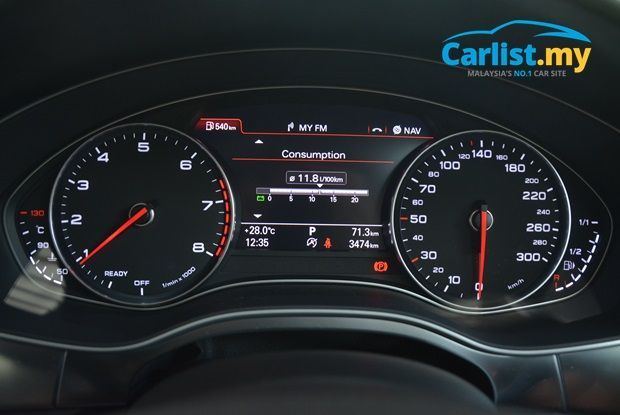 Conclusion
Audi has done a fantastic job to make the 1.8 TFSI an affordable entry point into the A6 model range without sacrificing on perceived quality of the product. We would prefer that reverse camera is standard rather than being bundled into a costly RM23,000 optional package, but its nevertheless praiseworthy that despite having to pay full duties, Audi managed to bring a variant of the A6 at a price that is more affordable than the E 300 BlueTec.
The closest mechanical rivals of the A6 1.8 are actually the petrol-powered BMW 520i and Mercedes-Benz E 200, both of which are locally assembled yet cost substantially more than the A6. Against these two, the A6 is fantastic value, offering comparable performance for significantly less money. The BMW remains the recommended choice for buyers with greater needs for dynamic sophistication, but for most users, we reckon the A6 is good enough for the job.
What's most curious about the A6's line-up selected by Audi for our market is the gaping RM160k chasm that separates the 1.8 and 3.0 TFSI variants. Whilst the 1.8 is a commendable entry point to the range, surely there's room in the line-up for the 252hp 2.0 TFSI (available overseas) to directly take on the BMW 528i and Mercedes E 250?
---
---
---
---
留言