2015 Hyundai Veloster Turbo Launched In Malaysia From RM152k, Sport Version From RM156k
购买指南 After more than a year of local testing, and the more recent announcement of it being opened for bookings, Hyundai-Sime Darby Motors (HSDM) has finally launched the 2015 Hyundai Veloster Turbo, asking a tempting RM152,476 (with insurance) for it.
A more exclusive Veloster Turbo Sport model is also available, retailing from RM156,213 (with insurance), and offering some racing exterior decal stickers, and a unique set of leather seats lined in orange.
Imported directly from Korea, the Veloster Turbo arrives in Malaysia with the model's latest facelift – replacing the pre-facelift model from before, which was launched here back in 2012.
Buyer's Guide:
The low-slung Hyundai Veloster coupe is still a dynamic looker, which has now been updated with meaner looks than before.
More importantly, HSDM has rectified one issue the previous Veloster was cursed with – with the pre-facelift model, it was a looker no doubt, it just wasn't any kind of quick with a 1.6-litre MPI engine tasked to drive the car with just 132PS and 158Nm of torque. Now, Malaysian customers will have the option of a the new T-GDI powerplant, paired with a seven-speed DCT.
Offering 186PS and 265Nm of torque, dual-clutch transmission, a refreshed design, and more kit than before – all for just RM20k more than the previous range-topping, normally-aspirated pre-facelift car (RM132k).
KEY SPECS: 2015 Hyundai Veloster Turbo 1.6 T-GDI
Price: RM152,476 (standard) RM156,213 (Sport)
Engine: GAMMA 1.6-litre T-GDI (Turbo Gasoline Direct Injection)
Transmission: Seven-speed Dual Clutch Automatic Transmission (7 Speed DCT)
Power: 186PS @ 5,500rpm
Torque: 265Nm @ 1,500 to 4,500rpm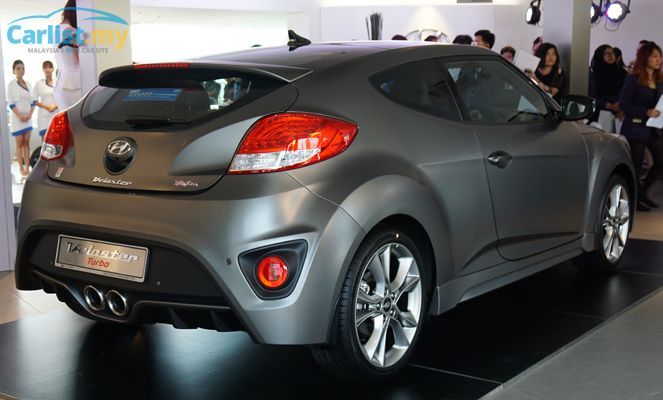 Performance:
This is where it matters, doesn't it? Because, as mentioned, the previous Veloster looked great in our books, and fancied its chances against the likes of the Honda CR-Z Hybrid, however, it just wasn't lively enough to drive.
HSDM have certainly addressed the issues, and after much local testing with our fuels and climate (some 100,000km was driven by HSDM), they've gone straight to introduce the GAMMA 1.6-litre T-GDI here, paired with the seven-speed dual-clutch transmission.
The powertrain now gives customers far more horsepowers to opt for, which is great, but inevitably brings along new competition: primarily in the form of the two-door Peugeot 208 GTi with its 200hp, and the highly-acclaimed Ford Fiesta ST - all of which asking slightly lower prices, but achieving the same sort of havoc on-the-road action. The Peugeot is by far the most affordable turbocharged hatch in the country (RM140k), while the Ford is undoubtedly the more driver-focused vehicle. But while they're all lovely little two-door, turbocharged, hot hatches, let's not forget one thing: the Veloster has 2+1 doors, and is itself a larger vehicle than its new price competitors - befit of the local C-segment, like the Honda CR-Z, orFord Focus.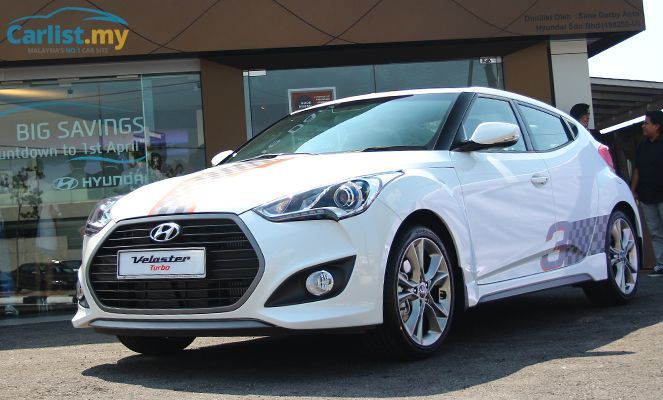 Exterior Styling:
Measuring in at 4,250mm long, 1,805mm wide and 1,405mm tall, the Veloster isn't all that wider than its turbocharged segment competitors, but it is significantly longer than something like the Pug 208 GTi – remember the thing we were saying about the low-slung coupe body type?
But that's not all that makes the new Veloster Turbo. Changes brought on by the introduction of the facelift model here include a new front grille and front bumper, revised LED headlamp design, a far more aggressive bonnet with new hood character lines, new 18-inch alloy wheels, and we've only just covered half of it.
Around the back, the Veloster gets very aggressive with its design, with this special Turbo version equipped even with twin, centred, chromed exhaust pipes right smack in the middle of the new rear bumper design.
Reserved only for the Veloster Turbo Sport model is a set of body decals on the bonnet and doors. as pictured just above on the Storm Trooper white unit.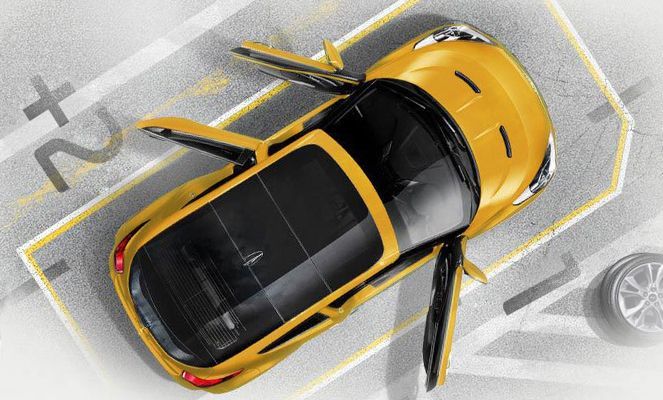 Most of all, the Veloster Turbo retains its 2+1 door arrangement, which means it's got two doors on the left of the vehicle, and just the one of the right for the driver. The idea is that with our right-hand-drive region, passengers will mostly get on and off on the left side of the vehicle, where the sidewalk is, and not into traffic where a Grim Reaper awaits – you've seen the commercials.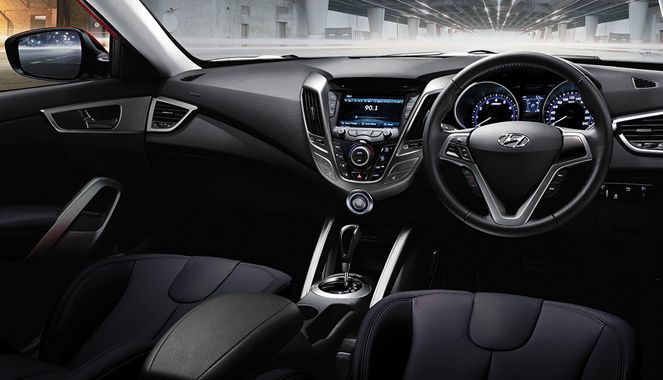 Interior Design:
Inside the Veloster Turbo, a redesigned dashboard awaits alongside a new-design three-spoke steering wheel which has a bunch of audio, voice and cruise control buttons on it. The bright instrument panel design is said to have been inspired by the twin exhaust pipes of a motorcycle, but we just think they look rather impressive, and conveniently have a multi-info display screen in the middle of the two instruments.
There's a giant seven-inch touchscreen LCD display on the dash for all your infotainment demands, while a rear-view camera and other car settings can be viewed/ made here. Audio connectivity options include Bluetooth, USB, AUX, and RCA ports. Notably, an Autonet premium audio eight-speaker sound system has been introduced to the Hyundai: one subwoofer, six external amplifiers and one central speaker.
On the slightly more premium Veloster Turbo Sport, the leather seats are lined in orange, while the regular Turbo version gets a grey lining.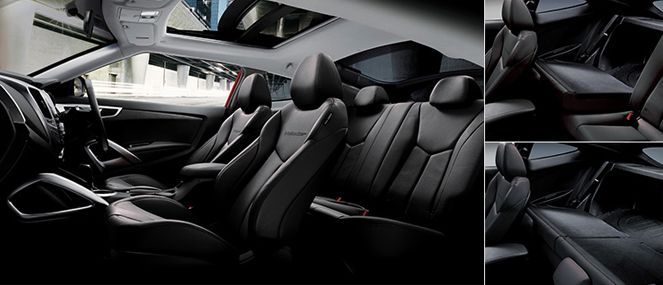 Safety Features:
HSDM have equipped its Veloster Turbo with a very generous spread of active safety features to go with the passive "tough-as-steel" body structure. Six airbags are standard fit to the Veloster Turbo, but there's also Vehicle Stability Management, Electronic Stability Control, Hill-Start Assist Control, Brake Assist System and even an active headrest that move up and forwards in the event of being rear-ended, to help mitigate any neck injuries.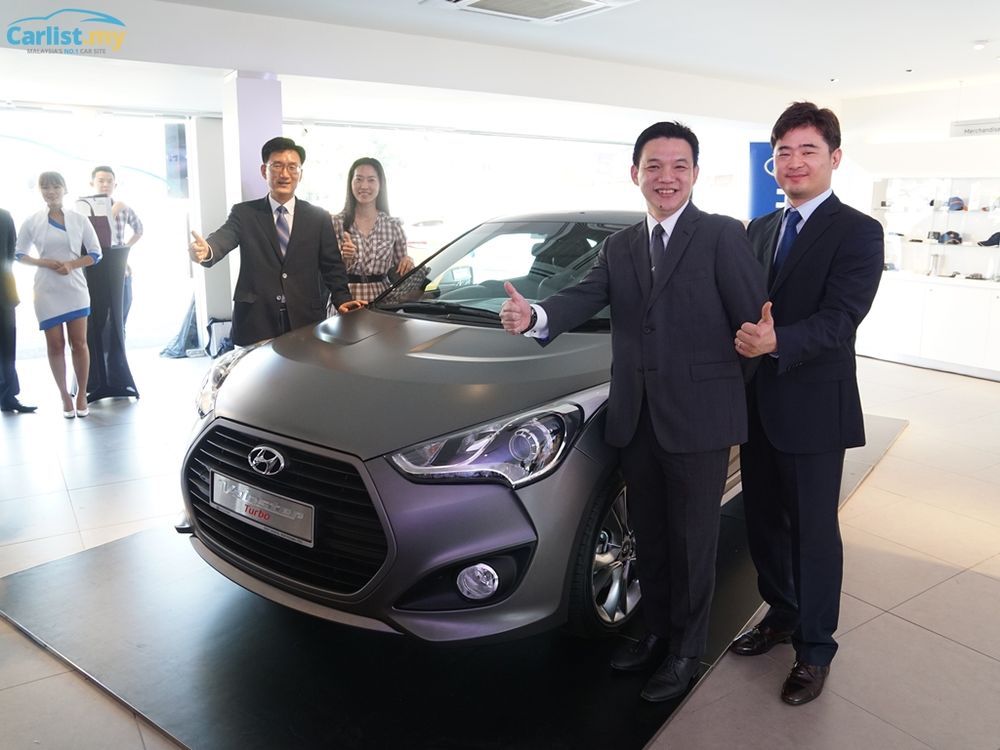 Other Information:
Five body colours are available for the Veloster Turbo, and they include Young Gun Silver, Storm Trooper White, Phantom Black, Veloster Red and Sunflower Yellow (the last two in that list aren't available for the Veloster Sport). And as with all its offered models, the list price includes HSDM's five-year or 300,000km (whichever comes first) extended warranty, along with a 24-hour road assist service.
The Veloster Turbo will be displayed at a roadshow even in One Utama from April 22nd to the 26th.
---
---
---
---
留言