2021 Mercedes-Benz S-Class (W223) - Mixing Peak Innovation With Peak Luxury
所有资讯 A new Mercedes-Benz S-Class isn't necessarily a car that makes us wait too long for its arrival - in the case of the W222, it spent a solid 6 years in production before this newest version, called the W223, makes its official grand entrance.
---
However, with each new S-Class comes a wealth of technological goodies that signal the next wave of mass market feature adoption. There's an exhaustive list of items we take for granted in our modern cars today that were first pioneered in an S-Class, which is why its maker proclaims it as the "best in the world" (at that time). No pressure, then.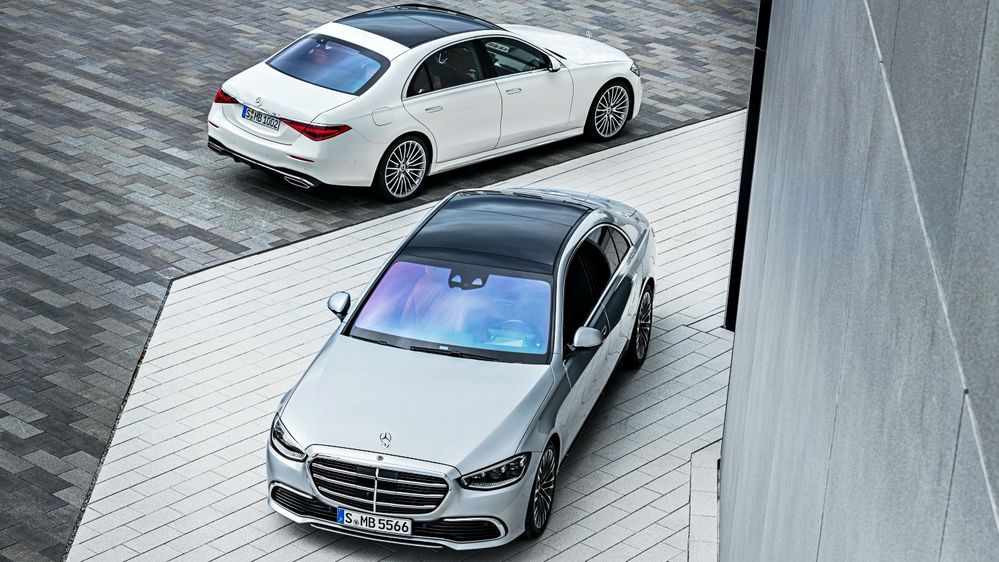 Due to reach international showrooms in early 2021, the W223 S-Class is the automaker at its most cutting edge. The car itself doesn't look to radically altered from its predecessor, but does a very admirable job of addressing the criticisms surrounding the exterior while adopting clear visual cues from the rest of the Mercedes-Benz range as it stands today.
Starting with the second-generation MRA (modular rear architecture) vehicle platform itself, the W223 ticks all the boxes we'd expect in a generational step, claiming even better refinement and structural rigidity while boasting a substantial weight reduction of 60kg.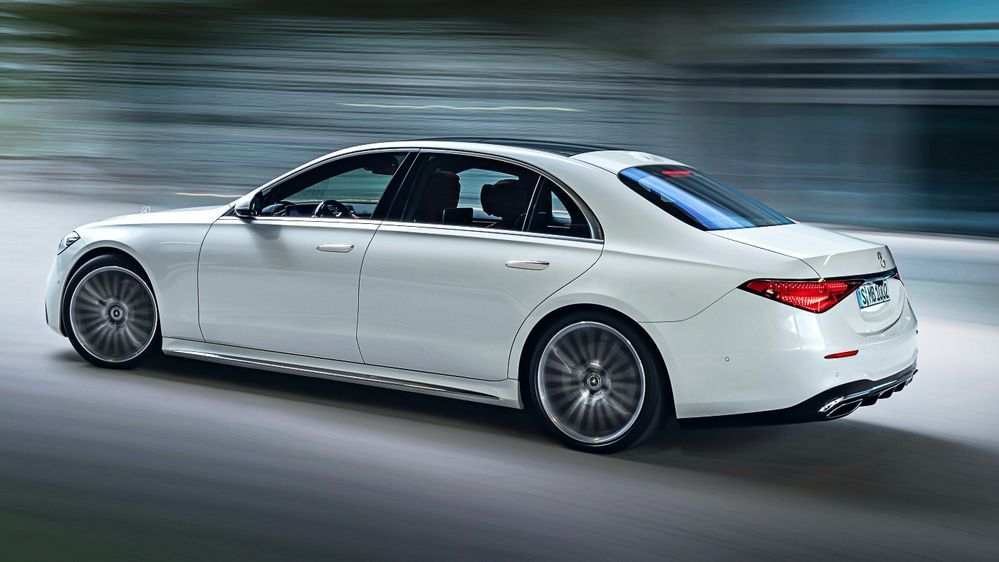 Despite those lost pounds, the all-new S-Class is physically larger than the outgoing model, though not by that much. Importantly, there's 51mm more in between the front and rear axle in the standard wheelbase variant while also being 55mm wider and 12mm taller.
It's a handsome car, by most accounts, despite its compliance toward the trend of massive front grilles. Against the BMW 7 Series and Audi A8, however, it's a rather close match, and the German trio sure are making it very difficult to choose on curb appeal alone.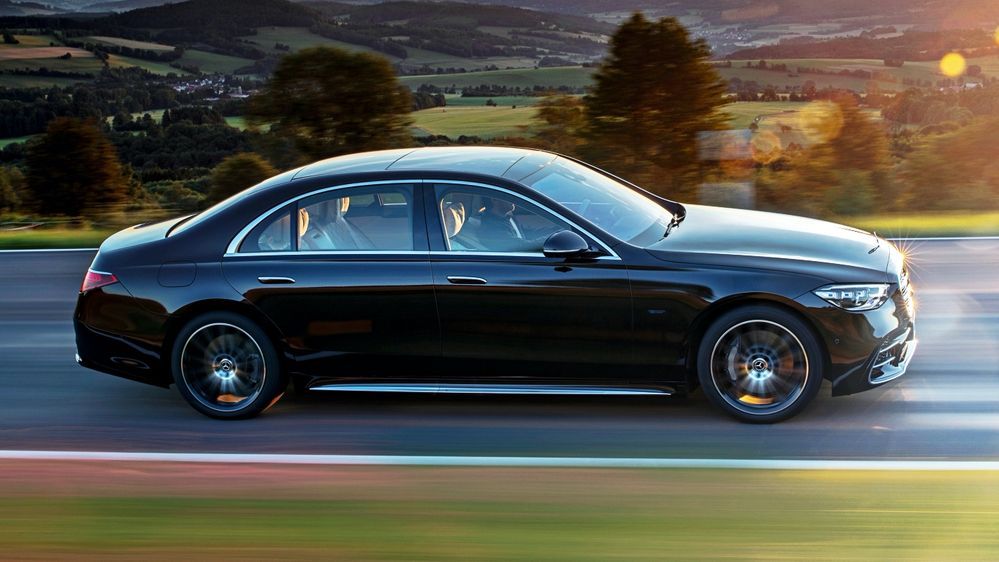 That sleek shape has also been extensively tuned to generate as little aerodynamic drag as possible, which now stands at just 0.22 (down from 0.24 on the W222). This, coupled with the efficiency improvements made to the powertrain packages, should make it substantially easier on emissions than before.
For example, in the case of the new S580e, which supplants the S560e, Mercedes-Benz say that its plug-in hybrid system is now capable of being operated in fully electric drive mode for up to 100km according to WLTP testing standards. In addition to the M256 3.0-litre turbocharged inline-6 cylinder petrol engine being confirmed, a twin-turbocharged 6.0-litre V12 is likely to see an official introduction further down the line.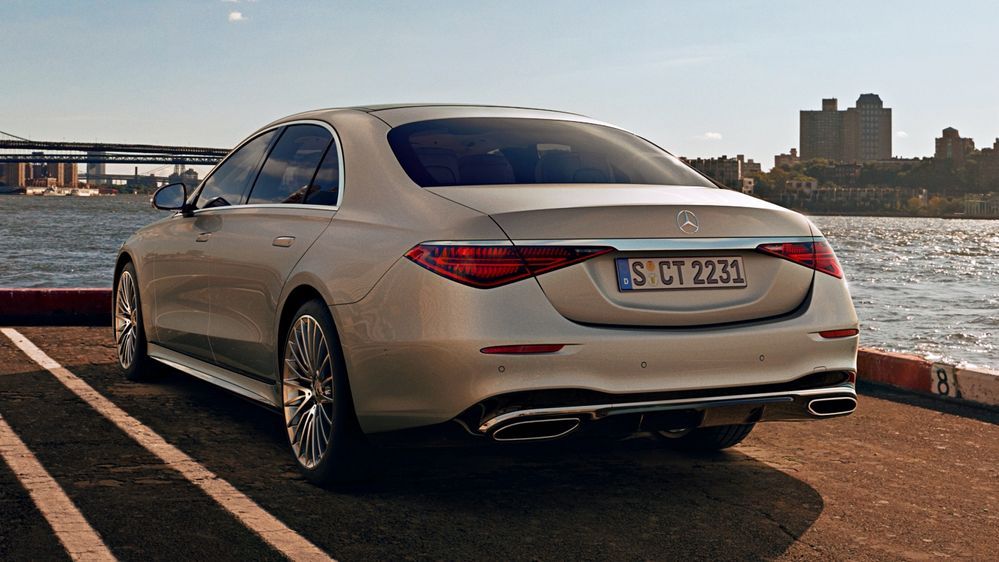 Speaking of which, Mercedes-Benz has also padded out the powertrain troupe with the petrol-powered S450 and S500 in varying states of tune, but utilising the same M256 unit and a 48-volt mild-hybrid system for partial electric assist. Even so, the S500 is still incredibly punchy with a 0-100km/h sprint of just 4.9 seconds. The story is pretty much echoed on the diesel side of things with the OM656 engine - also a turbocharged 3.0-litre - used for the S350d and S400d.
Yes, there are incoming variants with V8 engines that slot in between the straight-sixes and V12s, including the S63e and S73e from AMG that are rumoured to have up to 800hp, but those details are scant at the moment. Sadly, however, Mercedes-Benz have indicated that this W223 will not spawn Coupe and Cabriolet bodystyles, so grab them before everyone realises they're a future classic.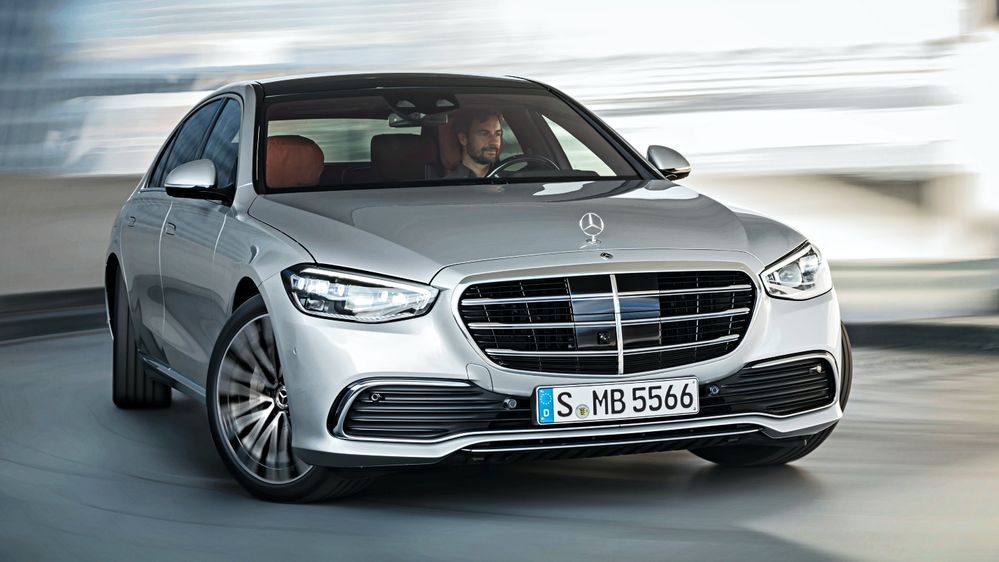 That said, some good news is that the company's 4Matic all-wheel drive system and AirMatic air suspension (along with E-Active Body Control) is also made more widely included as standard across all variants. The rear-wheel steering system has also seen a significant upgrade, increasing its maximum turn angle from 4.5 degrees to 10 degrees, improving the car's turning circle to a very compact 10.9 metres at the expense of looking like a forklift.
The W223 S-Class seems to be a statement on how computing power is starting to encroach on automotive territory. The car's onboard computers control every in-car function, as you'd expect, but is now much less hidden in its operation with so much of the car's analogue controls and readouts being replaced my (figurative) acres of touch-sensitive or LCD real estate.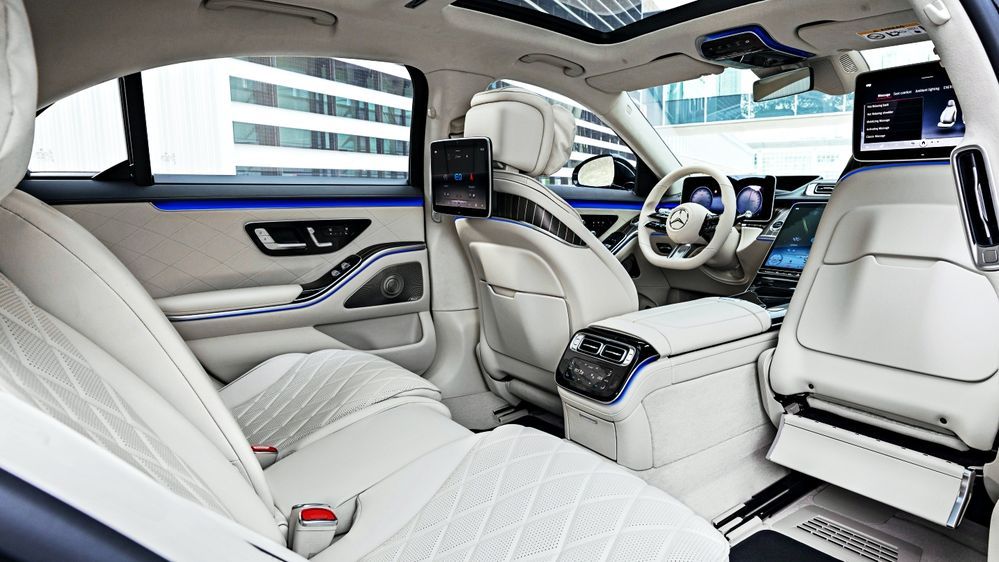 On the dashboard, the MBUX interface is front and centre - almost inescapably so - with a central 12-inch portrait screen and a 12.3-inch digital instrument cluster. Rear passengers, meanwhile, each receive an 11.6-inch touchscreen ahead of them. There's also a detachable control tablet to play around with.
As an analogue counterpoint to try and offset the cold bombardment of constantly altering screens, the W223 also incorporates rather large single-piece open-pore wood panel veneers with aluminium inlays, which is one of probably several thousand customisations options offered to the buyer.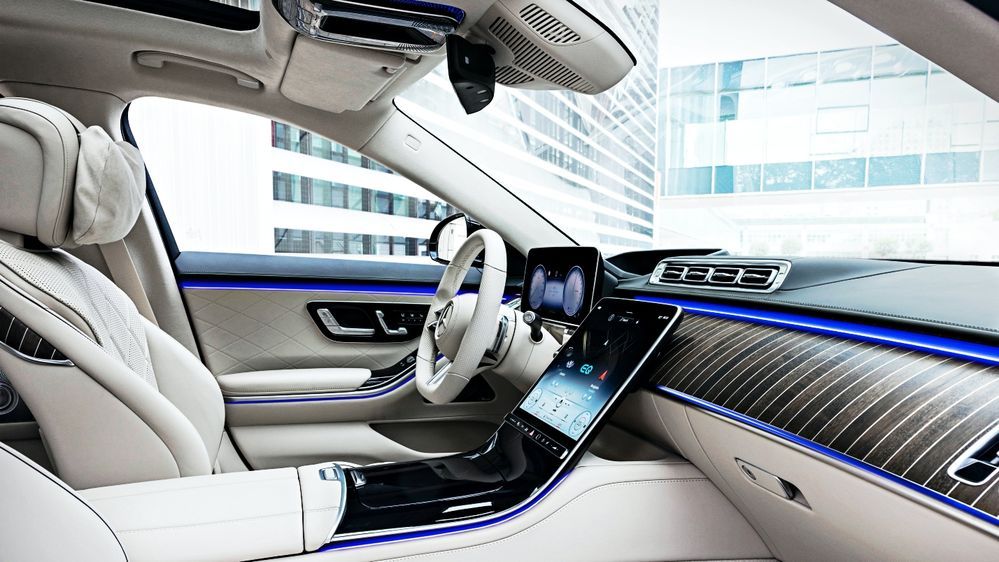 Perhaps foremost in the minds of Mercedes-Benz engineers was the new S-Class's interior. While you could knock the car's exterior design as an evolutionary step over the existing E-Class and/or outgoing W222 S-Class, the cabin of the W223 invites an entirely new paradigm of chauffeured opulence.
There are some rather comprehensive rethinks about how a flagship luxury saloon should present itself to its occupants. The car makes full use of the additional size to offer sweeping inlays of trim while also expanding interior volume, making for an airier cabin with extra room for premium appointments, such as the extravagant 30-speaker Burmester 4D sound system.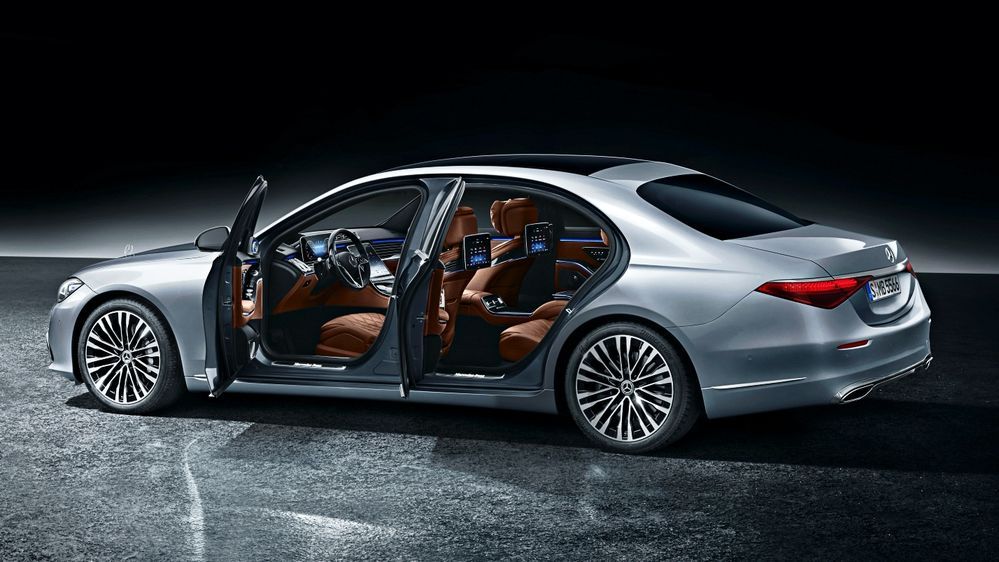 For those tasked with driving the W223 S-Class, Mercedes-Benz has added Intelligent Park Pilot, a new function that leverages the car's advanced Level 4 autonomous sensor array and computational horsepower to allow the driver to remotely park the S-Class via a smartphone app or even let it park itself after a drop off, where legislation for such things permit.
In more typical situations on the road, the new S-Class claims to offer Level 3 autonomous drive features at speeds of up to 60km/h with Drive Pilot, in particular to aid in the monotony of traffic jams and other low-to-medium speed situations. The automaker is currently in late stage testing and plans to roll the feature out in the latter half of 2021, which will play into the car's over-the-air (OTA) software update plan.
---
---
---
---
留言