Genesis G70 - Probably 2020's Best Looking Compact Exec Saloon
所有资讯 The Genesis G70 is only about 3 years old at this point, so it's not like the South Korean 3 Series rival really even needed a refresh. They did it anyway, and it took just one facelift to surpass the BMW, the Merc C-Class, Audi A4, and even the Jaguar XE on looks. Just one.
---
Styling is subjective - of this we are fully aware. However, what we have here is probably the most transformative mid-cycle facelift to ever hit the compact executive saloon category. That said, with this shaken up pecking order of handsomeness, only the 2020 Lexus IS is trailing closely behind, and we have yet to see what Stuttgart has up its sleeve with the upcoming W206 C-Class.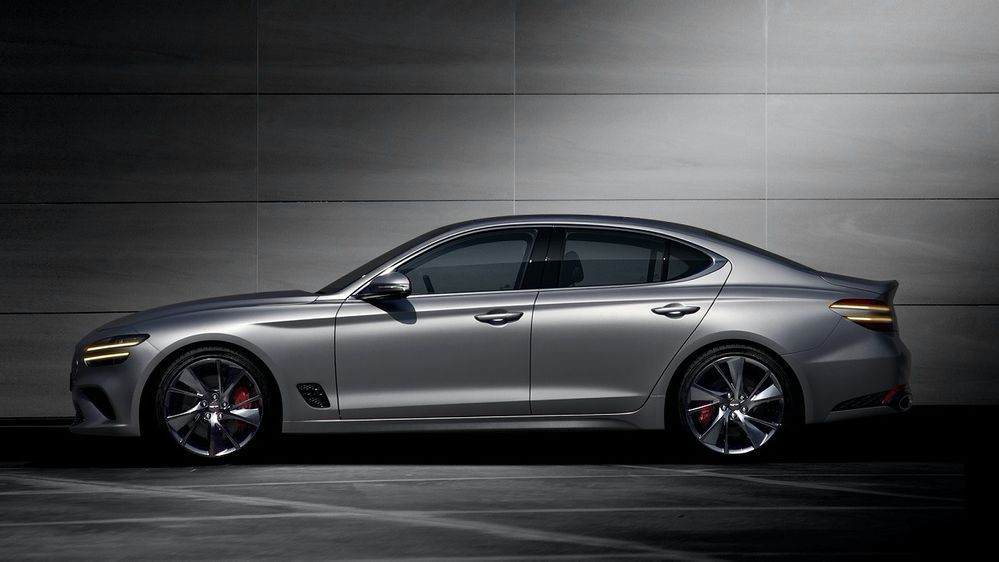 From the start, Hyundai has made no bones about prioritising the North American market with the luxury-oriented Genesis marque. If that wasn't still clear, have a look at those huge chrome wheels the updated G70 is wearing under those arches.
The facelift has given the car a completely new face that's more in tune with the automaker's newest corporate identity; most notably with its inverted pyramid grille and G-Matrix mesh pattern. However, where the original G70's design was good, it may have strayed too much into mimicking the cues from its larger sibling, the G80.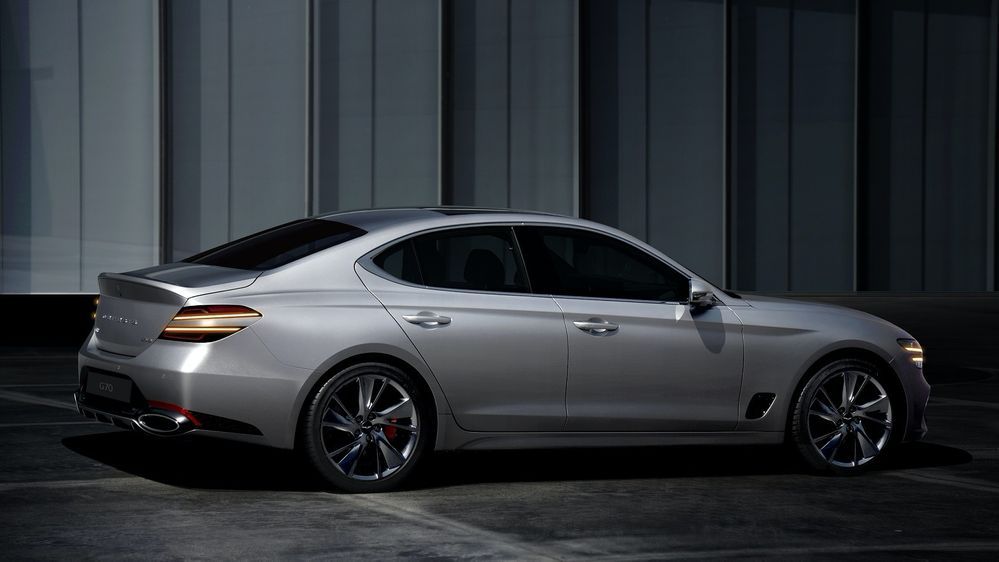 It's a condition that many of Genesis' German competitors also share, albeit willingly, and has led us to a premium vehicle landscape filled with Russian nesting dolls where an automaker's family of cars is so stylistically uniform to the point of not being individually recognisable.
Here, the G70's tauter dimensions and overall athleticism has been retained, but the car has been given an extra dose of understated elegance, especially in this sharp silver body colour. In fact, quite aptly, Genesis' design philosophy is called Athletic Elegance.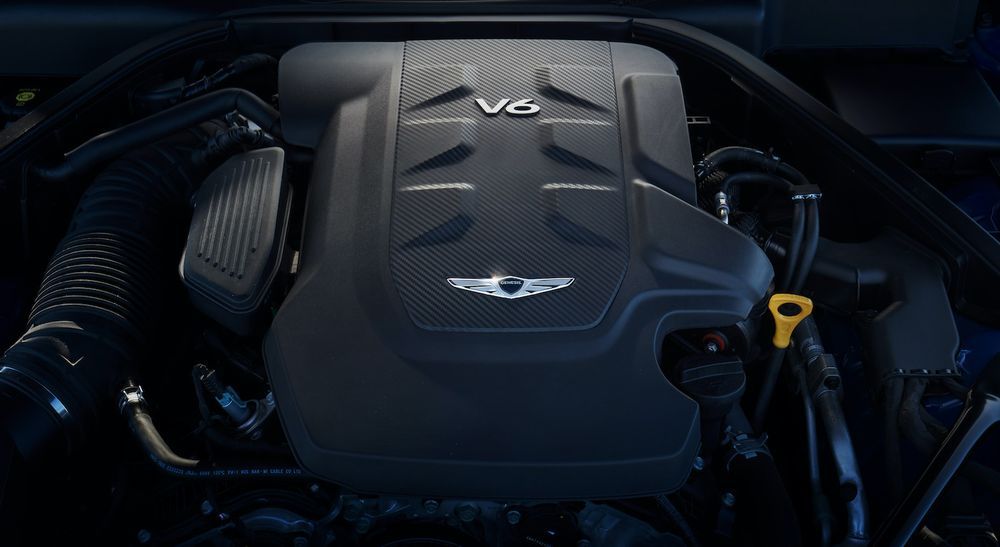 The quad front lamps might not seem like particularly great ideas on paper, but it has been executed very well on the final car. Less has changed at the rear of the G70 apart from a revised tail light cluster and diffuser element but, again, there wasn't much wrong with the 2017 original in the first place.
While power on previous G70s was supplied by either a 2.0-litre turbo-four or 3.3-litre bi-turbo V6, matching the Kia Stinger, this facelift is expected to inherit the newer 3.5-litre bi-turbo V6 from the G80 for a marginally higher maximum output of 373hp and 588Nm.
At the lower end of the range, it's also looking increasingly likely that the aforementioned four-cylinder engine will be replaced by a larger displacement 2.5-litre turbocharged four-cylinder, arming even base variants of the C-Class fighter with a decently grunty 300hp and 420Nm.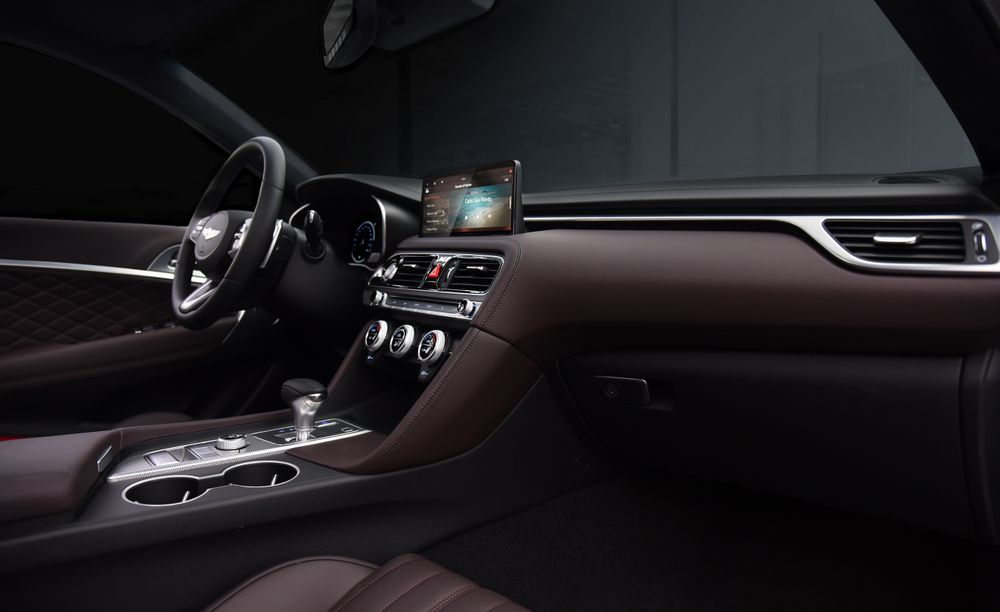 There are some in-car alterations too, but truth be told I can't really spot them from the single image released of the interior. Something about leveraging "driver-centric architecture" and "fighter jet cockpit" was mentioned, but it looks pretty standard fare luxury saloon to me. A more obvious change was the introduction of a larger 10.25-inch infotainment screen with a new interface and support for over-the-air software updates.
As they've communicated to us recently, Hyundai Sime-Darby Motors still has no plans to introduce any of Genesis' cars into the Malaysian market. Looks like the closest we would have ever got was the brief window in 2015 where the Hyundai Genesis was briefly on sale here, prior to the Genesis name being spun off into its own luxury brand.
---
---
---
---
留言