Mercedes-Benz Hap Seng Star Opens Iskandar Autohaus in Johor
所有资讯 In conjunction with Hap Seng Star, Mercedes-Benz Malaysia has opened a brand-new dealership down south in Iskandar, Johor. The dealership, known as HSS Iskandar Autohaus, is a 3S Centre that aims to cater for the growing demand in the Iskandar area. The fact that Iskandar is fast becoming an economic corridor justifies the RM 5 million investment in the dealership.
The dealership is capable of housing up to 7 units on display in the showroom, and is staffed by 18 personnel in areas from sales to after sales service. With 8 work bays available, the dealership is expected to be able to handle up to 528 vehicles a month to cater to the increasing demand by owners and future owners. The service centre and the showroom are housed in separate buildings.
Like many of the dealerships around the Klang Valley, HSS Iskandar Autohaus has a number of new after-sales services that help to ease the customer experience. Things like Door-to-door services and Drop & Go services make servicing cars helps to reduce the hassle of schedule servicing.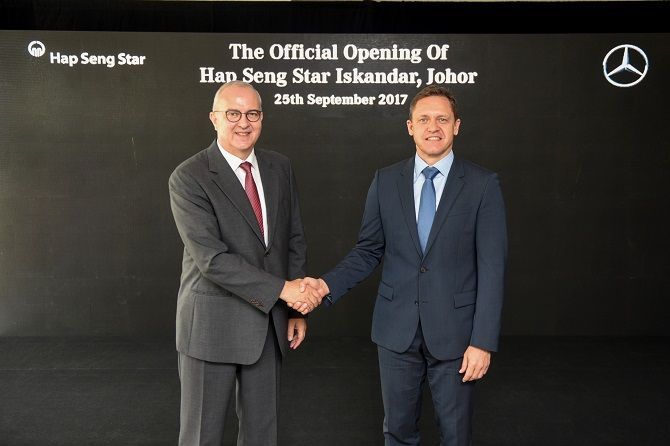 The most current showroom layout and concept is the Mercedes-Benz Presentation System II, which is the global Autohaus benchmark for customer experiences. There's a boutique and accessories area, along with a customer lounge and a cafe. With the addition of financial services from Mercedes-Benz Malaysia, the dealership provides the full 360-degree ownership process: sales, financing, and after-sales.
With the launch of this outlet, Hap Seng Star has invested over RM 248 million in the Mercedes-Benz brand in the form of dealerships and outlets across nine locations- including Kuching, Miri, and Kota Kinabalu. HSS Iskandar is located at No. 1, Ground Floor, Jalan Bestari 8/2, Taman Nusa Bestari, while its service centre is located a mere 15 minutes' drive away at No. 7, Jalan SILC 1/4, Taman Perindustrian SILC. For more information, please visit www.hapseng.mercedes-benz.com.my or call 07-2240 818 (showroom); 07-5099 019 (service centre).
---
---
---
---
留言