New 2015 Lexus IS 200t Range Prices Revealed, From RM279k
购买指南 Prices for the new 2015 Lexus IS 200t range have been revealed on the brand's local website. A total of three variants of the new turbocharged sedans look to be confirmed alongside their price tags.
You'll have to dig a bit deeper than usual to find this, but if you visit the Finance & Insurance section on the local website, and take a look at their section for Individual Pricing, you'll see the new Lexus IS 200t's prices listed clear as day. Here's what they look like, all OTR with GST, without insurance:
IS 200t Premium: RM278,400
IS 200t Luxury: RM311,900
IS 200t F Sport: RM344,900
IS 300h: RM394,900
More expensive than before…
The new four-variant line-up no longer includes the previously-available IS 250, with the new turbocharged and more powerful 2.0-litre Lexus engine taking over the reins.
Equally, it looks like the new IS 200t is more expensive than before, pushing up the base variant's price by more than RM12k. Where the previous IS 250 F Sport retailed at RM328,494, it'll cost you an extra RM16k for the coming IS 200t F Sport model. Strangely, the unchanged IS 300h gets a massive RM15k bump too.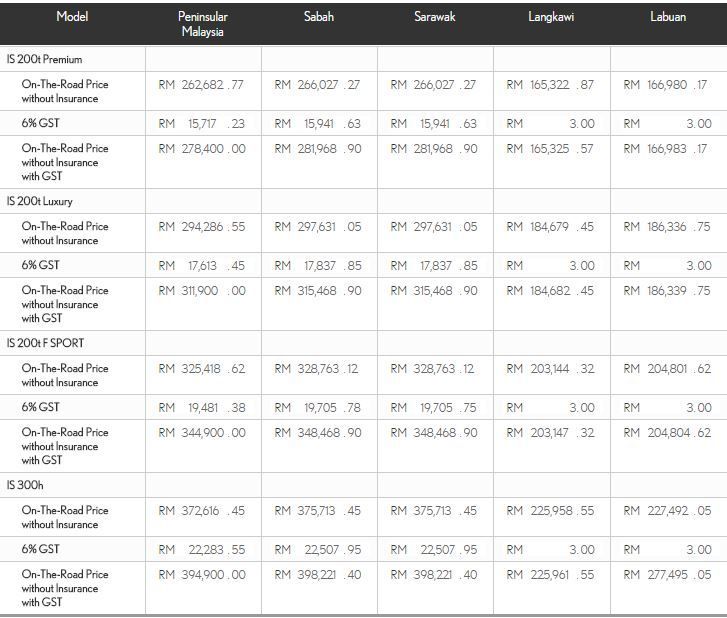 So what's new?
Introduced to the world earlier this year, the new IS 200t was unveiled with very minor exterior and interior tweaks, but was all about the new 2.0-litre turbocharged four-cylinder engine which has been making several appearances now in various Lexus models – in Malaysia, you've already seen it in the NX SUV.
We don't have final, localised performance and torque specifications for you at the moment, but when it was first unveiled to the world, the IS 200t was rated for a total of 241hp and 350Nm of torque, when paired to the standard-included eight-speed torque converter automatic transmission.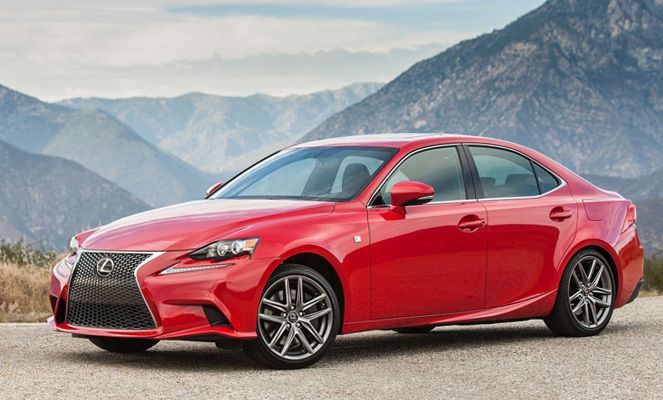 Lexus IS 200t vs. Mercedes-Benz C 250, BMW 328i
It's significantly more horsepower than a comparable Mercedes-Benz C-Class C 250 is capable of, itself producing 211hp and 350Nm of torque. The IS 200t's power output is more closely comparable to a BMW 328i, which pushes 245hp and 350Nm of torque.
This makes the new IS far more powerful and capable than the previous 205hp IS 250.
SPEED: A three-way drag race between the three rear-wheel drive cars on paper will see the BMW 328i come out tops with a 0-100km/h time of 5.9 seconds, while the Mercedes-Benz C 250 would come second with 6.6 seconds, and the Lexus a little further behind with 6.9 seconds.
PRICE: For price, the Lexus IS is also a little bit more expensive than the competition. Here's how it stakes up against its Mercedes-Benz and BMW comparisons.
The new Lexus IS 200t is certainly an upgrade in power over the previous models, but with that, also comes the additional cost. Will that be enough to lure you away from the typical segment champs from Germany?
---
---
---
留言