Review: 2016 F20 BMW 118i LCI – Is This The 1 For You?
所有资讯 For a company that pioneered the art of marketing premium cars to young people, BMW has been uncharacteristically weak in the entry level premium compact cars segment. The company that wrote the history books with its segment defining 3 Series had somehow lost the plot to the Mercedes-Benz A-Class and Audi A3 when it comes to selling downsized premium cars to a new generation of Gen-Y buyers.
Apart from the 135i and 1M, the previous generation E87 1 Series was a rather forgettable model – it just wasn't pretty enough, wasn't really comfortable, and its rather basic specifications didn't meet many Malaysians' expectations of a BMW.
This new, prettier looking F20 generation 1 Series LCI – BMW's acronym for a mid-lifecycle update – is BMW's latest attempt to regain some lost ground in the segment.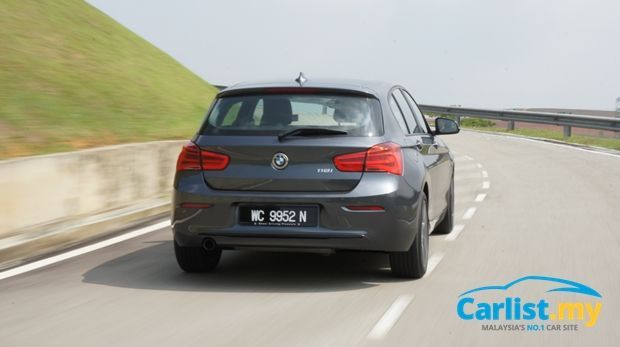 Specifications for BMW 118i Sport LCI
Price: RM173,800 excluding insurance
Engine: 1.5-litre three-cylinder, 12-valve direct injection, single scroll turbocharger
Transmission: 8-speed automatic, rear-wheel drive
Power: 136 hp at 4,400 rpm
Torque: 220 Nm, from 1,250 rpm – 4,300 rpm
Safety: 6 airbags, ISOFIX (rear), ABS, Cornering Brake Control, Electronic Stability Control, Traction Control
Origin: Locally assembled in Kulim, Kedah
Overview
Priced at just RM173,800 excluding insurance, the locally-assembled 118i significantly undercuts the imported RM195,888 Mercedes-Benz A180 and the RM186,900 Audi A3 Sedan – which will soon be replaced by a new A3 model. The A-Class is imported from two locations; Kecskemet, Hungary or Rastatt, Germany, while the A3 is imported from Ingolstadt, Germany.
Among the trio, the 118i is not only the most affordable, but also offers the longest warranty, 5 years with unlimited mileage, plus a 5-year free maintenance package (does not cover brake pads, tyres, battery, and wipers).
One could also stretch the definition of premium a bit further to also include the Volvo V40, which starts from RM175,888.
Sitting above the 1.5-litre three-cylinder turbo 118i Sport is the 120i M Sport, which costs RM30k more, and is powered by a larger 1.6-litre four-cylinder turbo built by Peugeot. However as you will read in further detail below, the 118i is good enough. Why would you want to buy a BMW with an engine built by Peugeot when you can buy one with a newer, BMW-developed engine at a lower price?
Against its peers, the 1 Series stands out as the only model in the segment that's rear-wheel driven, a unique trait that will not be carried over to the next generation 1 Series - due sometime around 2018 - which will adopt a new front-wheel drive/all-wheel drive platform that's already underpinning the all-new F48 BMW X1.
So there is a good chance that this will be a collector's item in the future. If you like what you see here, head to your nearest BMW dealer soon because there will never be another 1 Series that drives like this anymore in the future.
Exterior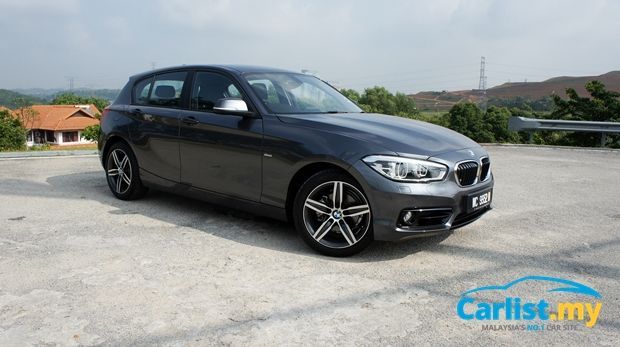 If you look at BMW first as a maker of premium cars (as opposed to a maker of driver's cars), then you won't like the 1 Series LCI. It just doesn't look as expensive as an A-Class or an A3.
Keen drivers however, will understand what 1 Series is about with just one glance. The overhangs are short, the nose is long, with most of the car's 'visual mass' pushed to the rear – all hallmarks that hint towards a rear-wheel drive performance-oriented car. Trying to squeeze all these elements within a compact hatchback silhouette however, is not going to be easy.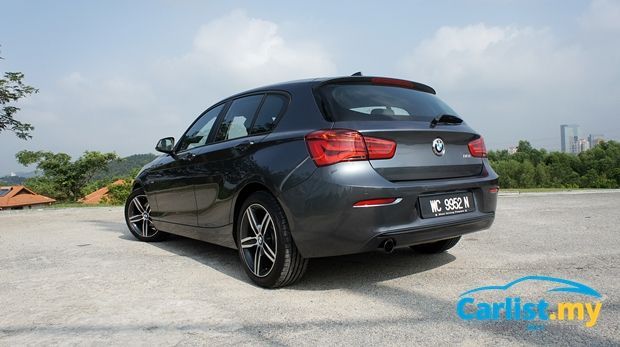 It took BMW one and a half generations to execute the design concept correctly. The new LCI model's LED headlamps, wider grille and tail lamps have finally given the 1 Series a more proportionate look. No more odd 'angry bird' face look.
Interior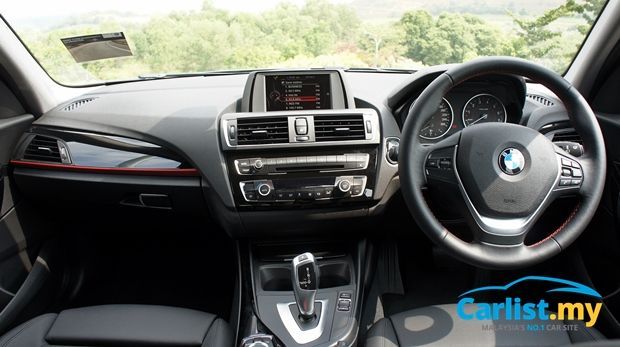 Like many BMWs, the 1 Series's interior is the car's weakest area. Something is clearly not right when a Mazda 2 feels more expensive than a BMW 1 Series. It's not that the BMW's cabin feels poor, but Mazda have worked very hard to close the gap and BMW needs to do more to justify its premium price.
Both the A-Class and A3 trumps the 1 Series as far as interior design is concerned. The BMW just doesn't feel as expensive as the Mercedes-Benz or Audi.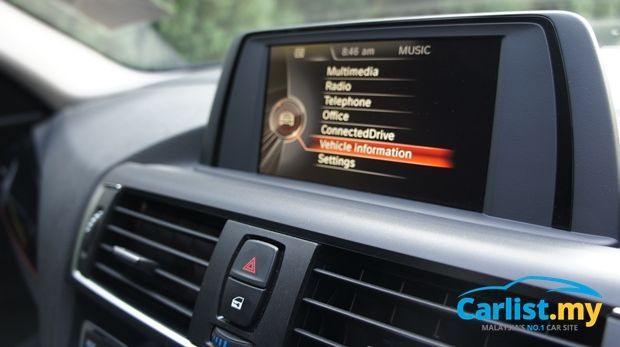 It's not all disaster though. The 1 Series's interior is still the most user friendly. First time BMW owners will appreciate the short learning curve to familiarise oneself with the 1 Series's controls. Every button and switchgear is laid out in a very user-friendly manner, and are more intuitive to operate than in the A-Class.
The 1 Series also has one more thing that only keen drivers will appreciate – a proper mechanically operated handbrake.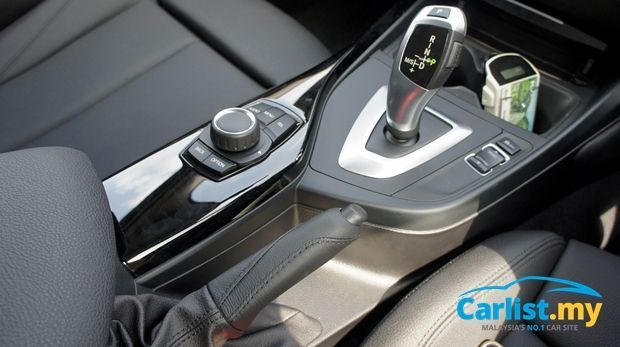 This being a BMW, especially a rear-wheel drive one, don't expect to enjoy the same level of interior space and practicality as you would in say a Honda Jazz. There is a small centre console box and a pair cup holders in front. Together they offer just the right amount of space for a driver's belonging. The keyword is 'just.'
Technically the 1 Series is a five-seater hatchback but the car is almost strictly a four-seater. The transmission tunnel intrudes quite a bit into the cabin, and the centre rear seat is only suitable for short journeys.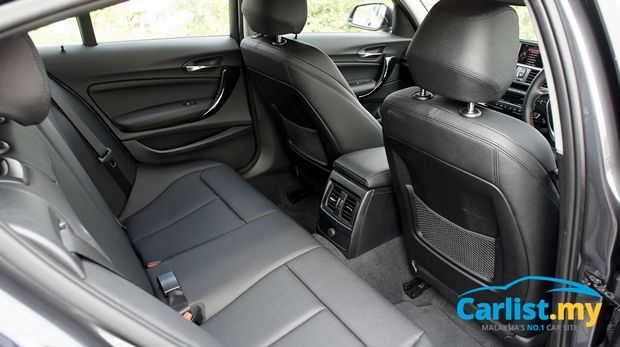 If you must compare, the Mercedes-Benz A-Class is not any more spacious, despite riding on a supposedly more space efficient front-wheel drive platform. The Audi A3 Sedan is marginally more spacious inside.
The 118i's boot however, is surprisingly spacious, even when compared to front-wheel drive hatchbacks.
Driving experience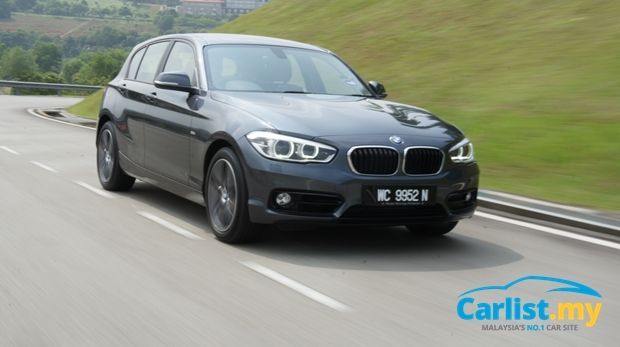 Whatever shortcomings I found with the 118i's interior, I have completely forgiven about them the moment I drove it out on the open road.
The market might compare this against the A-Class and the A3, but as far as joy of driving is concerned, the 118i is peerless. Stuttgart and Ingolstadt doesn't even come close to matching the Munich's 118i.
No three-cylinder engine should drive this well. Three-cylinder engines are supposed to be inherently unbalanced, and sound like a rattling sewing machine, not for this B38 three potter.
The engine nerds at Munich certainly deserve a big raise. Forget about the Peugeot-built 1.6-litre four cylinder turbo in the 120i. This three-cylinder is the future and this is proper BMW stuff – it's lightweight, fuel efficient, and packs a punch.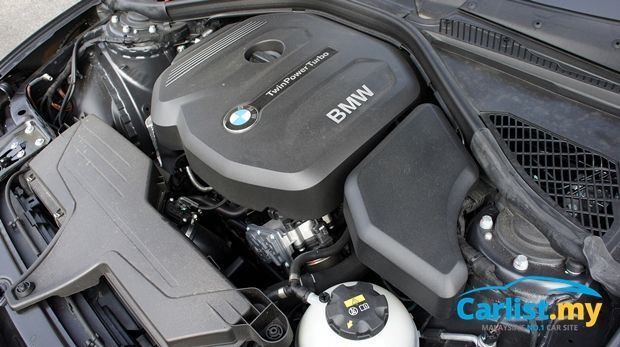 It might have one less cylinder and 96cc smaller in capacity, but this 1.5-litre three potter is far more responsive than the 1.6-litre four potter in the Mercedes-Benz A180 that we've tested recently. Despite its conservative tuning, the A180 has a surprisingly high level of turbo lag.
In contrast, the 118i's revs quickly as soon as you punched the throttle. It's not as fast as an 'old school' normally aspirated BMW engine, but faster than the BMW 330i M Sport (which has a much higher boost level so something has to give) that we've tested recently. It pulls with sufficient level of eagerness and highway speeds are easily maintained with little effort.
The BMW is just so agile, it rolls and pitches around you, and you react intuitively with measured steering and throttle inputs. The car is almost like an extension of your hands and feet.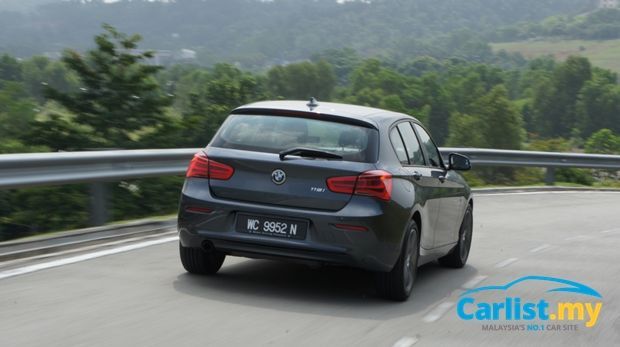 It might have only 136 hp but I am smiling and giggling away in the 118i more than I did when I was behind a far more powerful but less engaging 220 PS Volkswagen Golf GTI. Sheer Driving Pleasure is not a just tagline, it's a genuine promise.
The chassis has a wide breadth of talents. It is able to strike the tricky balance between agility and comfort in ways the harsher riding Mercedes-Benz can't. Pitch it into a set of corners and the 118i tracks your intended path with minimal slack, and a sprinkle of charisma in its behaviour. Yes, in this age of trick differentials and Nurburgring lap record setting front-wheel drive cars, rear-wheel drive isn't that much faster anymore, but get behind the wheel of the 118i, and you will be reminded of the certain level of telepathic appeal that only a rear-wheel drive car can deliver.
How comfortable is it?
On straight highways, the rear axle can feel a tad busy, and the cabin is not quite as quiet as what you would expect from a BMW. There's a fair bit of wind and road noise intrusion, especially from the rear, reminding you that this is still an entry level BMW. It's not a car for long distance cruising, which is a pity because the seats were rather comfortable for a compact premium car. If that's a deal breaker, you might also want to know that the same amount of money buys you a one- or two-year old certified pre-owned F30 BMW 320i.
The leather seats provided good support in all key pressure points, and were more comfortable on the skin than the A180's half leather, half fabric seats.
On most road surfaces, the 118i's suspension is supple enough to iron out most imperfections on the tarmac. It's a setup that's very easy to live with in daily urban driving, and is definitely more comfortable than the A-Class.
How economical is it?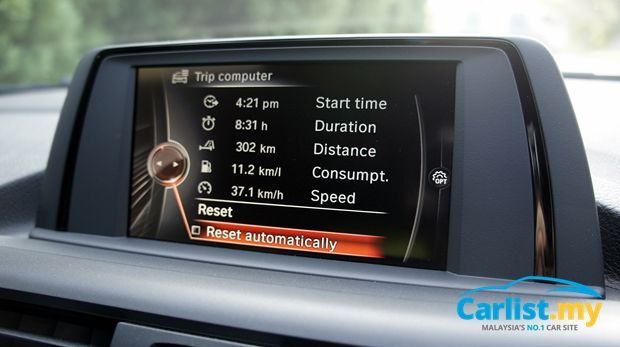 On paper, turbocharged engines are very economical, but in reality, turbocharged engines can be quite thirsty, especially in urban driving, but BMW engines are one of the few exceptions.
The 118i is no different, averaging a rather commendable 11 km/litre (about 9-littre/100 km), even after being subjected to the typical test drive routine split among three drivers, most of which done in Sport mode. When driven in Eco Pro mode, we recorded up to 13 km/litre (about 7.6-litre/100 km).
Lift off the throttle, and the 8-speed automatic transmission disengages to save fuel, dropping the rev counter idle. It reengages with no noticeable lag at the slightest touch of the throttle.
The 5-year warranty and 5-year free maintenance package also makes the purchase decision a lot simpler. This is after all a BMW, you can't expect to pay Honda money for maintenance.
Conclusion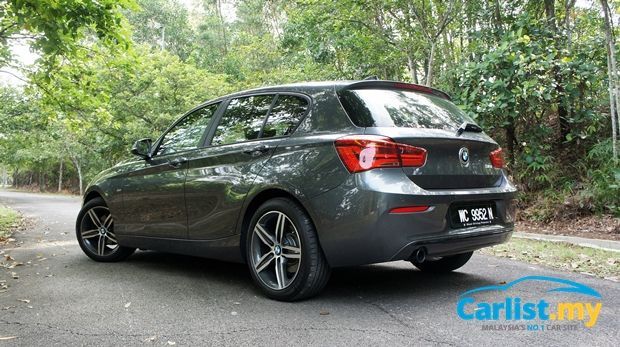 If you are looking for a car to impress the neighbours, your future in-laws, or your friends, don't bother with the 1 Series. The prettier, more expensive looking Mercedes-Benz A180 and Audi A3 Sedan 1.4 TFSI will serve you better on that front.
The 1 Series is not for everybody. Its main highlight is the depth of its talent in ride and handling, a trait that's not at the top of the priority for most people shopping in this segment, many of whom simply want a pretty looking car with an expensive badge on it.
If however you are looking for sheer driving pleasure, the 118i is peerless. None of its peers are as engaging to drive, none speaks to a keen driver's emotions the way clasping your hands around the 118i's steering wheel can. When the revs build, your heart beats faster, your brain lets out a little bit more dopamine pleasure hormone, your hips feeling every movement of the agile chassis, whatever shortcomings of the 118i's interior and exterior looks fades away.
With the next generation 1 Series switching to front-wheel drive, this F20 generation 1 Series has high chances of becoming a collector's item in the future, with the M135i being the most coveted one. It's even better if it's fitted with a 6-speed manual transmission, which is becoming increasingly rare even in performance cars. If you can't afford that, this 118i is good enough.
---
---
---
---
留言