Review: 2017 Mazda CX-5 Diesel – Outgoing, But Not Outdated
评论 There is, as we all know, an all-new Mazda CX-5 coming to town. First shown to a global audience at LA toward the tail end of 2016, the second-generation CX-5 has just been confirmed for its debut in Malaysia by the third quarter of this year.
Mazda's full renewal of its highly-successful mid-sized SUV was earlier than expected, but it certainly brings the brand's latest chapter full circle – the outgoing CX-5 is, after all, the model that kick-started Mazda's SkyActiv-driven renaissance in the first place.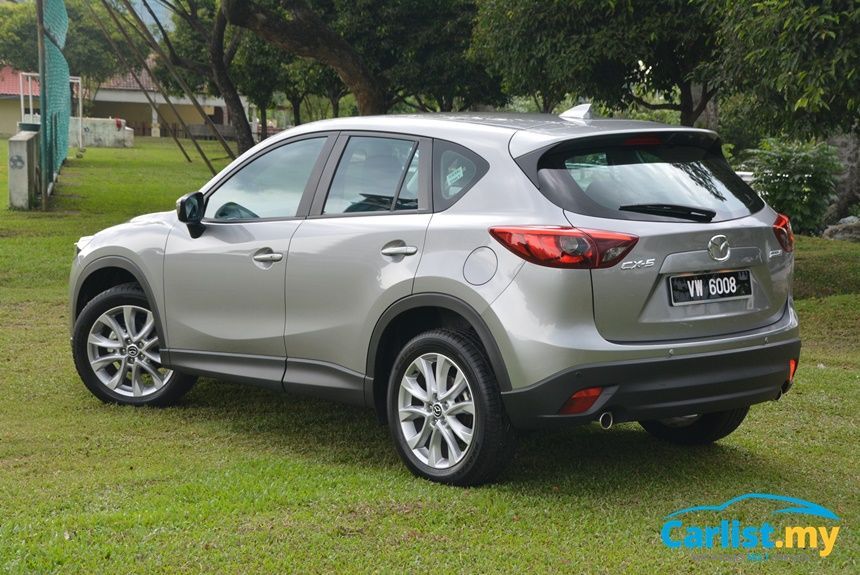 Whilst its replacement waits in the wings, the existing CX-5 remains, by all counts, a thoroughly convincing product that is at once well-kitted, good-looking, and good to drive. It is, let's not forget, the reigning 2016 ASEAN Car of the Year overall winner.
For much of its model life cycle in Malaysia, the CX-5 has traded on its pair of 2.0- and 2.5-litre petrol engines known for their remarkable refinement and economy. Last year, however, Mazda added a diesel engine to the CX-5's ranks, which is the subject of our review today.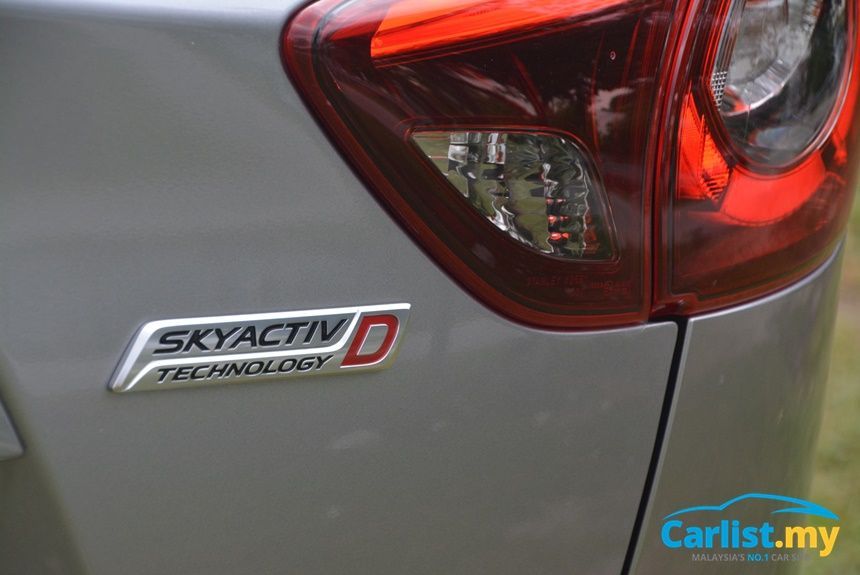 Specifications:
Price: RM166,335.71 (OTR with Insurance)
Engine: 2.2-litre, Inline-4 Transverse, Turbodiesel
Power: 175PS @ 4,500rpm
Torque: 420Nm @ 2,000rpm
Transmission: 6-speed torque converter automatic, FWD
Safety: 6 airbags, ABS, EBD, Brake Assist, Electronic Stability Control (ESC), ISOFIX, autonomous emergency braking,
Origin: Locally-assembled in Kulim, Kedah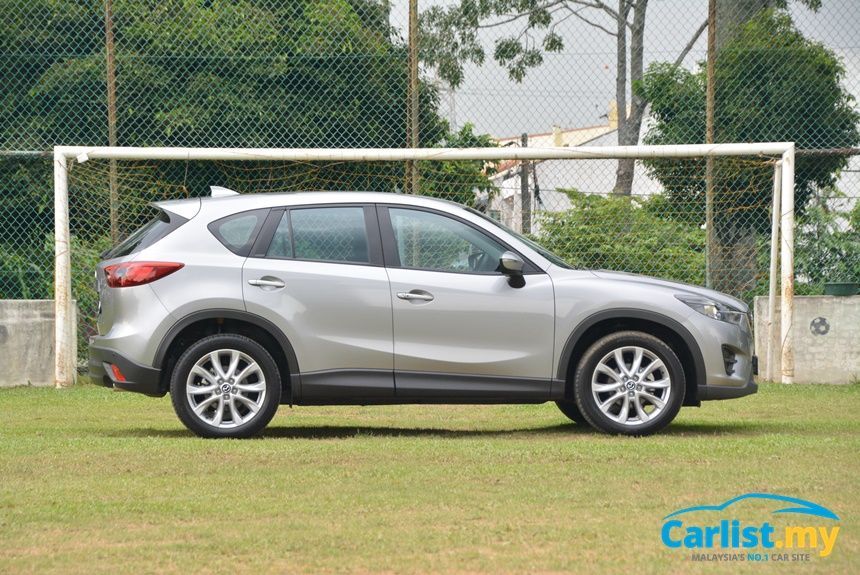 Overview
Whereas the petrol power is offered with no fewer than four variant choices, the CX-5 Diesel is available with only one flavour, being offered exclusively in FWD configuration – curious decision considering the performance at this car's disposal.
Its OTR pricing of RM166k with insurance puts it almost at the midway along the RM12k chasm that splits the 2.5-litre front- and all-wheel drive variants. From a bit of simple math, we could extrapolate a hypothetical price of around RM178k if Mazda were to offer a highly-recommended all-wheel drive setup to go with the diesel mill.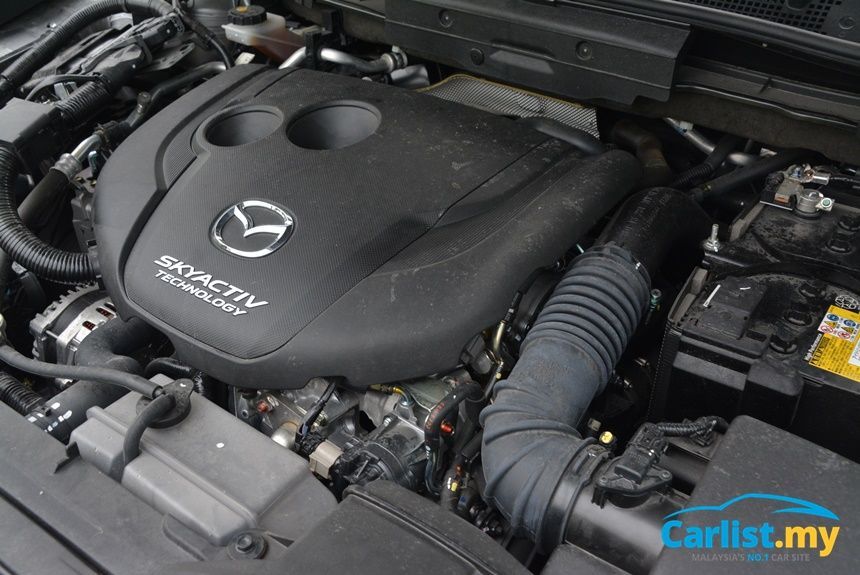 Details of the 2.2-litre SkyActiv-D diesel engine have, to date, been extensively covered on this website. It operates a uniquely-low 14.0 compression ratio which Mazda claims to help reduce nitrogen oxide emissions to the extent that the engine is able to meet Euro 6 emission standards without having to depend on exhaust gas after-treatment systems.
With the majority of the segment continuing to stick its bet on petrol power, the CX-5 Diesel enjoys a substantial performance advantage, with only the recently-launched Kia Sportage GT 2.0 Diesel coming anywhere close to the Mazda's 175PS and 420Nm outputs. Kia, for the record, quotes 185PS and 400Nm for the Sportage GT, which has the advantage of all-wheel drive that the CX-5 does not provide.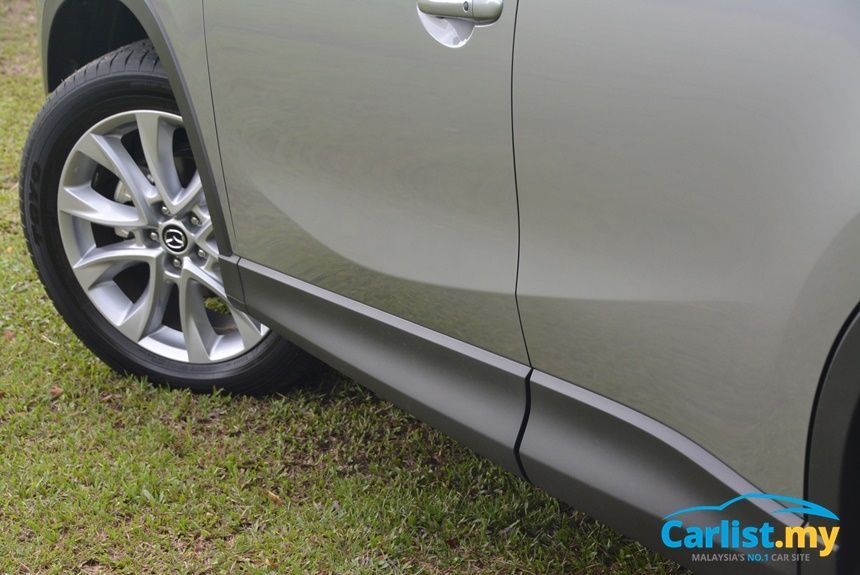 Outside, the only cue that differentiates the CX-5 Diesel from its petrol siblings is a subtle red-painted 'D' affixed at the end of the customary 'SkyActiv Technology' badge on the tailgate. Otherwise, items such as 19-inch alloy wheels, LED head and tail lights are all as per the 2.5-litre petrol models.
Equipment levels are also specified to match the 2.5-litre petrol models, with the CX-5 Diesel additionally getting autonomous emergency braking, blind spot warning, and rear cross-traffic alert. Other features also found in the petrol models include 6 airbags, electronic stability control, and Mazda's MZD Connect infotainment system.
Driving Experience
It is an idea we take for granted today, but the notion of a diesel-powered SUV that feels convincingly sporty was, not too long ago, an idea that would have invited considerable ridicule. Blessed with a powerful engine and well-sorted chassis, the CX-5 Diesel possesses both the straight line grunt and handling balance that would give many a hot hatch a good run for money.
Thanks to Mazda's refusal to adhere to convention in its engineering, the CX-5's 2.2-litre SkyActiv-D engine is unique amongst diesels – both in design and behaviour. It not only pulls smoothly, but it also exhibits an eagerness to sweep across the rev band in a manner one would only associate with a naturally-aspirated petrol engine.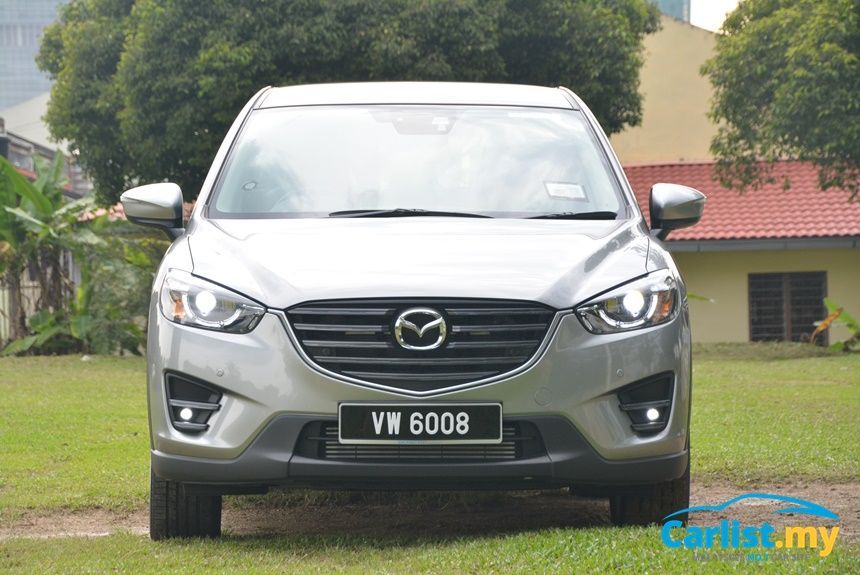 Subjectively, it lacks the outright punchy feel of a BMW 2.0-litre diesel, but we know of no other engine fuelled from the black pump that feels as lively. This, we feel, has much to do with Mazda successfully finding the means for a diesel engine to run on a low 14.0 compression ratio – with less internal pressure, comes less stress to the components, all of which, in turn, can be made lighter.
The advancing years al;so seem to have done little to diminish the CX-5's road manners. Back when it was first launched, the CX-5 was already praised for its above average handling capabilities; a few years, a facelift, and several running changes under its belt, the CX-5 continues to drive with commendable assurance.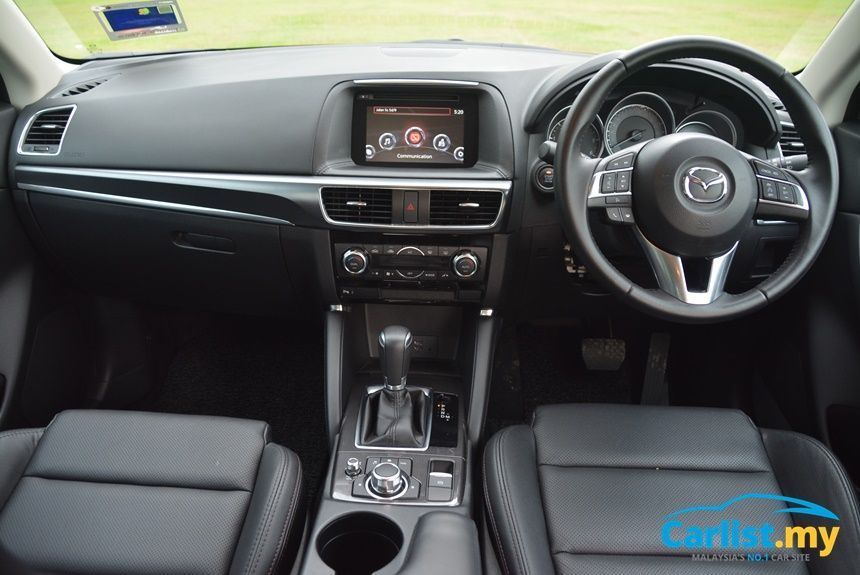 We did not encounter any rough weather during our time with the car, but on dry tarmac, we found little evidence of the chassis struggling to cope with 420Nm of twist channelled exclusively to its front wheels. Go the sensible smooth-in fast-out approach; the CX-5 follows your chosen line faithfully with little fuss or drama. That being said, go slow in the wet.
Enthusiasts will enjoy the CX-5's composed handling as well as the diesel engine's smooth-revving nature, whilst those with lesser emphasis on sporting qualities will still come to appreciate its easygoing nature and predictable controls, and not the mention the effortless progress made possible by the low-end torque of a diesel engine. Either way, you are most likely to find the CX-5's dynamic balance agreeable.
Comfort & Refinement
Whilst some may argue that buying the CX-5 now inevitably leaves you with a previous-generation car just several months down the road. But the upside, however, is that you'll be putting money on a product that has all its initial weaknesses thoroughly ironed out of the system.
Despite wearing low profile 19-inch tyres, our test car was hardly fettled by uneven patches of road. The suspension has evidently been tuned to offer that added level of compliance that is not always readily found on cars running on such a sporty tyre size. Certainly, Mazda's aggressive choice of rubber came without any notable sacrifice on ride comfort, though you'd be wise to save up a few extra bucks for your next tyre change.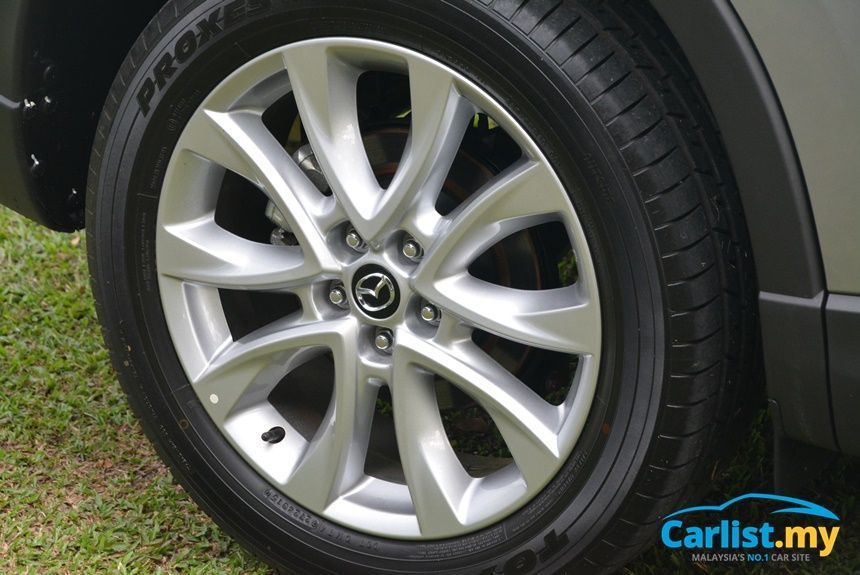 Noise levels, a usual Achilles heel of recent Mazda vehicles, are pretty decently suppressed here in the CX-5. Road noise is positively low, whilst wind noise levels are reasonable in the context of a mid-sized SUV.
As usual, the vehicle itself is utterly free of unpleasant vibrations and unwanted noises; such is the high level of mechanical refinement which the original car was already designed with. Inevitable vibrations of the auto start/stop system in operation, too, are competently isolated.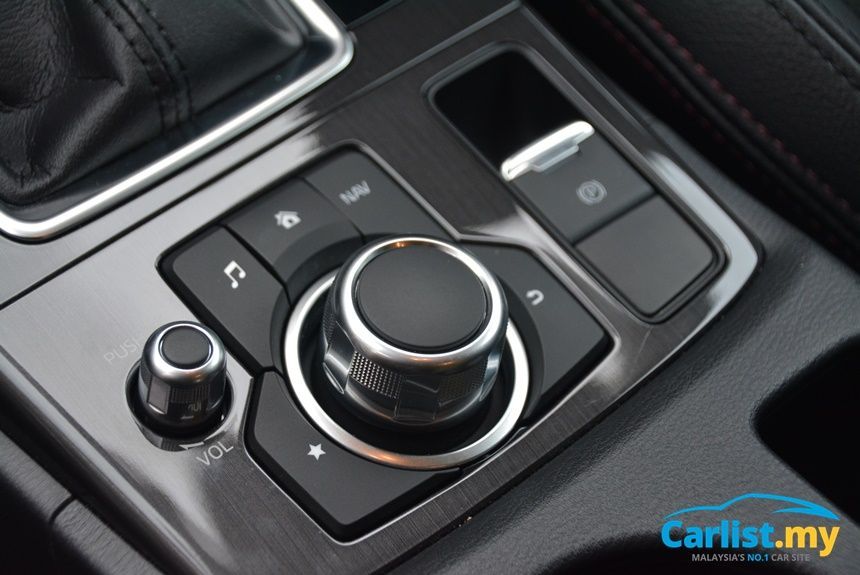 Economy & Maintenance
Our test run returned a measured average consumption of 8.2 litres/100km – pretty good if compared to its petrol-powered rivals, but distinctly average in the context of a diesel engine. The more aerodynamic Mazda 6 with this same engine unsurprisingly recorded a more economical figure of 7.3 litres/100km.
Beginning 1 February 2017, all Mazda vehicles except the BT-50 are covered by a 5-year/100,000km manufacturer's warranty in addition to being provided by a 3-year/60,000km free service programme. After the free service programme lapses, services cost between RM486.80 and RM1,091.61 for each visit at 6-month/10,000km intervals.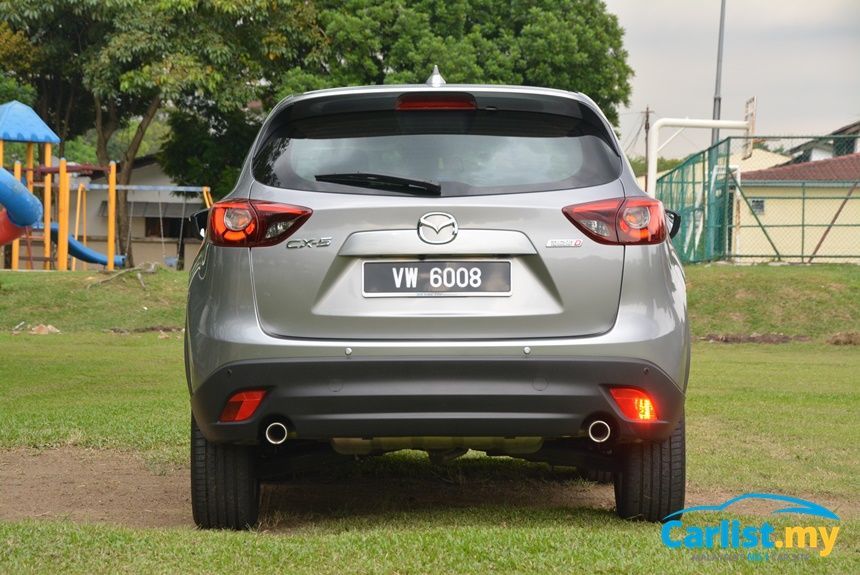 Conclusion
Whereas the Mazda 6 sometimes feel like it's better suited to the characteristics of a petrol engine, diesel power is perfect for an SUV like the CX-5. The diesel engine's rich torque allow it to haul the added weight of an SUV body and its fully loaded contents in a more relaxed fashion than a petrol engine could ever manage.
Also, where the Mazda 6 Diesel priced itself too closely to BMW/Mercedes territory for comfort, the locally-assembled CX-5 asks for no more coin than Honda or Nissan for their range-topping CR-Vs and X-Trails respectively.
We'd argue that the option of all-wheel drive would make the CX-5 Diesel a very complete package, but as it is, this is a thoroughly well-refined product that is practical enough for everyday use, fun enough to put a smile on your face, and still aspirational enough to be desired.
---
---
---
---
留言