Review: New Mazda 6 2.5 Sedan – Who Pays BMW 318i Money For A Mazda?
评论 It's a Mazda and it costs over RM200k. For most people, that alone is enough to make them walk away - and towards a RM198,800 BMW 318i, never mind if the BMW makes a lot less power. The Mazda is priced at a disadvantage because it's imported from Japan. The BMW 318i is locally-assembled and thus is taxed lower. The BMW's smaller capacity 1.5-litre engine helps too.
But what if we were tell you that a range topping Mazda delivers more driving pleasure than an entry variant BMW, with a better interior than a Mercedes-Benz C-Class? It's not an argument that many can accept, so if a car's badge is a top priority for you, move along.
For the select few who are willing to look beyond the badge, the Mazda surprises with its superior driving dynamics (yes) and more luxurious interior finishing (yes too), with Japanese reliability thrown in as a bonus.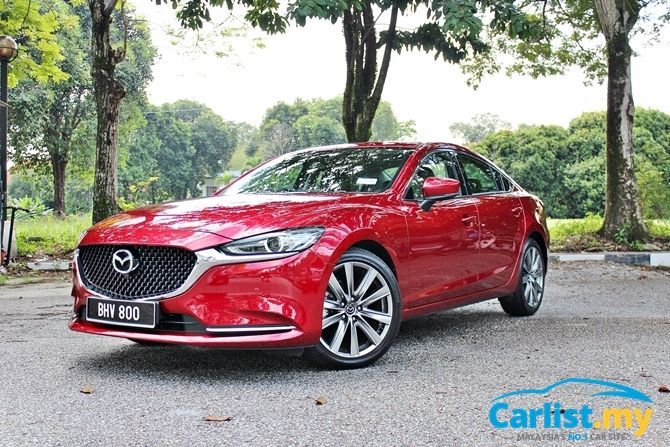 Specifications for Mazda 6 2.5 Sedan
Engine: 2.5-litre direct injection naturally aspirated, SkyActiv-G
Power: 192 hp at 6,000 rpm
Torque: 258 Nm at 4,000 rpm
Transmission: 6-speed automatic transmission, front wheel drive
Safety: Six airbags, ABS, electronic stability and traction control, hill start assist, ISOFIX, blind spot monitor, rear cross traffic alert, 360 degree parking camera, lane departure warning, lane keep assist, autonomous emergency braking (Smart City Brake Support)
Price: RM204,723 excluding insurance
Origin: CBU, Imported from Japan
As this is the range-topping 2.5-litre variant, upgrades over the entry 2.0-litre variant (from RM167,215) include an 11-speaker Bose audio system, adaptive LED headlights, a 360 degree parking camera, a sunroof, a colour heads-up display, and the i-Active-Sense suite of advanced driving aids.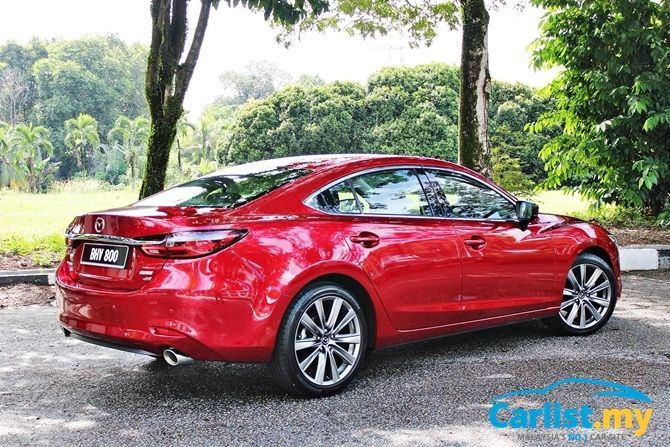 There is, however, no adaptive cruise control, which both the Accord 2.4 Vti-L and Toyota Camry 2.5V have. That being said, the Mazda fights back by being the only one with a sunroof.
The Sensing-equipped Honda Accord 2.4 VTi-L Advance (locally assembled) starts from RM168,998 while the Thailand-made Safety Sense-equipped Camry starts from RM189,900, so there's no denying that the Mazda is the most expensive.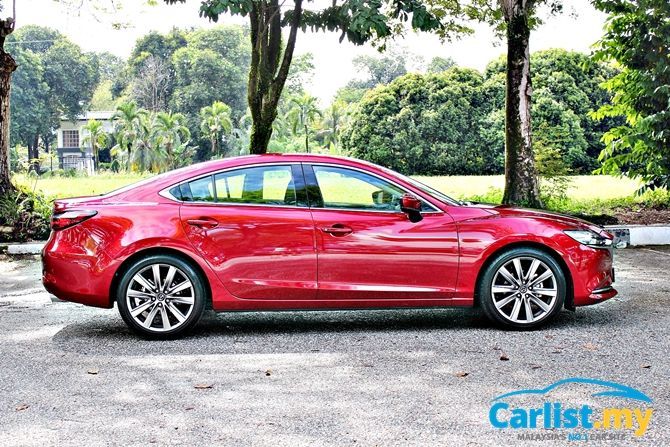 There's also the RM195,390 Volkswagen Passat 2.0 TSI, which is also locally-assembled. The Passat misses out on advanced driving aids but the punchy Golf GTI-sourced 220 PS and 350 Nm engine simply blows the competition away.
Exterior
This is the second and final update for the 6 before it retires early next decade. Compared to the initial launch model, the changes are subtle but highly effective in making the 6 a far more refined car. More on that later.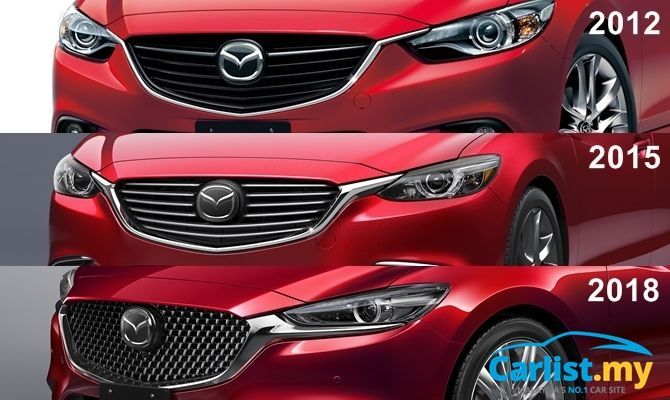 The latest 6 is identifiable by its new mesh grille with a 3D floating effect Mazda logo. The wing-like chrome surrounds now extends the width of the front bumper. Similarly the tail lights are also new and the boot now has a chrome strip that extends into (rather than over) the tail light housing.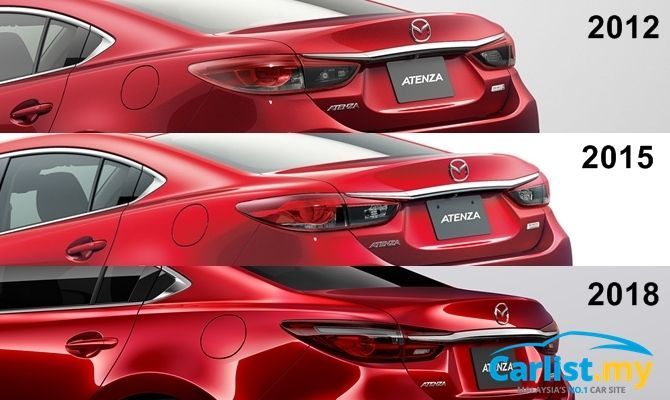 Interior
The dashboard is also new, as are the front door panels, both of which have new designs that now wrap around the cabin in a more cohesive manner.
The selection of expensive materials and the aesthetics of the execution are also far more refined than a BMW 318i or a Mercedes-Benz C200, and that's a huge claim - polished aluminum knobs and switches, a finely stitched leather wrapped dashboard, impeccable ergonomics, and much more.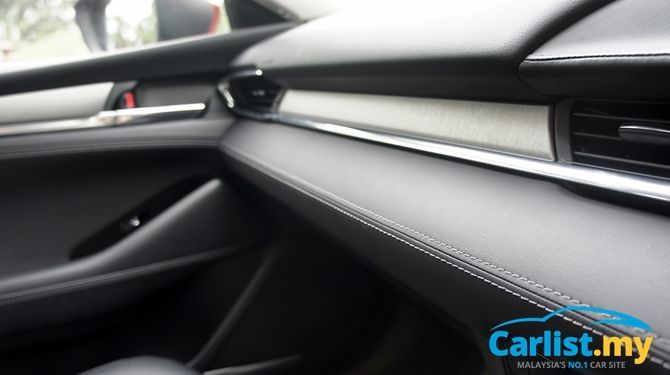 Compared to the all-new Camry, the new Mazda 6's interior is neater and better laid out, making the Camry look unnecessarily cluttered. As for the Accord and Passat, both are starting to show their age.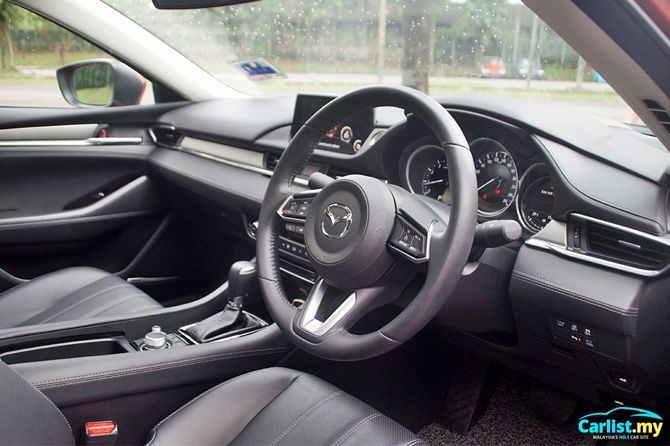 Behind, the Mazda's sloping rear roofline is as you would expect, slightly compromising ease of access and headroom. In this aspect, it is the Accord that still boasts of having better leg and shoulder room. However, the Mazda counters with a larger 489-litre boot, 28 litres more than the Accord. Plus, the Mazda's rear seats split folds in a 60:40 ratio too versus the Accord's one-piece folding item.
However it's not all perfect scores for the Mazda. For a car with very high premium ambitions, the cabin lacks proper ambient lighting. At the very least, there should be a pin-hole light above the centre console, something which its European rivals do very well.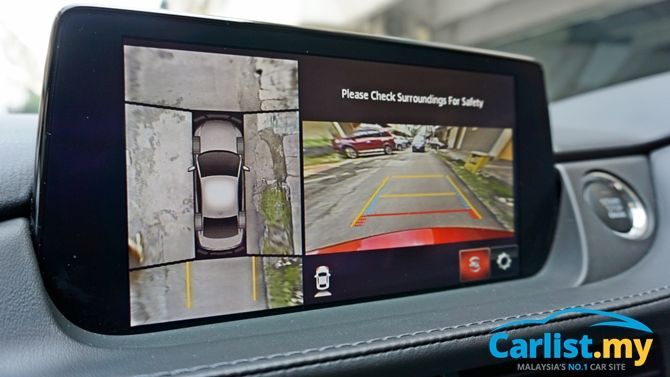 There's also no master door lock switch and the controls on the driver's side door panel are not illuminated.
The 360-degree parking camera is another weak point. Image resolution is very poor and the images are so crudely stitched together that even a Toyota Vios does a better job, which is a shame because everything in the car is of very high quality.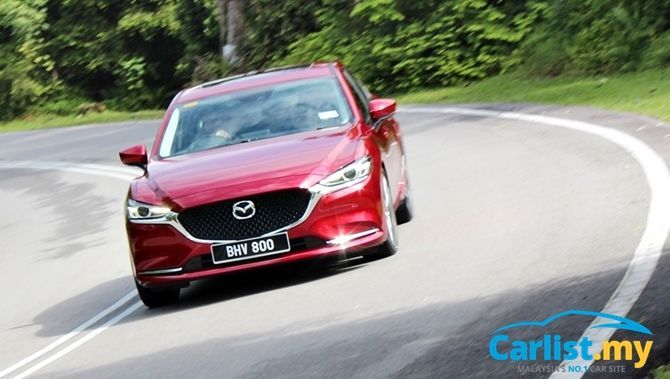 Driving Experience
Until you sit in the driver's seat of a Mazda 6, you won't realize how wrong the seating position in so many other cars is.
Due to complexity of mechanical packaging, most cars will make you sit at a slightly offset angle. It's something that everyone subconsciously adapts to until they sit inside one with a perfect seating position; the Mazda 6 is one of those cars.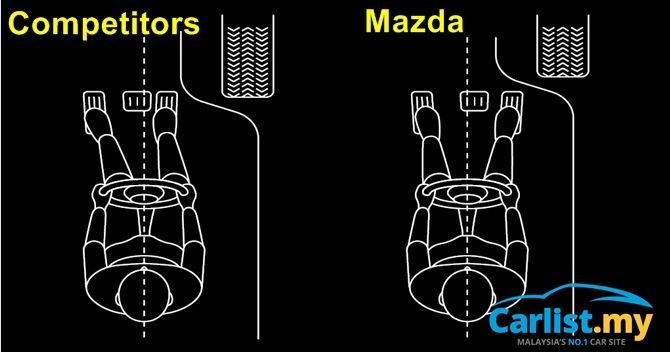 You sit almost like you are driving an MX-5. Your feet stretch out evenly to both sides, and the steering wheel points directly at the middle of your chest. It's something that Mazda tries very hard to achieve and takes great pride in because there can be no Jinba Ittai (oneness between car and driver) if the seating position is anything short of perfection.
Once settled in, the pedals and steering wheel work as an extension of your arms and legs. The car handles beautifully and intuitively. The new G-vectoring control (GVC) function adjusts the engine's torque for smoother turn-ins, and rewards smooth driving.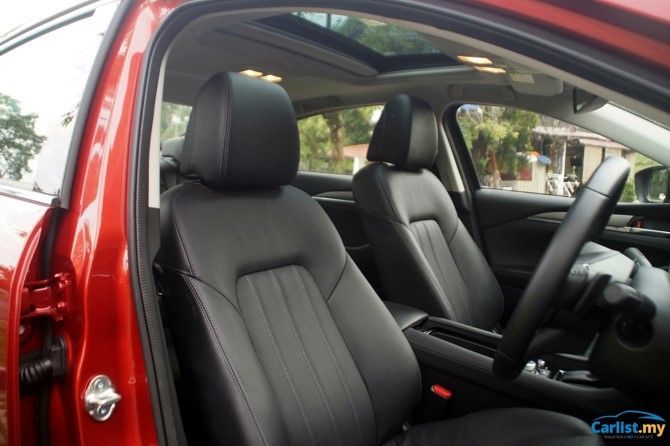 There's a certain lightness to the way the Mazda drives. On the move, it feels smaller than it actually is. It doesn't shock you into submission with its immense torque in the way a Passat 2.0 TSI will, but instead it rewards and encourages drivers to work harder in exploiting it's superior balance and revel in the more emotional experience. If the Passat is a sedan GTI, then the Mazda 6 is a sedan MX-5.
The steering rack is new and it now tracks straight roads in a calmer manner. However when compared to the all-new Camry, the Mazda's steering still felt a bit busier - a trade-off for its superior handling and a more communicative steering rack.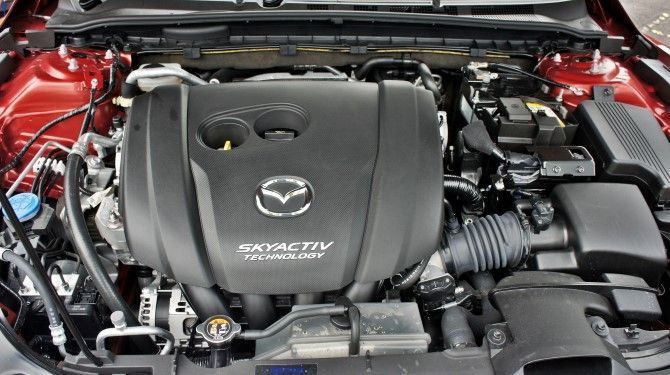 This updated 2.5-litre naturally aspirated engine makes a very pleasing note when pushed hard. Increase throttle pressure and a deep but sweet sounding note is piped into a cabin. It's a sweet sound that none of its turbocharged peers can hope to reproduce.
Throttle response is brilliant, and being naturally aspirated, the linearity of its power delivery makes it a real joy to drive on twisty roads. It's an engine that reminds us why the best engines are usually naturally aspirated.
The six-speed automatic transmission's lock-up clutch engages early so changes are quick and it offers a very direct feel, almost like a manual transmission. However as a direct result of that, it's also not very smooth in stop-go traffic.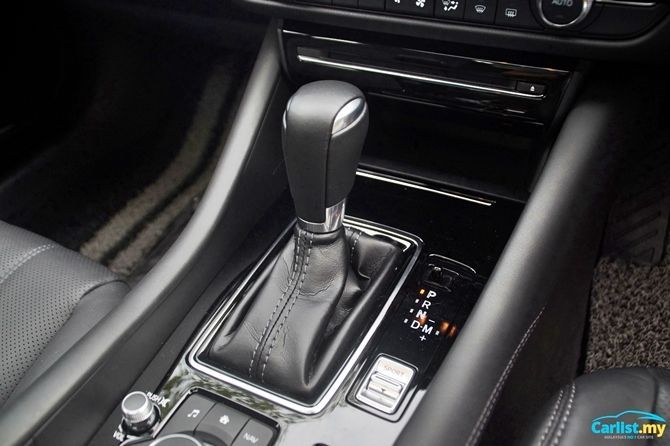 Compared to the turbocharged Passat 2.0 TSI (220 PS, 350 Nm), the Mazda doesn't shove a truck load of torque early in the rev range but oddly it's the Mazda that feels more rewarding to drive, even if it's slower. If you understand the appeal of an 'underpowered' MX-5 or even a Toyota 86, then you will appreciate the Mazda.
The BMW 318i is decently equipped and has an impressively agile yet comfortable chassis. However the shortcomings in power become apparent after you spend more time in it. It makes just 136 hp and 220 Nm, but the very responsive 8-speed automatic transmission does an excellent job of masking the engine's shortcomings.
The more expensive RM260k Mercedes-Benz C200 also has the same engine displacement as the 318i but it has one more cylinder. It also makes more power, at 184 hp but its suspension struggles to cope with anything other than smooth and straight roads.
The C200's 9-speed transmission sounds good on paper but doesn't live up to expectations in real world driving. Compared to the Mazda's superior dynamics, the C200 doesn't match up.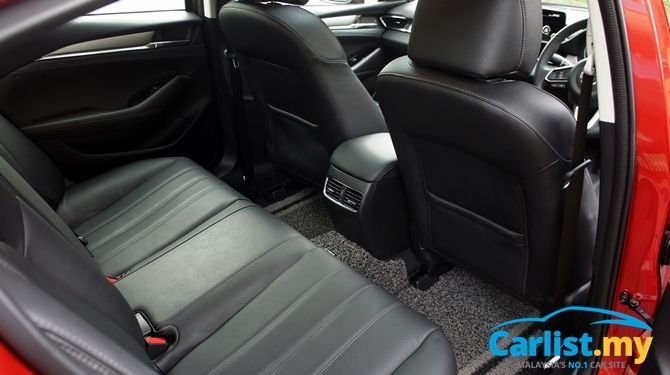 Ride Comfort
The biggest criticism of the previous 6 was its noisy cabin. This new 6, however, finally gets the level of noise insulation and vibration damping it deserves.
It now hums along quietly at highway speeds. It's definitely quieter than an Accord, on par with a Passat, but still slightly poorer than the all-new Toyota Camry.
Vibrations from road surface are now better damped and the new suspension has fixed our biggest criticisms of the previous 6 – the ride is no longer unnecessarily busy, especially at the rear.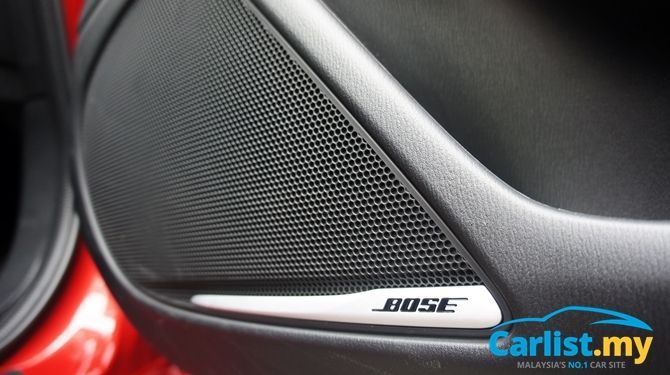 The Bose sound system was a bit disappointing. Despite boasting a speaker count of 11, the clarity of its sound reproduction isn't as good as the 9-speaker JBL system found in the Camry.
Fuel Economy
Claimed fuel economy is 14.3 km/litre (UNECE R101 combined highway/urban cycle) but 90 percent of our driving time in the 6 was spent in the city, including lengthy idling for photo shoots.
Even so, the trip computer showed an average fuel economy of 10.7 km/litre. We have few reasons to doubt Mazda's claim.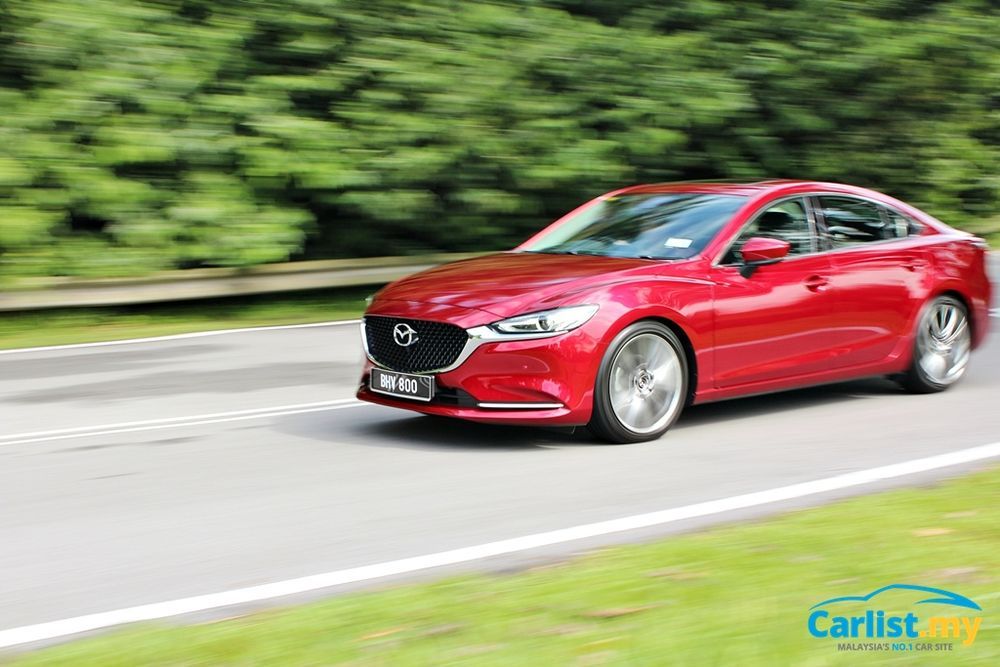 Conclusion
Anyone who buys an RM200k Mazda must be prepared to explain their decision to their friends and family, so this is clearly not a car for you if you care a lot about how others think of you.
For the select few who truly understand what they want, rest in the knowledge that the new Mazda 6 is objectively the more rewarding car to drive than any similarly priced premium German model, and it feels more luxurious inside too.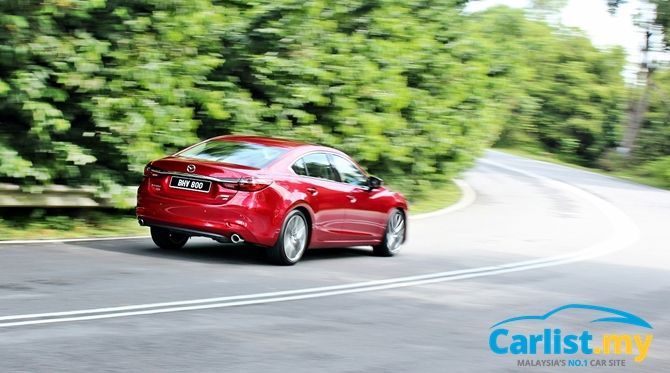 The new 6 is an incrementally better car than when it was first launched five years ago - quieter and more comfortable while retaining its title as the segment's benchmark in handling.
Of course, there is no perfect car and the Mazda 6's weak spots include the low resolution image of the 360-degree parking camera, lack of ambient lighting for the cabin, and the less than stellar Bose audio system.
As a long distance cruiser, the all-new TNGA platform Camry is a marginally better car but in every other aspect, the Mazda has the upper hand. Against the bigger name Germans, the Mazda can confidently stand tall. Snob appeal aside, the entry-level BMW 318i and Mercedes-Benz C200 don't offer much to trouble the Mazda. Pit it against a certified pre-owned, nearly new C200 or a 318i however, the decision becomes a bit more complicated - but that's another story for another day.
---
---
---
---
留言