2015 9th Generation Honda Civic Facelift Review – For Those Who Can't Wait
评论 Yes we know that the all-new 10th generation FC-series Honda Civic has already been revealed in the US. So what is this 9th generation FB-series Civic doing here on our site then? Because the 10th generation Civic won't be here so soon (yet), and Honda Malaysia is very adamant in trying to convince us that this outgoing Civic, is still the best in its class, so we took it out for a quick spin.
If you love the 10th generation Honda Civic as much as we do, then by all means hold out for it. We expect the all-new Civic to be here sometime in late-2016. Historically, there's always a gap of at least one year between the Civic's launch in left-hand drive US, and production of right-hand drive models outside of the US.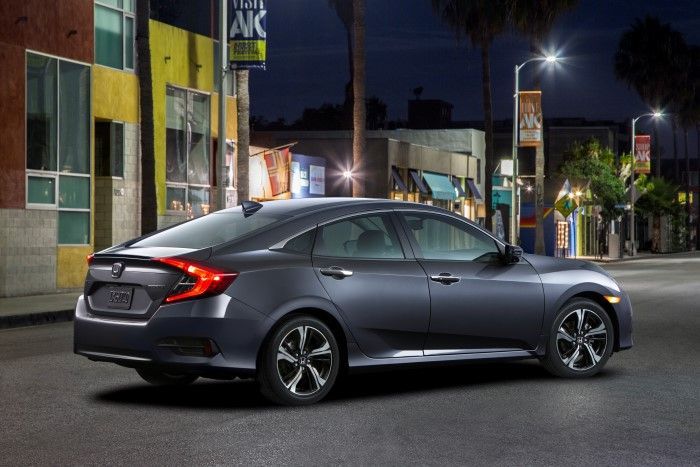 This review is aimed at those who don't have the patience to wait till then for the awesome looking four-door coupe-like 10th generation Civic, and simply need a fuss-free, dependable family sedan for their daily commute soon.
Since this is a soon to be discontinued model, dealers are expected to throw huge discounts for it, especially in the months running up to the 10th generation Civic's launch, deals that you will certainly not be able to get with the 10th generation model.
So what you lose in not getting the latest metal in the neighbourhood, you win in cash savings.
Specifications for Honda Civic 2.0S Navi (FB-series, 9th generation facelift model)
Price: RM132,210.10 on-the-road with insurance (discounts of at least RM6,000 is on-going)
Engine: 2.0-litre SOHC i-VTEC (R20A)
Power: 155 PS at 6,500 rpm
Torque: 190 Nm at 4,300 rpm
Transmission: 5-speed automatic with paddle shifters
Safety: Six airbags, ABS, VSA, ISOFIX (rear), ASEAN NCAP five-star
Origin: Locally assembled, Pegoh, Melaka
Facelift? What's New?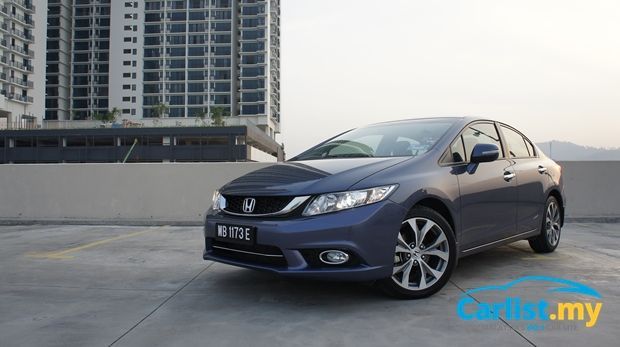 At a glance, the updated Civic appears to be the same as the model that was launched in 2012. The most obvious difference is the new honeycomb grille in front. There's some minor upgrades to its features count, but nothing major.
Honestly, prior to this test drive, I had even forgotten that Honda had facelifted the Civic.
This lack of significant changes is in stark contrast with how much better this 'new,' updated Civic drives. The car felt much more refined than the pre-facelift model.
It's Looks Almost The Same, But Drives A Lot Better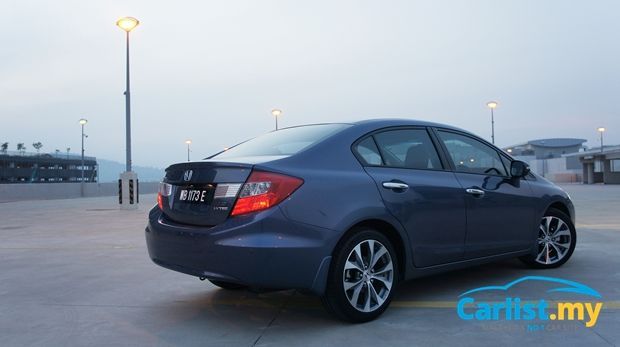 Since its launch, this outgoing generation Civic is weighed down by criticisms that it wasn't as good as the predecessor but personally, I was never a big fan of the eighth generation 'FD-series' Civic.
The FD was just too much of a boy-racer's car, too rough on the edges, too harsh, unrefined. The styling was cool but it was just too adolescent for my liking. Back in an era where choices were much more limited (it was either the Civic or the dowdy Corolla Altis), the Civic was king. Today the Civic competes in a very different market. The Kia Cerato offers great value, while the Volkswagen Jetta and Ford Focus tugs the keen driver's heart. There's also the Toyota Corolla Altis which has moved the goal-post for cabin refinement, albeit a bit too pricy for what it is, while the Mazda 3 sets new benchmark in interior quality and emotive styling.
Compared to its predecessor, this 'FB-series' ninth generation Civic is a different, more grown up car, albeit conceived at the height of the global financial crisis, and some cost-cutting measures were obvious. It however, was to me a more liveable car than its predecessor, though younger fans might disagree.
How Does It Drive?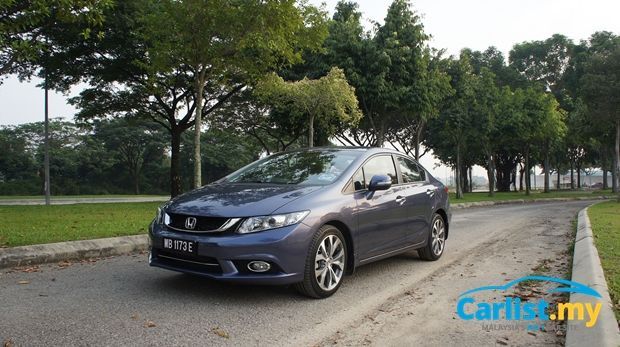 Surprisingly, for a facelift model that appears to be almost unchanged from before, this updated Civic drives a lot better than the pre-facelift model.
Every individual component just felt better integrated – the steering delivers better feedback (still vague though) and is a tad sharper than I remembered it to be, the leather material used on the door linings feels plusher than before, there's some slight changes to the instrument panel's graphics to make it easier on the eyes for night driving, and it's noticeably quieter on the highway.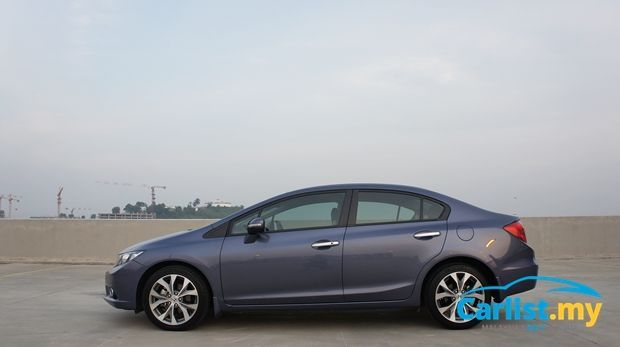 I guessed over the course of the Civic's model life, Honda has made numerous improvements in its manufacturing, and these minute improvements on individual components add up to deliver a rather substantial improvement in its overall behaviour. This is normal for any car, as manufacturers are constantly improving their processes throughout a model's five- to seven-year life, which also explains why some savvy buyers tend to avoid buying an all-new model in its early years, preferring to wait for the facelift model.
On many cars, there is a noticeable gap between the dashboard and the steering column, as well as between the steering column and wiper and signal stalks. Squint your eyes hard enough to look through the gaps and you could see some wires and mechanical linkages behind. This Civic however, has felt materials covering these gaps – a nice little touch from Honda.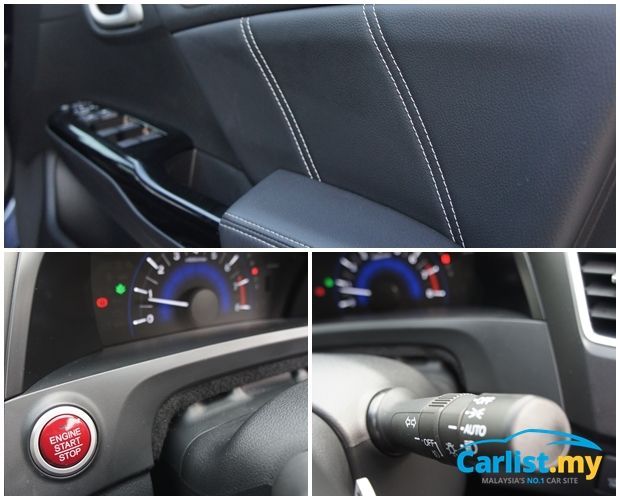 On the move, the Civic's steering wheel's feedback is better than before but is still too vague to be passed off as a driver's car. That's unfortunate because underneath the car is a very competent chassis.
Spend some time to understand its limits and there's a lot of potential to be exploited by a good driver. Despite its lack of feedback, the electrically assisted steering is actually very precise, once you understand its behaviour.
Mechanical grip is ample, and it actually takes quite a lot of work to trigger the car's stability control (VSA). The body is well-balanced, with the rear axle suspended by a multi-link setup, with MacPherson Struts keep the front in check. Of course, traction on this particular test car was greatly assisted by the set of grippy Michelin Pilot Sport 3 tyres.
The SOHC 2.0-litre i-VTEC engine has one camshaft less than the previous generation model in the interest of affordability and fuel economy, but continues to stay true to Honda's hallmark of a free-revving engine. It's probably the most characterful engine in its class.
It's an engine that coaxes you to work it hard before it rewards you with more power. As this will be the last generation of Civic to be powered naturally-aspirated engine (next model will be turbocharged), its linear throttle response, free-revving character engine will be missed.
Sure, turbocharged engines are great on the highways. The ample reserve of torque from low revs makes for effortless driving, but try attempting a cone-filled gymkhana slalom course with a turbocharged engine and you will quickly understand why racing drivers often talk about linear throttle response of naturally aspirated engines.
For what it is, the engine's 155 PS (at 6,500 rpm) and 190 Nm (4,300 rpm) is more than sufficient to meet the expectations of its target buyers.
The 5-speed automatic transmission is responsive enough, especially in S-mode, that there is little need to use the paddle shifters to force the transmission to kick-down a cog or two.
How comfortable is it?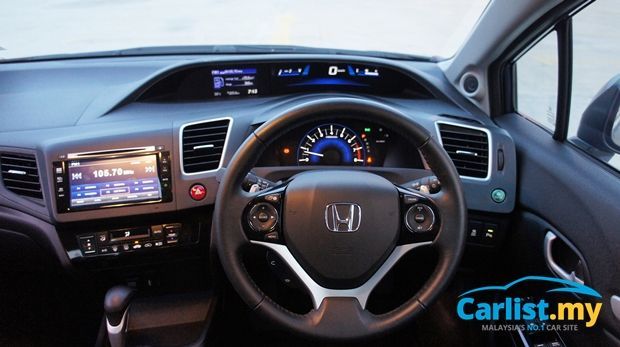 The Civic's cabin is without a doubt the most practical in its class. I wished more manufacturers would follow Honda's cue to incorporate sufficiently big utility boxes into the centre console. Wallet, keys, smartphones, access cards for your office or condominium, Smart Tag – there's three locations along the centre console for you to empty the contents of your pocket into.
The box on the centre has a sliding the cover to protect its contents from prying eyes, doubles as a pair of cup holders. In fact, this is one of the top-3 features that I love most about the Civic, and it makes the car so much easier to live with every day.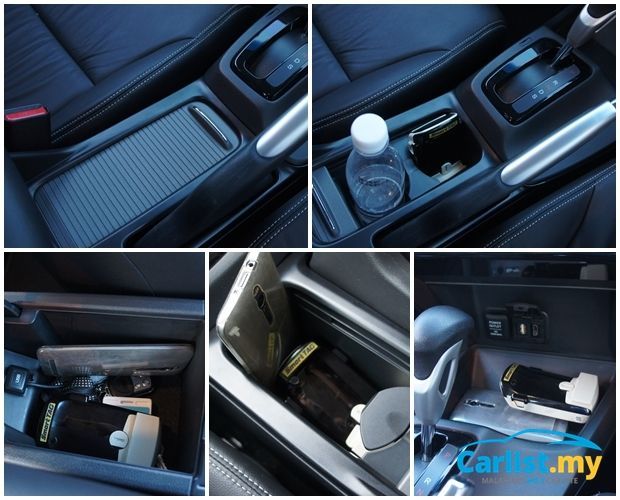 It's a remarkably spacious for a C-segment sedan, and rear occupants will appreciate the flat floor surface.
Honda is always known for their exemplary ergonomics and the Civic is no different. All the controls are logically located, within easy reach, and are canted towards the driver.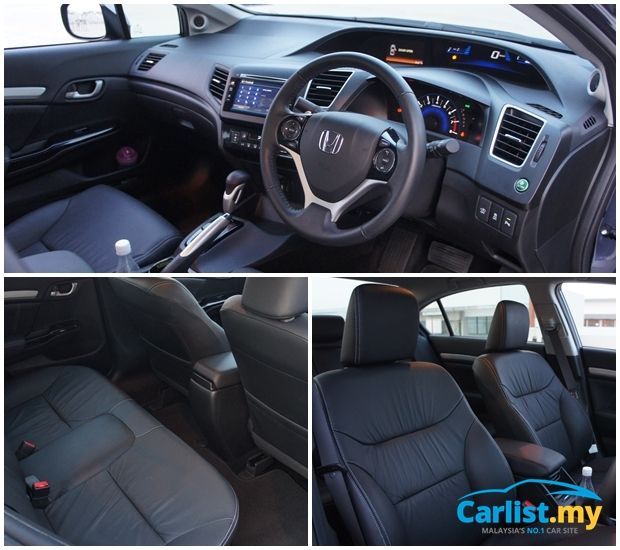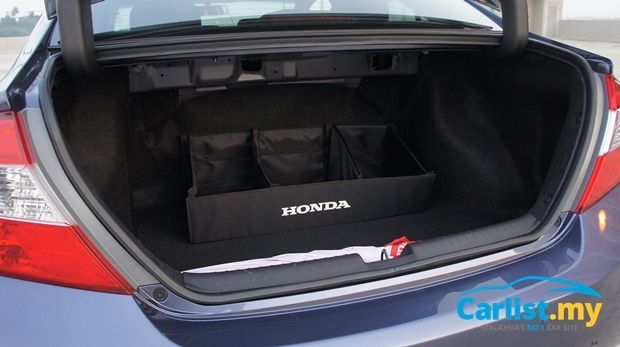 On the move, ride is pliant enough, and is definitely a much better place to be than the previous generation FD model.
Even at speeds well over 110 km/h, the cabin remained quiet enough for conversations. Tyre roar and wind noise were well controlled, but the often criticised 'tinny' sounding roof when heavy rain drops pound the roof is still there.
There are only three items in the Civic's cabin that fell off the mark – rearward visibility, infotainment's user interface, and the lack of lights for the vanity mirrors in front.
While forward visibility is superior to its competitors thanks to a low dashboard and A-pillars that extend far into the bonnet, rearward visibility is hampered by a rather high boot line. A reverse camera option is highly recommended but unfortunately this is only available on the highest specifications 2.0S Navi model.
On the upside, the reverse camera comes with a function that allows you to switch between multiple angles – not a common feature in other cars. There's an option that is useful for checking cross-traffic as you reverse into a busy road, another for reversing on uneven surfaces or kerb-lined surfaces.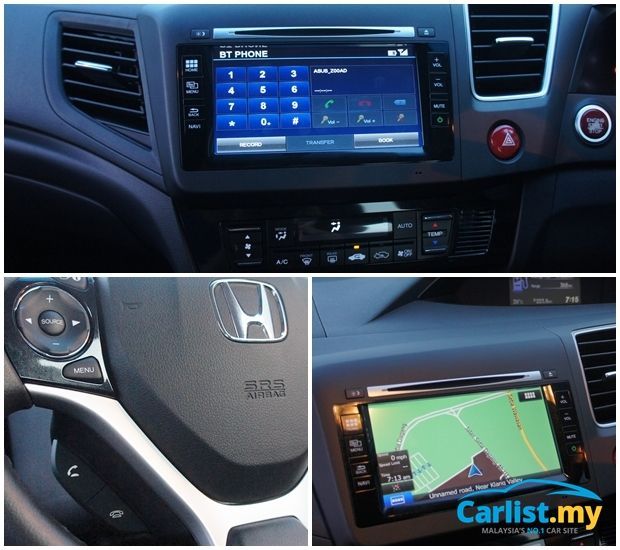 The 7-inch touch screen infotainment system comes with Bluetooth hands-free controls for cellular phones, but its integration with the steering wheel control buttons could have been better. For example, to make a call, other cars allow you to pull up your contact list simply by pressing the call button on the steering wheel, or return back to your media playlist by pressing the hang-up button twice. In the Civic, you would have to operate both the touch screen and the steering wheel switches, which rather defeats the purpose of having steering-wheel mounted switches.
For the price that Honda is charging for the car, the lack of lights on either one of the front vanity mirrors is disappointing.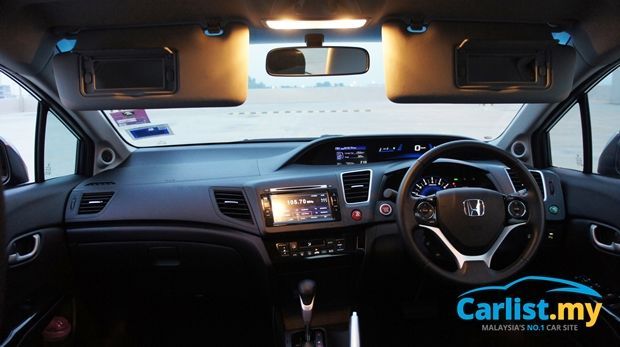 How economical?
Throughout my 400 km plus drive with the car, the trip computer showed an average fuel consumption of 11 km/litre. This was achieved without using the ECON mode, and involved a significant amount of hard driving. 12 km/litre is definitely achievable with a smoother driving behaviour.
Service interval is every 6 months/10,000 km. Total maintenance cost over a 5-year/100,000 km period is RM3,823.16 – excluding consumables like brake pads, wipers, battery and tyres.
Conclusion
If you are not in a hurry to get a new car soon, and don't mind paying a little bit more, then do wait for the all-new 10th generation Civic.
But if you do manage to haggle for a good deal from a dealer, and don't mind owning an outgoing model, there is still much to like about this FB-series Civic.
It's the most complete family sedan in its class. Yes there be might other models that cost less, or drive better, or even looked better, but none of them can match the Civic's all-rounded competence – it's spacious, comfortable, quiet, fuel-efficient, drives well enough, has a proven reputation for reliability and high resale value, and is backed by a wide network of service centres that none apart from Toyota can match. Its safety is also class-leading, and Honda is the only brand in this segment to go well beyond what is required by regulations and what is tested by independent third party organisations – more at When NCAP's Five-Star Rating Don't Mean Much – And How Honda Is Moving Ahead.
You might also be interested in our review of the Honda CR-V 2.4-litre 4WD.
---
---
---
留言