All-New 2016 Honda Civic – Here's What We Know So Far
所有资讯 Thanks to the sharp spotters at CivicX.com, we now know what the all-new tenth generation 2016 Honda Civic will look like, and what a stunning looking car it is!
As reported earlier, the all-new 2016 Honda Civic Sedan will be making its debut next week at the Frankfurt International Auto Show. Prior to this, Honda has already given us an indication of what the Civic Sedan will look like when it unveiled the Civic Coupe Concept at April's New York International Auto Show. The Civic Coupe is developed primarily for the North American market (USA and Canada).
Global Range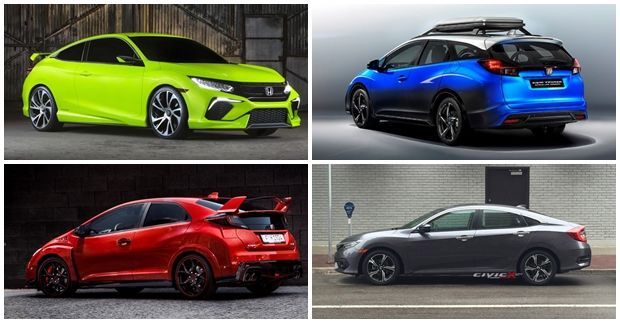 Globally, there will be six main variants for the all-new Civic – Western Europe is getting the Civic hatchback, Civic Type-R hatchback (2.0-litre, 310 PS VTEC Turbo), and Civic Tourer wagon, Asian and Eastern European markets will get the Civic Sedan seen here, while North American markets will get all Civic models including a Civic Coupe, except the Civic Tourer and Civic Type-R hatchback.
The Civic Type-R Sedan is yet to be confirmed for Asian markets.
What's New?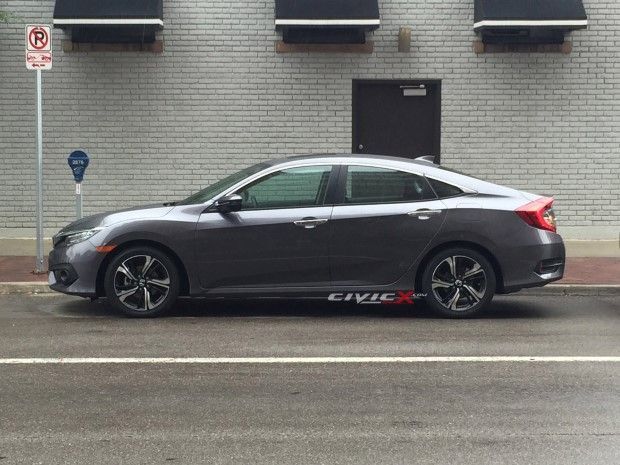 For the first time in a Civic Sedan, a 1.5-litre VTEC Turbo engine will be offered. This engine made its debut in April 2015 in the Japanese market Honda Step WGN. In the Step WGN, the direct injection petrol engine produces 150 PS at 5,500 rpm but the most impressive bit is its torque, 203 Nm between 1,600 to 5,000 rpm. That's quite close to a 2.4-litre naturally aspirated i-VTEC engine from the Honda Accord, which produces 225 Nm at 4,000 rpm.
In the US, the engine will be paired to either a six-speed manual transmission, or a CVT, as shown by the spyshot above – gear shifter only has D, S and L modes.
A naturally aspirated engine, probably an updated version of the current model's 1.8-litre SOHC i-VTEC engine is likely be offered as well.
Note that engine and transmission options might differ from country to country.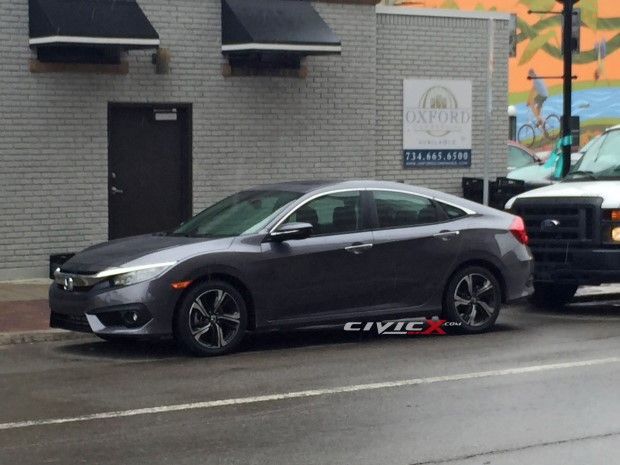 Inside, we have previously reported that the outgoing model's signature two-tier dashboard has been replaced with a conventional instrument cluster. Personally, I am not a fan of the current model's two-tier layout as I think it only makes the instrument panel to be unnecessarily cluttered, so I think this is a good move.
Without the need to accommodate the two-tier dashboard, the A-pillars do not need to pushed so far in front so there is no need to fit a front three-quarter window on the front doors, and the side view mirrors can now be positioned at the base of the window 'sail' rather than on the front doors like in the outgoing model.
Visibility and headroom should also be better than the outgoing model.
Class-leading Interior Space?
Nobody does interior packaging like Honda and we expect the all-new Civic to be the C-segment's new benchmark in interior space.
Some spyshots have indicated a very deep centre console and the full length driver's centre arm rest.
Much of this is possible because the outgoing model's mechanical hand-operated parking brake has now been replaced with an electrically operated unit. There's also a Brake Hold feature for stop-go traffic.
The location of 'ECON' mode button – which allows for more energy efficient use of air-conditioning and throttle – will also be relocated from the lower part of the dashboard, to near the gear lever.
When will it be launched?
Not so soon. While the Civic Sedan will be making its global debut next week, the model is not likely to go on sale until 2016.
The US is the Civic's main market so the model will first go on sale there. Typically, it takes about 12 to 18 months after model's global debut before local assembly can commence.
The outgoing ninth generation model went on sale in the left-hand drive US in April 2011 but sales in right-hand drive markets did not begin until early 2012.
We don't expect the all-new Honda Civic to be launched here until 2017, maybe late-2016 if we are lucky. Having said that, one of the goals of Honda's recent reorganisation is to reduce the lead time between a model's global debut and local launch, so the lead time might be shorter than expected.
---
---
---
留言