All-New 2017 Audi A8 To Offer Hybrid Engines As Standard
所有资讯 All engines of the upcoming all-new Audi A8 will have varying degrees of electrification, starting with mild hybrid combustion engines underpinned by a 48-volt electrical system.
Specifics of the engine range have yet to be disclosed, but Audi has revealed that the system will consist of a 10Ah lithium-ion battery and a belt-driven alternator starter (BAS), which gets a dedicated water-based cooling system.
A conventional starter is also provided, but is only required for use during cold starts. In regular operation, the BAS allows faster and smoother restarts of the engine at every start/stop cycle.
With the ability to restart the engine swiftly and smoothly, Audi engineers can then enable an engine-off coasting feature for up to 40 seconds at a time at speeds between 55 and 160 km/h. The engine fires back up at a step of the accelerator pedal.
Additionally, the new A8's auto start/stop system is calibrated to kill the engine as the vehicle slows past 22 km/h to a full stop.
A common concession in driving vehicles with auto start/stop systems is the need to give the system a couple of seconds to fire the engine up before taking off. Audi plans to eliminate this wait altogether by using the BAS in conjunction with predictive software that monitors surrounding roads through the vehicles network of cameras and sensors.
In a traffic jam, for example, the system is programmed to start the engine as soon as the car in front inches forward. Another example, is when the car is slowing down approaching a red light; if the car detects the lights turning green, the engine is restarted before the driver releases the brake pedal.
The predictive software is also used to govern the use of the vehicle's brake energy recuperation system. If the driver lifts off on a clear road, the vehicle goes into coasting mode; but if it is detected that the vehicle is closing in on a slower car ahead, the brake recuperation system then kicks in to simultaneously slow the car down and recover the otherwise-wasted kinetic energy.
Audi claims that implementation of these mild hybrid features help slash 0.7 litres/100km off the all-new A8's fuel consumption.
Set to debut at the Audi Summit in Barcelona on 11 July, the all-new A8 will also be debuting an innovative new iteration of its Audi Space Frame chassis with a mix of four different materials - aluminium, steel, magnesium, and CFRP.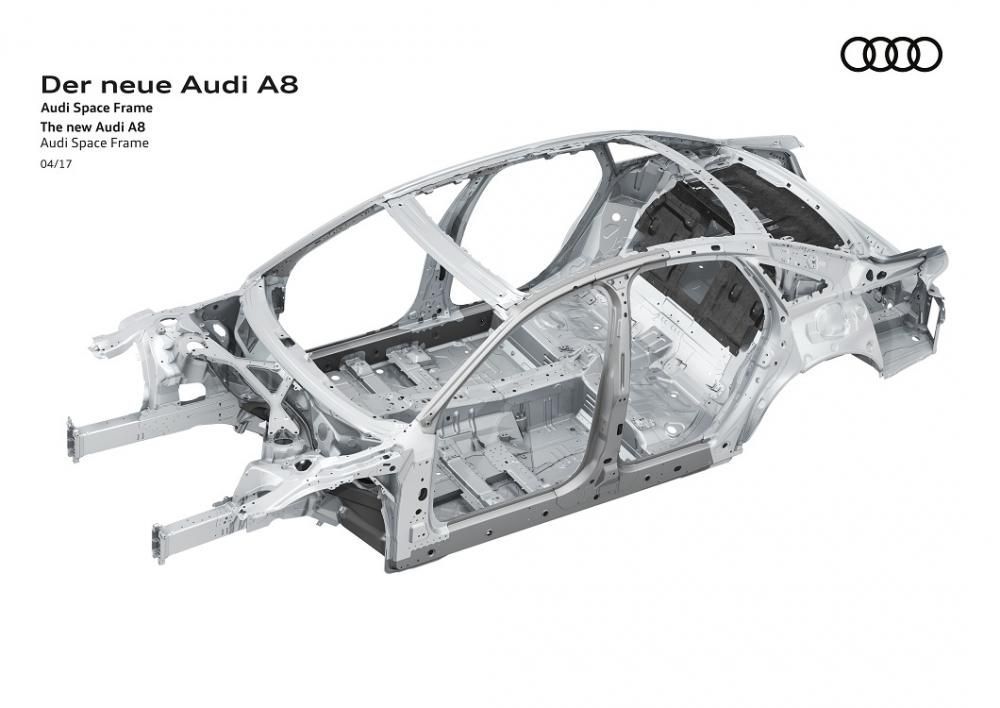 ---
---
---
---
留言