Buying Guide: Used Proton Perdana
评论 On this day 26th January in 1995, Tun Dr. Mahathir, who was then the Prime Minister of Malaysia, launched the Proton Perdana – the first 2.0-litre car from the national car maker.
To mark the 21st anniversary of this occasion, this week's used car buying guide will be focusing on the Proton Perdana.
Specifications:
Engine: 4G63 2.0-litre transverse four-cylinder (1995 – 1998), 6A12 2.0-litre V6 (1998 – 2010)
Transmission: 4-speed automatic
Safety: ABS
Origin: Shah Alam
Overview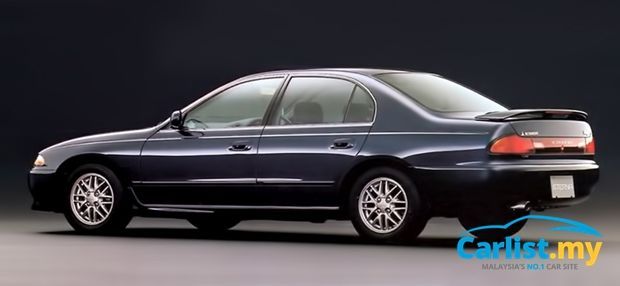 Essentially a rebadged Japanese market Mitsubishi Eterna (above), the Proton Perdana was pretty well equipped for its time. It had anti-lock brakes (ABS) and cruise control – both were a first for a Proton, while its four-speed electronically controlled automatic transmission featured fuzz logic technology, another first for a Proton.
Powering the Perdana was a 2.0-litre four-cylinder 4G63 petrol engine, which shares the same engine block as the famous 4G63T unit that powered the legendary Mitsubishi Lancer Evolution.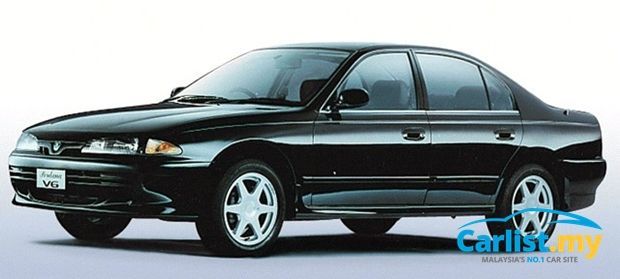 Three years later, on 12 November 1998, the four-cylinder Perdana was replaced with a more sophisticated Perdana V6 (above), which was powered by a 2.0-litre V6 6A12 petrol engine, with ride and handling fettled by the chassis tuning experts at Lotus Cars.
In 2003, the Perdana V6 was given a mid-lifecycle facelift treatment, receiving a rather Alfa Romeo-like front grille (below).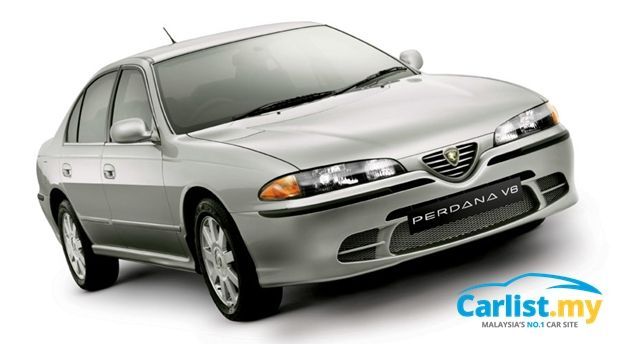 Later models were more reliable, thanks to a factory fitted transmission oil cooler. While either of the two engine options were reliable, the Perdana had a rather fragile transmission, which was prone to overheat. A transmission oil cooler, whether fitted aftermarket or from the factory, was necessary to cure it.
Today, a decent condition model can be had for around RM20,000, which is not too bad if you are looking a large-ish looking sedan but don't want to pay Camry-level money for it.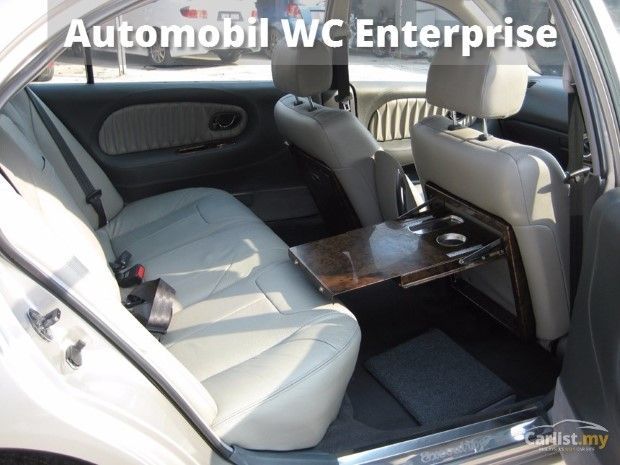 There's also a small production run for an extended wheelbase Perdana Executive (above), whose overall length was stretched by 250 mm.
Exterior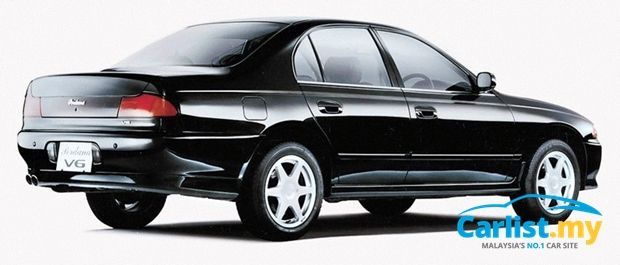 Despite its age, the Perdana still looks pretty contemporary. It's one of Proton's better looking cars from the '90s.
Most of the used examples on used car market are easily over 10 years old so watch out for rust spots around the wheel arches, door frames, boot and roof.
Being based on a relatively popular Japanese market Mitsubishi model, the Perdana was rather popular among tuners in the early 2000s but you wouldn't want to buy any of these heavily modified examples, especially those which had holes drilled into their body panels to accommodate all sorts of tacky looking body kits and pseudo aero parts. Look out for signs of patched up holes around the boot lid, wheel arches and fenders.
Interior
Despite its D-segment positioning, the Perdana is actually not that spacious inside. On the upside, shoulder room is still better than many of its similarly priced contemporaries.
As with any leather trimmed interiors, avoid cars that have spent a lot of time being baked under the hot sun. Check the appearance of the leather seats against the vehicle's claimed mileage. An unusually old looking interior that doesn't quite match with the car's claimed mileage suggests that the odometer has been tampered with. Of course, this does not apply if the seats have been retrimmed, but it is very easy to tell if the seats have been rewrapped after-market.
How does it drive?
Driving dynamics was one of the Perdana's strongest forte. Even until today, a properly maintained Perdana still handles better than many other newer Japanese and Korean sedans. With its relatively low and wide body, coupled with a generous wheelbase, the Perdana has an inherently well balanced driving character.
The V6 model can be expensive to maintain but the added cost is justified by the significantly superior driving performance, especially on long journeys on the highway, over the more economical 4-cylinder version.
Maintenance
Perdanas might cheap to buy, with many well maintained examples going for around RM15,000 to RM20,000, but be warned that this is still a D-segment sedan so don't expect to pay Myvi-class type of figures for its maintenance.
The V6 engine costs significantly more to maintain, due to the higher quantity of engine oil required, and higher number of spark plugs – but many workshops recommend using Iridium-type ones, which can last up to 100,000 km.
Fuel consumption is also significantly higher than the four-cylinder version.
Both the 6A12 V6 and 4G63 four-cylinder engines are quite reliable but considering the age of the car, it might be prudent to budget a few thousand Ringgit for a top overhaul of the engine.
As the Perdana was once quite popular among tuners, watch out for cars that have had their engines swapped with other more powerful Mitsubishi engines. In principle, this fine but make sure you have all the legal papers. Verify that the engine and chassis numbers printed on the vehicle registration papers matches with what's stamped car's engine block and chassis, else you are going to have a lot of problems with JPJ.
A well maintained stock standard car is always preferred over a modified one.
While the Perdanas engines are reliable, the four-speed automatic transmission is its Achilles heel as it tends to overheat. Many owners have either installed an after-market transmission oil cooler or swapped the transmission altogether along with the engine.
Later model Perdanas, were said to have transmission oil coolers fitted as standard do peek under the hood of these models to be sure.
Another weak point with the Perdana are the front suspension's lower arm, which are quite fragile and have been known to wear our prematurely. Avoid cars which have been lowered or fitted with oversized tyres and you should be fine.
From The Used Car Lot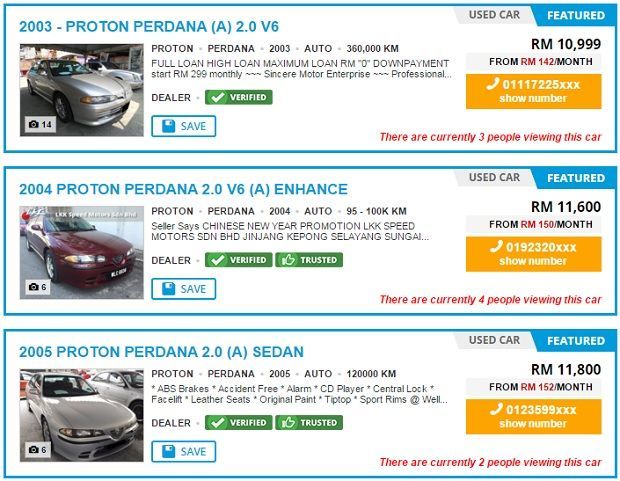 There are over 200 units of Proton Perdanas currently listed on Carlist.my, with prices ranging from RM7,000 to RM28,000.
The pick of the range will be the facelifted post-2003 year models These can be had for as low as RM11,000.
Special thanks for Roda Pusing's Albakry Salehuddin, an ex-technician for TVR and Renault, who used to operate a workshop before venturing into the motoring media scene, for his technical advice.
---
---
---
---
留言