Hiding Inside This Normal Looking Mazda 3 Prototype Is The Saviour Of Combustion Engines
汽车专题 The idealistic and somewhat stubborn engineers at Mazda's headquarters in Hiroshima, Japan are currently about to cross a proverbial bridge of no return. As the industry trends towards electrification, driverless cars, with Internet car-sharing startups winning the vote of Wall Street investors, car companies are finding themselves in a once a century revolution.
Breaking away from mainstream car makers, Mazda is taking a different path to secure its future. In a rather counterintuitive stance, Mazda believes that to thrive, it must remain small, appealing not to everyone but only to passionate enthusiasts, people who - in the future - will pay for the privilege of driving in a society that's increasingly indifferent towards cars.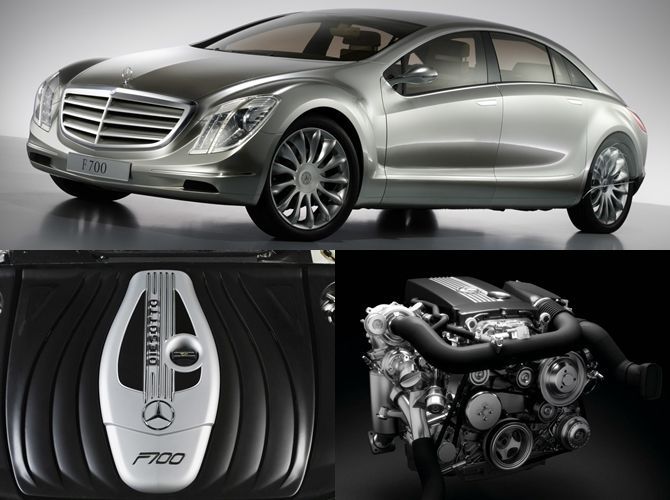 Mazda is investing everything it has in building the ultimate internal combustion engine, the upcoming SkyActiv-X engine - a part-spark, part-compression ignition ideal engine concept that's perfect in theory because it combines the best of compression ignition (diesel) with the best of spark ignition (petrol). Making it work in the real world is a different story. Mercedes-Benz tried but abandoned the concept midway with their stillborn 2007 Mercedes-Benz F700 Concept's Diesotto engine.
Mazda however, believes that it has cracked the code. The last time Mazda made a bet of this magnitude was nearly 40 years ago, with their near-full range of rotary engine-powered vehicles that nearly bankrupted the company when the first oil crisis hit US, which Mazda was overly reliant on. Where rotary came up short, SkyActiv-X is Mazda's answer. The next five years will be a make or break moment for the Mazda as it rolls out SkyActiv-X starting from 2019.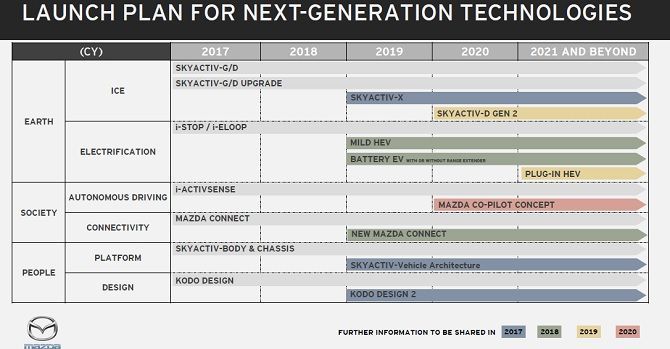 Yes, electrification is inevitable and Mazda is embracing it by preparing to launch its first battery electric and mild hybrid models next year, followed by a range of plug-in hybrids in 2021, but these won't be Mazda's core products.
The way Mazda sees it, SkyActiv-X is our best bet to preserve car culture. Fitted to a Mazda 3, the prototype accelerates as fast as a much lighter MX-5, with overall well-to-tank emissions no more than an electric car drawing power from a fossil fuel burning power station.
Some might say that Mazda is fighting the inevitable. Maybe that's true, but right now, Mazda is actively influencing the future in ways it see fit. The folks from Hiroshima are not known to be the sort of people who sit idle and leave it to fate. Remember that this company is built by the same people who rebuilt their city from the ruins of a nuclear attack. The people at Mazda are a bit like Eastern versions of the people at Porsche, who until today, refused to correct the 911's engine location. Maybe stubbornness, when refined over time, becomes character.
Mazda argues that even by 2035, battery and fuel cell electric vehicles are projected to contribute only about 15 percent of the world's car market. The market will be dominated by hybrids, which will still need combustion engines. Thus, Mazda sees engines as still a crucial component in keeping Mazda cars unique, which brings us to this matte black prototype seen here.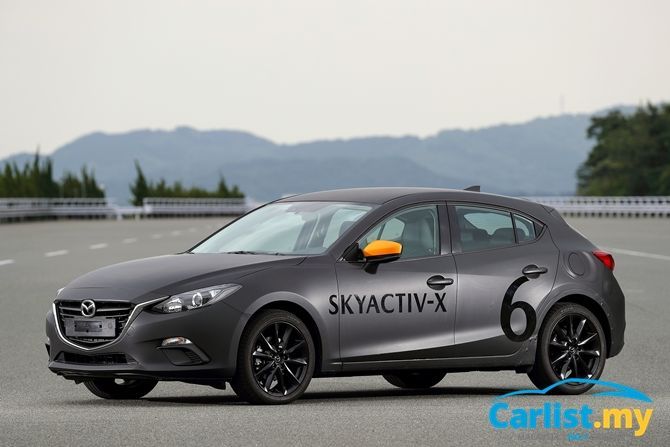 Intentionally dressed to look identical to the current Mazda 3, this prototype is actually riding on a new chassis that will underpin the next generation Mazda 3, one that incorporates elements of Mazda's forthcoming SkyActiv Vehicle Architecture.
It also means that the next generation Mazda 3, due sometime between 2019 and 2020, will not be radically different from the current model. It will share more or less the same dimensions, apart from maybe a slightly lower roofline and a different rear suspension (more on that later), which explains why Mazda can disguise the next generation model with the current car's body.
The model after that, two generations from the one currently on sale, will utilize a full SkyActiv Vehicle Architecture and we think that's the model that will realize the Kai Concept shown at last year's Tokyo Motor Show.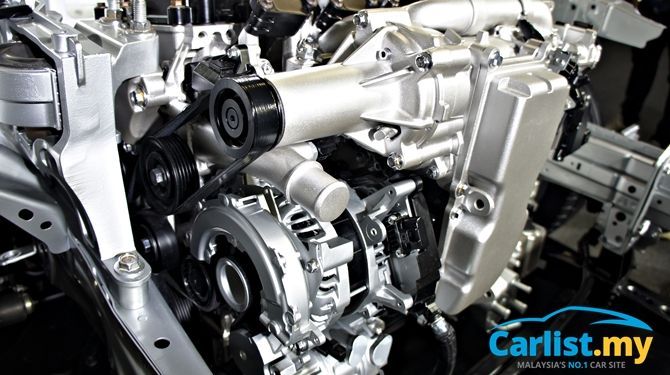 Enough has been written about the Spark Controlled Compression Ignition (SPCCI) SkyActiv-X engine and Mazda's position on powertrain electrification, you can read them here and here. The engine can be summed up as this – it's the most fuel efficient engine in the real world because SkyActiv-X's fuel consumption is less affected by differences in driving style. It's also a lot more responsive than current SkyActiv engines and has a small belt-driven supercharger, but only to compensate for the lower torque output when running in lean burn mode.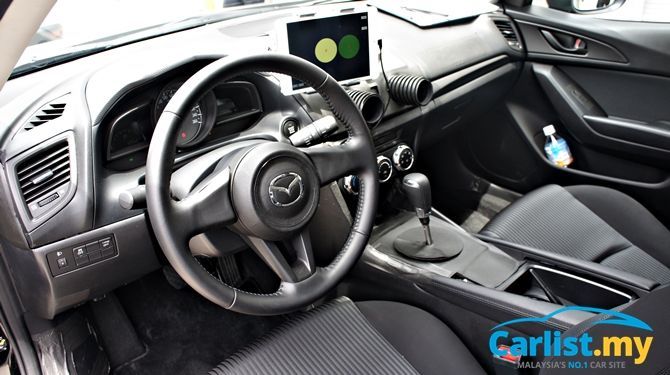 Ignoring the unfinished interior, the focus of the prototype's interior is an LCD screen displaying the status of the engine's ignition – whether it's running on regular spark ignition (dark green), spark controlled compression ignition mode (yellow), or lean burn spark ignition mode (light green). To a driver, this information is irrelevant but its inclusion in the prototypes is merely to demonstrate how smoothly the engine is able to switch between different combustion modes.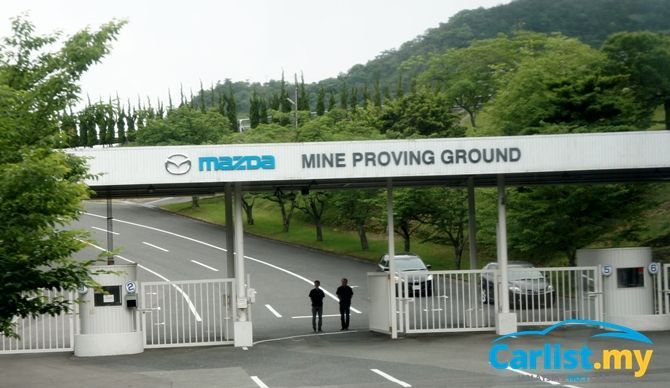 We had the opportunity to sample the prototypes at Japan's Mine circuit, which is now owned by Mazda. Following behind a pace car in front, speed was moderate but it was enough to allow us to form an early impression of Mazda's prototype engine.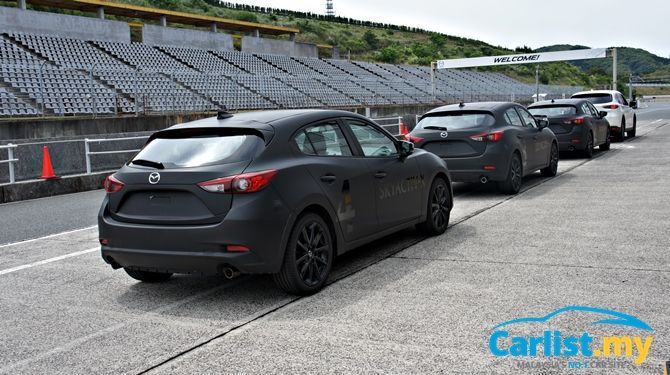 Accelerating out of the pits, the linearity of its power delivery was clearly one level ahead of current SkyActiv engines. It sounds better too. At cold idle, there's mild diesel-like clatter but it's not audible from inside the car. Flex your right foot and the engine revs rises and drops through the ample 6,500-plus rpm rev range, with the kind immediacy that can only be found on a naturally aspirated engine. Apart from prototypes with six-speed automatic transmissions, we also had a go in cars fitted with six-speed manual transmissions, and what a joy it was to drive those.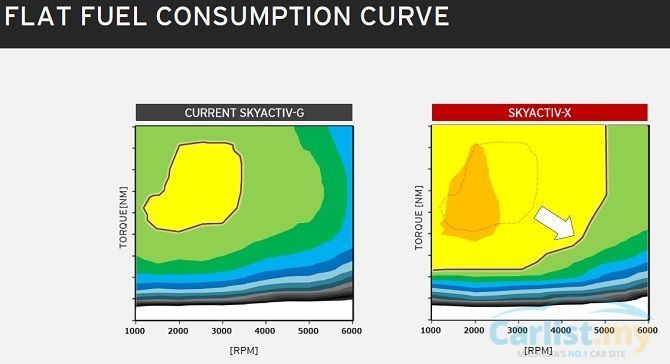 As the engine's optimum efficiency range is so wide (yellow zone), it doesn't really matter if you decide to leave the car in a shorter ratio 5th gear instead of a taller 6th.
However there were some instances when mild engine knock can be felt, especially when it's switching between different combustion modes but as this is still a prototype, we expect the production car to be more refined.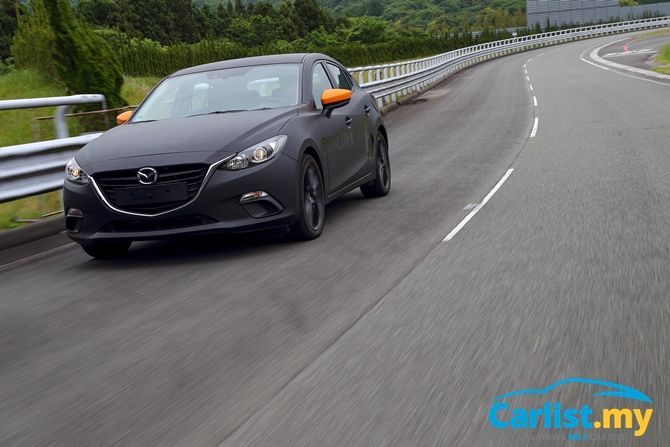 Through the corners, the prototype felt more engaging to drive, more 'Jinba Ittai' than the existing 3, which we also drove back-to-back. Imagine our surprise when we peeked underneath the car and saw that the prototype 3 was actually running on torsion beam rear suspension versus the current 3's multi-link setup.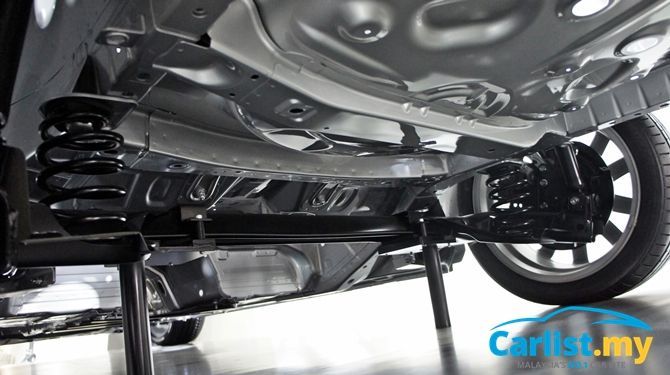 Before fans bring out their pitchfork, we need to explain that Mazda owns a patent to this particular torsion beam design, claimed to be a world's first as the beam's diameter progressively thickens from the middle to the sides. Mazda says this simpler design with less moving parts allows it to better control mechanical noise and vibration, while retaining the high level of control that regular multi-link suspension is known for.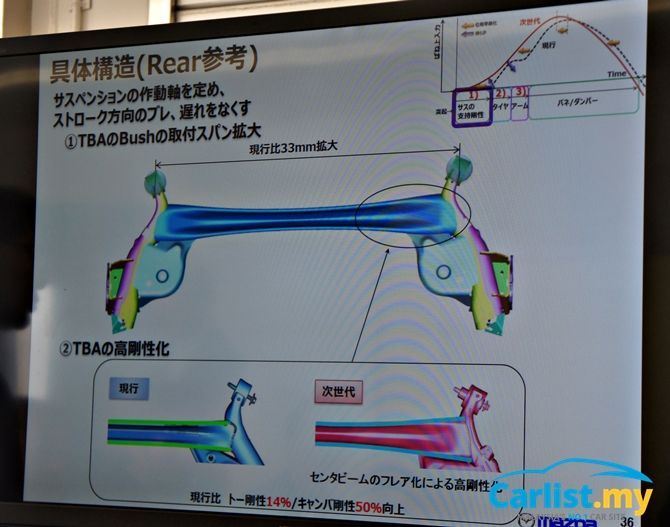 Reaching the circuit's main straights, there's a small stretch where we can drop the gears and punch the throttle, allowing us to briefly hit about 130 km/h. The prototype was also noticeably quieter, even at its current unfinished form, while the engine certainly pulls with much more gusto the current 3. However at the back of our minds, we also know that a Civic with a 1.5-litre turbocharged engine or a Jetta 1.4 TSI will be breathing down on us thanks to their ample low-end torque, so long as you ignore fuel economy because SkyActiv-X is claimed to be at least 20 percent more fuel efficient in real-world driving than any gasoline engine in production.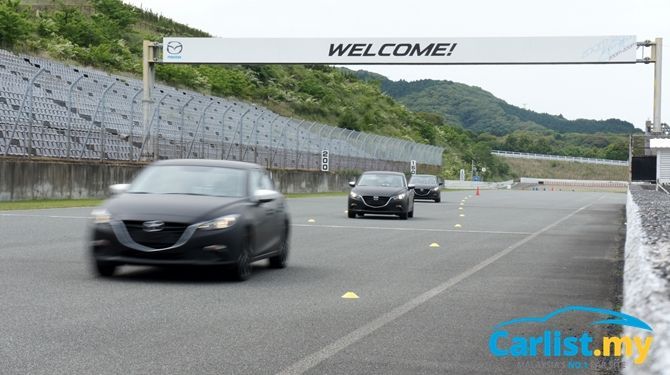 The engine might be extremely sophisticated, but it runs just as well on RON 91 petrol as it is with RON 95, swapping tradeoffs between low-end and peak torque respectively (torque curve chart below). The spark plugs are no different from the Iridium ones used by regular petrol engines.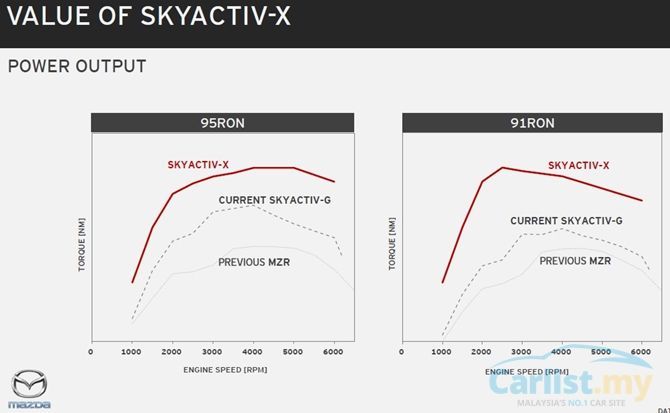 The engine is currently designed as a 2.0-litre four cylinder, but Mazda says the engine's capacity can be easily scaled up or down to suit a variety of applications.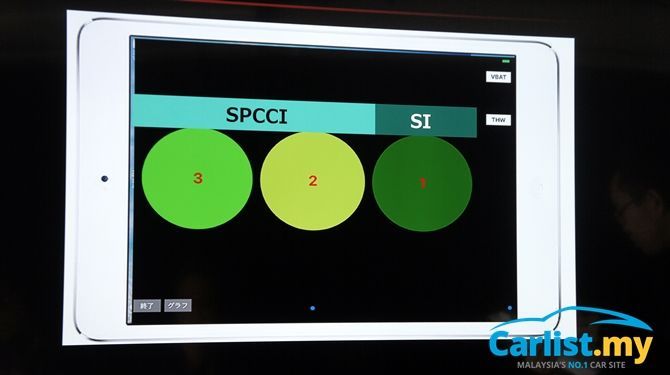 Driving it casually, one can't tell the amount of mathematical sorcery that's going on behind the scenes but the display screen tells us the seamless switching between multiple combustion modes on the fly, and that's exactly how engines should be. The best tech are the ones that work quietly in the background. It doesn't require the driver to learn anything new. It's not a radically different engine that technicians will need to go back to school before they can work on it.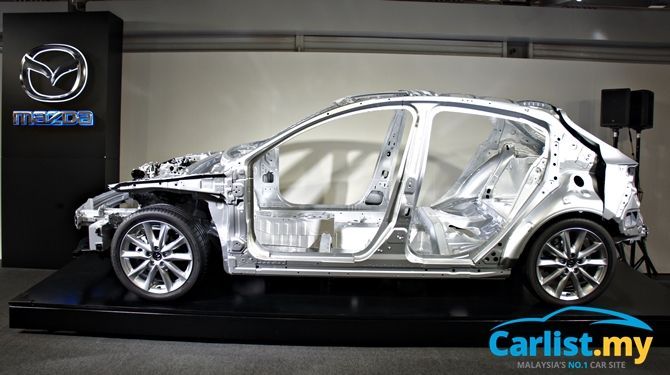 Sure, some amount of training is required, but at the end of the day, it's still an internal combustion engine, refined to be the best of its kind. It's not a plug-in hybrid or a fuel-cell, where one needs certification on working with high-voltage equipment before you can service the car.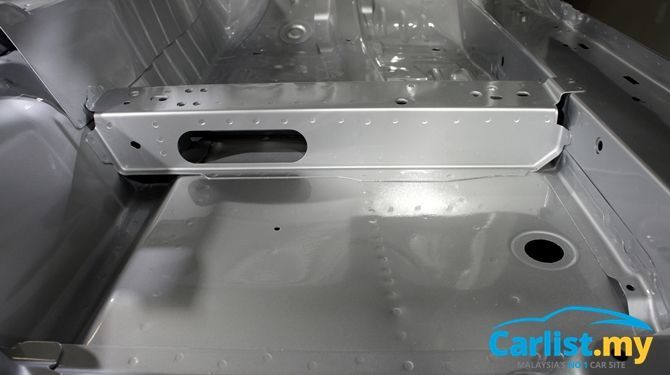 Having said that, the new 3 is designed to accommodate a mild-hybrid powertrain (motor assist only, similar to previous Honda IMA). A cut-away display of the car showed an unusual indentation on the floorpan on the front right-side of the cabin, which we later found out to be housing for a small hybrid battery, while the left-side of the engine bay had cooling fins, which we were told was for a DC-DC converter.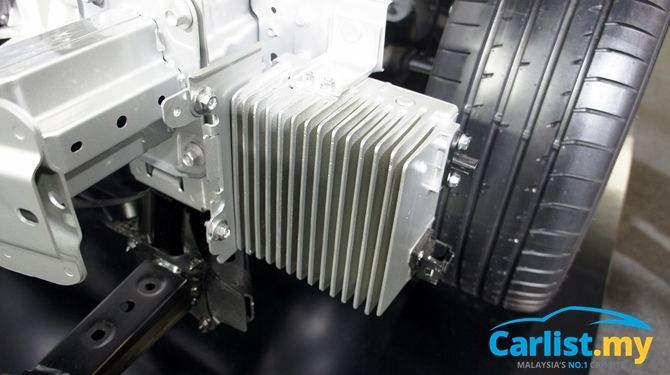 Although SkyActiv-X is slated to be rolled out in 2019, not all markets will receive the new engine at the same time. The priority is markets in the European Union, where the new WLTP (Worldwide harmonized Light vehicles Test Procedure) emissions test cycle is threatening to make nearly all existing European turbocharged engines illegal if no substantial reduction in capacity and power is made, as well as USA, whose EPA is putting emphasis on real-world fuel consumption and emissions figures over controlled lab tests.
Both are an opportunity for Mazda to shine and vindicate their past-resistance towards turbocharging, currently limited only to their 2.5-litre capacity engines because Mazda doesn't have 3.0-litre and above engines.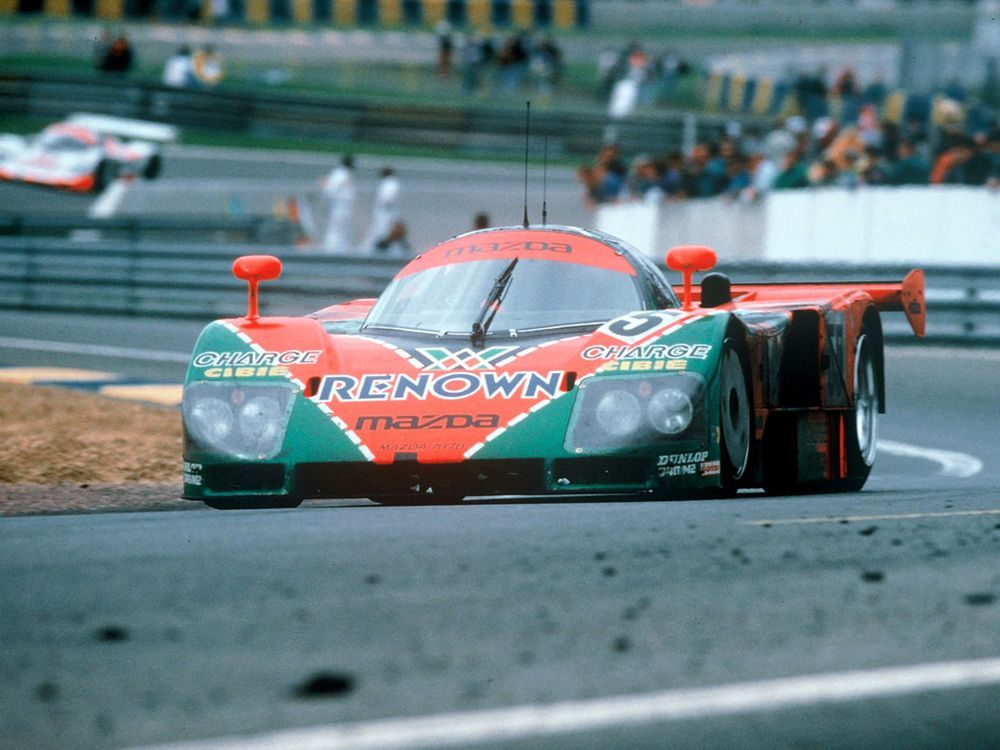 Now, if only they will apply this in to a racing engine, install it into a racy looking coupe and race it for 24 hours. Imagine what a comeback it will be, a successor to the legendary 787B. It could leapfrog rivals simply by not having to pit as often as others for fuel. When asked if there is ever a chance for SkyActiv-X going racing, Hidetoshi Kudo, Executive Offficer In Charge of R&D Administration and Product Strategy said with gleaming eyes, "That is our dream, please give your outmost support to us as we chase this dream."
---
---
---
---
留言