2020 Honda City Teasers Full of Ballsy Attitude
汽车专题 The 2020 Honda City teasers from Honda Malaysia is full of fight talk, and we love it!
---
It's well known that Honda Malaysia is busy planning for the launch of the all-new 2020 Honda City, and if you haven't noticed, there is a lot of fight talk coming out of Honda Malaysia as they prepare to unveil one of their most important models to the Malaysian public.
The all-new 2020 Honda City will be the fifth generation version of the B-segment sedan. It made its debut in Thailand in November last year with a shocking 1.0-litre turbo engine. Since we follow the Thailand market as close as our own shadows, we can pretty safely assume what the Malaysian specifications of the 2020 Honda City will be like.
We can talk about that on another day closer to the launch because at the moment we'd like to talk about the teasers that are coming out from Honda Malaysia. It's been a while since a car company has showed some attitude about a car like this. Are they just supremely confident about 2020 Honda City? Or is it a case of bark louder than bite?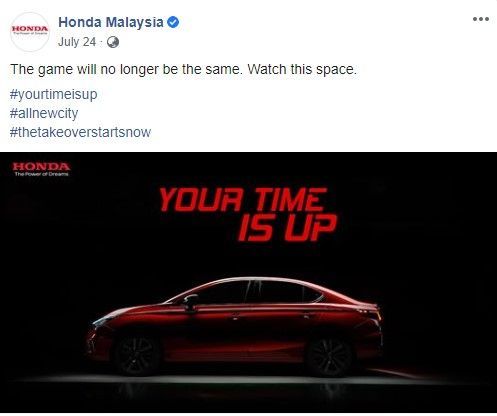 It all started on July 24th when the first teaser of the 2020 Honda City by Honda Malaysia came with the words, "Your Time Is Up". On the same day itself, a video teaser also popped up with a caption saying "The takeover starts now. Don't blink, you wouldn't want to miss this." These are pretty aggressive words, ones that show confidence, even a little arrogance.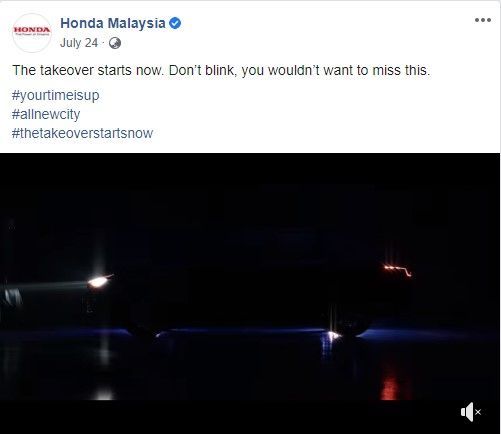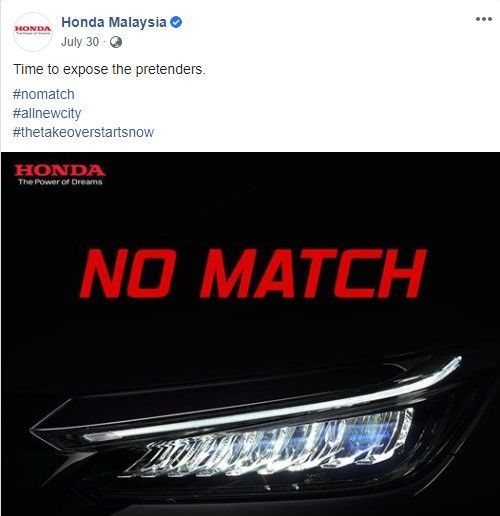 It was all back to normal from Honda Malaysia's social media pages for about a week with typical postings about the capabilities of the Honda BR-V, Civic and such, but on July 30, all that changed, because another teaser popped up mentioning "No Match" accompanied by a caption saying "Time to expose the pretenders". We can only assume the "pretenders" than Honda Malaysia are talking about is the 2020 Honda City's competitors which include the likes of the 2020 Toyota Vios and 2020 Nissan Almera.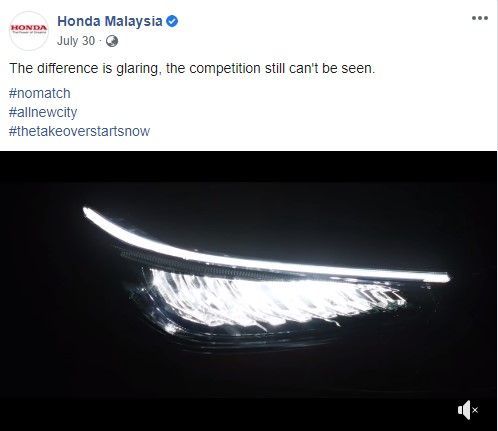 Following the previous pattern, on July 30, they also released a video to compliment the photo posting. This time the caption said, "The difference is glaring, the competition still can't be seen." As much as this is cari gaduh talk, it is quite a clever one to mention that the 2020 Honda City will come with bright LED units that are similarly seen on the City's siblings.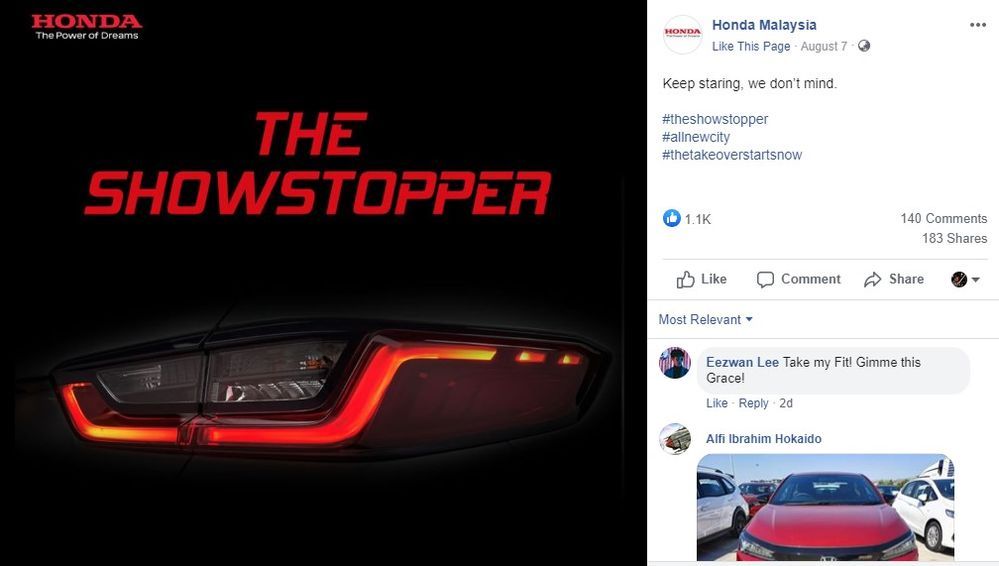 The last posting about the new Honda City came up a couple of days ago, this time describing the rear lights as "The Showstopper". It was coupled with a post caption that said "Keep staring, we don't mind," which we can only assume are for those who will love the appearance of the car's bum.
We were amazed at first with all this fight talk from Honda Malaysia in the beginning, but we're slowly falling in love with it because this is what we need more of. Competition only makes a market place better and a bit of friendly fire will only make things interesting.
The 2020 Nissan Almera on the other hand has been a lot more subdued, it's been spotted testing around Malaysia and we believe strongly that it will come with a 1.0-litre turbocharged engine. Edaran Tan Chong Motors, distributors of Nissan in Malaysia have done well in all this Nissan chaos, you only need to see how they handled the Serena and X-Trail to believe that. This should shape up the market for an interesting contest and although it has taken ETCM the longest of time to introduce the Almera to our market, perhaps they were just waiting for a worthy competitor?
So is Honda Malaysia all hot air? Or will it blow its competition out of the water? With terms like Showstopper, No Match and Your Time Is Up they better be worth the hype!
---
---
---
---
留言