How Honda Malaysia Technicians Replace Defective Takata Airbags At Used Car Dealers
所有资讯 The Takata airbag recall is the largest recall in the history of the automotive industry, affecting over 100 million cars made by over 30 brands around the world. In Malaysia, over 520,000 cars made by five brands are affected, two-thirds of them Honda.
To date, Honda Malaysia has made commendable progress in carrying out the recall. Its over 72 percent completion rate for driver-side airbag (as of January 2017) is higher than Honda USA's 59 percent.
Honda Malaysia also happens to be the only Honda office in the world to have secured 100 percent availability for replacement part for the most crucial driver's airbag module. There is however, still a shortage of replacement parts for the passenger-side airbag and some waiting period is still necessary, just like everywhere else in the world, doesn't matter if the vehicle is a Honda or not.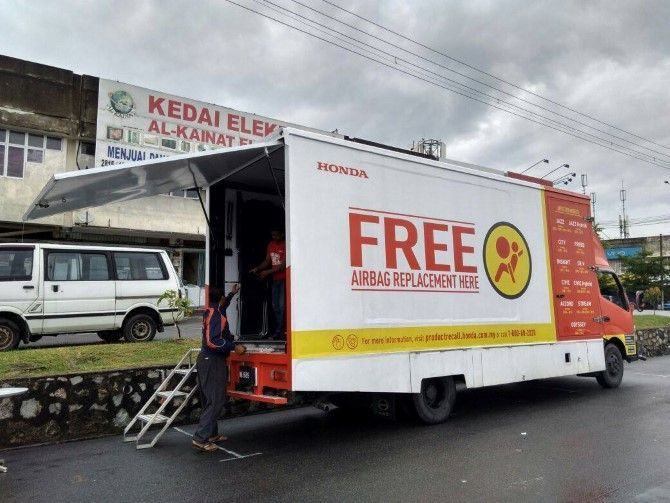 Honda Malaysia is also the only brand in the country affected by the Takata recall to communicate news of its defective airbags on a large scale - not just on websites, but also on newspapers, and shopping malls (during Honda road shows). It has even setup mobile service hubs at various locations – Petron and Petronas stations, Tesco and AEON outlets, as well as going door-to-door at selected neighborhoods.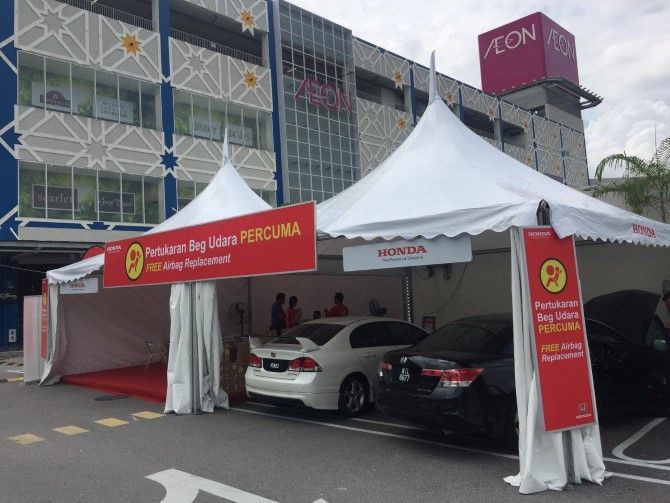 The biggest challenge for Honda Malaysia remains used Honda vehicles which has been sold and re-sold multiple times. Contrary to popular opinion, obtaining the address of the vehicle owner is not as simple as downloading an Excel sheet from JPJ's database. Honda Malaysia is already working with JPJ to get the latest address of affected Honda models but there is a limit to how updated this information is.
One particular challenging task is locating cars that are in-between owners - cars that are sitting on used car dealers' lots.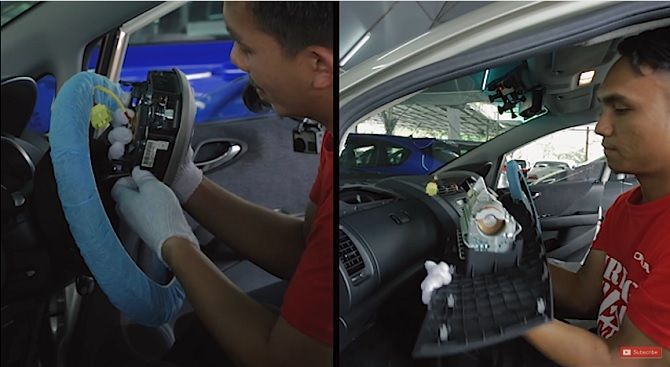 As Malaysia's leading online classifieds for cars, Carlist.my has offered its assistance to Honda Malaysia to direct Honda technicians to locate dealers where affected Honda models are currently parked at. The partnership with Honda Malaysia will continue until the recall campaign is over.
If you are shopping/have purchased a used Honda, be sure to verify if any of its airbag modules require replacement (not all models are affected while others might already been corrected). You can do this by entering the vehicle's chassis number (VIN) at productrecall.honda.com.my.
The replacement is free of charge, and will take no more than 45 minutes. If your vehicle's passenger-side is affected, you might have to make another visit at a later date. As explained earlier, there is a worldwide shortage for replacement parts.
The defective airbags can be replaced either at a Honda authorized service centre, or at one of Honda's mobile service hubs. As the mobile service crew is always on the move, their location changes from time to time. You can check their latest location at their website.
The Takata airbag recall affects not just Honda models, but also Toyota, Nissan, Mazda and Mitsubishi. You can check the affected models here.
---
---
---
---
留言