Takata Airbag Crisis: Compensation For Honda Owners, 3 Central Hubs, 24 Mobile Hubs Setup
所有资讯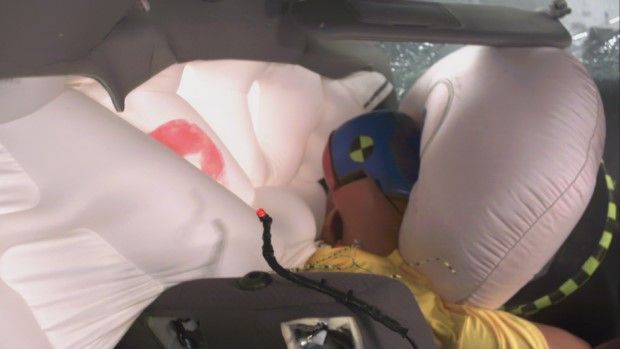 Honda Malaysia announced today its latest measure to alleviate the shortage in service capacity and replacement airbag modules – an issue that affects not just Malaysia, but over 100 million vehicles recalled worldwide for faulty airbag inflators made by Takata.
The company is offering a RM50 per day loss of use compensation for affected customers (only for vehicles affected by the driver's airbag recall). It is also setting up 24 mobile hubs and 3 temporary central service hubs supported by trained associates from Honda's Melaka plant to alleviate the shortage in service capacity at Honda dealers.
Compensation For Loss Of Use
Affected Honda customers who experienced loss of use of their Honda vehicles due to unavailable replacement airbag inflator for the driver's airbag can now register themselves at productrecall.honda.com.my (instructions only available after you have entered the VIN for your Honda) to receive their compensation of RM50 per day. The compensation period begins on 28th July 2016 and ends on 31st August 2016.
The compensation is offered to owners of cars that couldn't have the driver's airbag front airbag inflator replaced (not applicable for cars affected only by the front passenger's airbag recall)
Upon arrival of the replacement parts for Takata driver front airbag inflators, the registered customers with Honda Malaysia will be notified and advised to replace the airbag inflators within two days. The process to do this is as explained in the flow chart below (click to enlarge):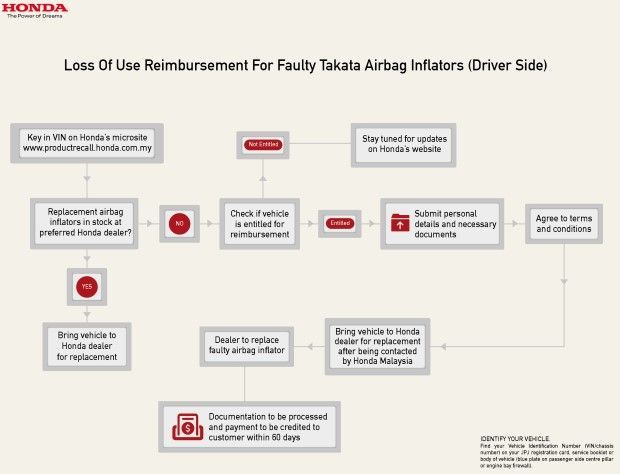 Three Service Central Hubs, Open 7 Days A Week
To alleviate the shortage in service capacity, Honda Malaysia is opening three temporary Service Central Hubs from 1st August 2016 to 30th September 2016. These hubs will operate 7 days a week except public holidays, from 8am to 7pm.
These Service Central Hubs are aimed at providing additional service capacity for Takata airbag inflator replacement activity, helping to ease service capacity limitation at Honda dealers, and also providing storage for the required parts for the replacements.
Customers can book their appointment with any of the Service Central Hubs by calling the Honda Toll Free number 1-800-88-2020.
Due to the multiple recalls for both Takata driver and passenger front airbags inflators, it would be possible that one vehicle is recalled for both Takata airbag inflators replacement. In such a situation, Honda will prioritize Takata driver front airbag inflator replacement based on parts availability and due to the low stock availability of Takata passenger front airbag inflator.
Location of the Central Hubs:
Northern Hub (Next to S.M.J.K. Convent Dato' Keramat School)

Address: No.401, Jalan Dato' Keramat, 10150 Georgetown, Penang.

Central Hub - Soo & Sons Metal Works Sdn. Bhd. (Next to Columbia Asia Hospital, near Jaya One)

Address: Lot 15 Jalan 13/6, Section 13, 46200 Petaling Jaya, Selangor.

Southern Hub - Oriental Assemblers Sdn. Bhd.

Address: 99 & 99A-C, Jalan Tampoi, 81200 Johor Bahru, Johor.
24 Mobile Hubs
A total of 24 mobile hubs will be set up at 21 selected Petron service stations and three Honda Family Road Trip locations.
These Mobile Hubs will open from 5th August 2016 until 25th September 2016 and will be operational every Friday, Saturday and Sunday at three different locations from 8am to 7pm.
Location of Mobile Hubs (click to enlarge):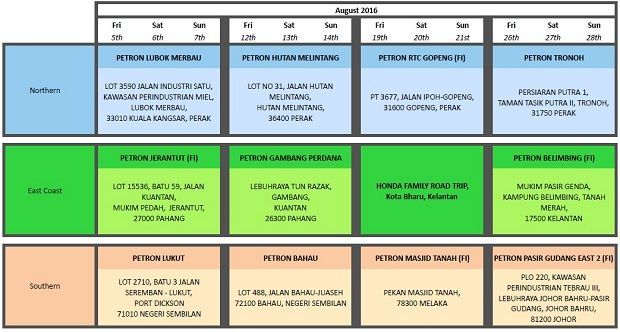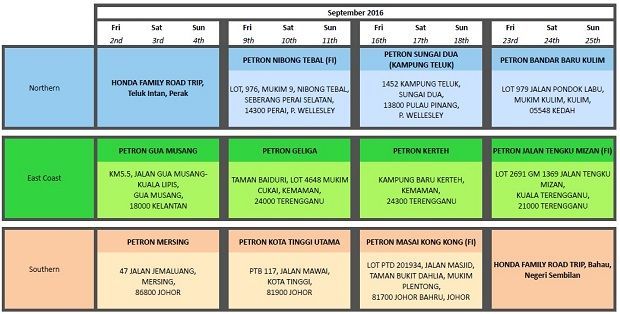 Both the Central and Mobile Hubs are supported by Honda's Mobile Teams – a technical team made up of trained Honda associates from Honda's plant in Melaka
Read also: Takata Airbag Crisis: Frequently Asked Questions, What Should You Do?
---
---
---
留言