Takata Airbag Crisis: Government Needs To Step In
汽车专题 On 1-August 2016, the National Security Council Act came into being, giving the Malaysian government wide ranging powers under the pretext of maintaining security. We however, think that there one other law that is sorely needed to protect the safety of Malaysian consumers, especially given the severity of the on-going Takata airbag crisis.
With an estimated 100 million cars affected globally, the on-going Takata airbag recall is the biggest automobile recall in history. The biggest hotspots are in USA (60 million cars affected) and Japan (20 million cars affected), involving cars made by 14 different manufacturers.
The situation is so bad that in the US, some manufacturers including Fiat and Chrysler are being given a special exemption to continue installing defective airbags into new cars that are being manufactured, with the condition that they will be recalled by 2018. Why? Because of the supply shortage, whatever little airbags that don't use ammonium nitrate inflators are being diverted to replace defective ones installed on cars that are already on the road.
Regulators in the US allow this because they are convinced that the defective inflators won't pose any problems in the first few years, while stressing that despite the defect, statistically drivers are still better protected by airbags so disabling them remains illegal.
In Malaysia, there are over 600,000 vehicles affected, mostly from Honda but over 140,000 Toyotas and over 110,000 of Nissans are also affected, and a smaller number of Mitsubishi, Mazda, and Subaru vehicles.
Further complicating the supply shortage is that not all airbag makers produce the same type of inflators and not all cars use the same inflator.
Having said that, Daicel, Autoliv and TRW are now assisting Takata in the recall exercise but the supply is still too low to effectively alleviate the shortage.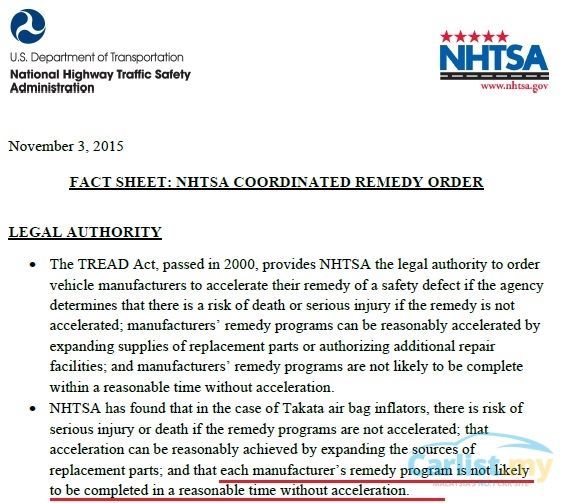 In the US, the chronic shortage has forced manufacturers to prioritise the allocation of replacement parts to cars based on a priority grouping – part of a coordinated remedy program drafted by NHTSA (National Highway Traffic Safety Administration) – the body that is supervising the recall process. Affected cars are being repaired according to their priority grouping – with older cars from more humid regions given a higher priority.
Over in Malaysia, there is no such system and given the chronic shortage of replacement inflators worldwide, replacement parts are allocated to each affected country based on a monthly quota. Honda, being the largest user of Takata airbags, is naturally the most severely affected brand in Malaysia.
Like many other manufacturers, Honda is trying their very best to obtain more allocations, but without the intervention of an independent regulatory body, it is unable to allocate the replacement parts to older vehicles that needs it most.
As it is, Honda is already facing the wrath of many angry customers who are forced to wait for several weeks or more before their airbag inflators can be replaced, and who can blame them? Who would want to continue servicing their bank loans for a car than could kill them, even without being involved in any major accident?
Customers being customers, one can't expect them to understand the complexity of sourcing and producing 100,000,000 replacement parts, and this is where a coordinated response by the government, to allocate replacement parts to older vehicles that needs it most is urgently needed.
In the absence of a coordinating authority, Honda Malaysia has to its credit, doing all they can to address the problem.
Carlist.my understands that the Honda has allocated RM 100 million of its own money to compensate customers for loss of use of their vehicle. Owners of affected vehicles – those recalled for driver's airbag only – that are unable to get their driver's airbag replaced will be compensated RM50 per day, an acceptable sum considering that car insurance policies only compensate you for RM30 per day for loss of use.
There were also plans to provide rental cars but there just isn't enough rental cars in the country to go around so the plan was scrapped.
The company has also opened three temporary Central Hubs that opens 7 days a week to alleviate the capacity shortage at dealerships and launching Mobile Hubs to support customers in rural locations.
As we speak, there are many Honda associates who will be away from their families for at least two month, as they are being sent to man the temporary Central Hubs and Mobile Hubs.
It is even extending the same support to parallel imported Honda cars – the only company in Malaysia affected by the crisis to do so.
But the bigger question is, what are the other affected brands doing? As it is, there are no specific laws compelling manufacturers to not only issue a recall, but also to report on its progress in number of vehicles repaired. Consumer safety is now dependent on the moral compass of the manufacturer, who may not be too bothered with cars they've sold 10 years ago.
Recalls – Consumers Are At The Mercy of Manufacturer's Goodwill
Put aside the Takata airbag issue for a moment and let's just focus on recalls in general – it can be a recall for something as critical as a brake or as minor as a clip on the glovebox.
Without an independent body coordinating any product recalls, consumers rely on the goodwill of manufacturers to owe up to any defects. Right now, local representatives of the respective brands only issue a recall if they are asked to by their global headquarters.
Some manufacturers are very transparent about their recalls (although they might call it a 'Product Update' or 'Service Campaign' rather than a Recall), but there are others who will simply choose to be coy about it, and quietly carry out the repairs only when the customer sends his vehicle in for servicing – a criminal act in many countries but not Malaysia. If the customer no longer returns to the authorised service centre, then the defect goes unrepaired.
In Japan, a serious accident is investigated to determine if the cause was due to bad roads, poor driving discipline, or a defective part in the vehicle. Manufacturers are required by law to report to the Road Transport Bureau of the Ministry of Land, Infrastructure, Transport and Tourism (MLIT) if any defects are found.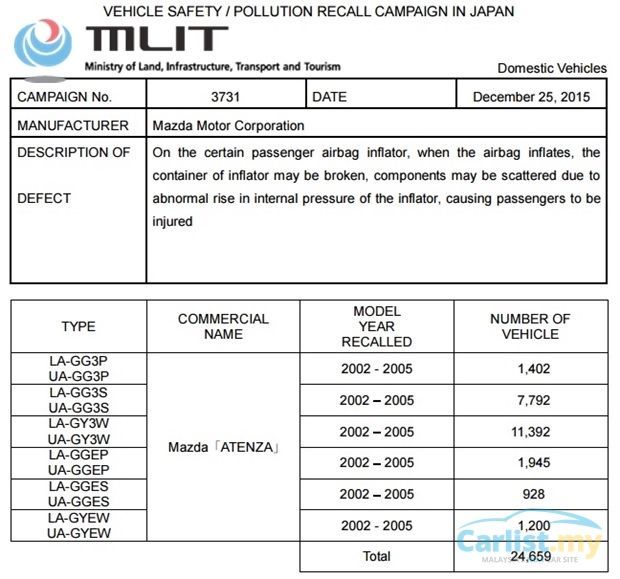 To quietly carry out repairs at service centres is a criminal act punishable by jail. The MLIT also host a publically accessible website that lists all vehicle models with an active recall, because it's not right to leave the announcements to the manufacturers, who might use words that downplay the severity of the defect.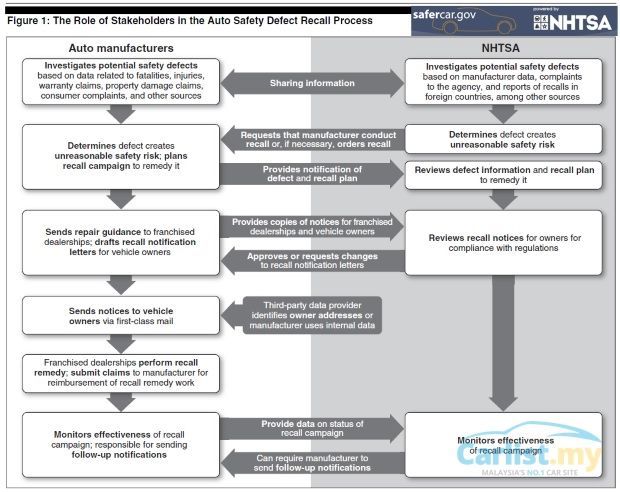 In the US, the public can enter the VIN (chassis number) of any vehicle to the National Highway Traffic Safety Administration (NHTSA)'s website to find out if there is an active recall for the vehicle. The body also collates complaints from the public about possible defective vehicles.
In Germany, the Federal Motor Transport Authority (Kraftfahrt-Bundesamt or KBA) monitors all recalls.
Even China, a country known for its notoriously poor safety standards, has the AQSIQ (General Administration of Quality Supervision, Inspection and Quarantine) monitoring the Takata recall campaign.
Earlier this year, Mazda reportedly issued a recall only after being demanded to by AQSIQ. It was also the same body that pressured Volkswagen to resolve several of its serious quality issues in the past, and required car manufacturers to replace the vehicle if cumulative repair time exceeds 35 days during the warranty period.
So far, Honda has been the very transparent about all its recalls, not just on the airbags, but also for recalls for other components. With no government authority taking lead on the matter, Honda has taken upon itself to setup a dedicated webpage announcing all recalls for Honda cars (not just for airbag recall). It is the first automotive brand in the country to do so. Customers need to only input their vehicle's VIN (chassis number) to find out if there are any recalls for any components in their vehicle.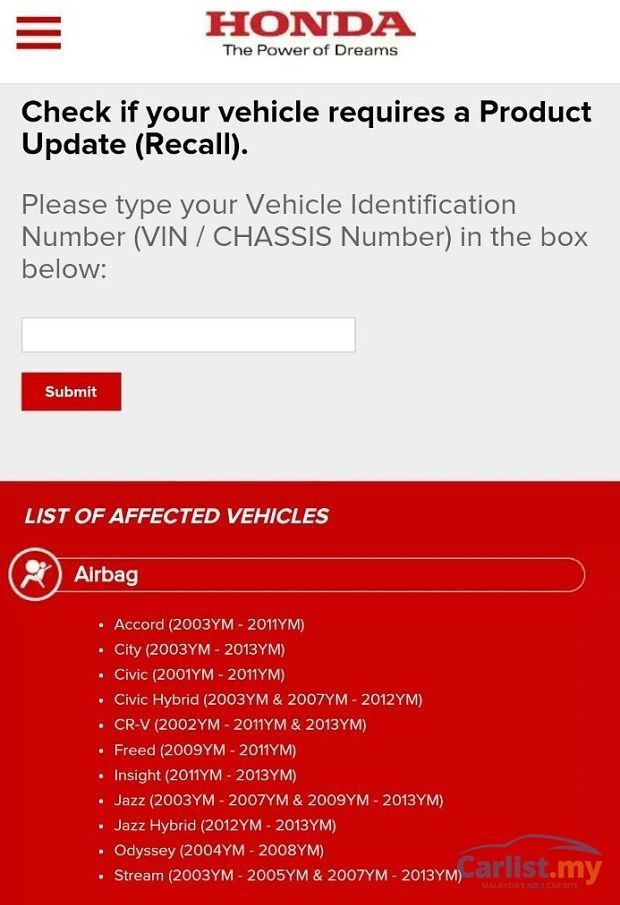 Mitsubishi, Nissan and Toyota have since followed suit with similar initiatives.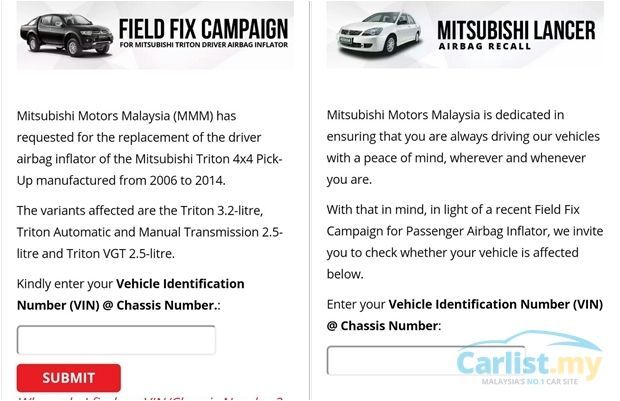 Honda has also taken out full page, full colour advertisements on major newspapers across three languages to urge the public the check if their Honda is affected by the recall, another unprecedented move by an automotive brand in Malaysia.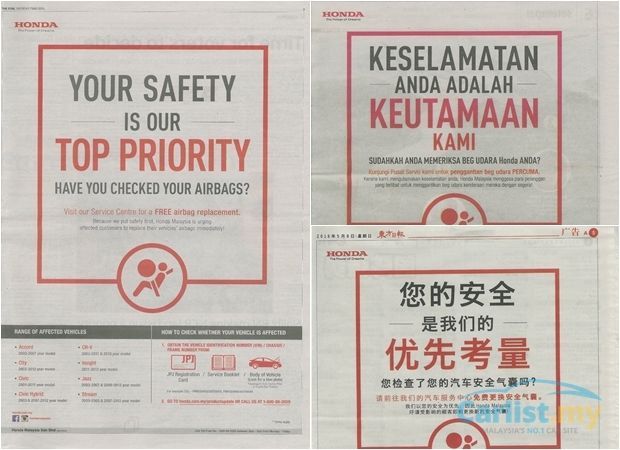 Despite all their efforts, the completion rate for the recall reportedly stands at just 30 percent. The older the car is, the harder it is for manufacturers to trace its current owner, and this problem is not unique to Malaysia, but other countries as well.
For the record, the typical completion rate in the US for recalls for cars aged nine years or older stands is around 30 percent. Going to the US Department of Motor Vehicles (their equivalent to our JPJ) is no guarantee that manufacturers are able to obtain the latest addresses of all the affected owners. According to NHTSA's reports, Japanese brands in the US, led by Honda have the biggest progress in managing the recall.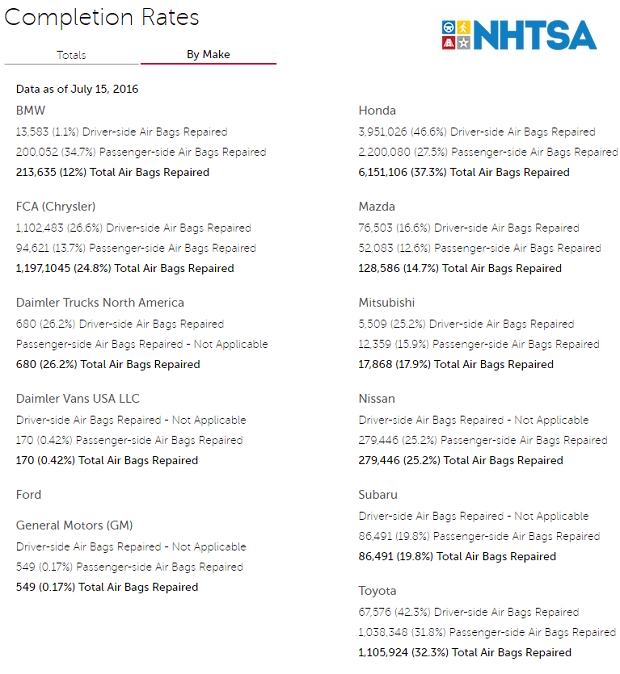 Recalls Must Be Announced By A Regulatory Body, Not Just The Manufacturer
With all the initiatives taken by Honda, it would be a big shame if other brands, or even the future management team of Honda took note of the brickbats received from this incident decided that being transparent is not wise move
This is why it is imperative that Malaysia regulates product recalls. When a manufacturer issues a recall, it's specific only to its own cars, even though the same car is actually shared with several other brands, and this puts pressure on the company's public relations department, who might reel from the nasty response from the public.
An independent regulatory body is required to ensure that manufacturers don't downplay the severity of the issue – i.e. by using less alarming words in their press release, and calling the exercise a product update rather than a recall.
Manufacturers and consumers alike need to learn to see recalls more positively, and that's only possible when an independent regulatory body steps in.
Every time you update the operating system in your notebook or mobile device to fix a security flaw, you are essentially taking part in a recall exercise. It's not much different from your car. Some car makers are already working on ways to roll out software-related recalls in the same way you update your smartphone. It's one of the reasons why manufacturers are busy working towards a so-called 'Connected Car.'
For a list of cars affected by the Takata airbag recall, visit our Takata airbag recall FAQ page.
---
---
---
---
留言