Review: Volkswagen Beetle 1.2 TSI – The Charismatic Swansong Of An Icon
评论 Do cars only become icons only after they die? It's a question I've asked myself over and over. Especially in the case of the BMW E30 M3, yes it was a fast car, handled like a precision instrument and enjoyed incredible success in motorsports.
But in its day, that was about it, and even cars like the Ford Sierra Cosworth, Mercedes-Benz 190E 2.3L Cosworth, and VW Golf GTi all proved their mettle in similar arenas of motorsport and offered just about as much in terms of driving performance and exhilaration.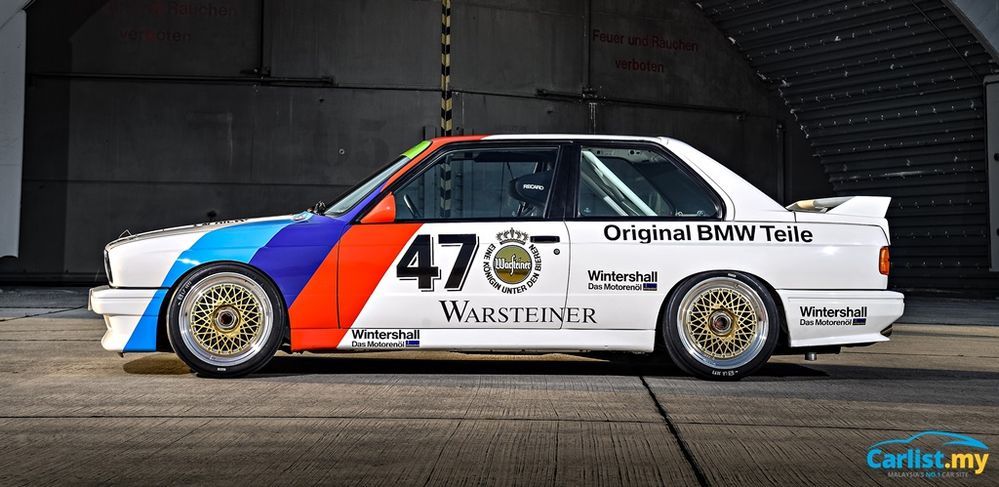 But in the case of the E30, it wasn't until each successive generation of the M3 became more sophisticated, safer, and as a result – very bulky – that true enthusiasts longed for the simplicity, organic handling and high-revving naturally-aspirated engine from years gone by. So it's no surprise that E30 M3s retail for nothing short of stratospheric prices these days, in some cases more than even their modern counterparts.
The Volkswagen Beetle, on the other hand, was not a performance car. The original concept was nothing more than a cheap, robust, and somewhat trendy way to mobilise entire nations. It is, however, the longest running, most manufactured car of all time, with 21-million units built over its 65-year lifespan. In fact, when the retrospective "New Beetle" model was launched in 1998, the original Beetle was still being built alongside it (for developing markets) at Volkswagen's plant in Puebla, Mexico.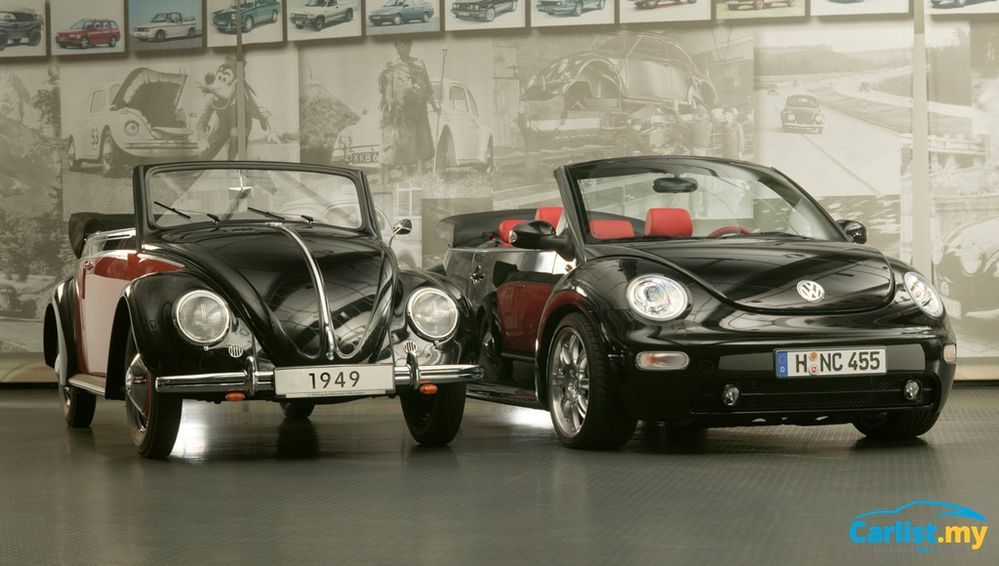 But it wasn't a great car in some aspects, the original Beetle didn't drive very well, wasn't very safe, was prone to rust and despite good 'ol German ingenuity, wasn't extremely reliable, or quick.
Which left a lot of room to grow when Volkswagen decided to revive its transcendent motoring icon in the late-90s. The current Volkswagen Beetle generation improved on almost every aspect of its classic predecessor – better drivetrains, better practicality, and crucially a design that sported some modern moxie, despite its retrospective inspiration.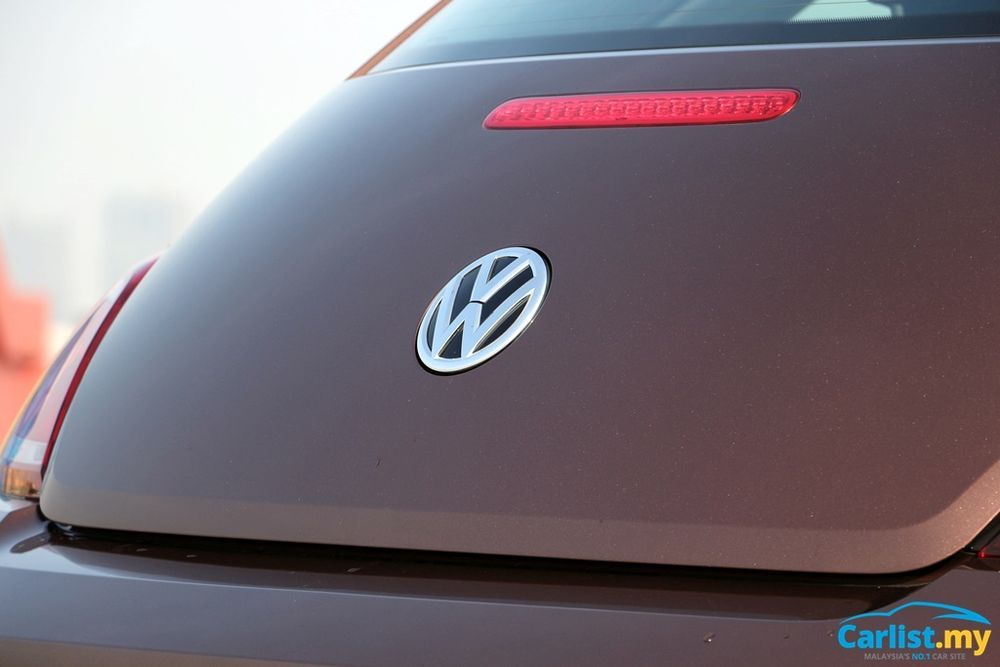 And since Volkswagen has no plans to build a successor, choosing instead to bulldoze its EV ambitions with an entirely new range of vehicles from its I.D. sub-brand, this could very well be your last chance to get behind the wheel of the best version of the Beetle ever. A future icon perhaps?
Overview
First launched locally in 2012, the Volkswagen Beetle received an update in 2017. The local Volkswagen Beetle line-up now consists of two trim levels – Design and Sport – which are powered by the same 1.2-litre TSI turbocharged engine previously available, coupled to a 7-speed dual-clutch DSG automatic transmission.
The Design package gets you fabric seats, a 5.8-inch touchscreen display with an 8-speaker audio system and halogen headlights. The Sport variant featured here adds leather seats, Bi-Xenon headlights, dual-zone climate control, a 6.5-inch touchscreen display with Apple CarPlay, Android Auto, MirrorLink connectivity, and cruise control.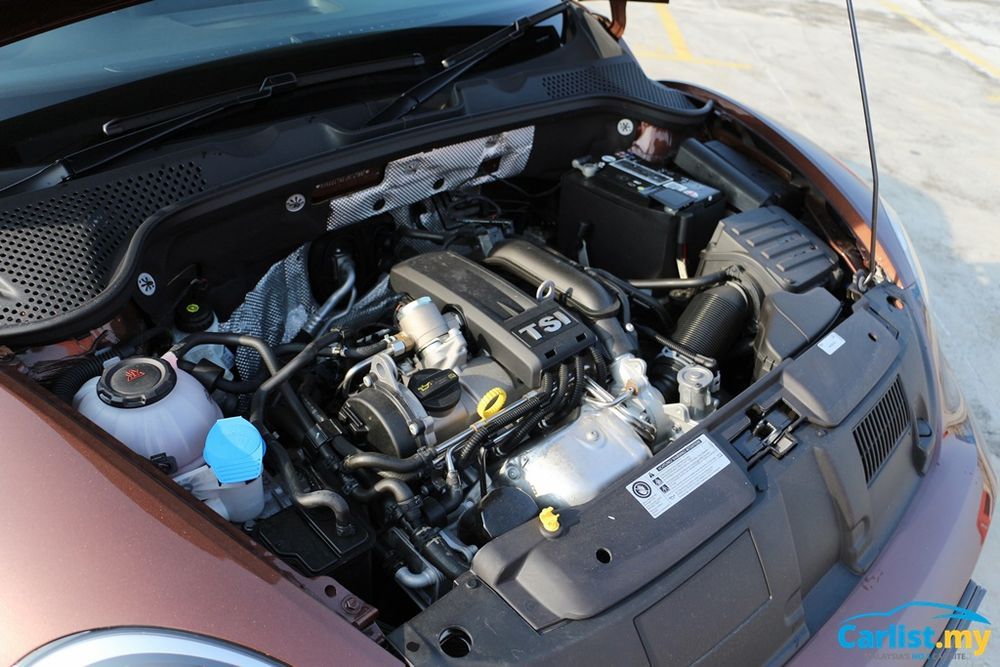 Visually, the updated Beetle sports a redesigned front bumper and subtle updates on the rear bumper, in addition to the new headlamp design and graphics. On the inside, besides the infotainment system update, everything else is pretty much the same.
In terms of competition, spiritually and historically, the Beetle goes up against the likes of the MINI Cooper, but also newer lifestyle crossovers like the Toyota C-HR which are all the rage these days, and within a similar price bracket as the Beetle.
Specifications for Volkswagen Beetle 1.2TSI
Engine: 1.2-litre turbocharged four-cylinder
Power: 105 PS
Torque: 175 Nm
Transmission: Seven-speed dual-clutch automatic, front-wheel drive
Safety: Four-airbags (combined side and thorax), electronic stability and traction control, ABS with Brake Assist
Price: RM 139,488 (Sport Package) at 0% GST, without insurance
Origin: Fully imported from Mexico
Exterior
The subtle updates, especially the redesigned front bumper with a dash of chrome highlights creates a slightly more purposeful look for the Beetle this time around. Coupled with the LED daytime lights the car delivers a more premium outlook, which is important in my opinion, given its lifestyle type credentials.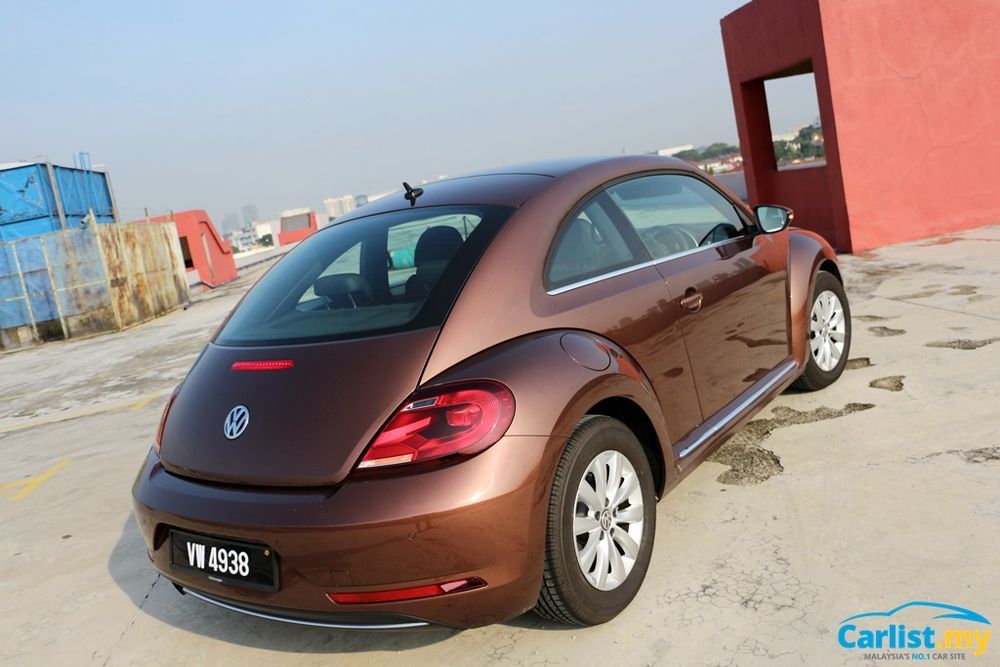 I love that there are new colour options too, in particular, Blue Silk and Habanero Orange which do a much better job of highlighting the contours of the car, without being grandstanding.
If you think the 16-inch wheels featured here are a bit drab, then you are not alone, but fret not, order a Beetle today and Volkswagen Malaysia will include their 17-inch "Rotor" alloys which do a much better job complimenting the wide arches and sporty outlook of the car.
Interior
It is probably the most understated aspect about the Volkswagen Beetle: usability. Despite having only two-doors, it'll fit four with decent comfort, carry a surprising amount of luggage and the comfort levels are superb.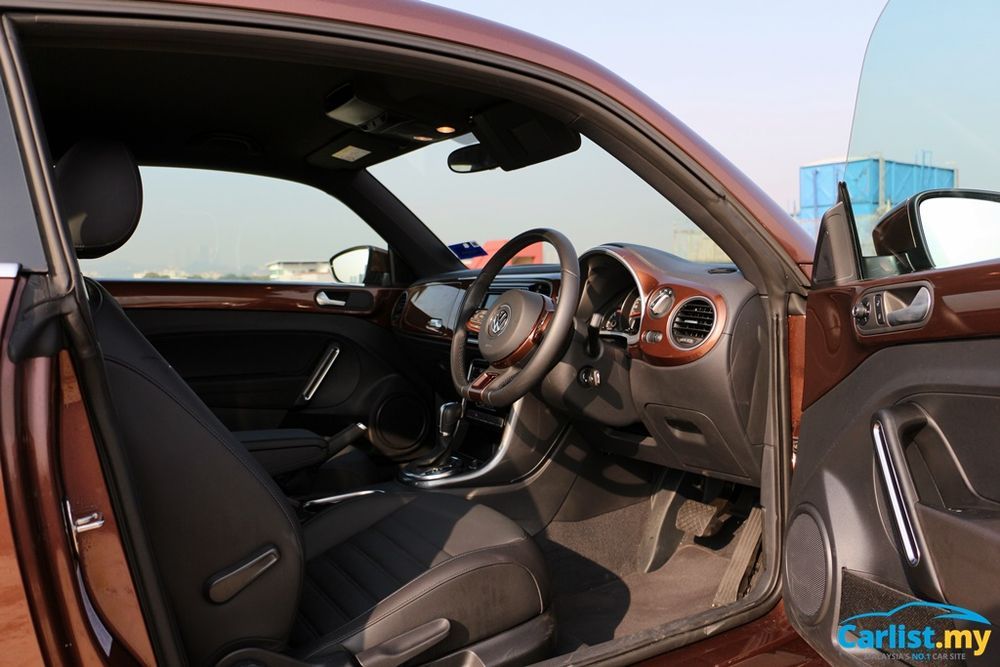 I know this because, for the better part of four years, my wife drove a (pre-facelift) Volkswagen Beetle, and rarely did we need more space or feel like we needed to swap cars to accommodate an extra passenger. Unlike say a MINI Cooper (3-dr hatch), one can use the Beetle without having to plan trips ahead of time. Also, useful cubby holes mean there's a place to store almost anything you need, from your Smart Tag to smartphone accessories and canned drinks.
The 'Vienna' leather seats likewise are nicely padded and offer good thigh and lumbar support for longer journeys. Seating position up front is precise, with the driver's seat allowing for ample adjustment of the seat height.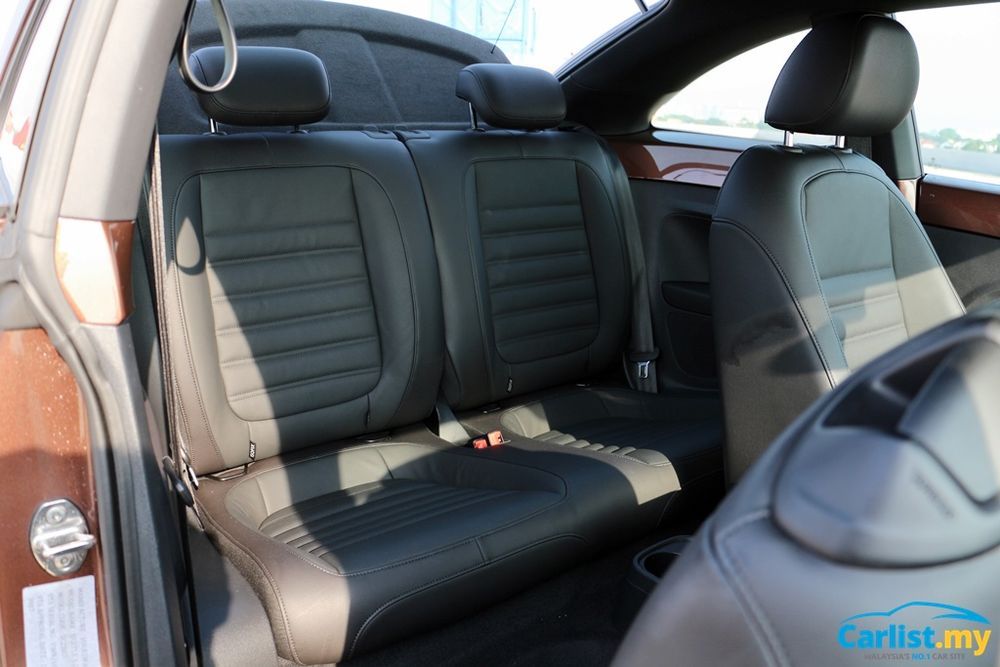 NVH levels are really good too, despite its frameless windows – which are a really cool design feature – very little tyre and engine roar actually make their way into the cabin space.
If I have one criticism, and it isn't directly related to the interior, rather the equipment – the omission of auto headlights – besides the fact that all its competitors are equipped with it, even cars costing less than half boast auto headlights. I suppose it's no deal breaker, but I suspect majority of buyers will expect these functions included for a car of this price range.
Also, do note that given its sloping rear roofline and long rear hatch – once fully opened – the leading edge of the rear hatch rises upwards of six-feet, which can be a challenge to pull down and close for less than lanky owners.
Driving Experience
The driving experience in a Beetle is one of balance. It's a hoot to drive in town, simply because it's very agile in its steering and overall balance. The upshot of having small rims and thick tyres is that the Beetle is extremely comfortable and soaks up the worst potholes, and road cracks with ease. The suspension, in typical Volkswagen fashion, is surefooted and full of composure.
You could drive it fast, and it surely has a chassis that can handle more power, offers loads of mechanical grip and suspension setup that firms up nicely in the corners, but for the most part – it's a cruiser – which works best when enjoyed with composure and calmness.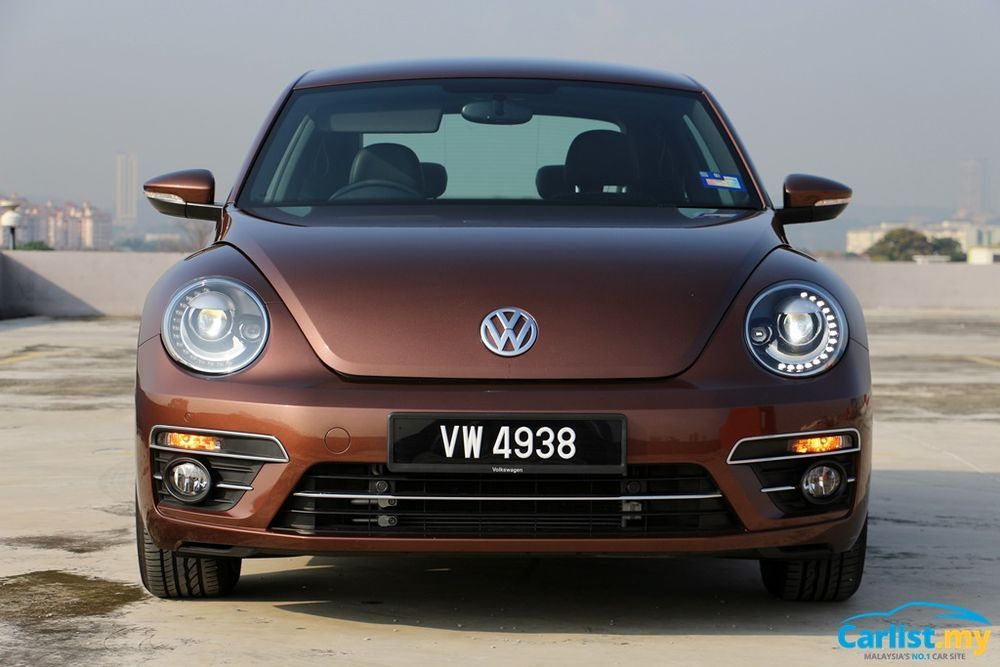 While visibility outside of the vehicle is good, drivers have to be mindful of the wide arches and side skirts of the car, especially when parking or negotiating a tight carpark. The arches extend roughly a foot outwards from where the driver is seated, so we have to adjust our frames of reference to include the outer extremities of the bodywork when driving the Beetle.
The 1.2-litre turbocharged engine is punchy at low and mid-engine speeds, which, when spread over then gearbox's seven ratios makes light work of cruising at highway speeds, and likewise urgent when driving in the city.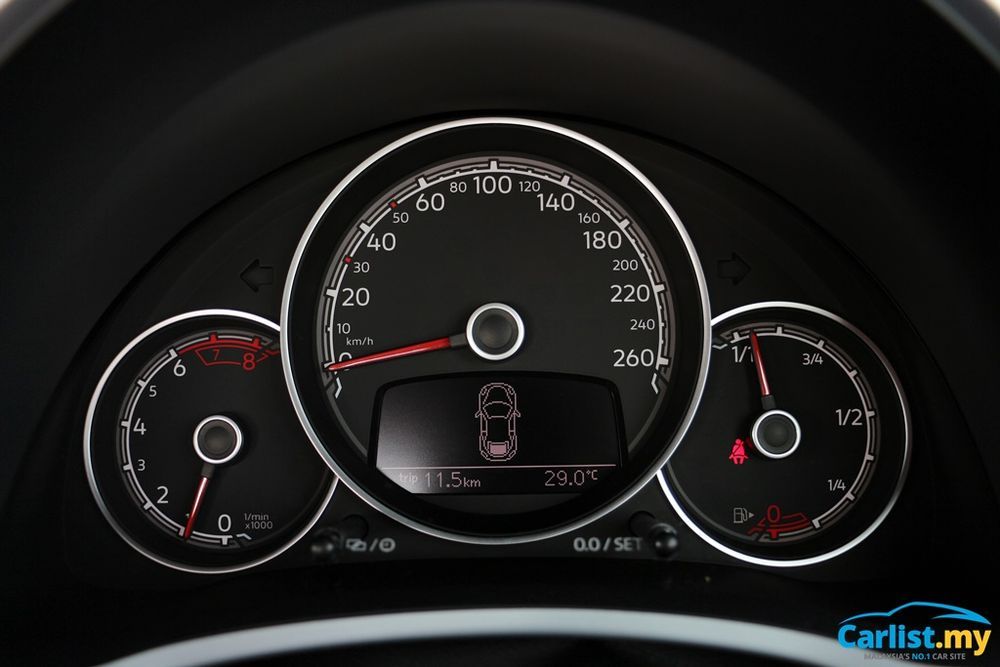 Ample torque is available as low as 1,500 rpm and builds nicely throughout the rev range. You have to rev it if you really need some pace but rarely did I feel like I needed much more power. On the highway, the Beetle settles into a nice cruise at around 130 km/h, which makes the long drives quite easy simply because you don't have to keep prodding the throttle to maintain your pace.
The seven-speed DSG is responsive and engages quickly enough when trying to creep forward in traffic. I'd even go as far to say the DSG transmission is a whole lot better than I remember in the pre-facelift model. Once up to speed, it's faultless, superbly quick upshifts and intuitive downshifts which make for a relaxed driving experience and reasonably good fuel consumption.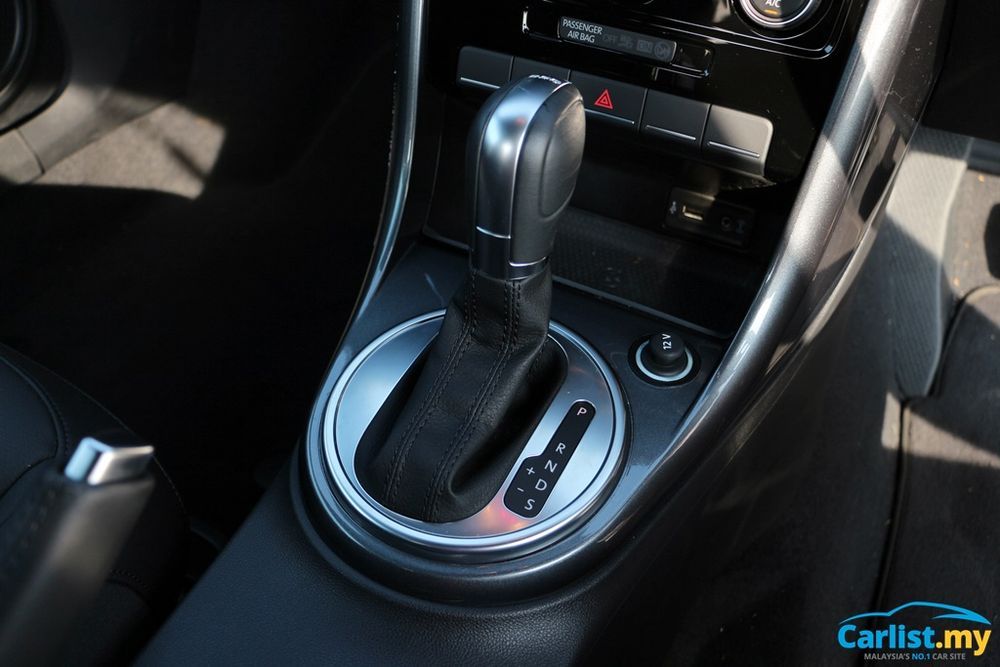 Of which, when I was being conservative and easy going in the city, the Beetle returns around 8.9 litres/100km, the value drops to around 8.4 litres/100km on the highway, which are fairly decent real-world numbers. Drive it quite hard, especially on a twisty back road and that number can rise to around 10.9 litres/ 100km, but like I've said before, the Beetle is a cruiser and is best driven as such.
Conclusion
While there's no denying the Beetle has been around for quite a while, it's far from being over the hill; its iconic silhouette remains youthful and eye-catching, and its accommodating cabin space endows it with versatility and usability other two-doored cars would find hard to match.
The driving experience is admittedly less engaging than its spiritual competitor the MINI Cooper, but for the most part, it's hard to fault because the Beetle's blend of pliancy and surefootedness means it can handle the short and long trips with aplomb and is more usable on a daily basis.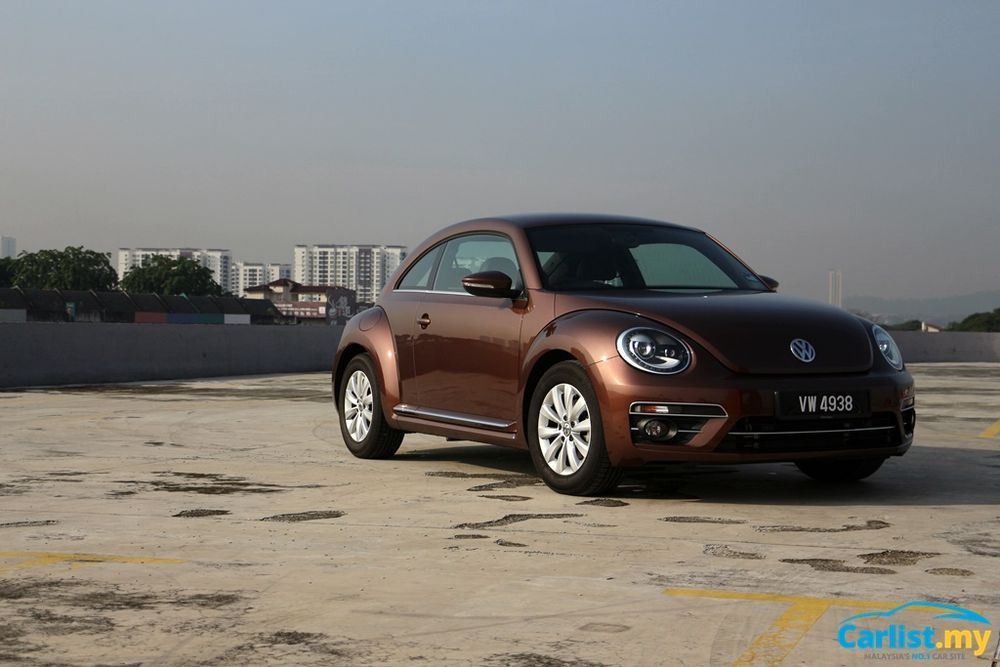 Plus, it's reasonably priced, at nearly RM50k less than the entry-level MINI Cooper with equal amounts of 'street credibility', the Beetle is a charming way of getting into a lifestyle vehicle without having to break the bank.
But, the Beetle's biggest challenge, in my opinion, are newer lifestyle crossovers such as the Toyota C-HR, which combine stylish design and modern SUV practicality; admittedly are very appealing and good value for money too.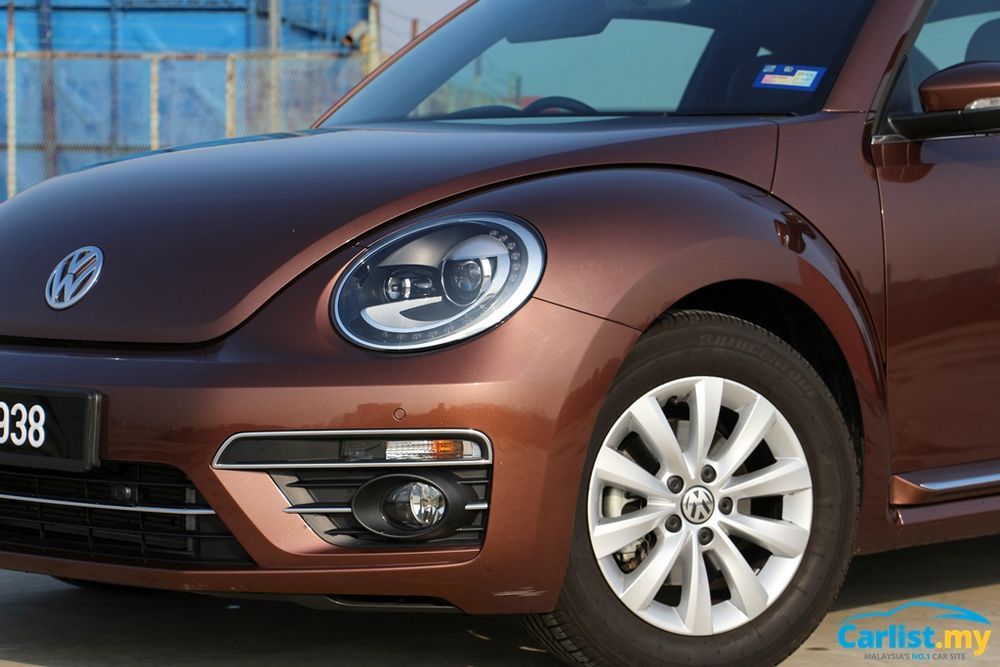 But on the measure of heritage, few if any can match the resounding popularity and worldwide success of the Beetle. And arguably, this is the best Volkswagen Beetle there ever was, which is bittersweet because while this may be the final version of an iconic vehicle, it's also a charismatic swansong for a performance that has lasted nearly 80-years.
---
---
---
---
留言