 It's an exciting time to be in when you come to own your first car. Granted, it might not be you who is paying the bank every month, especially if you're still young and/or studying. But even for parents who are ready to give the gift of freedom in four-wheeled form, this time can indeed be fun - in a terrifying kind of way.
But it doesn't have to be. Not at all. Not if you know what to look for. The fact is, the privilege to drive is a rite of passage, one of the few we have left in today's society. Access to the open road, to freedom as far as your tank will take you (a point in favour of the the frugal car).
In Malaysia, there are some very clear contenders in this space. For the uninitiated, let's treat these cars all fairly as equals, comparing metrics and objectivity over sheer market dominance. Here we go: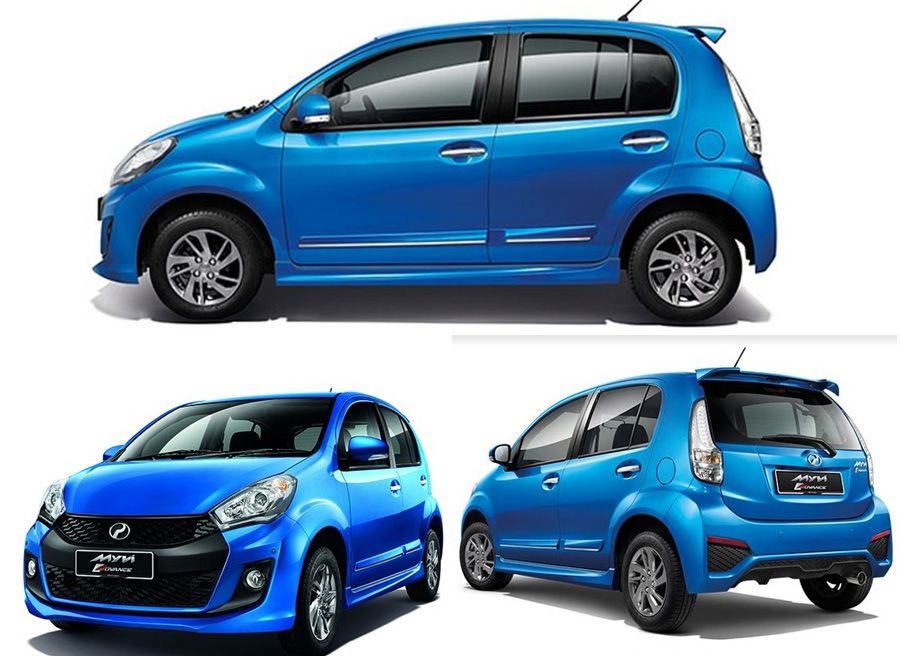 Perodua Myvi
Where else could we start, really? This compact car has been so prevalent on Malaysian roads since its introduction in 2005 that it's difficult to not spot at least one (or twelve) on a typical local road. And with good reason.
The Perodua Myvi has been proven as a staple selection for the Malaysian masses for its affordability relative to what it offers: a roomier-than-it-looks interior, decent build quality, and great value for money. It recently went through a facelift, too.
Prices start from RM41,262 for the base G variant and the top-spec Advance will cost you RM58,368. It is offered in either a 1.3-litre KEV3 four-cylinder engine that's good for 90hp and 117Nm of torque, or a 1.5-litre four-cylinder 3SZ-VE engine producing 102hp and 136Nm of torque – both of which were brought over from the pre-facelift Myvi. A new addition is the e-AT transmission that's offered along the 5-speed manual option, meaning the auto variant's gearbox is now electronically controlled.
However, only two airbags are offered, even in the most expensive variant. And anti-lock brakes (ABS) and EBD (Electronic Brakeforce Distribution) is not standard across the range – available in Premium X and higher. On a positive note, ISOFIX child restraint system is standard in all Myvis.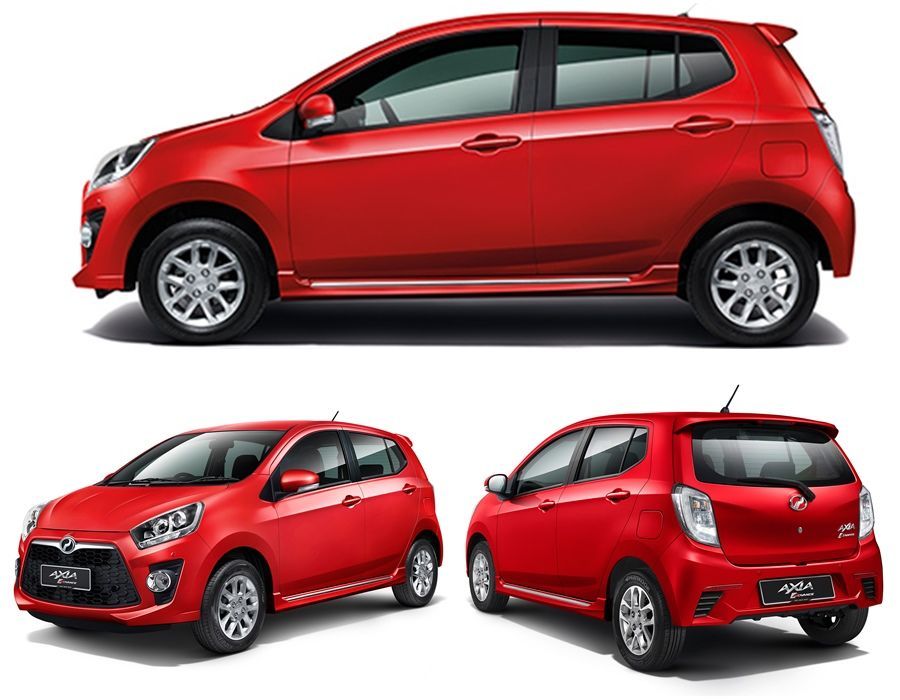 Perodua Axia
The Axia is Perodua's most basic offering, but for the price remains a solid contender nonetheless. Being the most affordable new car in Malaysia as well as the successor to the Viva does raise the eyebrows of the more budget-conscious of us, but at the same time Perodua's omissions raises the concerned eyebrows of others, particularly those who emphasise safety.
Playing second fiddle to the Myvi, you're bound to expect certain features reserved for its more expensive sibling. And you'd be right, particularly in the areas of engine, creature comforts, and safety.
Prices start from RM24,837 for the Standard E variant and can go as high as RM42,377 for the Advance variant. The 1.0-litre 1KR-DE2 3-cylinder engine produces 66hp and 90Nm of torque. Although that will surely return some frugal fuel consumption figures and will likely be adequate for city driving, we suspect it's a little underpowered for the highway.
In terms of space, the Axia's A-segment interior is almost as commodious as the bigger Myvi. Just like the Myvi, too, is two airbags standard across the range. ABS and EBD are only available Axia SE variant and up. If you can afford it, do splurge for the extra safety features. We promise it's money well spent.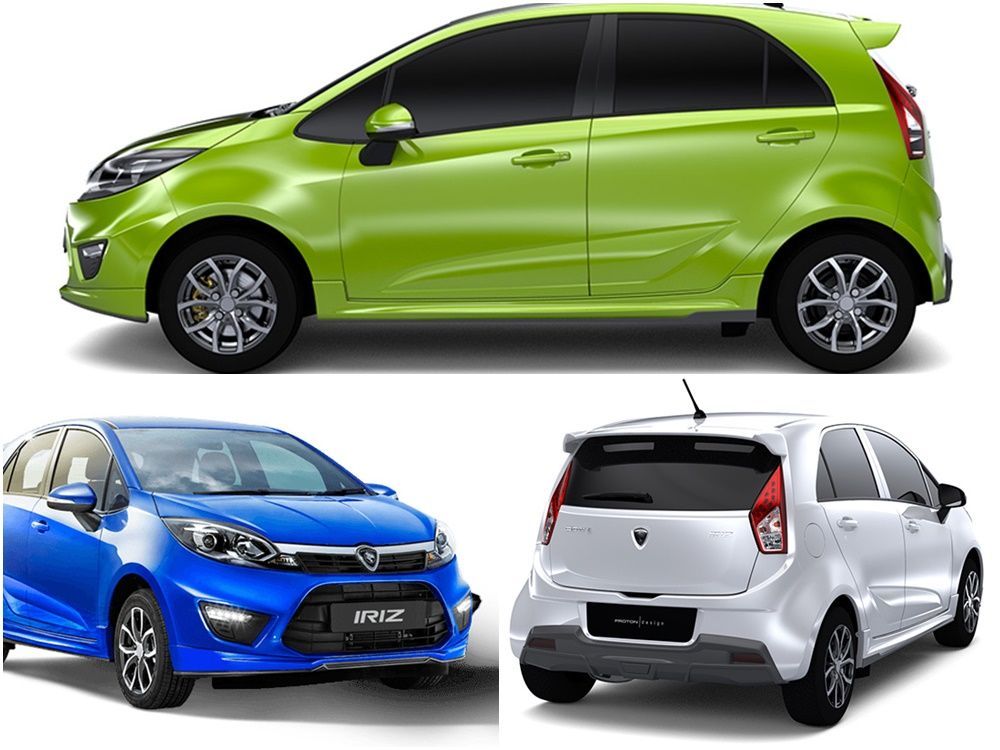 Proton Iriz
This is Proton's newest car that's been built from the ground up, and its entrance to a segment that has been, so far, dominated by the Myvi. Not content with letting Perodua run away with it, Proton puts up a strong fight with the Iriz.
Looks might be subjective but it's safe to say that Proton did place that as a high priority when developing the car. It's not the most handsome car on our roads, but it would certainly make a few Myvi owners a little jealous. Equipment, too, is well provided in the Iriz - material choices are of high quality (for the price) and modern interior comforts are not lacking here.
Prices start at RM41,076 for the 1.3 Standard variant and go up to RM62,168 for the 1.6 CVT Premium, matching the pricing tiers of the Myvi very closely.
Under the hood, you get either a 1.3-litre four-cylinder producing 94hp and 120Nm of torque or a 1.6-litre unit with 107hp and 150Nm of torque. The Iriz is a departure from other Proton Models (besides the Inspira) in that it does not use a CamPro engine. Instead, we find Proton's all-new engines with Variable Valve Timing (VVT). These engines are mated to a 5-speed manual or a CVT (Continuously Variable Transmission).
The Myvi's Achilles heel is where the Iriz comes in to capitalize. Dual airbags, anti-lock brakes, EBD, Electronic Stability Control, Hill Start Assist are among the safety features that come as standard across all Iriz variants. The top-spec 1.6 Premium, however, comes equipped with a generous six airbags.
Proton has done well to produce a car that can stand toe-to-toe with the Myvi, and in some areas surpass it – at least on paper.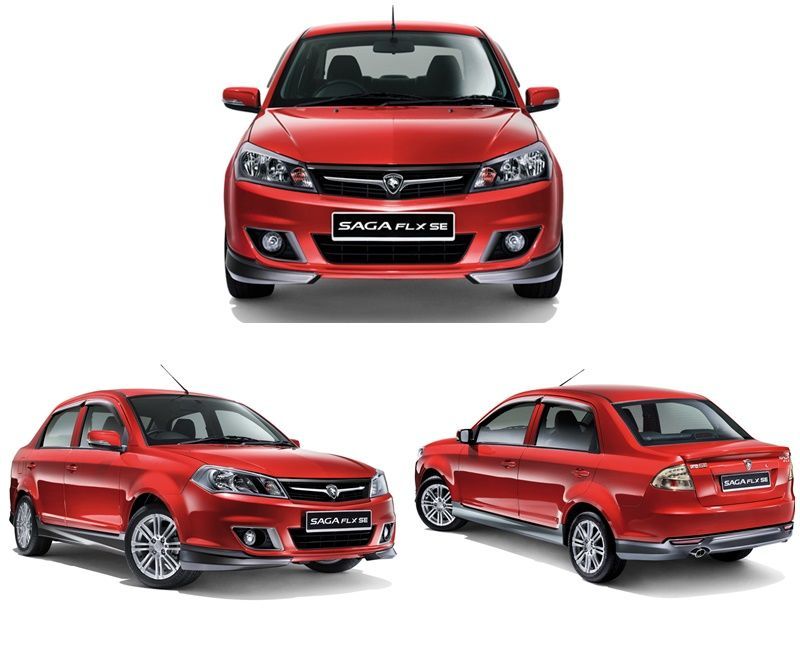 Proton Saga
Proton's longest-running model and entry-level sedan offering has become quite a favourite with first-time car owners and was the main local alternative to the Perodua Myvi before the Iriz came along, winning points for it affordable price and ample boot space.
For new current iteration of the second generation Saga, the FLX, prices start at just RM33,242 for the bare-bones 1.3 SV variant up to RM49,094 for the highest spec 1.6 CVT SE. Power comes from either two CamPro IAFM engines – the 1.3-litre producing 94hp and 120Nm of torque while the 1.6-litre puts out 108hp and 150Nm of torque. Both engine options can be mated to either a 5-speed manual or a Continuously Variable Transmission automatic option.
The base SV (Super Value) model is, as expected, quite barren of features and was made to offer a no-frills car at a no-frills price, but does include central locking and standard immobilizer, reverse sensors, LED turn signals, and a CD player, but not much else.
On the other end of the spectrum, the SE Executive CVT comes with leather seats, leather-wrapped steering wheel, full body kit, electric door mirrors, 15-inch alloy sport rims, and a multimedia head unit that supports MP3, USB, and AUX audio sources.
In regards to safety, it's par for the course with two airbags across the range while ABS and EBD are only made available in the more higher priced variants. As always, we recommend spending that extra amount to get the added safety, if possible.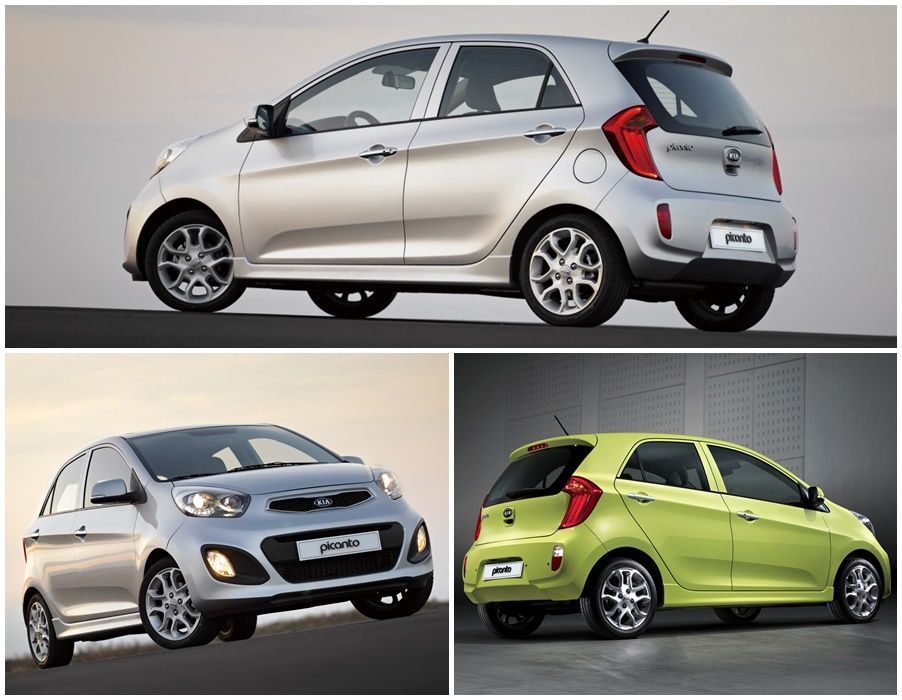 Kia Picanto
The Picanto is the smallest car you can get in Malaysia from Korean automaker Kia, but that doesn't mean you're getting any less for your money, as the little hatchback is packed with features you'd normally have to spend more for – even with local manufacturers.
While it's not the first thought when it comes to looking for a first car, the Picanto does offer some uniqueness in the sea of obvious choices. And Kia has updated it's styling to be quite fun and upbeat-looking.
There's two variants, with the manual option (1.2MT) priced at RM54,888 and the automatic (1.2AT) at RM59,888, which gets front fog lamps chrome-coated outer door handles. While that price point does put it head-to-head with the higher Myvi variants, the Picanto brings quite a lot to the fight. Well, besides out-and-out interior space.
Powering the Picanto is Kia's 1.2-litre Kappa CVVT four-cylinder engine producing 85hp and 120Nm of torque, which is adequate for city driving but won't set any highways ablaze, mated to a 5-speed manual or a 4-speed automatic.
Safety and equipment are where this car punches above its weight. It comes with disc brakes all around, LED daytime running lights, 6 airbags, Electronic Stability Control (ESC), Brake Assist, Vehicle Stability Management (VSM), Hill-start Assist Control (HAC), rear parking sensors, ISOFIX child seat anchor.
Inside there is an audio system with MP3, AUX, USB, and Bluetooth support. However, keyless entry comes with the 1.2AT variant, so does steering controls and six speakers compared to four in the 1.2MT.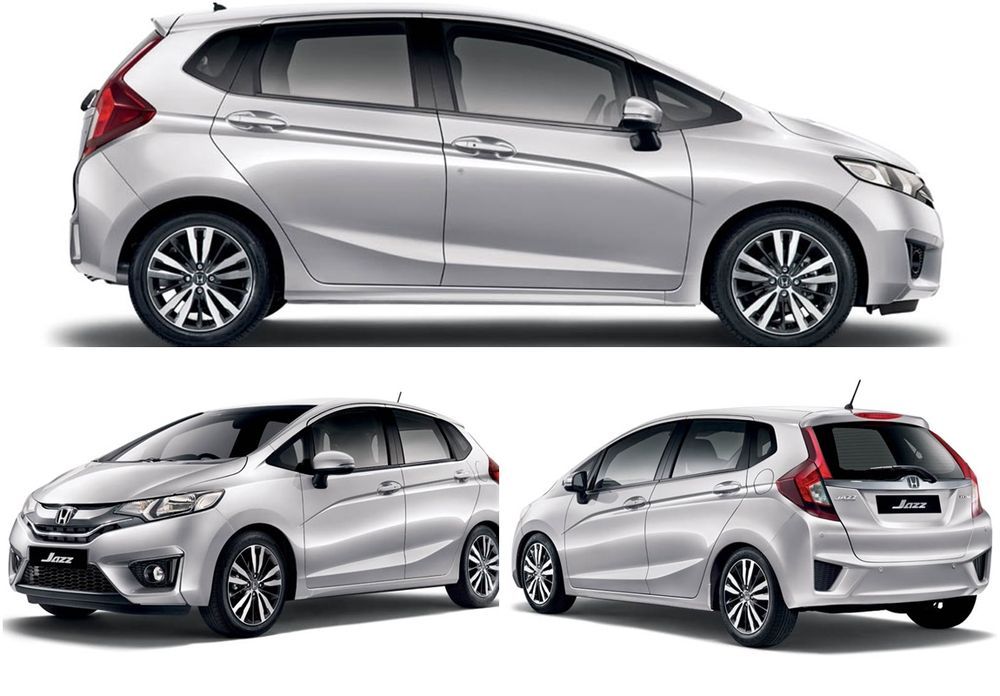 Honda Jazz
Here we are, now onto the Japanese. The sensible would immediately spring for a car from the land of the rising sun, and for good reason. There's lot's on offer.
First up, we have the Jazz – the smallest and most affordable Honda you can buy in Malaysia. Despite that more accessible price point and smaller size, the Jazz offers a commodious cabin and comforts to match the other cars in Honda's line-up. It shares the same platform as the Honda City, after all.
Spaced across three variants – S, E, and V – the base Jazz is priced at RM69,223 while the most expensive V comes in at RM84,020. All three get 1.5-litre i-VTEC four-cylinder engine that's good for 118hp and 145Nm of torque and mated to a Continuous Variable Transmission (CVT), a drivetrain package shared, also, by the City. This makes for a good match of compact size and manoeuvrability with power and fuel efficiency.
Over the course of its three generations, the styling has been updated to deliver a snazzier and more streamlined appearance which does well so separate it from the other subcompacts in the market.
In terms of safety, all variants come standard with dual front airbags, anti-lock brakes (ABS), electronic brakeforce distribution (EBD), brake assist, and reverse sensors, among others. The top-spec V gets six airbags, however.
Honda City
The Honda City, like we've said before, shares quite a bit with the Jazz, primarily the engine and transmission. This B-segment competitor is the most affordable sedan offered by the Japanese automaker in Malaysia.
There are four variants on offer, an entry-level 1.5S costs RM74,007 while the top range 1.5V will set you back RM89,467. The 1.5-litre i-VTEC four-cylinder motor returns here, producing 118hp and 145Nm of torque with power reaching the front wheels through a Continuously Variable Transmission (CVT).
For safety, dual front SRS airbags are standard across the range, together with ABS, EBD, Brake Assist, as well as four-corner reversing sensors. The 1.5E variant or higher gets you Vehicle Stability Assist (VSA) and hill start assist.
15-inch alloy wheels are standard for the lower variants, as are black fabric upholstery, the USB and AUX compatible audio system and power adjustable side mirrors.
Stepping up to the top-spec 1.5V buys more bells and whistles, of course. You get larger 16-inch wheels, side and curtain airbags, front fog lights, cruise control, eight-speaker sound system, and seven-inch infotainment panel, among other things.
Of course, all those features are to be expected from a Honda. The pull of the brand's vehicles are also their famed reliability, high resale value.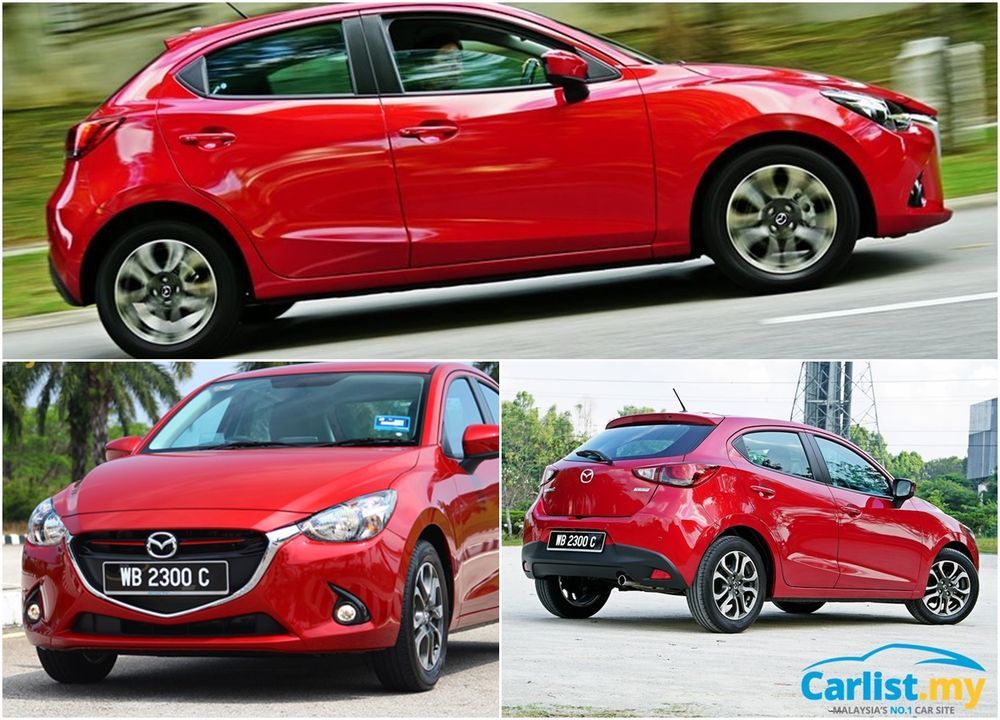 Mazda 2
The Mazda 2 lands in the more sporting side of the B-segment spectrum but that doesn't detract from anything bring to this little round-up. And although those sporting looks and dynamics come at a premium compared to its direct rivals, it does in many cases end up upstaging them.
Priced from RM85,466 for both the sedan and hatchback variants – which are otherwise identical – you'll get a 1.5-litre four-cylinder Skyactiv-G petrol engine that delivers 114hp and 148Nm of torque. A Skyactiv-Drive six-speed automatic channels that drive to the front wheels.
On the outside, Mazda's 'KODO – Soul of Motion' design language is very noticeable, flanked by 16-inch alloy rims, daytime running lights, reverse camera, and electrically retractable side mirrors with integrated turn signals, among others.
Its interior is very well appointed, especially for the price. Leather upholstery, leather-wrapped steering wheel, fully automatic air conditioning, drive mode selector (Normal and Sport), paddle shifters, a head-up display (Active Driving Display), and a seven-inch display that houses the MZD Connect infotainment system with AUX, Bluetooth and USB input support. GPS navigation, however, is a RM1,200 optional extra.
Features aside, the interior feels very well put together, with details placed with thought and consideration. From the material choices to the contrasting red-on-black stitching. The cabin is a nice place to be.
On to safety: the Mazda 2 features dual front airbags, Dynamic Stability Control (DSC), Traction Control System (TCS), Electronic Brake-Force Distribution (EBD) with Brake Assist (BA), keyless entry, and Hill Launch Assist – an impressive list.
---
---
---
---
Comments