2016 Mercedes-Benz A-Class Facelift Debuts: More Power, More Tech
所有资讯 As the Goodwood Festival of Speed is well underway, Mercedes-Benz has just revealed it new 2016 A-Class range. The compact hatch has been fitted with an update to its styling, more power, and lots more tech.
We understood for a while now that the A 45 AMG, also updated, was due for a run up the Goodwood hillclimb challenge, so in conjunction with that reveal, here is Mercedes-Benz taking it all off for us (you can check out the new AMG A 45 here as well). So let's take a look at what's new, starting with…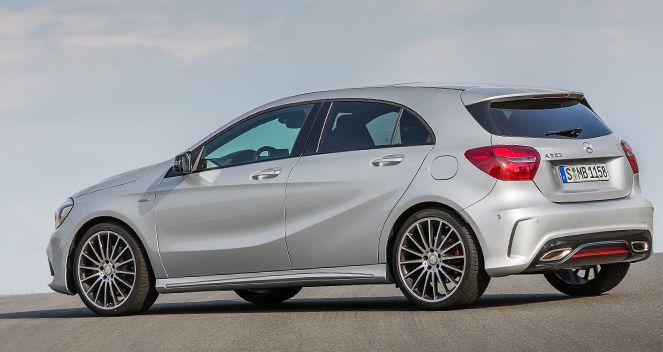 Performance and Powertrains:
Making the model even more affordable than before is a new entry-level version of the A-Class hatch, the A 160. The new petrol powered entry-level variant packs a 1.6-litre four-cylinder engine that makes just 102hp and 180Nm of torque. There's also a new A 180 d ('d' standing for diesel), which is the company's latest fuel-saving champ A-Class: returning 3.5-litres/100km, whilst emitting just 89g/km of CO2.
The rest of the engine line-up appear to have been given more power. The popular A 250's 2.0-litre turbocharged four-pot for example, has been tweaked for 7hp more than before – the A 200's 1.6-litre remains unchanged.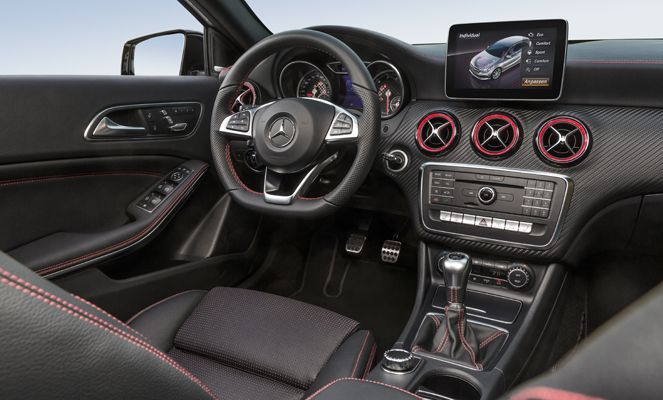 Interestingly, Mercedes-Benz is for the first time offering their A 250 variants with a manual transmission. They haven't revealed how many cogs just yet, but from these images, it looks like six. As a six-speeder manual, the A-Class does away with Benz's latest Direct Select Shift gear stalk on the steering column, and is seen with a conventional gear lever rising up from the centre console, replacing what is a storage box on the automatic variants.
For the A-Class variants equipped with the good ol' 7G-DCT dual-clutch automatic transmission, Benz has updated it with a new Launch Assist function – we don't have to tell you what this does for you, do we?
The Dynamic Select drive modes are also now available for the A-Class, which allows drivers to choose from Comfort, Normal and Sport modes that shake up throttle response, the adaptive suspension and gear shift points, rather than before, where only transmission mapping was possible.
Click this link for the AMG A 45.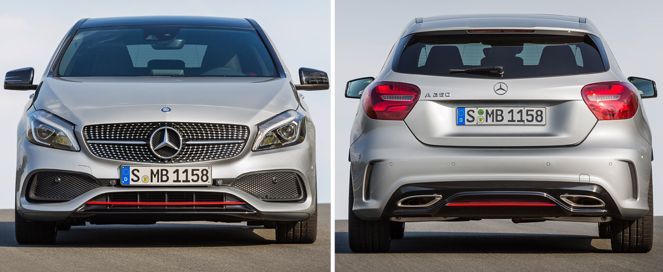 Exterior Styling Updates:
The front-end of the new A-Class appears to be a lot more narrower than the pre-facelift version, largely because of the new arrow-shaped front bumper – reminiscent of the Concept A-Class that previewed the coming model back in 2011.
The headlamps themselves have been redesigned, and here, are equipped with the optional LED High Performance kit from Benz – standard stuff on the A 45 AMG.
Around the rear, the taillights have been redesigned, and if you look further downwards, the exhaust tips are now integrated into the rear bumper.
As always, different design lines will change up the look of the baby Benz, and one of these new lines include a special Mercedes-AMG PETRONAS Formula 1 themed kit, called the Motorsport Edition – more on this below.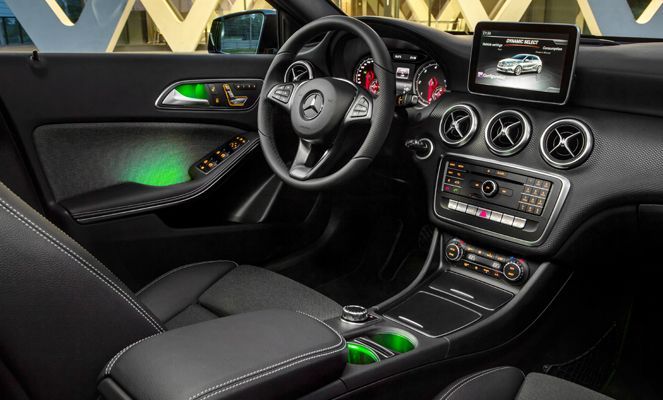 Interior Design, Luxury & Tech:
Moving inside, new interior colours and materials are available, as well as finishes for the trim in the dashboard. These include a sahara beige/ black leather in the Exclusive package and a new seat design with red or green highlights in the Style line. Speaking of the seats, Benz says that refinements for its new A-Class are so meticulous, you may not even notice that they've added new seat cushion depth adjustment by up to 60 mm – a standard feature in all equipment lines.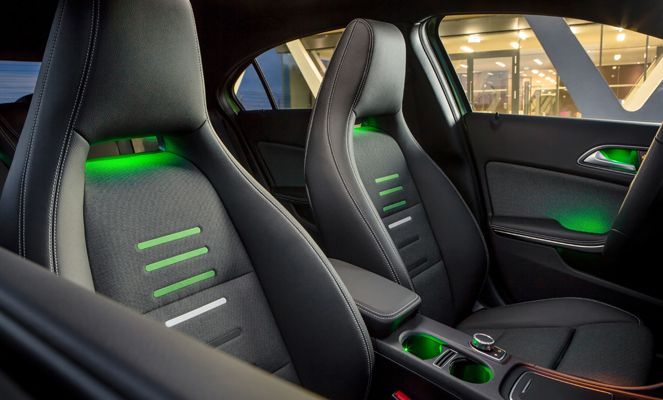 As expected, the instrument panel has been updated with new graphics and galvanised switches. The free-standing display screen can also now be specified to a 8-inch version, utilising the COMAND Online option. For the infotainment, Benz has updated its systems to feature Apple's CarPlay, and also MirrorLink technology – these two only become available in 2016.
Just like the B-Class was treated to on its facelift, the new A-Class also gets the option of ambient lighting with up to 12 different colours with five dimming levels to choose from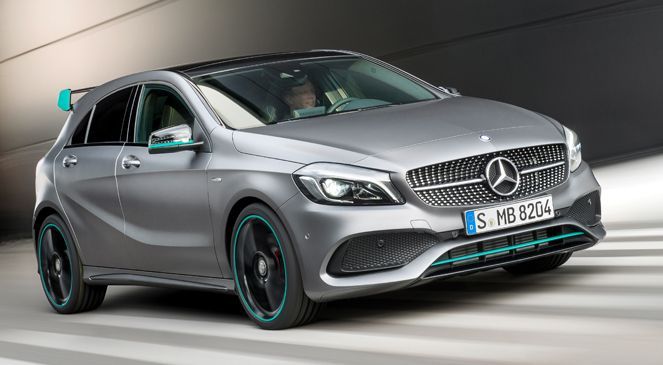 Motorsport Edition:
Available for all variants from the A 200 and upwards (except the A 45 AMG), the Motorsport Edition brings with it's a whole lot of "petrol green" paint, particularly around areas of the front and rear bumpers, the wing mirror exteriors, and the AMG wheels. There's also an AMG rear wing, if you specify an A 250 variant as your choice.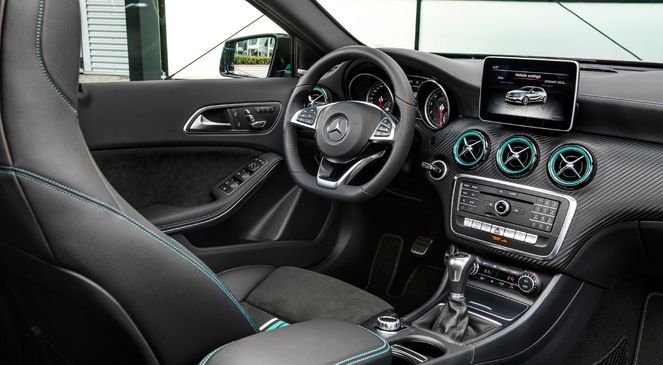 It's more of the same inside, with the bright shade of green stitched into the upholstery, and surrounding the three circular air-vents on the dash. Just like the AMG line, a black leather/DINAMICA microfiber upholstery is used.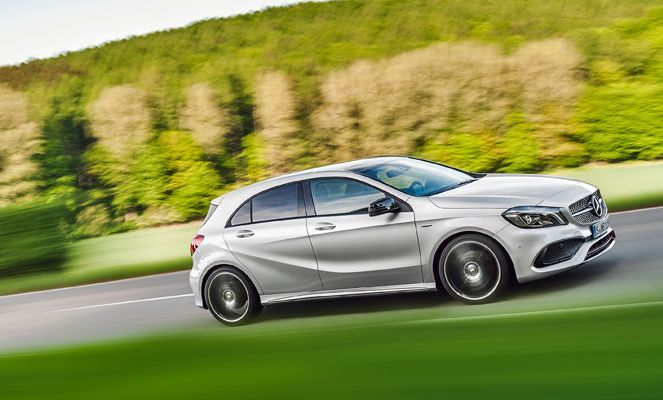 Coming to Malaysia?
You bet. When? We can't say for sure. Together with this announcement, Mercedes-Benz say that in Europe, customers may place their orders from July 3, while showrooms there are only expected to see the car in September this year.
For Malaysia, we imagine a slightly later date for the A-Class's arrival. Surely, it will come, given Mercedes-Benz Malaysia's successes with their compact models locally. While 2016 is looking like the year of the SUV for MBM, we won't be too surprised to them launch their A-Class here as well.
UPDATE : The 2016 Mercedes-Benz A-Class Facelift has now launched in Malaysia!
---
---
---
---
留言