Bangkok 2015: 200 g/km Is The Goal For Pick-Up Trucks
所有资讯 Starting 1-January 2016, Thailand will be replacing its existing engine capacity-based excise duty structure with a new CO2 emissions-based structure. As a results, some cars will see a reduction in prices, while others will see an increase.
Pick-up trucks and their SUV derivative models, by virtue of their heavy bodies, are the most likely to be affected. Together, this Hilux-Fortuner class of vehicles contribute about 50 percent of Thailand's total new vehicle sales.
In Thailand, pick-up trucks and their SUV counterparts (referred to by Thai authorities as PPV, for pick-up passenger vehicles) are often grouped together as the same category of cars.
Models that emit more than 200 g/km of CO2 will see their excise tax raised by between 2 percent (from 3 percent to 5 percent for single-cab and space-cab models), 3 percent (from 12 percent to 15 percent for double cab models), and 10 percent (from 20 percent to 30 percent for PPVs).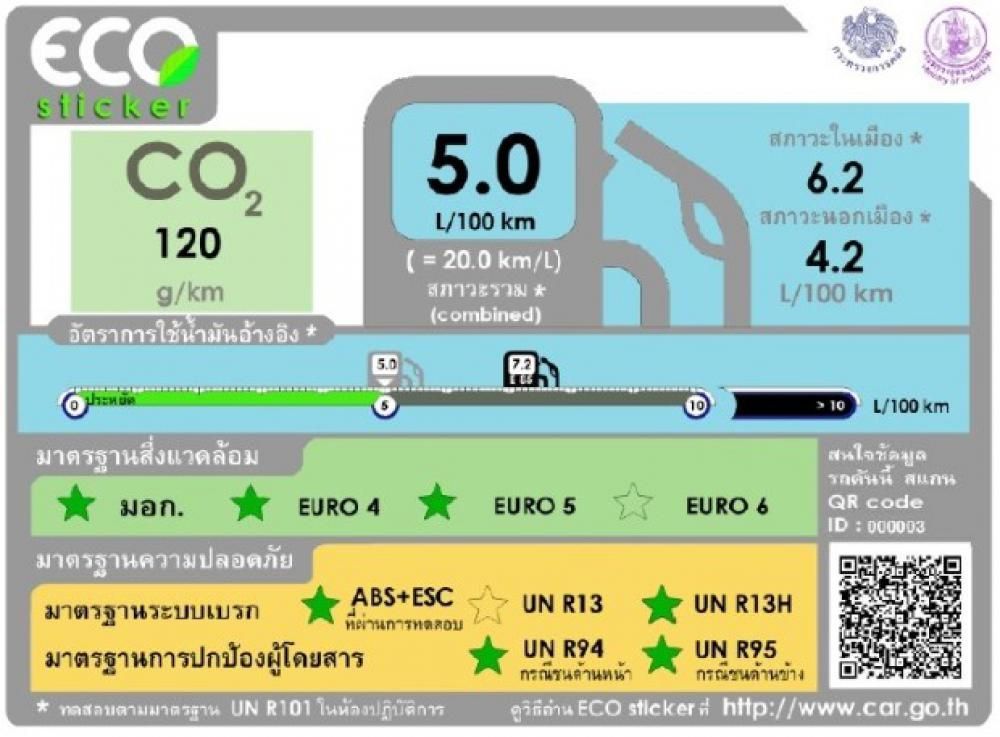 At the same time, starting 1-October 2015, all new vehicles sold in Thailand must have a so-called 'Eco-Sticker' pasted in their windows/windscreen when the vehicle is put on display for sale.
The A4-sized eco-sticker is a new directive issued by Thailand's Ministry of Industry, and shows not just the vehicle's CO2 emissions, but also claimed fuel consumption when tested under the UN R101 standard (similar to Europe's NEDC), fitment of key active safety features like ABS and ESC, as well as compliance to key UN safety standards, namely R13 and R13H (braking performance), R94 (frontal impact protection) and R95 (side impact protection).
At the recent 2015 Thailand International Motor Expo, several Japanese manufacturers were seen displaying their pick-up truck and SUV models with their eco-sticker affixed, which was odd as the cars were put in display at a motor show and not on a dealer's lot and thus the eco-sticker was not required by law.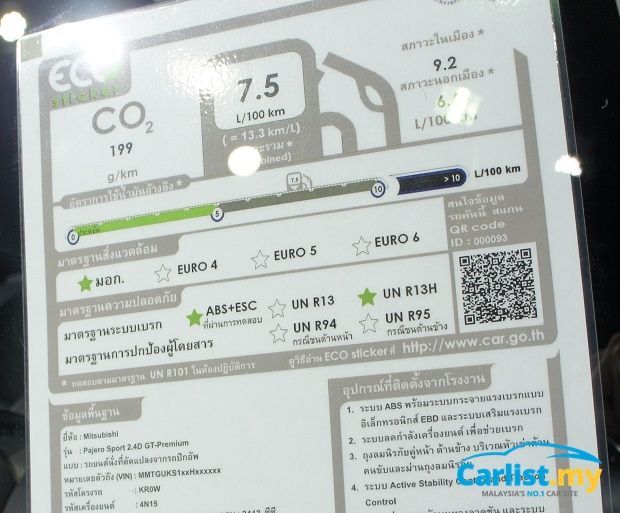 A quick look at the eco-stickers explained why – they all had their CO2 emissions below the 200 g/km – meaning that these models will not see any increase in price come January 2016.
The three leading Japanese brands in the segment – Isuzu, Toyota and Mitsubishi, have been busy rushing out their latest generation of clean diesel engines to meet the 1-January 2016 deadline.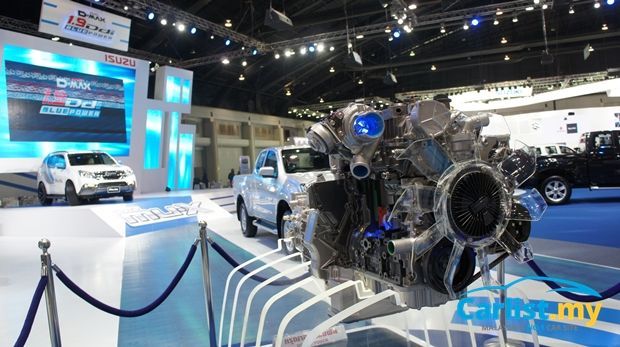 Isuzu's new 1.9-litre, 150 hp, 350 Nm BluePower dDi D-Max was most impressive, producing just 161 g/km of CO2, well below the 200 g/km limit, while producing more power than the previous 2.5-litre engine.
The new 3.0-litre D-Max have also been tweaked to produce just 196 g/km.
It's the same story with Mitsubishi and Toyota – both brands were proudly displaying the eco-stickers for their Triton and Pajero Sport, as well as Hilux and Fortuner models respectively.
The Thailand market all-new Triton and Pajero Sport are powered by an all-new 2.4-litre MIVEC engine, which is different from the 2.5-litre unit fitted on our local all-new Triton model. The more expensive, more sophisticated 2.4-litre aluminium block MIVEC diesel engine was necessary to keep CO2 emissions at 199 g/km for the Pajero Sport and 186 g/km for the Triton.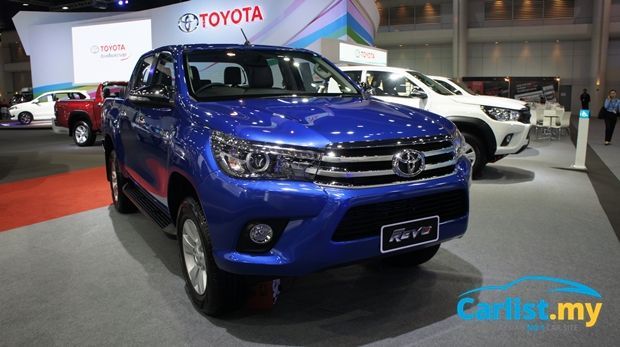 Toyota's Hilux and Fortuner is powered by an all-new 2.8-litre engine, which emits 195 g/km of CO2 in the Hilux, and 191 g/km in the Fortuner. The Fortuner comes with idle start-stop function.
Ford however, have yet to announce the CO2 emissions for its new Ranger and all-new Everest models.
It is not known yet if this new generation of clean diesel engines from Mitsubishi, Toyota and Isuzu will be made available for Malaysia.
Keep in mind that these cleaner diesel engines have very sophisticated emissions control systems which are very sensitive to sulphur content in the fuel. Thailand has mandated Euro-4 diesel but Euro-5 diesel is commonly available nationwide while in Malaysia, the standard is still Euro-2M but Euro-5 diesel is available in some major cities.
Also, these engines are also likely to be more expensive. In Thailand, it makes sense to introduce them as the added cost are counterbalanced by a lower excise duty. As it is in Malaysia, pick-up trucks are already exempted from excise duties so there is little room for prices to go down any further.
The recent downtrend of our Ringgit has pushed up prices of new models, as seen by Edaran Tan Chong Motor's move to limit the all-new Nissan Navara's 190 PS engine only on the highest specifications RM120K VL-grade model. Mitsubishi Motors Malaysia have also warned there will be a slight increase in prices for some of its models next year.
Related:
2016 Will Be The Year of SUVs And Trucks – Here's Why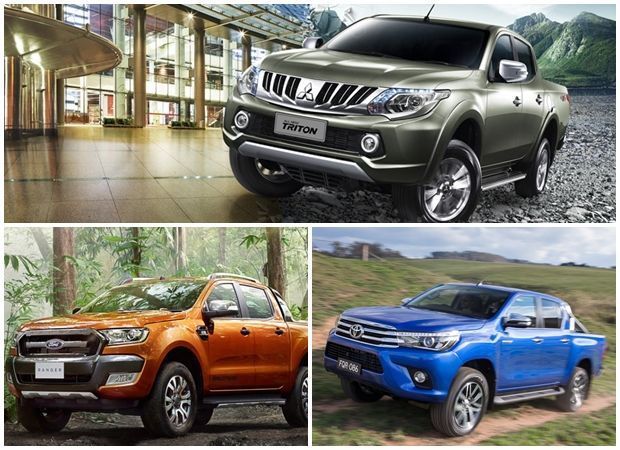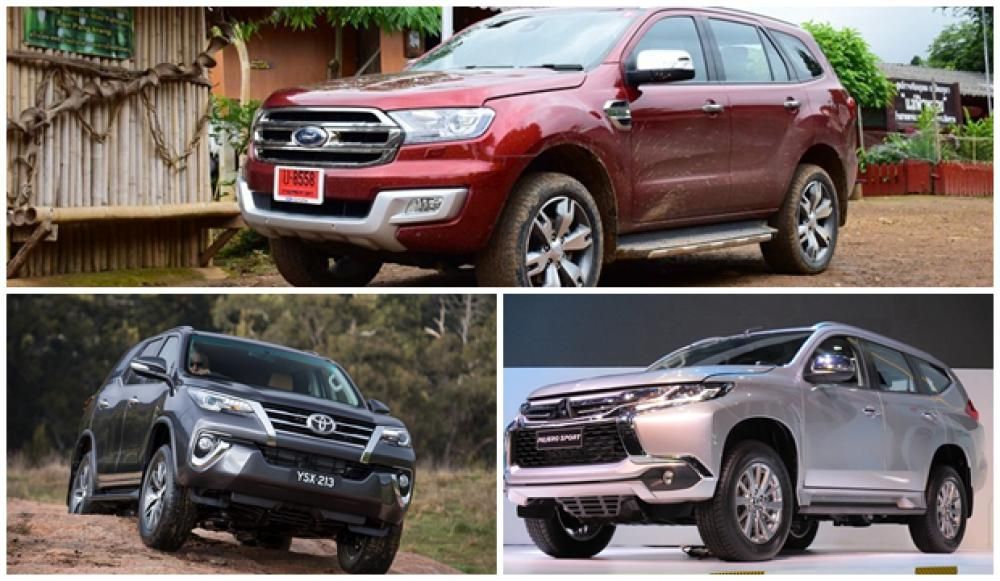 ---
---
---
---
留言