I Can't Explain Why I Love The 2021 Toyota Mirai, But I'll Try
汽车专题 Toyota made a driver-centric hydrogen fuel cell four-door coupe, and I'm in love. Yes, it's true, I cannot really explain why I think the 2020 Mirai is one of the most significant cars to come out in the last 10 years, and it seems only apt that we had to wait so long into this decade to enjoy it - but I'll try to anyway.
---
The finished production version was only recently launched in Japan and California with more markets to follow, provided they have some existing or future production infrastructure or network of hydrogen filling stations.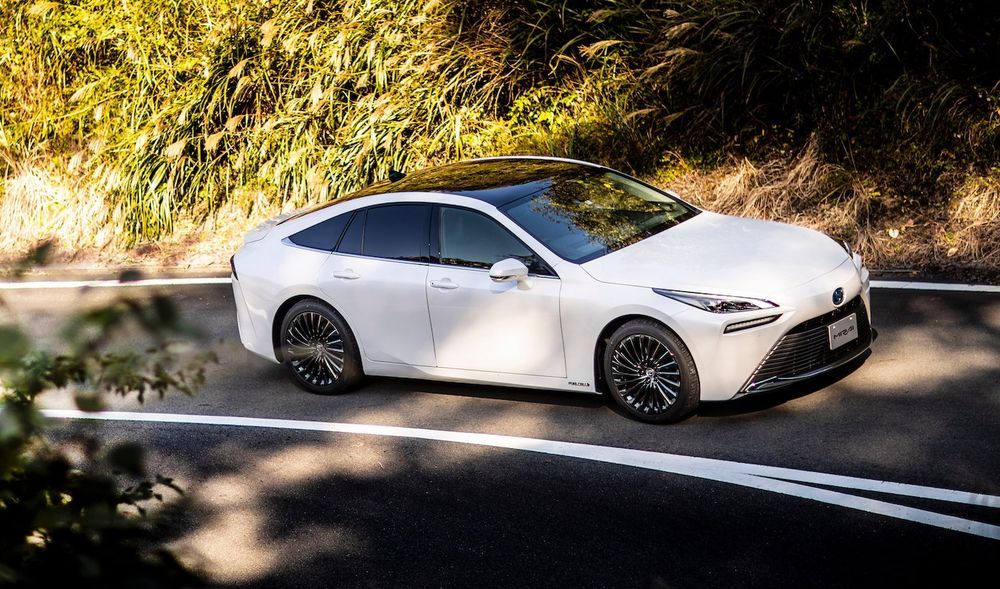 I haven't driven it yet, unfortunately, but regardless of how that experience might go, I don't expect it to colour my high opinion of it or my adamance that the world needs more desirable hydrogen fuel cell vehicles out on the roads. Much the same could be said about the Honda Clarity or the first-generation Mirai, but for some reason those cars don't hold the same emotional sway.
Hydrogen fuel cells as a technology holds a lot of promise, so much so that harnessing it to its full potential has the capacity to not only solve the looming fuel crisis but the world's energy needs too. This is because it eliminates the crucial step of energy storage and distribution into something that resembles the fuel we use today.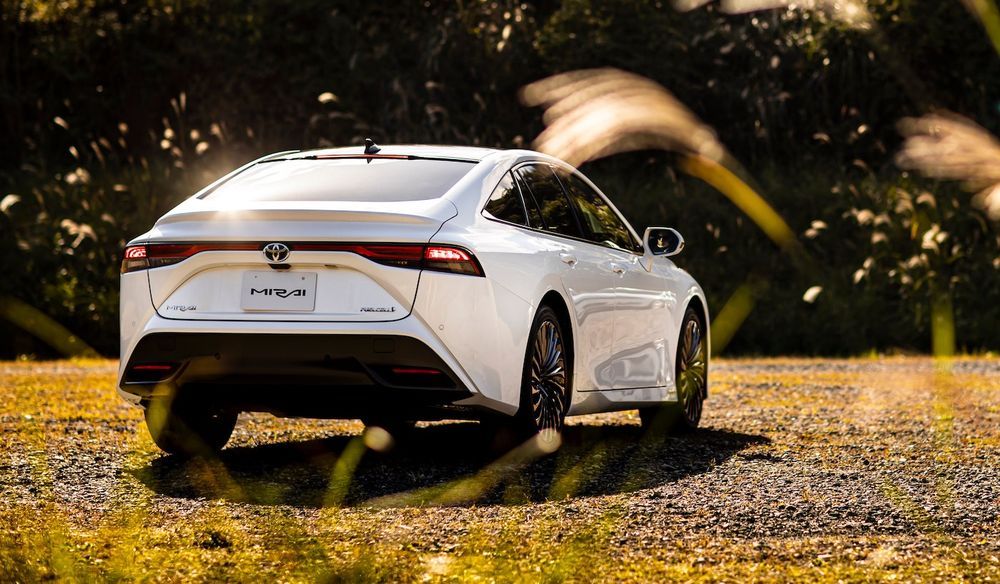 Instead of having to deal with the different voltages and wattages and charge waiting times of a battery-powered electric vehicle, a hydrogen fuel-cell vehicle lets you simply refill the car with hydrogen, the most abundant element in the universe, at a filling station identical to the ones we use today.
Best of all, that tank is just a tank - albeit one that can be pressurised. It won't inexplicably lose its holding capacity over time or cost you half the vehicle's price (or more) to replace or eat up our Earth's precious sources of non-renewable lithium.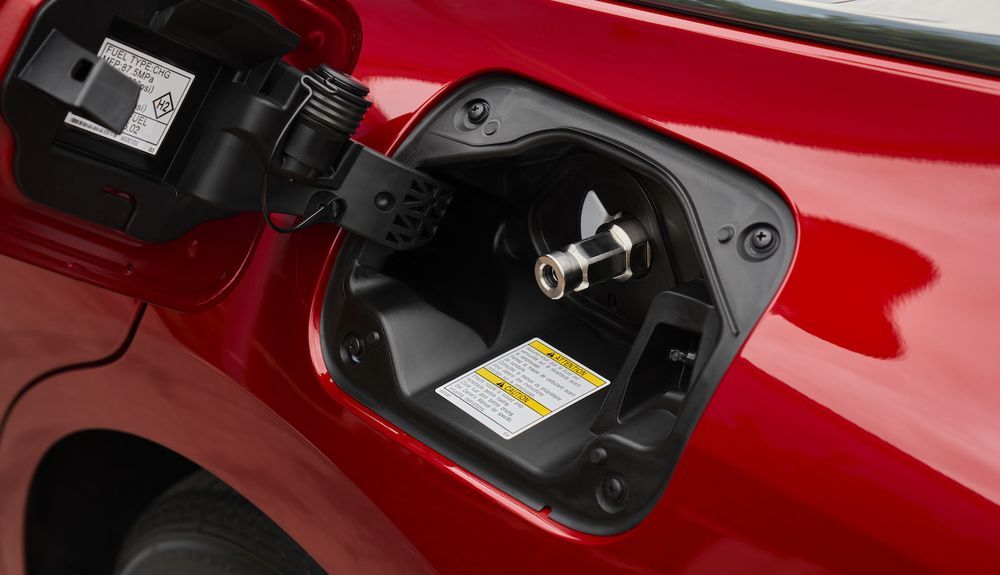 In a few minutes, your tank is full, and the car is now capable of driving for many more hundreds of kilometres. That's the wonderful simplicity of an FCEV, and with the second-generation Toyota Mirai, this technology now has the beautiful and technically advanced ambassador it always deserved.
When Toyota revealed the all-new Mirai at the 2019 Tokyo Motor Show, it was hard to believe that the company was being serious. The car was a huge conceptual and design departure from the previous version that could have passed off as their next-generation GR saloon, only coloured blue and more subdued with its more aggressive cues.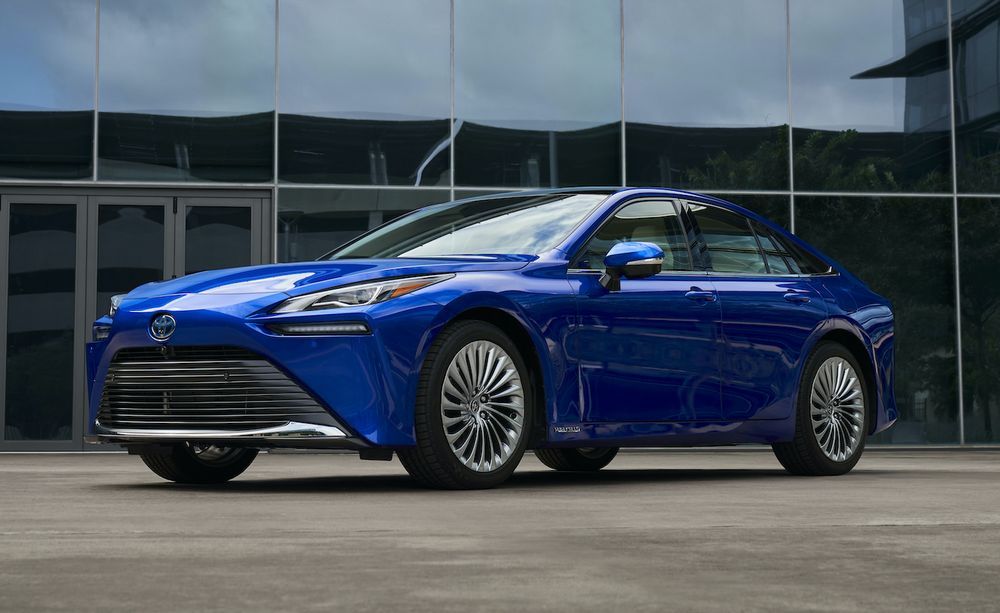 Toyota finally recognised that FCEVs desperately needed a PR overhaul, and that their first and boldest assault plan was to be spearheaded by a sleek and sexy all-new car. It keeps the name, sure, but that long bonnet, sloping fastback-style roofline, large alloy wheels, low centre of gravity, rear-wheel drive layout, and near 50:50 weight distribution are entirely unnecessary if maximal interior space and a compact (i.e efficient) footprint were the only goal.
This new Mirai sits on the TNGA-L platform which happens to also underpin the flagships Lexus LS luxury saloon and Lexus LC two-door grand tourer, so there's no doubt that Toyota wanted its occupants to be well served by the best architecture it has for luxury and driving dynamics. They knew what they were doing.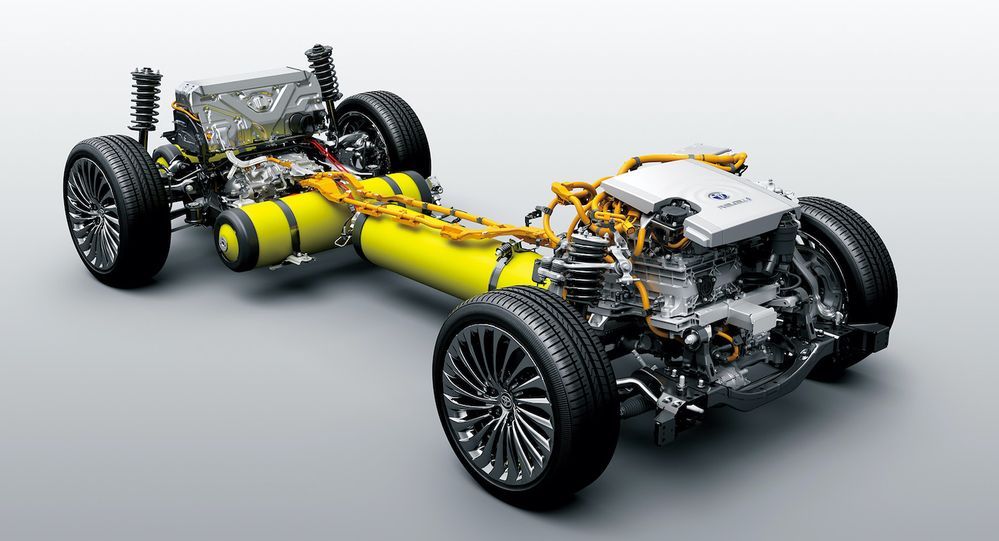 Untethered by the previous car's disjointed set of priorities, the company's fuel cell powertrain now truly has a stage to shine. With the electric traction motor placed at the rear axle, there is some shuffling to distribute the various components. Ironically, despite this new version being a significantly larger car overall, the switch to RWD has meant a hydrogen fuel-cell stack that is lighter and smaller than its predecessor.
In its utilising the stored compressed hydrogen to generate electricity with water vapour as a byproduct, the 2020 Mirai can access an instantaneous 182hp and 300Nm via its single rear electric motor. A new lithium-ion battery stores any excess electricity generated from the hydrogen fuel cell as well as that recouped by the car's regenerative braking system.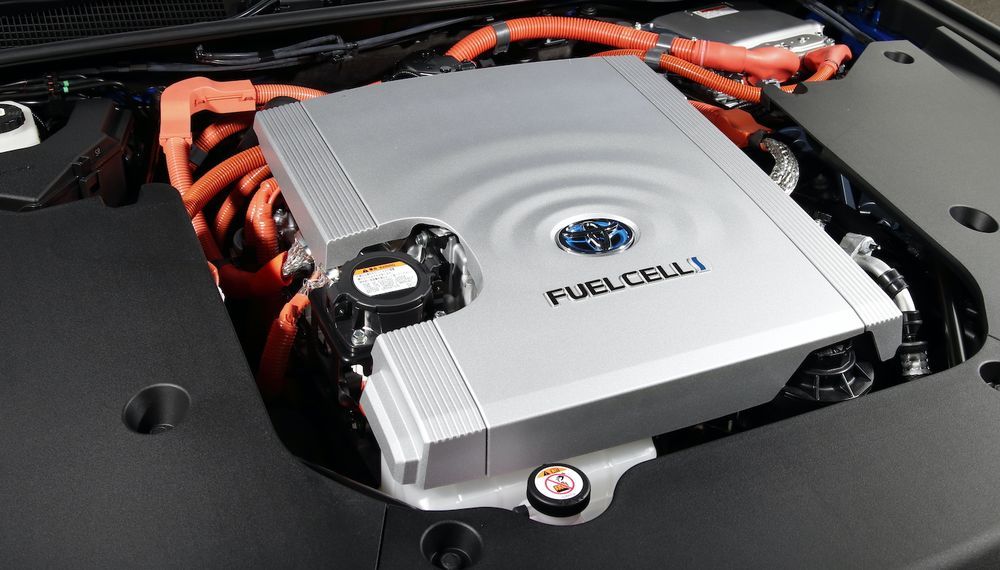 While power is raised, torque is down by 35Nm over the older model. However, thanks to revised gearing and a better weight distribution, this 2020 car is able to put more of that twist onto the road and boasts quicker acceleration as a result. Another upshot of its layout is the doubling of the Mirai's hydrogen storage reserves, resulting in a claimed 30 percent increase in driving range to beyond 650km.
Still, with 9.2 seconds needed to sprint to 96km/h from rest, its performance isn't anywhere near a match for the battery-powered Teslas and Porsche Taycans.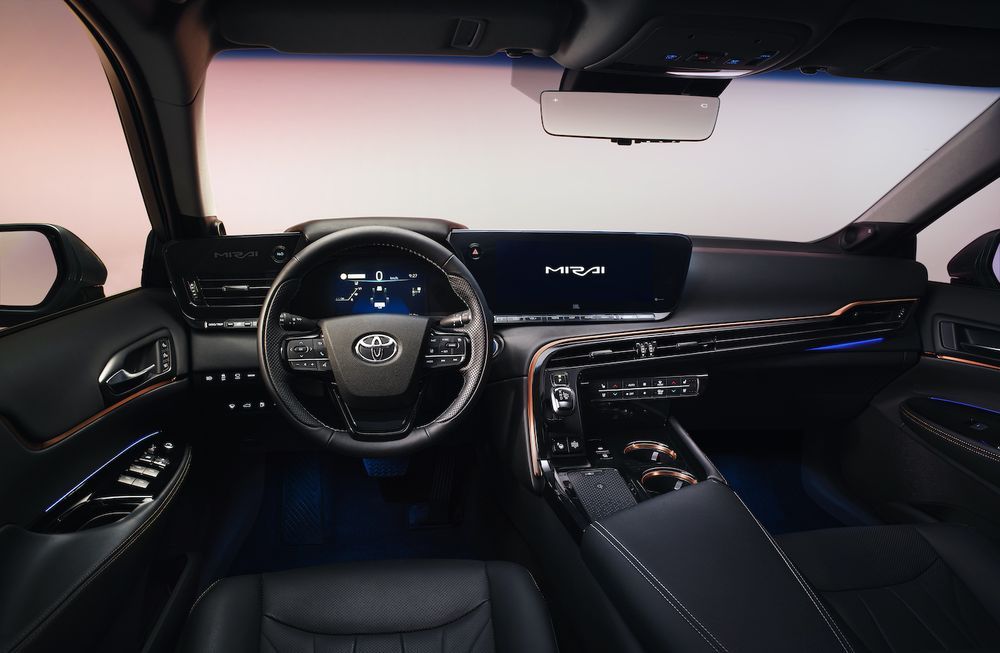 This is perhaps the biggest reason why Toyota was hard set on using the most capable architecture available to them so that, even if the Mirai wasn't competitive on raw speed and acceleration numbers, it would have put its best foot forward with an impressively nimble and athletic handling matched to class-leading refinement and comfort.

Now with this car as its new figurehead, the FCEV has its best chance yet at carving a solid foothold in an automotive landscape edging to more sustainable solutions. Though Toyota and other automakers have been chipping away at the technology, we've only scratched the surface of what this hydrogen fuel cells are capable of delivering.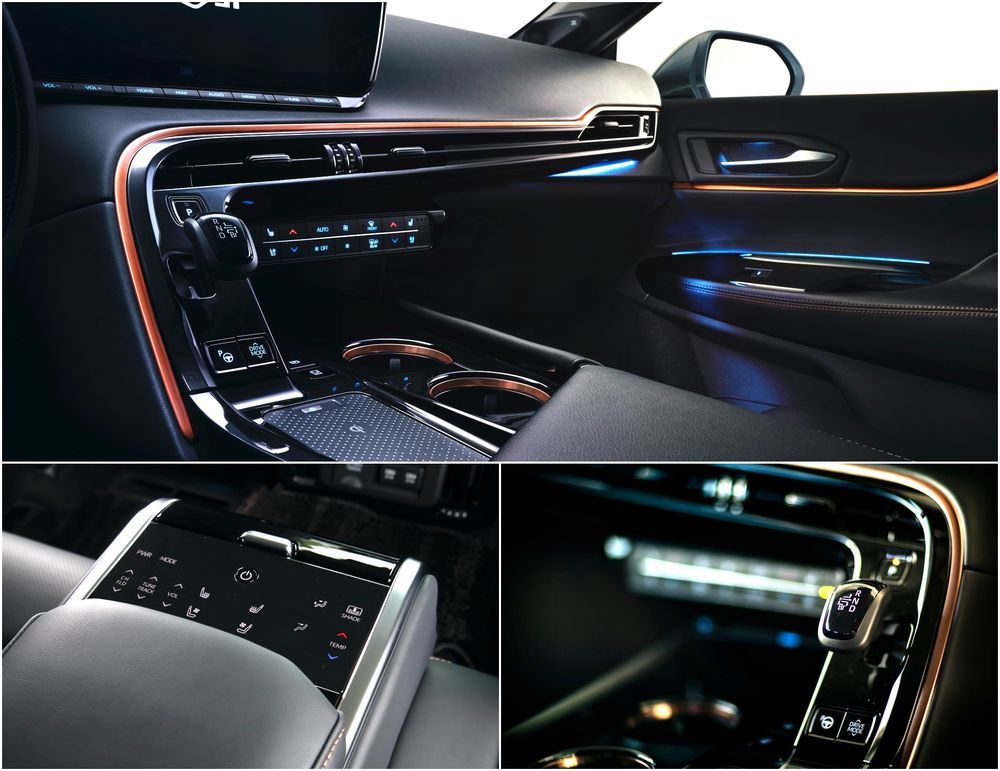 This is the first car of its kind to bridge the consumer divide and make a compelling case for itself to the average car buyer. The emotional component of the Mirai's appeal can't be overstated, but it follows that up with a package that also offers effortless luxury, safety, practicality, fun factor, and zero emissions. If the network of hydrogen filling stations can keep up, the Mirai could change the world. And I still cannot wait to drive one!
---
---
---
---
留言