Is The BMW (E39) 5 Series The Best There Ever Was?
购买指南 Every child of the 80s and 90s will reminisce immortalising their poster car with cutouts from magazines and newspapers, slapped on the walls of their bedroom before telling themselves they would one day own and drive them.
---
Some, like the Lamborghini Miura and Ferrari F40, were loved for their looks and awesome power, some perhaps had stuck on a Mercedes-Benz 300SL Gullwing for its storied heritage and rarity, others perhaps glorified cars for their racing heritage… the Subaru Impreza 22B or BMW E30 M3 comes to mind. They were era-defining cars – celebrated for their singularity of purpose, thoroughbred lineage and of course because they were so damn cool!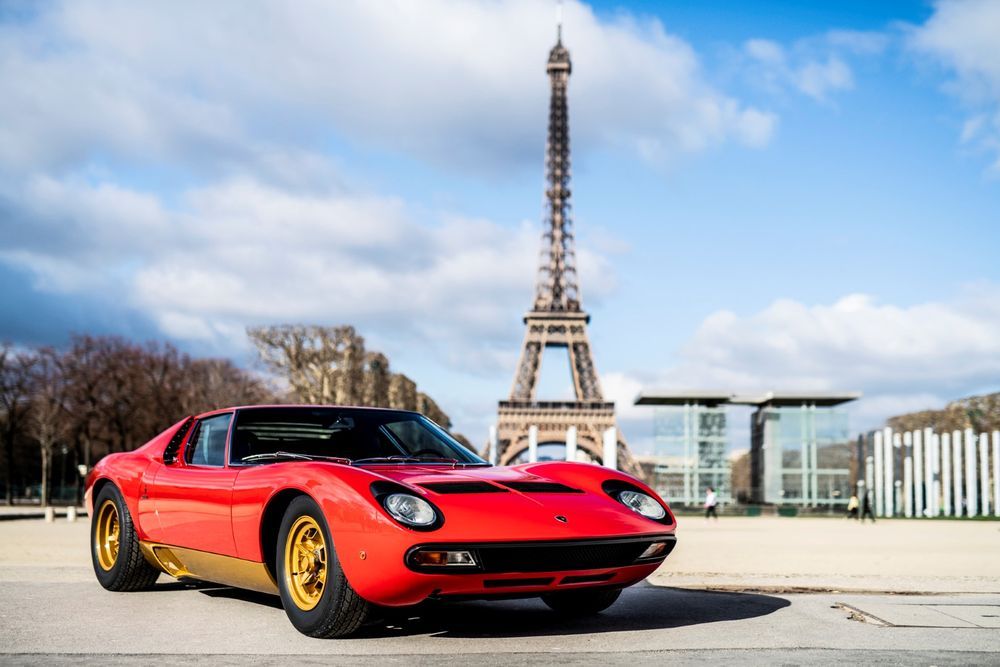 However, while we all had our poster cars, we also had our dream cars – the cars we would actually see on the roads. These were the tangible aspirations that we could actually own one day, perhaps had the chance to sit in…the Mercedes-Benzs, the Bimmers, even the Alfa Romeos. These cars may not have been rare or extremely powerful, but were revered for being the best in their class. A generation of machines, lauded the world over for their intrinsic ability and loved everlasting because they were immortalised as their model's respective high points all those years ago.
The BMW 5 Series is undoubtedly one of those cars that would have left a lasting impression on many young hearts.
A heritage of style and substance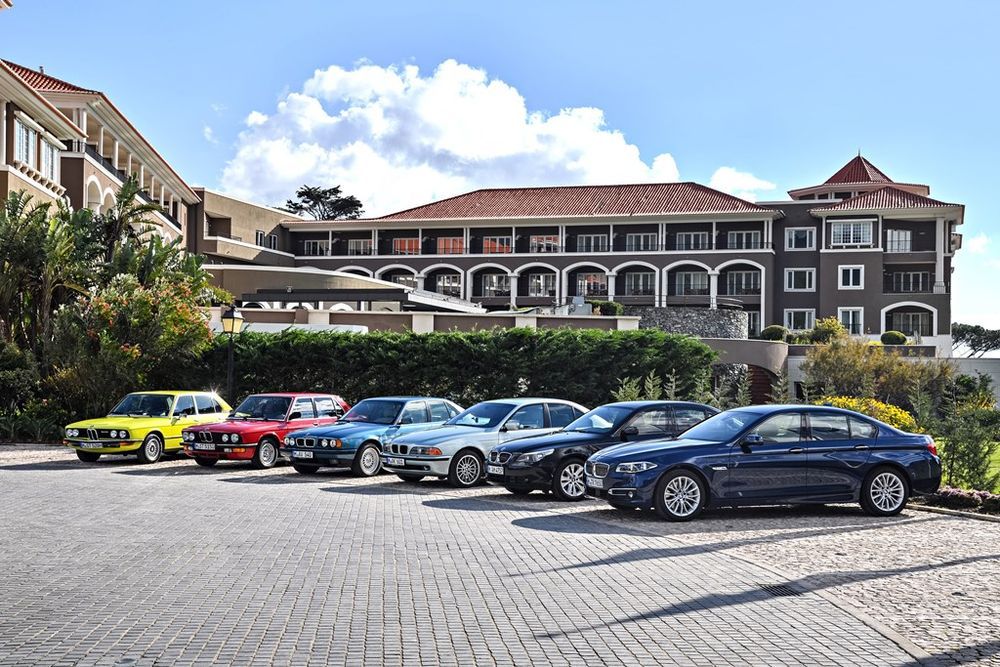 Through its multiple reincarnations, the BMW 5 Series has consistently reinvented itself as a segment leader in offering unrivalled driving performance and elegance among its peers. Today, the 5 Series is seen by many as a highly aspirational vehicle. New or used, a BMW 5 Series is one of those cars that appeals to both the heart and mind.
With a lineage spanning back to 1972, the BMW 5 Series has earned a reputation for being the go-to sedan for its sublime balance of style, performance, practicality and of course thrilling driving performance. Through a plethora of engine choices and variants, to sedan and wagon body styles (starting with the E34-generation), there was a 5 Series to meet almost anyone's needs – from businessman to the performance-oriented enthusiast driver.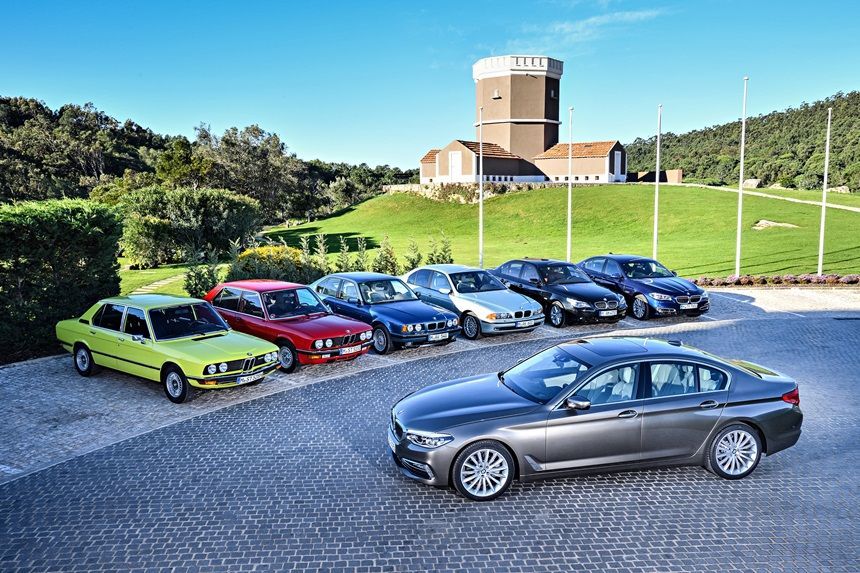 There have been seven-generation of the BMW 5 Series since its inception:
1st Generation – E12 (1972 – 1981)
2nd Generation – E28 (1981 – 1988)
3rd Generation – E34 (1988 – 1996)
4th Generation – E39 (1996 – 2003)
5th Generation – E60 (2003 – 2009)
6th Generation – F10 (2009 – 2016)
7th Generation – G30 (2017 – Current)
Of course, every generation of the 5 Series has brought new innovation, improvements in refinement and better performance – however, one generation stands out as an enthusiast favourite, celebrated for the purity of its driving dynamics, and timeless elegance – the fourth-generation 'E39' 5 Series.
Overview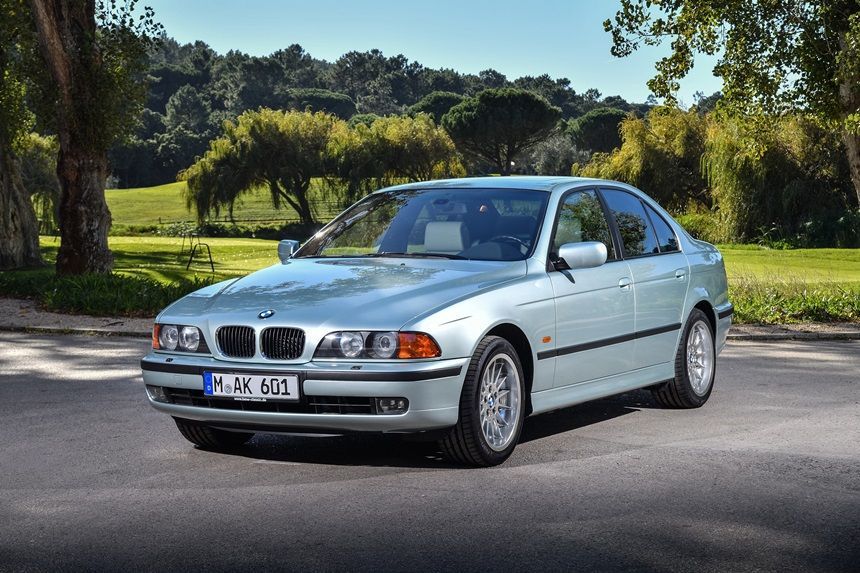 First shown at the 1995 Frankfurt Motor Show, the E39 made its way into Malaysia the following year. Both design- and engineering-wise, the E39 was a massive advancement from the preceding E34 model. Power came from a pair of six-cylinder engines from the M52 Single VANOS engine family, displacing 2.5 litres in the 523i and 2.8 litres in the 528i.
A highly sophisticated vehicle even by today's standards, the E39 came fitted with advanced features such as electronic stability control and was one of the earliest cars in the market to offer Adaptive Transmission Control and Steptronic 'manual' shifting for its automatic transmissions.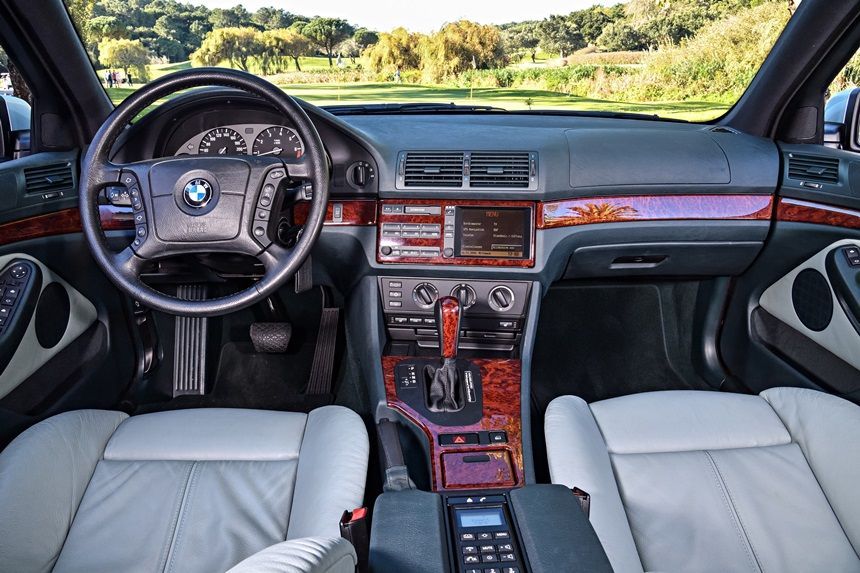 Major advancements were made in the E39's body construction, which featured almost complete usage of light alloy in its construction, achieving between 40 and 50 percent increase in stiffness, better durability, with minimal weight penalties. The E39 also marked a switch in the steering system from the old-fashioned ball-and-nut system to a more contemporary hydraulic assisted rack-and-pinion setup (V8 powered variants retained the recirculating ball setup).
The E39 received its midlife facelift in 2000. Besides an uplifted appearance, the updates also introduced new Double VANOS engines from the M54 family to replace the existing M52 series. The new engines offered similar levels of power from a slightly reduced displacement which, in Malaysia, translates to lower annual road tax. The revised line-up consisted of the 2.2-litre 520i and 2.5-litre 525i. Above them, a new 3.0-litre 530i range-topper was added to the roster. There are also very small numbers of the 523i and 528i with Double VANOS engines.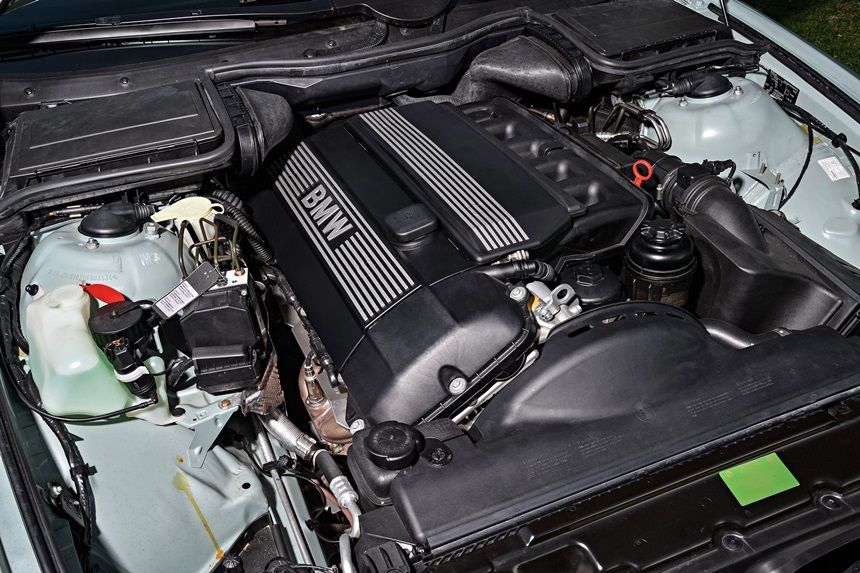 But it wasn't just better powertrains and chassis improvements, the E39 was a tour-de-force of new technology which remains impressive to this day – among the highlights were coded key-memory functions that stored your personal driving preferences, steering wheel-mounted cruise control and in-car phone control, and a climate pre-ventilation system.
In addition to all the technological advancement, the E39 ushered in an entirely new design language, which for the first time featured fully enclosed headlights for better aerodynamics and sleek yet beautiful proportions to cut through the air with superb efficiency. That along with a sporty stance gives the E39 an on-road presence that is cool even to this day.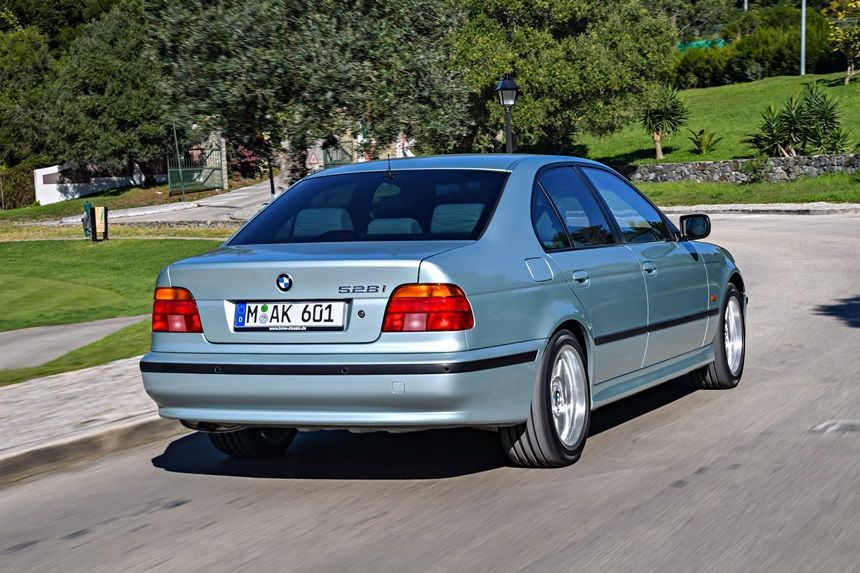 Why is it loved to this day…
Ask any E39 owner worth his/her salt and the first thing they will tell you is just how it drives. The E39 is loved for its beautiful duality of being both a comfortable vehicle for the family and yet, a surefooted machine when introduced to a complex of corners. A lot of this is down to the inherent chassis rigidity, excellent suspension geometry and precise rack-and-pinion steering setup.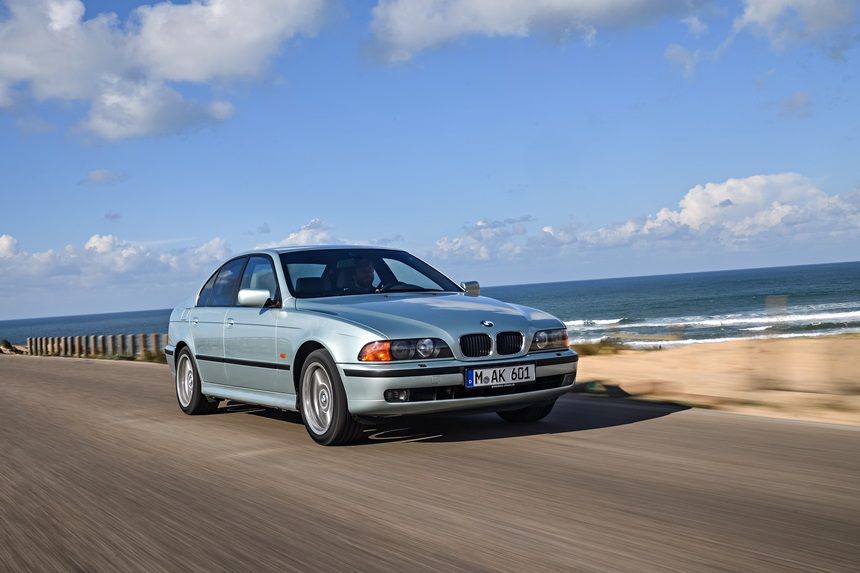 In many ways, the E39 delivers a beautiful balance of modernity in terms of refinement, driving effort and power while still offering traditional organic connectivity in terms of its steering feedback, chassis balance and braking. Something you do not get as much off if you step to either its predecessor, the E34 or its tech-laden successor, the E60. Though the BMW (E60) M5 is another story altogether.
All of this contributes to a very confidence-inspiring driving experience that seems to mould itself around your driving style.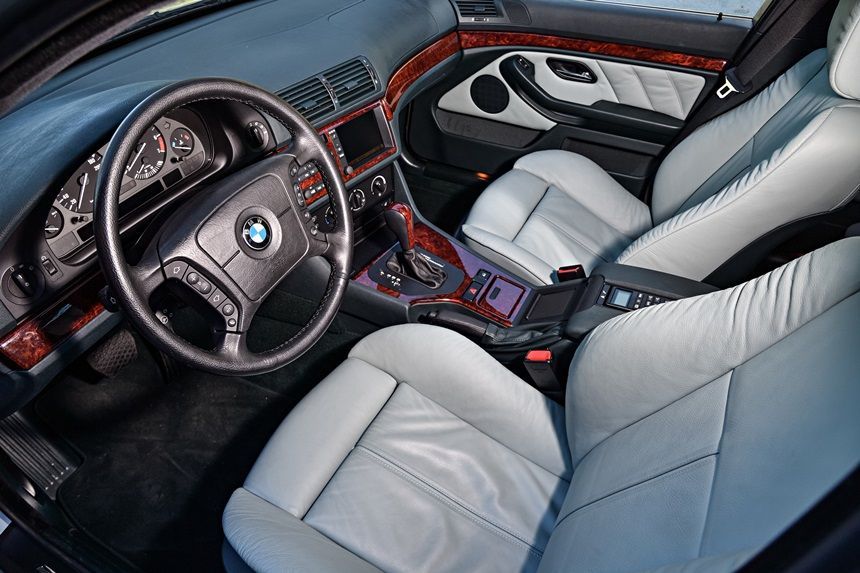 Its well-designed interior offers a cossetting and comfortable interior which for the most part, is better engineered and built than even its successor. Many will argue it's also one of the best and most durable interiors BMW has ever put together.
Then there's the styling, even after 25 years – the E39 remains as elegant and ageless as a Rolex timepiece. Also given its many forms – from the standard Luxury design package, sportier M Sport variants, to the rare BMW Alpina and AC Schnitzer versions – the E39 highlights everything from understated and classy to sporty and aggressive depending on your preference.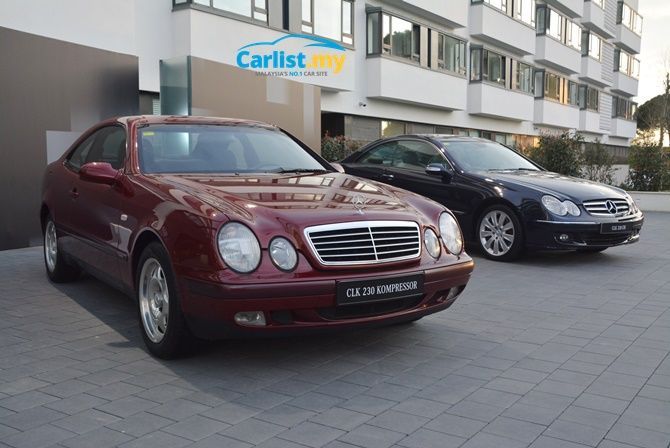 It must also be said, that amongst its generation of competitors – namely the (W210) Mercedes-Benz E-Class and (C5) Audi A6, the E39 was by quite a margin the better driving, better looking and more powerful car. An aspect the 5 Series model range doesn't quite enjoy today since Mercedes and Audi have for the most part caught up.
Can you still pick up a BMW E39 5 Series today?
By and large yes – and at very cheap prices as well. A quick search on the Carlist.my classifieds page reveals a number of good examples for sale, there are quite a few for sale as well thorough the various local FB pages.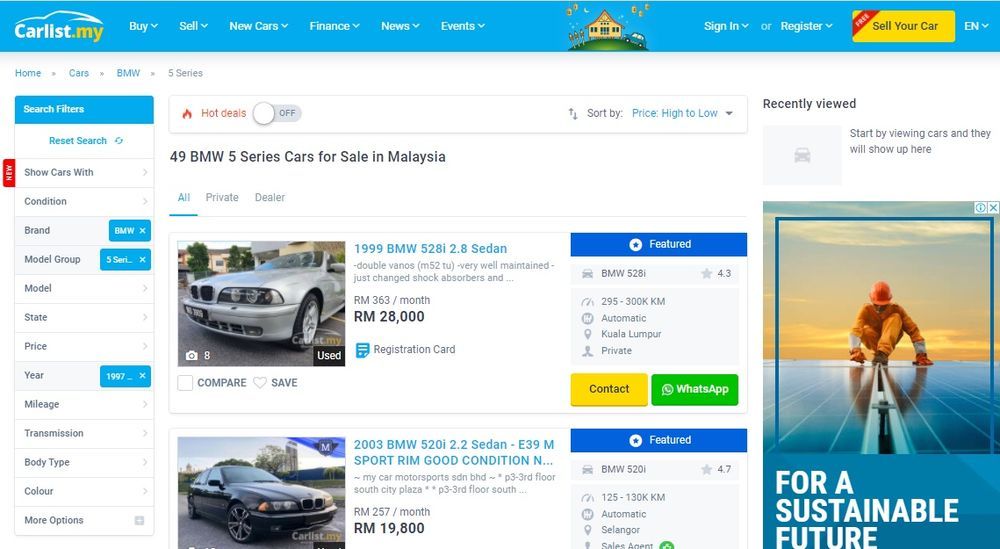 As we would advise with any used car. Do your research, talk to people and learn up as much as you can before starting your search, especially if it's your first BMW. Even better still look for classifieds with a Carlist Qualified tick on them. This way you are assured of buying a car PPI (Pre-purchase Inspection) certified and with a warranty. As well built as E39s were, they are not without problems if not maintained well by a competent mechanic. Here's a more extensive Buying Guide on what to look out for.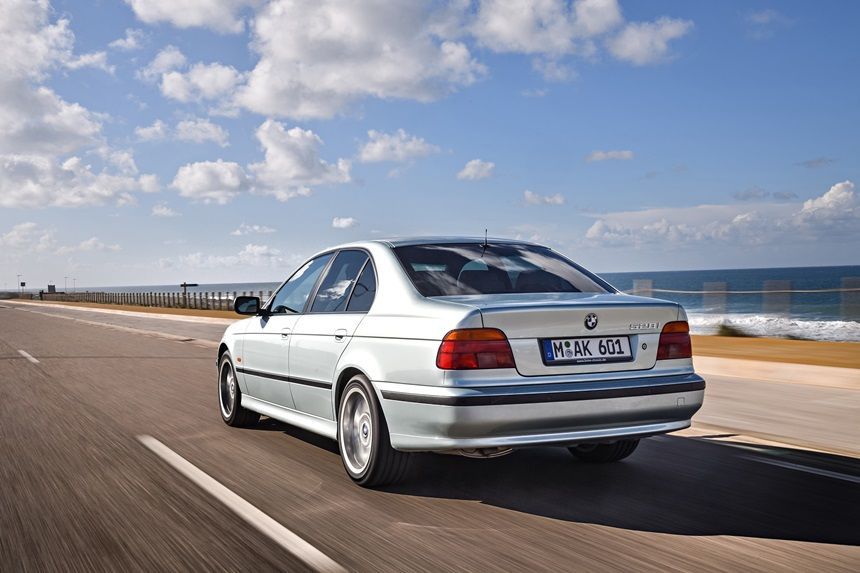 Take your time, and always conduct a thorough diagnosis of its engine, electronic systems, chassis and most importantly, its body structure. It is wise to get this done at a BMW specialist and not your regular run-of-the-mill mechanic. Finally test drive the car and see if delivers on that trademark E39 driving experience.



For more latest car news, reviews, car buying guides and videos visit us at Carlist.my Auto News.
Check out all the best new & used car deals in Malaysia at Carlist.my.
Sell your car fast with the best offer? Visit us at CarlistBid.my.
Get the latest new car promotions at New Car website now.
---
---
---
---
留言