Video: BMW 5 Series – Six Generations Of Driving Pleasure
Auto News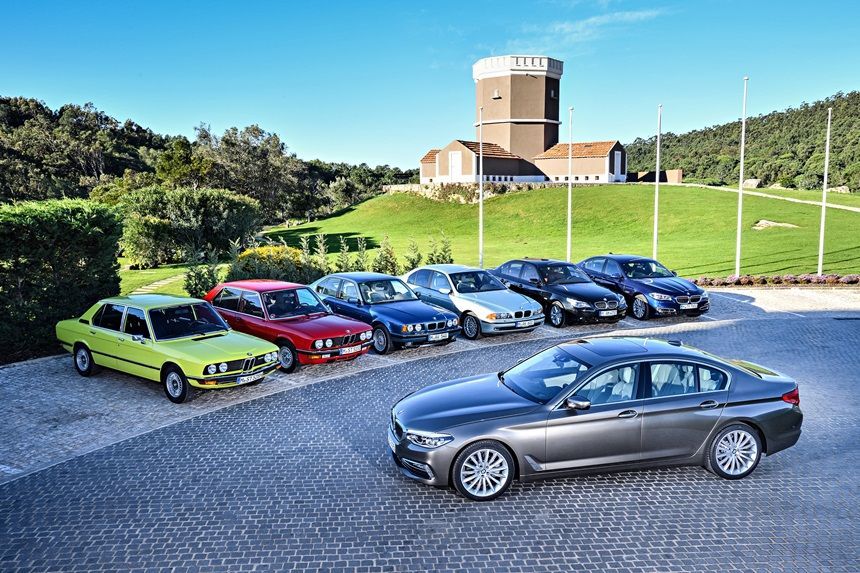 BMW turns 100 this year, and how fitting it is that the occasion is marked by the launch of an all-new 5 Series. The 5 Series is BMW's longest-running nameplate with a history spanning 44 years. Since the original model launched in 1972, BMW has went on to produce seven generations of its executive sedan; the latest being the G30 that was unveiled only this year.
At the international media launch of the G30 5 Series held in Portugal recently, the meticulous folks of the BMW Group Classic heritage division brought a unit each of every generation of the 5 Series as tribute to the nameplate's cherished heritage.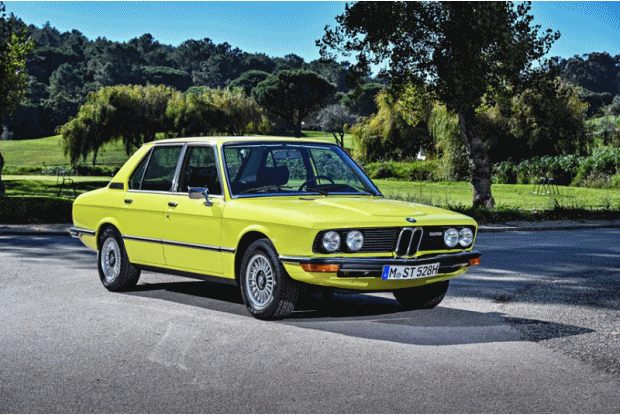 Besides the chance to admire these beautifully-preserved classics up close, we were also handed the keys of these magnificent machines, which this writer gleefully accepted to embark on a journey through memory lane of BMW's most recognized models.
Only the first four generations were available for driving, however; the more recent E60 and F10 generations were put for display only. The selection is nevertheless a well-considered one - flavours on offer include carburettor and injection-fed petrol inline-sixes, a turbodiesel, and a V8.
1st Generation – E12 (1972 – 1981)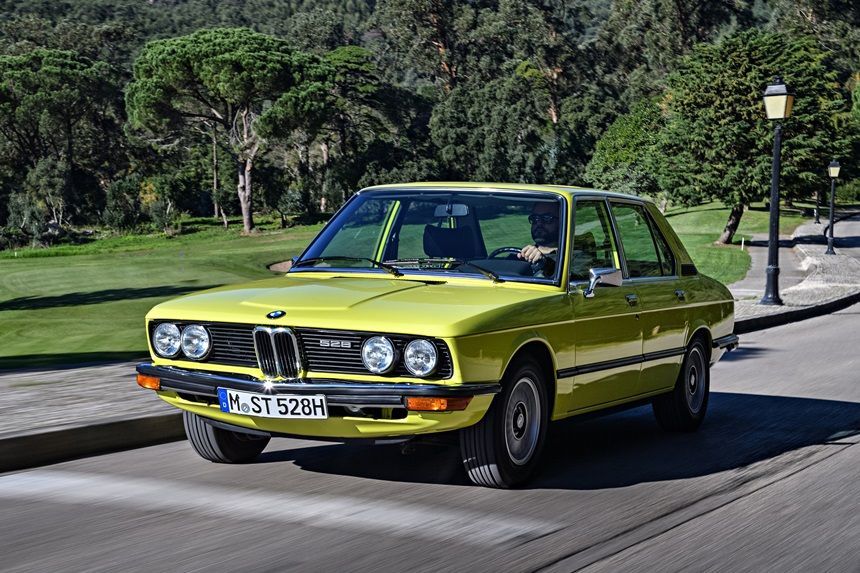 Featured Vehicle: BMW 528 (1975)
Engine: 2.8-litre M30, Inline-6, Longitudinal, Carburettor
Power: 165hp @ 5,800rpm
Torque: 233Nm @ 4,000rpm
Transmission: 3-speed torque converter automatic, RWD
This is where it all started. The E12 was not only the first BMW 5 Series, but it was the first BMW model to adopt the three-digit model naming convention that BMW continues to use today. To drive, however, it is a very stark contrast from newer vintages of BMW models that we are more accustomed to today.
There is barely a trace of electronic gadgetry in this car – everything on board is either mechanical or, at most, electric. The radio is perhaps its most sophisticated piece of hardware. The pristine 528 example on test had a smooth-running carburettor-fed inline-6 helped along lazily by a 3-speed automatic transmission. This was an era when automatic gearboxes are sufficiently rare that BMW saw fit to denote that fact with a bootlid label.
For people accustomed to the comforts of a modern vehicle, cars from this era can sometimes be difficult to acclimatize, but the E12 was remarkably easy to live with. It has power steering, thank God, and the 3-speed automatic shifted through its cogs with way more smoothness than one can expect of such a rudimentary transmission.
It's neither as agile nor as responsive as its successors, but there is crispness to its controls; feedback of sensations through the steering and pedals make the car feel alive and properly engaging to drive. Not a car to be hustled around corners, but definitely good enough a relaxed Sunday morning cruise. The E12 is not quite the sporty sedan that the 5 Series has grown to become, but here is where the foundations were laid.
2nd Generation – E28 (1981 – 1988)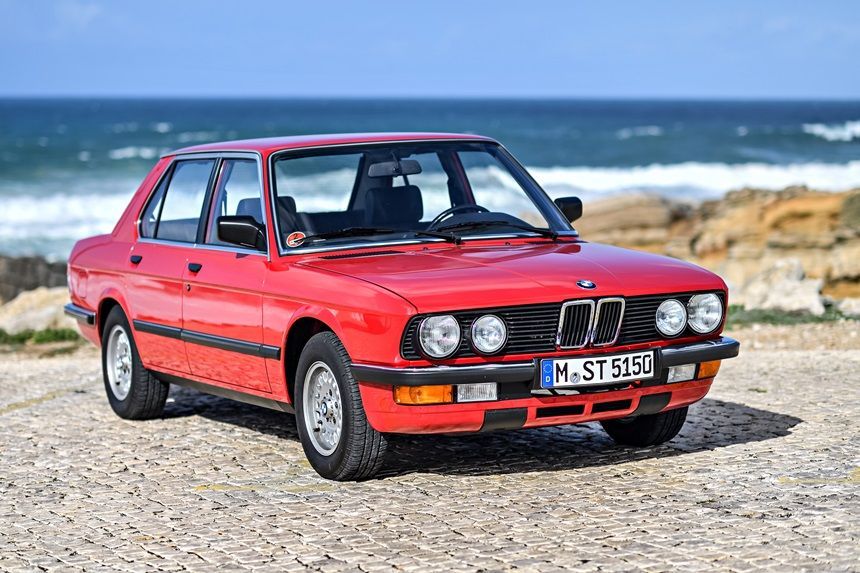 Featured Vehicle: BMW 524td (1986)
Engine: 2.4-litre M21, Inline-6, Longitudinal, Turbodiesel
Power: 115hp @ 4,800rpm
Torque: 210Nm @ 2,400rpm
Transmission: 5-speed manual, RWD
Despite the evolutionary design, the E28 is a massive step up from the E12. It inched the 5 Series further upmarket with a wider range of fuel-injected inline-6 powertrains plus many other innovations. It pioneered the introduction of BMW's first ever diesel engine – the 2.4-litre M21 in the naturally-aspirated 524d and turbocharged 524td.
The 524td's outputs of 115hp and 210Nm is positively shamed even by BMW's smallest engine today, but with a kerb weight of about 1.3 tonnes, its power-to-weight is comparable with F30 318i. Combined with its slick-shifting 5-speed manual, the 524td has more than enough in reserve to pull its own weight. Even around the hilly test route, we barely needed to summon more than 2,000rpm on the tacho to achieve brisk progress.
Refinement of the engine too, is impressive. The characteristic diesel clatter is barely audible, and the engine responds to prods of the throttle with immediacy and smoothness that would match a petrol counterpart of the era. If it wasn't for the low redline and beefy low-end torque, one would be hard-pressed to tell that this is a vehicle that runs on the black stuff.
3rd Generation – E34 (1988 – 1996)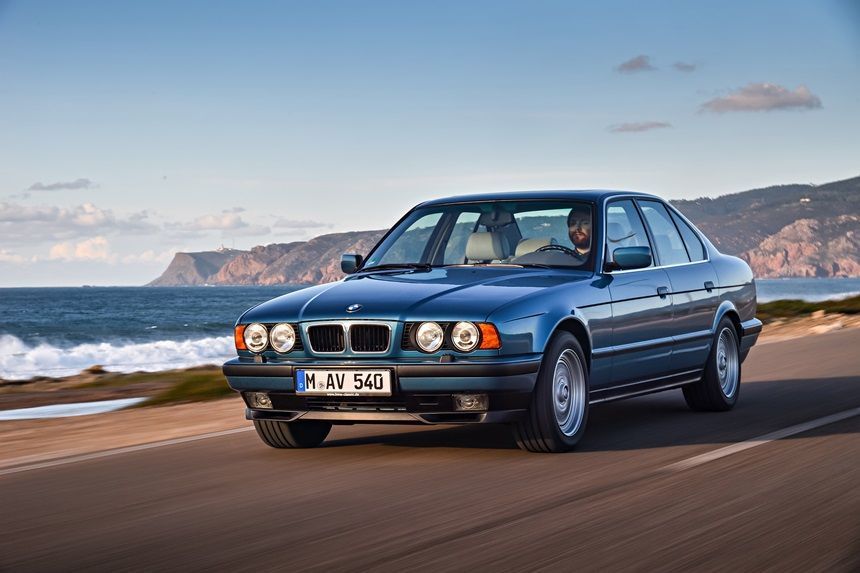 Featured Vehicle: BMW 540i (1994)
Engine: 4.0-litre M40, V8, Longitudinal
Power: 286hp @ 5,800rpm
Torque: 400Nm @ 4,500rpm
Transmission: 5-speed torque converter automatic, RWD
The E34 looks understated by today's standards, but its styling had departed quite radically from the template laid by its predecessors. Substantial changes were implemented under the sheet metal too. This was the first ever 5 Series with a V8 engine (530i and 540i) and also the first 5 Series to be offered with all-wheel drive (525iX).
On test was the range-topping 540i V8, launched in the latter years of the E34's model cycle. Compared to the more common 6-cylinder models, the 540i takes on the role of a relaxed cruiser – the V8 up front providing effortless progress, but the expense of front end agility. If you want a car to hustle about, the 6-cylinder 520i and 525i remain the more rewarding cars to drive.
The V8 makes a wonderful sound though; its burble was audible enough to be picked up by the microphone of our recording equipment – you can hear it in the background noise of our video (scroll below). Our friend from Malaysian EVO, Keegan, who followed me in the E39 during the drive, was similarly appreciative of the V8's noise.
4th Generation – E39 (1996 – 2003)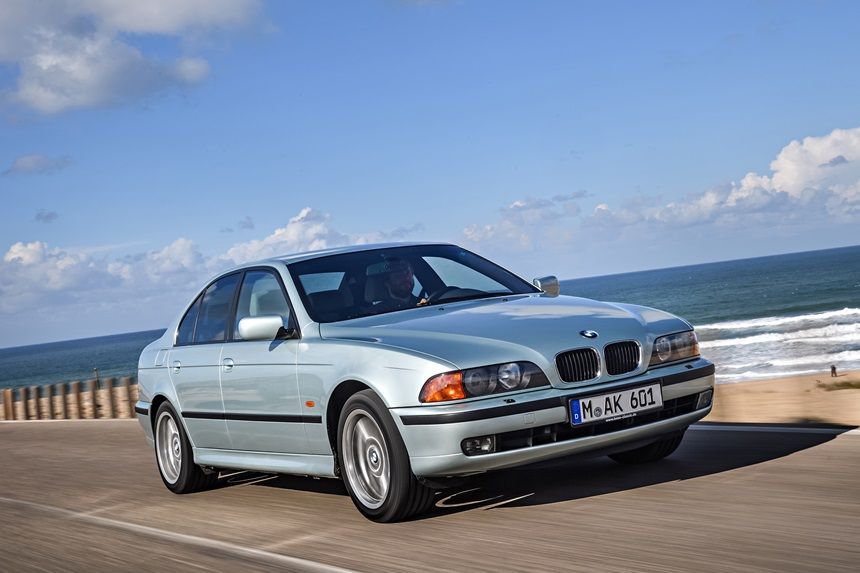 Featured Vehicle: BMW 528i (1998)
Engine: 2.8-litre M52, Inline-6, Longitudinal, Single VANOS
Power: 193hp @ 5,300rpm
Torque: 280Nm @ 3,950rpm
Transmission: 5-speed torque converter automatic, RWD
A personal favourite of this writer, the E39 has aged well not only in looks but in dynamics as well. This was my first time driving an E39 and there was nothing in the experience that disappointed my expectations.
The 528i demo unit on test was a well-preserved example, though its appearance was hardly the E39 in its most flattering guise. The Corona Ring headlights and Celis tail lights introduced in conjunction with the newer Double VANOS engines in latter models represented the E39 in its best, be it in standard or M Sport trim.
Extensive on-board electronics began to take hold in the 5 Series with the E39. The test example had a first-generation in-dash GPS system, Tiptronic automatic transmission, and electronic stability control among others – it is sufficient to ensure the E39 remains modern enough even by today's standards, a full two decades after its introduction.
The E39 was highly-rated for its exceptional chassis construction, which featured the extensive use of high-strength lightweight alloys. The lovely combination of strength and lightness translated to impressive refinement on the move and delightful fleet-footedness around corners. Steering itself is beautifully rich in its feedback, adding a great level of intimacy to the overall driving experience.
5th Generation – E60 (2003 – 2009)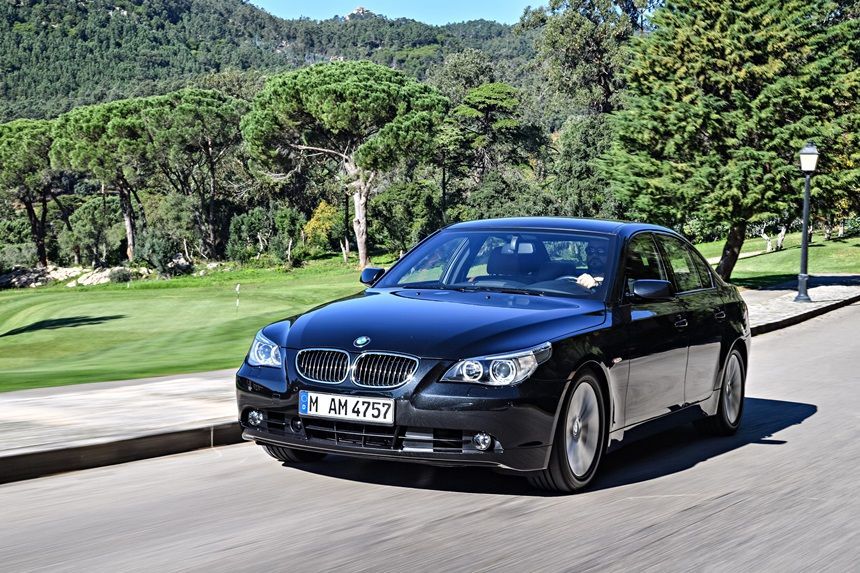 Featured Vehicle: BMW 545i (2004)
Engine: 4.4-litre N62, V8, Longitudinal, Valvetronic, Double VANOS
Power: 333hp @ 6,100rpm
Torque: 450Nm @ 3,600rpm
Transmission: 6-speed torque converter automatic, RWD
Perhaps the most controversial member of the 5 Series lineage, the radical 'flame-surfaced' E60 drew a lot of flak from critics during its launch. Time, however, has illustrated the methods behind Chris Bangle's madness. Even today, various styling elements of the E60 continue to be copied by car makers and aftermarket part suppliers in the market. Indeed, it can be argued that the boldness of the E60's design was the final push that elevated BMW's brand standing to an entirely new level.
6th Generation – F10 (2009 – 2016)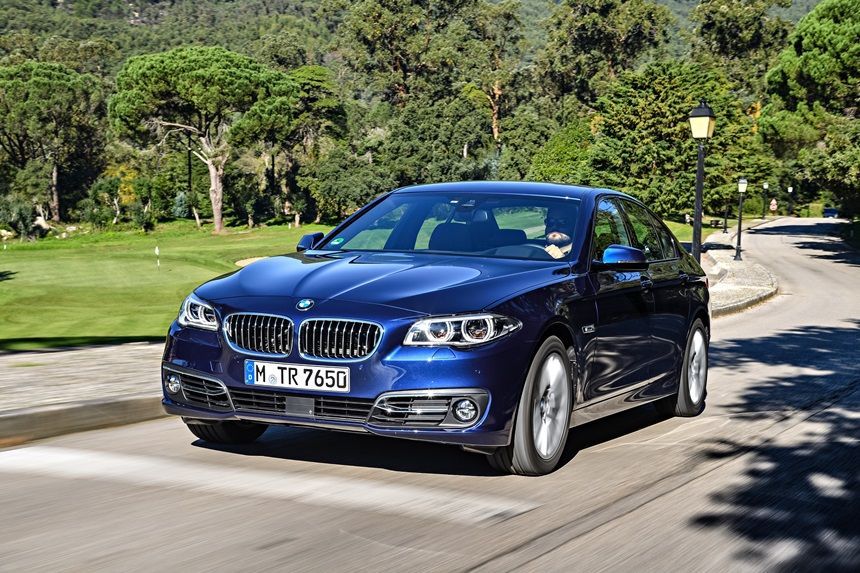 Featured Vehicle: BMW 535i (2012)
Engine: 3.0-litre N55, Inline-6, Longitudinal, Valvetronic, Double VANOS, Twin-scroll Turbo
Power: 306hp @ 4,000 – 6,000rpm
Torque: 400Nm @ 1,200 – 4,000rpm
Transmission: 8-speed torque converter automatic, RWD
With the F10, BMW returned to a more conservative styling approach, going back to the simpler E34 and E39 for inspiration. Yet, there was nothing simple about this highly-sophisticated vehicle. Initially launched with BMW's usual line-up of creamy-smooth inline-6 engines, the F10 eventually served as springboard of BMW's massive shift to downsized four-cylinder turbocharged engines.
The F10 was notable for being among BMW's first model to feature the widely-acclaimed ZF 8HP automatic transmission, a gearbox still regarded as being one of the best in the business today. During the initial years of the F10's model cycle, nearly half of BMW's customers took up the car with manual transmission, a fraction that shrunk to just 5% toward the end. Hence, BMW now offers the G30 with manual transmission only in the base 520d.
I reviewed the F10 535i when it was first launched in Malaysia during the early days of my career, and distinctly recall the brutally savage acceleration served up by its 3.0-litre turbocharged inline-6. I went on to review many other variants of the model and I find that, despite the superior smoothness of the 6-cylinder motors, the F10's chassis seem best balanced when running on the 2.0-litre N20 engines with the 245hp 528i being the sweet spot.
G30 - What's Next For The 5 Series?
Whilst BMW did not achieve outright excellence in the 5 Series at its first attempt, successive generations of the company's oldest-running nameplate have constantly reinvented themselves with revolutionary upgrades and improvement over their predecessors. Impressively, however, every return to the drawing board sees BMW consistently produce vehicles with the uncanny ability to thrill and engage its drivers.
We all have our favourite versions of the 5 Series, although BMW will always want to tell you that the latest version will invariably be the best. he G30 has a long and glorious heritage to live up to; and BMW would undoubtedly have poured the best of its engineering know-how into its latest mid-sizer not just to stay ahead of its rivals, but also ensure that the newest 5 Series thoroughly deserves the name.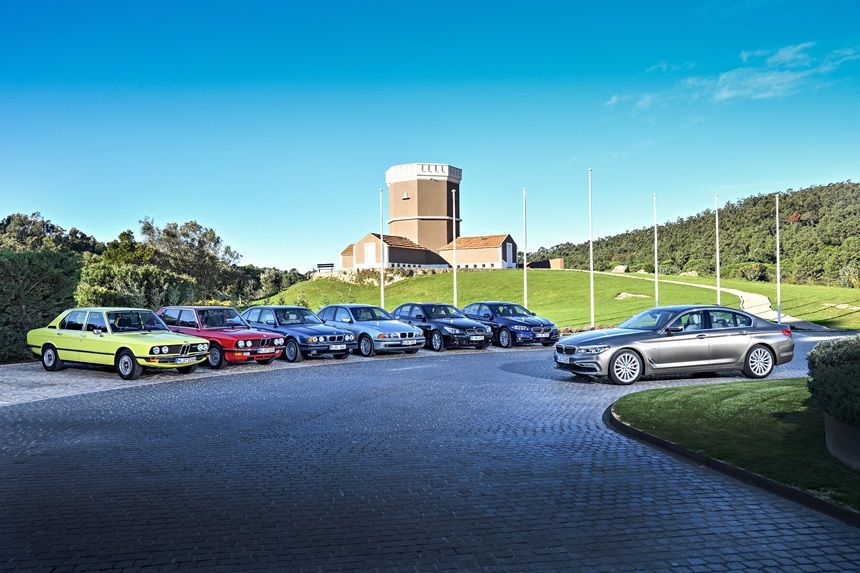 ---
---
---
---
Comments