The Boring Company's Loop Brings Tamiya RC Tech To Life
所有资讯 According to Elon Musk, founder of Tesla and the Boring Company, it'll be like teleporting through a city, with fully-electric cars whizzing about at up to 240 km/h between 20 and 40 feet under city streets, transporting between 16,000 to 100,000 passengers per hour, promising to make traffic jams a thing of the past.
But whilst we can ignore, for now, the herculean task of creating a system that is safe, cost-effective, and quick enough for the densely populated cities of tomorrow, one thing is for sure, the Boring Company's underground tunnel loop is Tamiya Mini-RC technology scaled up to life size.
Courtesy of two horizontal wheels fitted like outriggers to a Tesla Model X – just like Tamiya cars – the vehicle is allowed to travel along a guided track within the tunnel on its own power. While speeds were far off the claimed 150 mph (241 km/h) limit during the demonstration, the Tesla Model X reportedly reached speeds of up to 50 mph, around 80 km/h.
The approximately 1.8 km long tunnel was constructed nearby the SpaceX headquarters in Hawthorne, California, and was built at a cost of USD10 million. The Tesla Model X demonstration unit is lowered from ground level to the tunnel, 45 feet below ground level, using a lift system.
The tunnel's concrete walls are painted in white, with overhead fluorescent lighting was constructed using readily available tunneling machinery, which took roughly a year.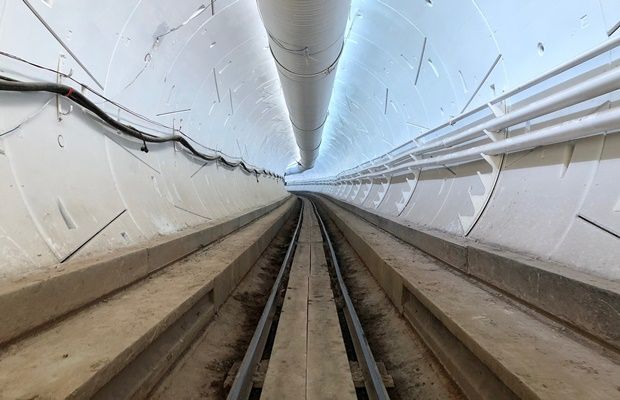 Much of the project's viability (or vision at this point) revolves around speeding up the boring process while cutting down the relevant costs, to which Wired reports that the Boring Company also plans to introduce modified tunnel boring machines to address these challenges.
The Boring Company is planning two other tunnels in the near future: a small system from an LA Metro Station to Dodger Stadium and another between Washington D.C. and Baltimore. Elon Musk also told reporters that he envisions a completed network of tunnels commisioned in time for when Los Angeles hosts the 2028 Olympic Games.
---
---
---
---
留言