Volkswagen Passat B7 1.8 TSI Review – Statement of Understatement
评论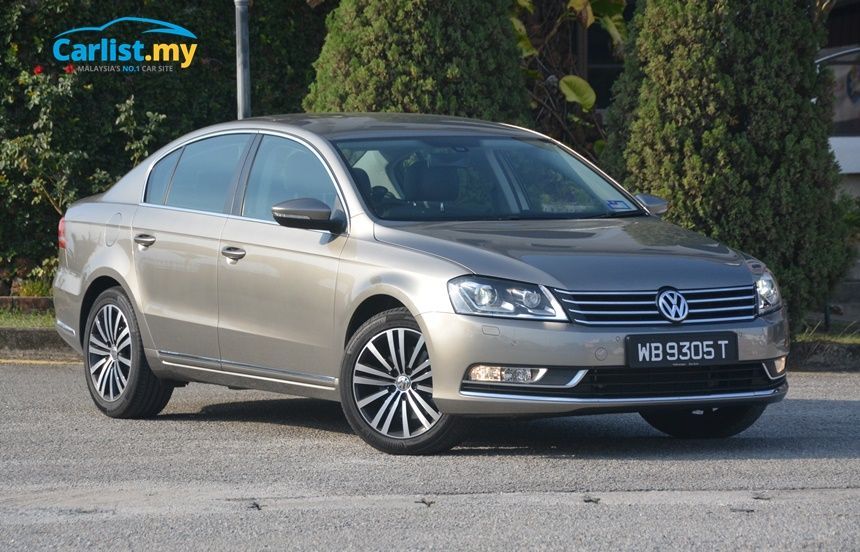 It is no secret that, some one and a half years from its global debut, the Volkswagen Passat B8 is nearing its official introduction in Malaysia. Camouflaged prototypes were sighted in our shores as far back as the middle of last year, and it certainly won't be long before Volkswagen's eighth-generation D-segment sedan becomes officially available in showrooms.
The Passat is an important name in the Volkswagen model hierarchy, and as far as Malaysia is concerned, it is a mainstay of the brand. A small number of the sixth-generation B6 model made its way to our market, but it wasn't until 2011 that the Passat nameplate became firmly entrenched in the Malaysian psyche with the Passat B7's official launch.
A year later, the Passat was the centre of another important milestone in that it became Volkswagen's first locally-assembled model in Malaysia. As the B8's launch draws near, we give the B7 a send-off in this review.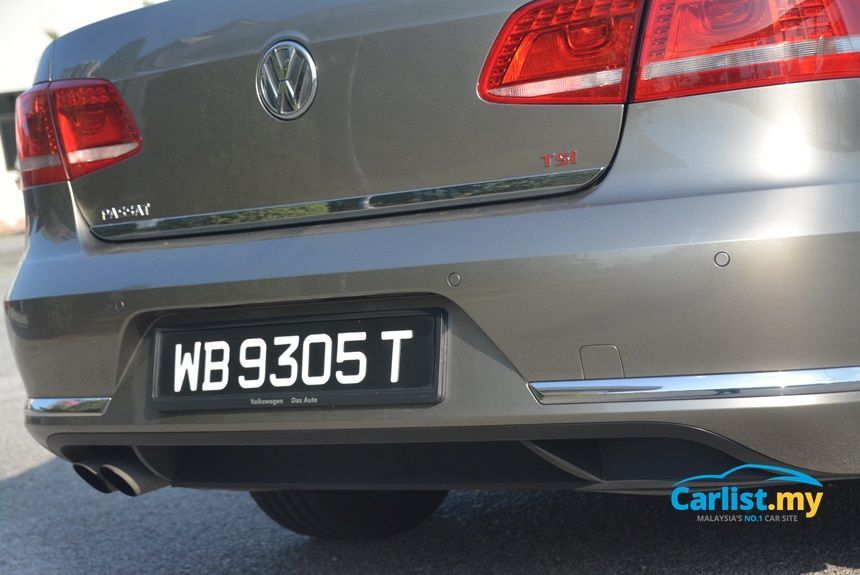 Specifications:
Price: RM174,835.20 on-the-road without insurance
Engine: 1,798cc, inline-4, transverse, turbocharged
Power: 160PS @ 5,000 – 6,200rpm
Torque: 250Nm @ 1,500 – 4,200rpm
Transmission: 7-speed dry dual clutch transmission, FWD
Safety: 6 airbags, ABS, Electronic Stability Control (ESP) with Counter-Steering Assistance, ISOFIX (rear), Hill-hold ontrol, 'Rest Assist' drowsiness detection, Flat Tyre Detection
Origin: Locally-assembled at Pekan, Pahang
Overview
From a global catalogue comprised largely of four-cylinder turbocharged engines, the Passat B7 comes to Malaysia powered exclusively by Volkswagen's 1.8-litre EA888 TSI engine with direct injection technology.
Pushing out 160PS and asking for RM175k with on-road costs before insurance, the Passat pitches itself against 2.4-2.5-litre Japanese D-segment sedans in both power and price. The Peugeot 508 is another rival, it too being powered by a downsized turbocharged engine of similar outputs.
The Ford Mondeo could have been counted as a direct rival as well, if only Ford had considered offering it here with the similarly-powered 160PS 1.5-litre EcoBoost variant that would have been a more natural match for the Passat in our market's 1.8 TSI guise.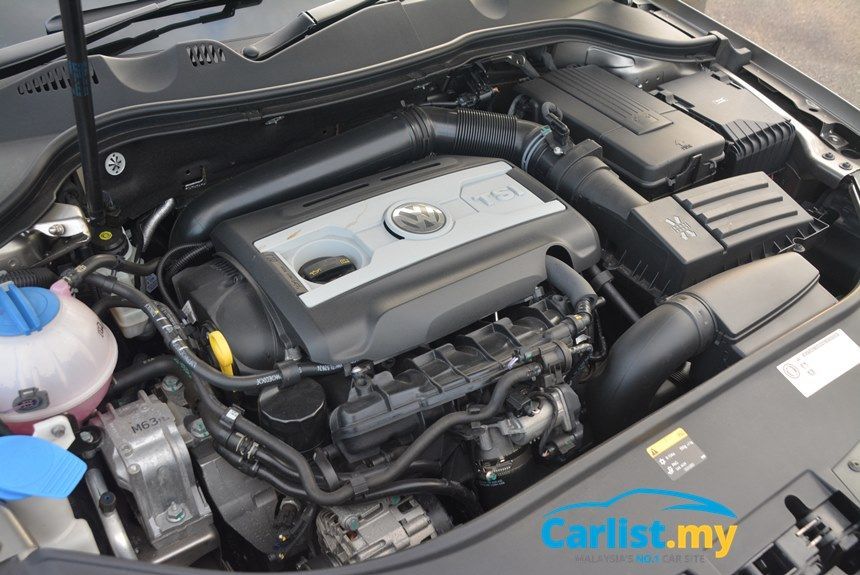 Exterior
In typical Volkswagen fashion, the Passat B7 is styled with commendable taste and restraint. It is essentially a boxier reinterpretation of the B6 model that preceded it; and as we will see soon enough, this evolutionary styling process continues with the B8.
The overall styling is notable for a lack of wow factor or any distinctive cues. This writer recalls walking past a display unit of this model during its world debut at the 2010 Paris Motor Show and completely missing it. That general lack of fuss in its design has nevertheless enabled the B7 to age gracefully and not look at all out of date alongside the competition. In fact, the preceding B6 model can still be regarded as a properly handsome vehicle.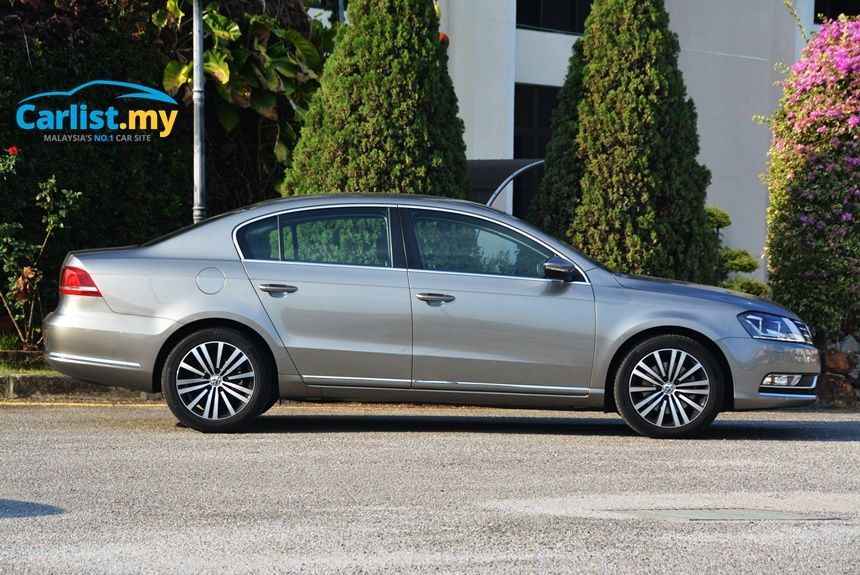 Lighting setup is competitive enough for our times. You get LEDs on the tail lights and daytime running lights, plus the bi-xenon headlamps come with self-levelling and corner swivelling function.
Standard wheel diameter of the Passat measures at 17 inches. It is a rather conservative sizing for our times, but entirely in keeping with the Passat's generally restrained demeanour. We are not fans of the wheel design selected for our market though – we've seen better looking rims (even of the same size) in Volkswagen's official global catalogue.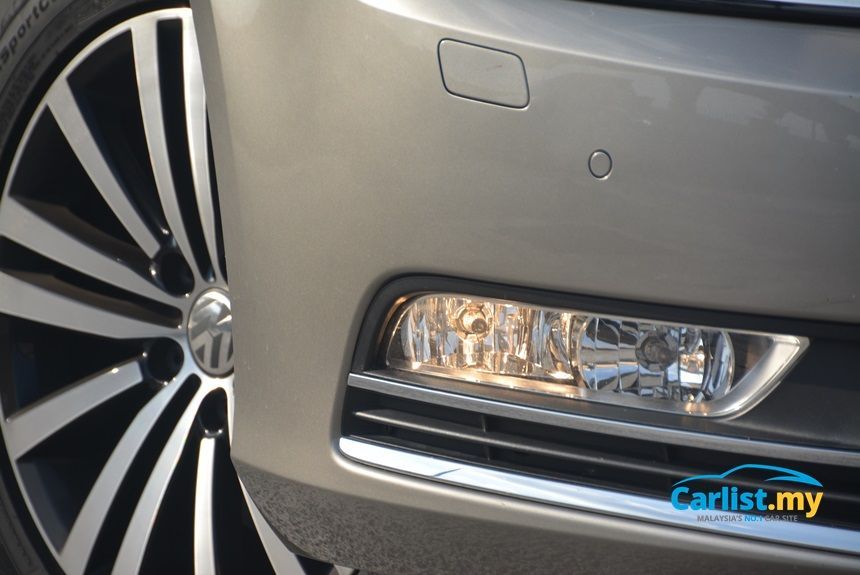 Interior
Much like its exterior, the Passat's cabin is sculpted with an ethos of understatement, one done with a clear focus on getting the basics right rather than over-reaching with fanciful indulgences. Rather than sweeping curves, Volkswagen kept the sensible approach – arranging controls with intuitive clarity and finishing surfaces with a high degree of perceived quality.
The dashboard is, in actual fact, carried over pretty much wholesale from the Passat B6. That the appearance does not look fully out-of-date despite serving two full model cycles is a testament of the design's timelessness.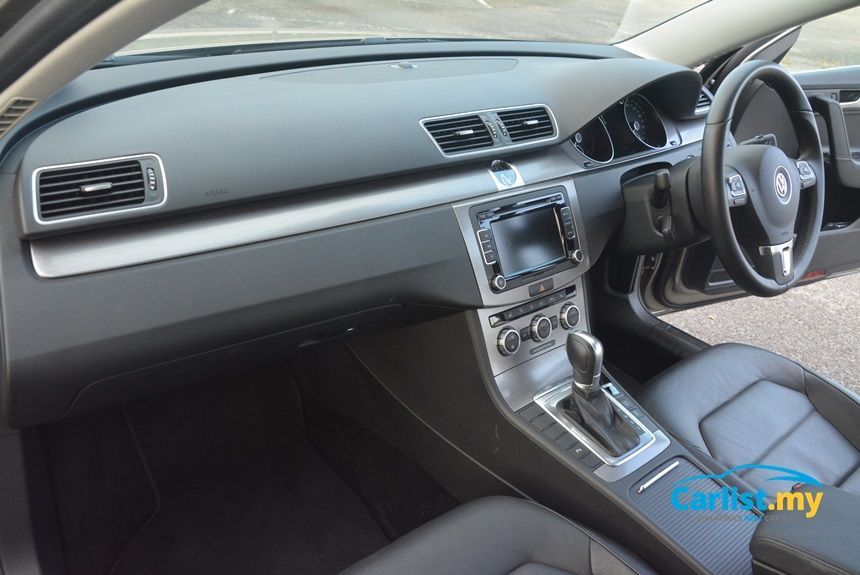 Volkswagen took good care of small item storage spaces as well. Besides deep door pockets, front occupants have access to three lidded and well-shaped storage compartments along the centre console. Another lidded box tucked away at the lower reaches of the dashboard at the driver's side provide a more than deep enough enclosure for your Smart Tag.
If there is one complaint we want to make is the lack of keyless entry and engine start. Among D-segment sedans in the RM170k-RM180k ball park, the Passat is the only one which requires you to reach for your key fob before unlocking your car and driving off. It is an omission which the upcoming Passat B8 will do well to rectify.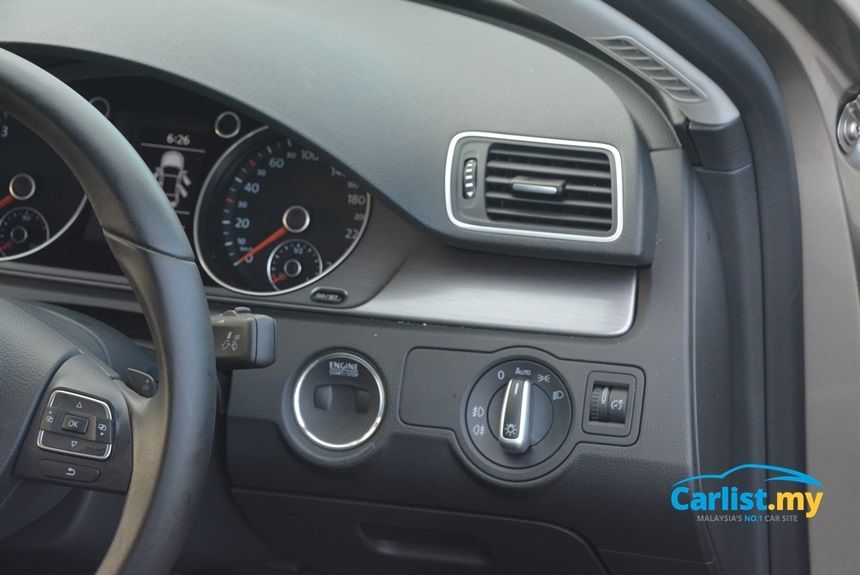 How does it drive?
Despite enjoying a 400cc displacement advantage, the Passat's 1.8 TSI makes do with very similar outputs to the EA111 1.4 TSI powerplant fitted into the Jetta. The two engines are evenly-matched on power, but the 1.8-litre unit does make its extra cubes count in the torque department, offering an extra 10Nm of twist spread over a similarly wide plateau in its mid-range.
The reason why the two engines have such closely-matched outputs despite a significant disparity in displacement is simply because the 1.4 has a supercharger supplementing its turbo, whereas the 1.8 does not.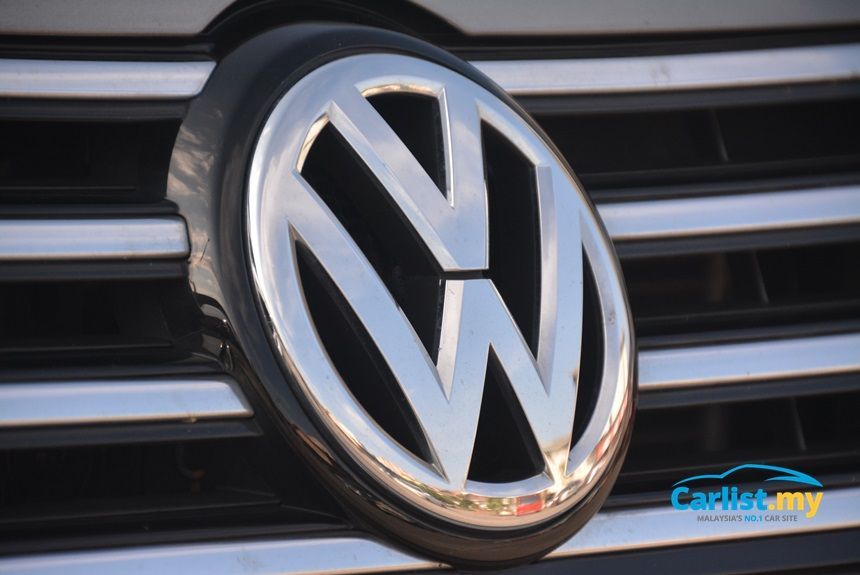 If it poses the question of why is there a need for two distinctly different powertrains to serve practically the same performance niche; the answer to this is that the smaller, more complicated, and soon to be phased-out twincharged mill is tuned to be frantic, relentless, and hard-hitting. For the Passat, the objective is a more relaxed progress which the under-tuned 1.8 TSI is configured for. It pulls strongly, but without ever punching your gut in the process.
Continuing the ease of use theme, the Passat's chassis, much like its engine, is tuned with evident care and sensibility. It's not a setup to invoke excitement of the unadulterated sort, but it does inspire confidence with reassuringly safe neutrality. Push it hard, the chassis responds to inputs obediently, but there isn't the kind of playfulness or interaction to elevate the experience from merely competent to outright fun.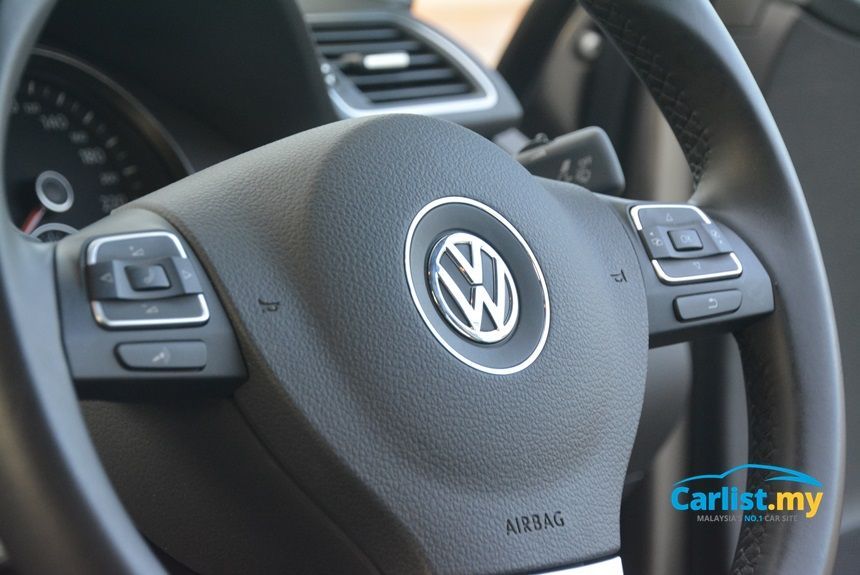 How comfortable is it?
If there is one trait which the Passat is singularly good at, it is covering hundreds upon hundreds of kilometres with minimal effort. Unwanted sources of noise, be it external or mechanically-generated by the vehicle, are all well-suppressed, creating an environment that is supremely serene.
It also helps that the engine has adequate torque to pull strongly from as low as 1,500rpm which, in 7th gear, is good for 100km/h thereabouts. Indeed, gentle-footed drivers will find much appeal in the engine's usable flexibility and long-geared ratios of the transmission.
Complementing the excellent sound-deadening and mechanical refinement, is a suspension setup that rides over imperfections with authority. Typical of a European vehicle, primary ride errs on the firm side, but secondary ride is outstanding, giving the Passat unflappable composure at high speed.
Somewhat at odds with the Passat's overall hushness is the DSG's lack of polish at low speeds. We've come to accept this as an inherent nature of dual clutch transmissions, but we can't help but wonder if a back-to-basics 6-speed torque converter automatic from the B6 would have been a better fit for vehicle characteristics Volkswagen aimed to create for the Passat.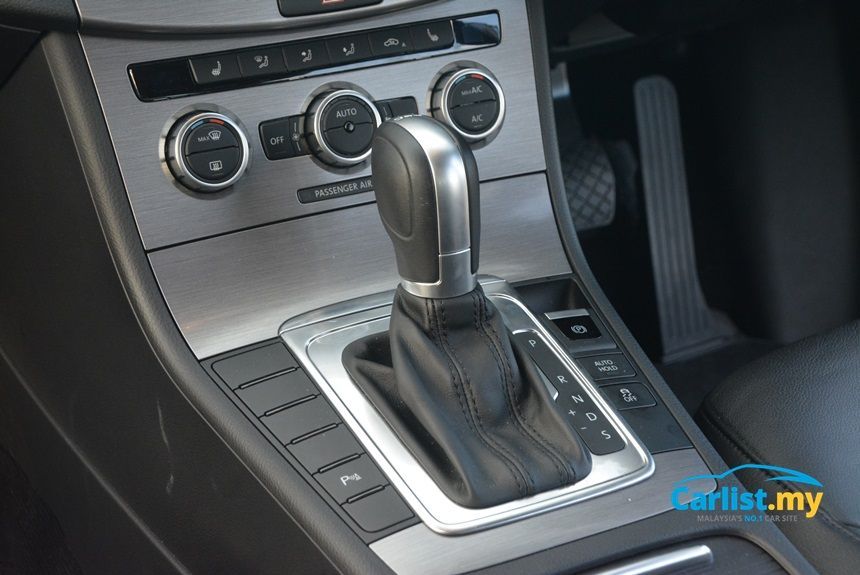 How economical is it?
Few carmakers blend performance and efficiency as effectively as Volkswagen. The company claims an official fuel consumption figure of 7.0 litre/100km in the combined cycle and 9.5 litre/100km in the urban cycle. Over three days using the car in regular town commute, our trip computer threw us a read-out of 9.3 litre/100km. Theoretically, this is a car in which 750 to 1,000km can be covered between refills.
As a product of its Continental origins, the Passat was engineered to last great distances in between maintenance. Intervals are set at 15,000km, and if serviced according to Volkswagen's prescribed schedule, you will need to set aside a little over RM3,800 over a period of five years for your service centre.
Volkswagen's quality troubles in recent years is not an issue which we can conveniently gloss over, but potential defects are covered by a five-year warranty with no mileage restriction. Additionally, a five-year Mobility Guarantee programme provides 24-hour breakdown support not just within Malaysia, but in Singapore and Thailand as well.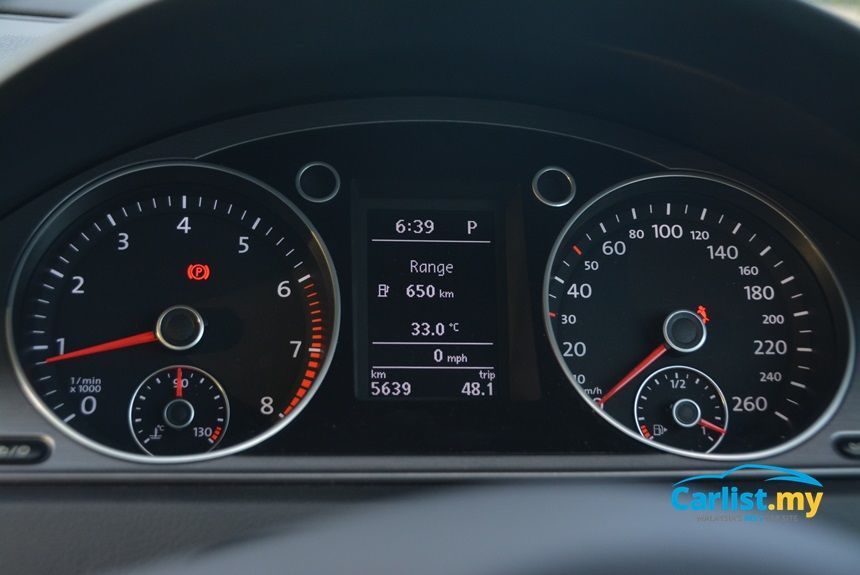 Conclusion
Understandably, Volkswagen's brand standing among Malaysia is not at its highest at the moment, and the Passat does suffer from its reputation for some teething problems. Volkswagen is not sitting idly on the problem, however, and we understand that running fixes have minimized issues with newer batches of vehicles.
Although we are a mere months away from the Passat B8's introduction in our market, the B7 remains an up-to-date vehicle that is a fine day-to-day companion. For D-segment shoppers looking for more spirited performance and more surefooted handling than the usual Japanese entrants, the Passat's blend of pace, economy, and dynamic composure is a compelling preposition.
---
---
---
---
留言