Review: Volkswagen Golf GTI Mk 7.5 – The Challenge of Being No.1, Is Staying No.1
Reviews The three-letter combination of G, T, and I are the alphabetic overlords when it comes to accessible driving performance. At the same time, the Golf GTI's seat on the hot hatch throne is increasingly surrounded by hungry rivals from Stuttgart and Gothenburg.
The changing landscape is not lost on the folks at Wolfsburg, who have given Golf GTI a mid-lifecycle update. This Mk 7.5 generation model that you see here has been updated with the latest in digitized controls. An improved version of the EA888 2.0-litre turbocharged TSI engine that now makes 10 PS more power.
Volkswagen touts the new GTI as the most progressive hot hatch, but are these new features enough to keep up with the competition? We tried to find out.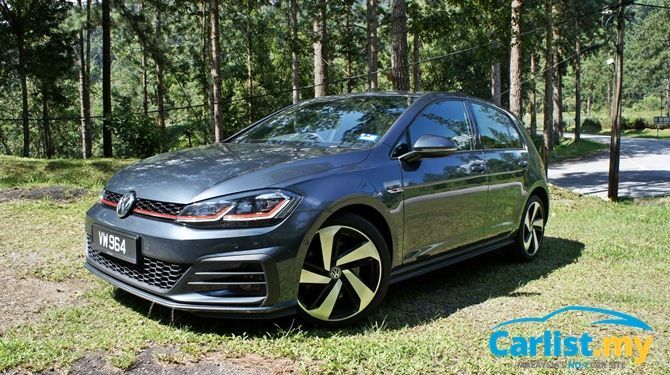 Specifications for Volkswagen Golf GTI Mk 7.5
Engine: 2.0-litre turbocharged transverse four-cylinder
Power: 230 PS from 4,700 – 6,200 rpm
Torque: 350 Nm from 1,500 – 4,600 rpm
Transmission: Six-speed wet-type dual-clutch automatic transmission, front wheel drive
Safety: Seven airbags, ABS with EBD and BA, ESC, ISOFIX, Post-Collission Braking System, Hill Hold Control, Intelligent Crash Response System
Price: RM 225,888 without GST/SST, excluding insurance
Overview
The GTI is the middle-child of the expanded Golf family, which in our market now includes the RM 146,888 1.4 TSI Sportline, RM 157,488 1.4 TSI R-Line and the RM 278,888 all-wheel drive R.
Its closest rivals are the Mercedes-Benz A250 and Volvo V40 T5, both of which are due for a replacement.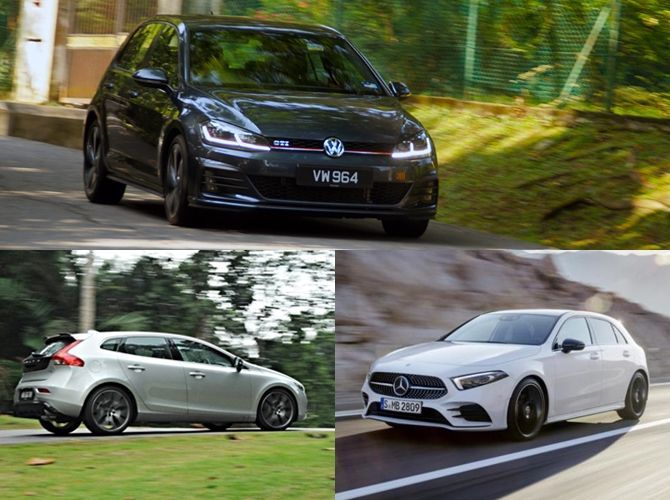 The V40 T5 has a mild character and its exhaust doesn't pop or crackle like the GTI's but be aware that the humble Swede packs 245 hp and 350 Nm under the bonnet. It's also significantly cheaper at RM 170,686. The only downside is that it rides on an aging platform that is overdue for a replacement.
An all-new Mercedes-Benz A-Class is due to be launched here in the next few months. The new generation A250 will pack 224 hp and 350 Nm. The previous generation A250 was last sold at RM234,841 but despite its age, was still the best looker. However its ride comfort, interior space and driving experience were below average but who is going to argue against the three-pointed star badge? We'll see if the upcoming all-new model is any better.
There's also the significantly cheaper RM166,808 BMW 118i. Yes its lowly 136 hp/220 Nm is completely outgunned but what it lacks in outright pace is compensated by it delivering more fun at safer speeds, thanks to a lively rear-wheel drive chassis.
Exterior
The new facelifted GTI is identified by the new pair headlamps, which are now full LEDs that automatically adjusts the light's range and spread. The new LED daytime running lights now spot a 'double L' signature. The previous model came with simpler bi-Xenon headlights.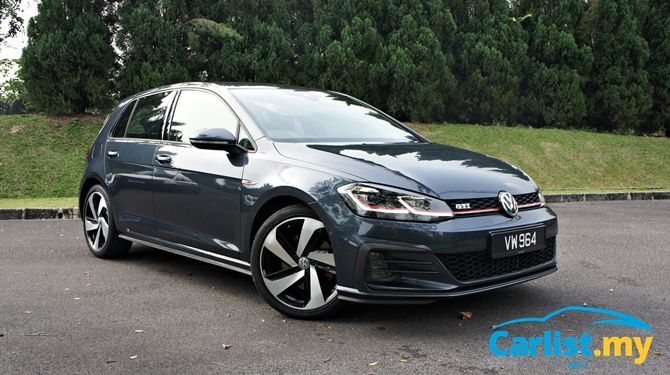 Behind, the LED tail lights are also new, and now come with dynamic turn signals that light up sequentially in the direction indicated.
The front bumper is also new, with two slats covering the LED front fog lamps instead of the previous model's three. The 18-inch Milton Keynes wheels are also new, replacing the previous model's Austin alloys.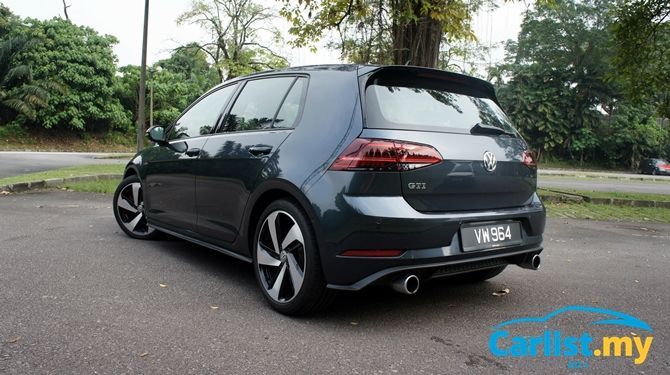 There is something about the GTI' iconic looks working in favour of your sex appeal that few other cars can replicate, not even the A-Class. The GTI has this ability to make a good looking man/lady look even better. It strikes a balance between an obnoxious supercar and luxury cars driven by the jaded, grey-haired crowd.
Interior
Inside, the GTI is quite spacious. The cabin is lined with Volkswagen's typically premium materials but our biggest complaint with the GTI's interior, or any other Golf for that matter, is that its controls are not properly adapted for right-hand drive markets. Frequently used buttons for the engine idle start-stop and drive modes for example, are to the left of the gear knob, hidden away from the driver's line of sight when the car is in Drive position.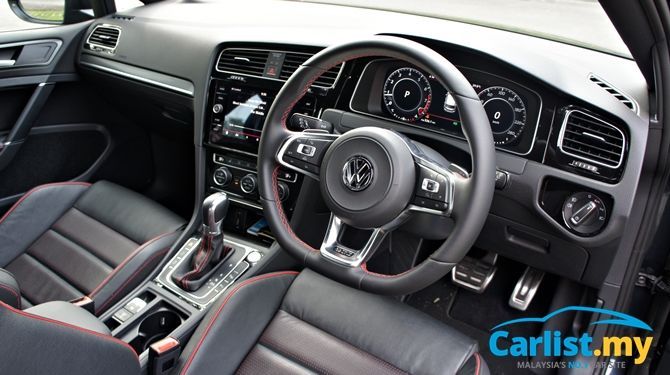 The 8-speaker infotainment have been updated with a new 8-inch Discover Media touchscreen that supports MirrorLink, Apple CarPlay and Android Auto, replacing the previous model's 5.8-inch Composition Media unit.
The full-LCD 12.3-inch 1440x540 resolution Active Info Display looks cool but its user interface is not the best. You can't example, toggle between multiple viewing modes at the touch of a button. Instead, you have to dive into the sub-menus.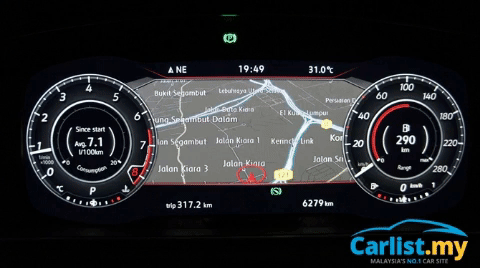 The new GTI is now also capable of parking itself into both parallel and perpendicular parking spots, thanks to Park Assist 3.0. It's a cool feature but the added function also meant that the proximity sensors beeped incessantly in tight traffic, and it can't be permanently switched off! There is an option to disable the parking sensors but that only works for the front, not the sides.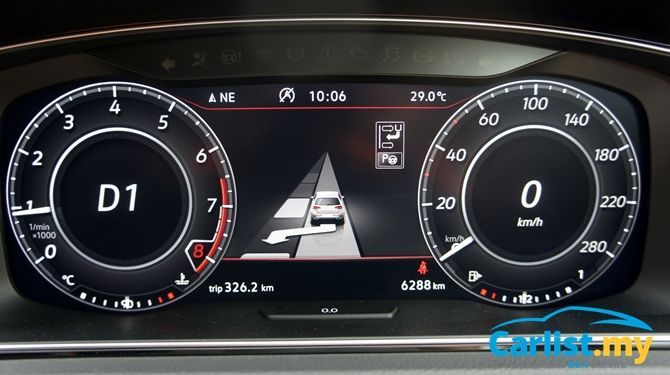 The reverse camera also insists on superimposing a proximity indicator over the camera's feed on the left-side of the screen, taking up a quarter of the screen. It's fine for left-hand drive markets but over here, the left-side is exactly where motorcyclists and cars will be coming from when you are reversing out onto the main street. You can swipe it away but you can't permanently remove the image.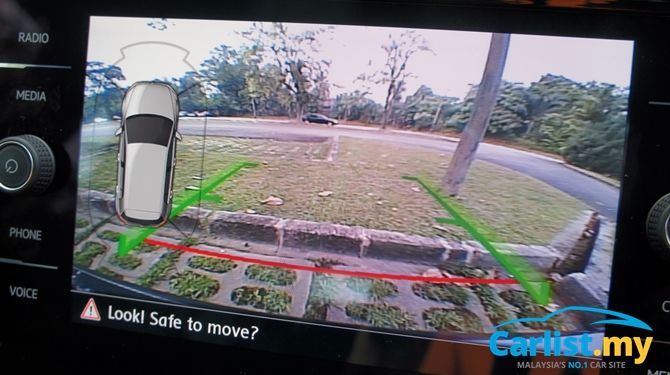 However none of these faults in user interface matter anymore once you take the GTI out to the open roads.
Driving Experience
On the move, the GTI is everything you would have come to expect – a combination of highly desirable styling, usable power, comfort, and practicality that's still unmatched by any of its rivals.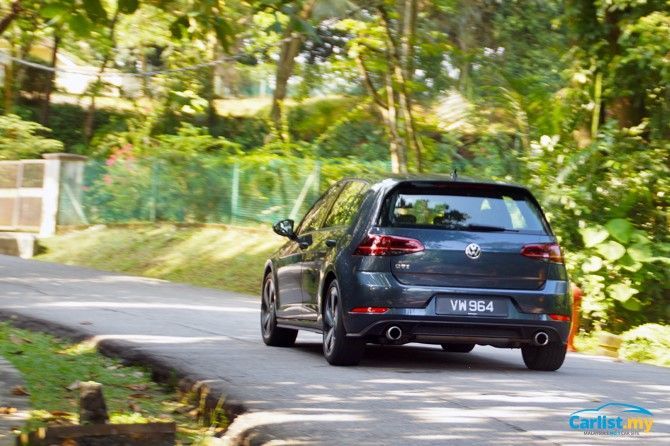 There might be other more powerful hot/mega hatches out there, but the GTI is a good example that sometimes less is more, for none can match the GTI's ability to wear multiple hats at a time. It can be your daily car, it can be your weekend track car, you can cruise for 800 km in a day, you decide.
The increase of 10 PS is not immediately obvious but there is a marginal improvement in the linearity of its power delivery. The 350 Nm torque is now sustained 200 rpm further up the rev range, although the additional 10 PS now comes 200 rpm later.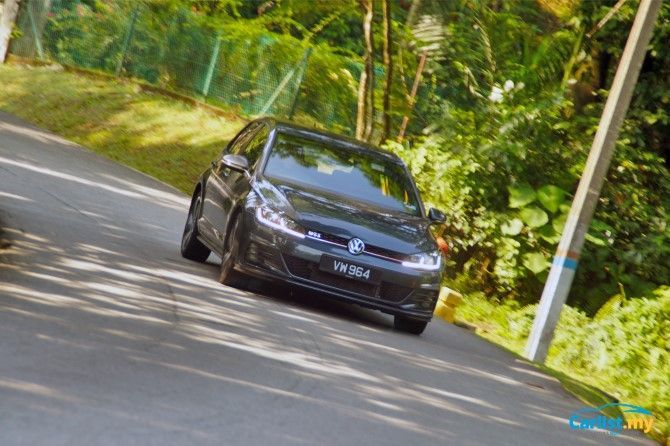 As with all Volkswagens, the GTI's steering has a proper confidence inspiring heft and is very precise. The fancy xDS brake-based electronic differential lock rockets you out of corners incredibly fast but is at the same time, smart enough to work with the traction control to retard power if you are powering out of the corner too early.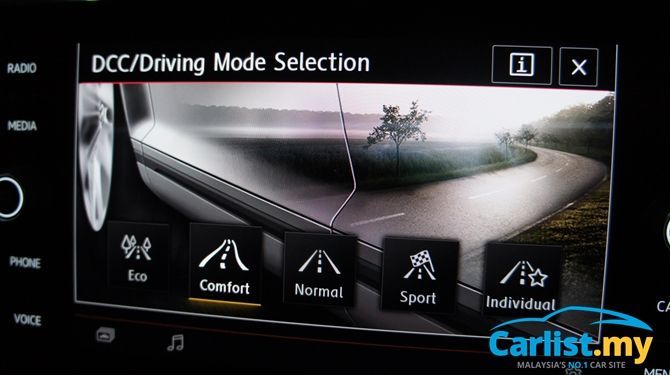 Set the DCC to Sport and the car growls a little louder, and holds itself tighter through the corners. Punch the throttle and a distinct pop accompanies every upshift.
This, combined with fast-shifting dual-clutch transmission, ample mechanical grip, and a very competent front-wheel drive chassis makes hustling the car along tight roads a simple 'point-and-shoot' exercise. It's so easy that it even makes fools look like talented drivers. Whether is that a good thing or not is a matter of your perspective.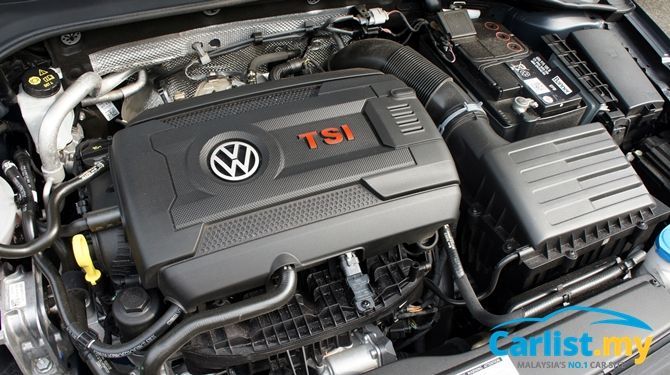 In the city, the brakes can be a bit tricky to modulate in stop-go traffic, while the six-speed dual-clutch transmission is, like all DCTs, slightly jerky in slow traffic. But these are things that you will adapt to over time.
Comfort
The GTI is often said to deliver the best balance between comfort and performance, and this model is no different. However, our recent experience with a FK8R Honda Civic Type R (review to come soon), whose FD2R predecessor was known for its jarring ride, surprised us by delivering a ride that's actually more comfortable than a GTI in Comfort mode.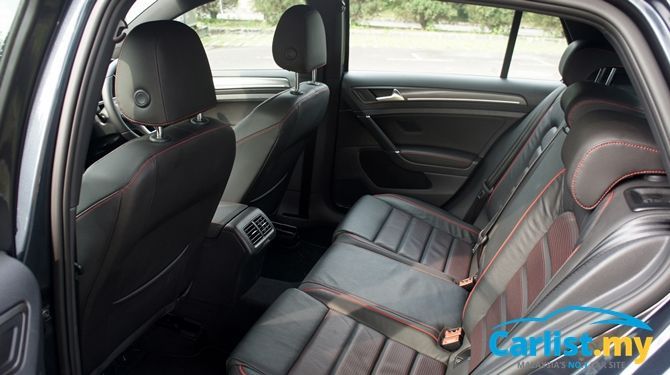 Yes, the FK8R sits one-class above the GTI but the point here is that the goal posts in neighbouring fields are rapidly shifting, and it has an influence in how we view the GTI from this point onwards.
Oddly enough, the Golf R (review to come soon), which rides on thinner 235/35 R19 tyres, rides marginally more comfortable than the GTI. We've checked and yes the dampers for both cars (Mk 7.5 ones) have different part numbers. Hard to believe but it seems that Volkswagen have finally realized that it's not quite logical for a more expensive R to ride poorer than a GTI, when both are marketed as high performance cars that you can live with every day.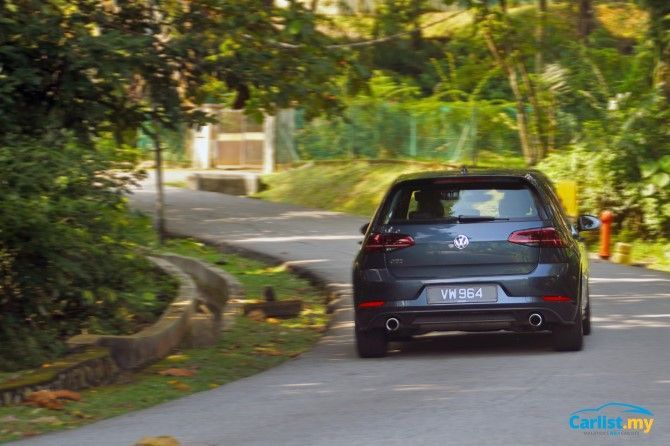 We are not saying the GTI's ride is harsh. It's still way more comfortable than the outgoing Mercedes-Benz A-Class, but recent developments have forced us to adjust our expectations.
Like any Volkswagen, the GTI covers kilometres after kilometers at triple digit speeds with amazing ease. With DCC in Comfort mode, the GTI remained well composed when driving along Jalan Bangsar, which is probably one of the worst stretch of road in developed parts of Klang Valley. Shocks were well damped and rough surfaces smoothed out, but our mind kept asking how come the FK8R is more powerful and yet more comfortable?
Fuel economy
Drive it gingerly, the 2.0-litre TSI engine sips about 7-litre/100 km but our time with the car saw it spending most of its time in rush hour traffic, with a short jaunt in open roads. It delivered an average fuel consumption of 9.8-litre/100 km across a 300-plus km distance.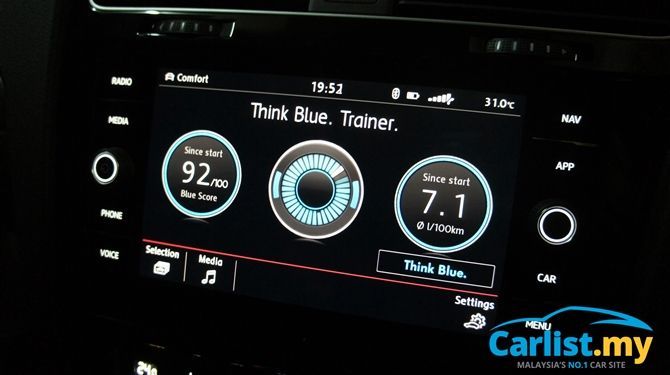 Conclusion
Against its 200-plus PS peers, the Golf GTI remains the benchmark for its combination of effortless performance, comfort, and practicality. Downsides include compromises in user interface for right-hand drive market cars - poorly located buttons for DCC modes, engine idle auto start-stop as well as graphics for reverse camera - and the side proximity sensors that cannot be permanently switched off.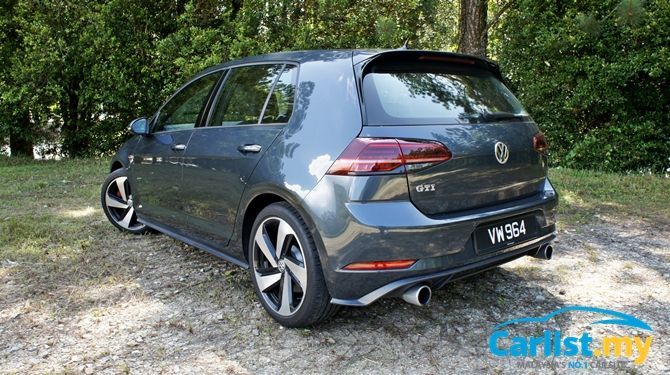 It has its share of downsides but as an overall package, it's hard to find a better alternative for less than RM250,000. It's a car that you can comfortably make long road trips in, as well as the occassional track days. Three hundred plus horsepower mega hatches aside, the GTI is still the king of hot hatches.
---
---
---
Comments