2015 Volkswagen Golf GTI Mk7 – To Tech Or Not To Tech?
Reviews The seventh generation Volkswagen Golf GTI has been on the market for several years already. By now, many would've been familiar with what it is and what it isn't.
The subject of today's discussion centres around the RM10,000 Tech Pack and RM3,000 19-inch Santiago wheels options – are they worth the money and how much do they improve/worsen the car's dynamics?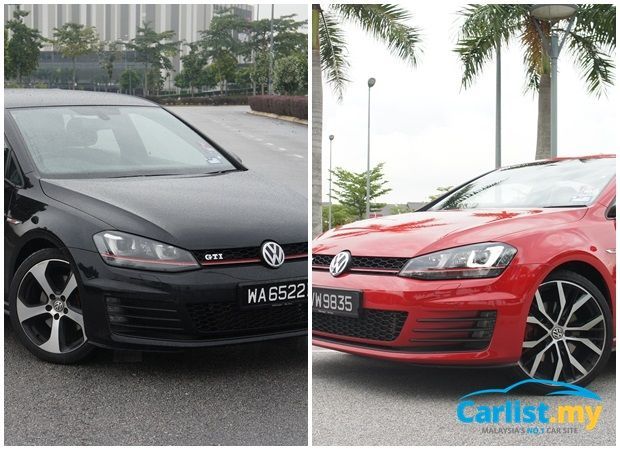 To recap, the Tech Pack option includes DCC (Dynamic Chassis Control) adaptive dampers with three selectable driving modes – Normal, Comfort and Sport, power adjustable driver's seats, Vienna leather upholstery with the signature red stitching.
DCC is a pretty nifty feature within the car's suspension that continuously adapts itself to changing road conditions and driving behaviour.
By altering the electrical charge running through the oil-filled dampers, the magneto-rheological fluid (fancy word for oil filled with magnetic particles) within will increase or decrease its viscosity, which would have an effect of loosening or stiffening the dampers rates.
Each damper is controlled by an individual control unit which calculates the optimum settings for each wheel based on the stream of information coming from the GTI's array of sensors from the steering, wheels, engine and transmission.
Depending on whether the driver has selected Normal, Comfort or Sport setting, DCC will adjust the GTI's damping accordingly, as well as varying the steering's power assistance.
Adaptive dampers are great when they work, and a massive headache when they fail, which they certainly will over the course of the car's lifespan.
As a wear and tear item, you will have to budget for their maintenance, and if you are curious about how much they cost to replace – it's about RM1,500 to RM2,000 per piece, depending on whether you want to have the work done at an independent specialist, or at a Volkswagen centre. This is not that expensive considering their complexity, and how much a branded set of performance-oriented mechanical dampers will cost you.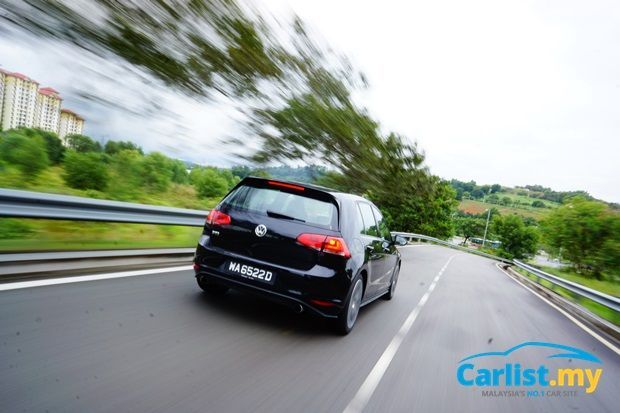 To set a baseline for comparison, we jumped into a standard non-DCC-equipped Deep Black colour Golf GTI.
Now the Golf GTI is often said to be the best all-rounder performance hatchback – docile enough to be driven by your grandmother, comfortable enough to drive your in-laws in, and yet still engaging enough to set your pulse racing. At least that's what the pundits say.
Despite the many praises heaped onto the GTI, oddly, I am quite indifferent to the it: not because of any particular fault within the car, but I just find it to be missing the last few tenths in driver engagement that I would expect from a hot hatch. Capable? Definitely. Stirring the soul? Meh. The three-pedal crackling Renault Megane RS has that covered.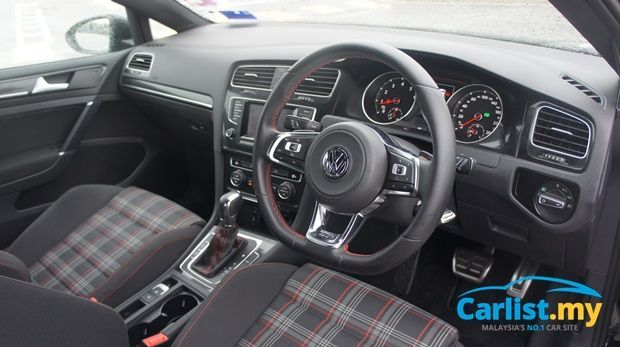 Driving the non-DCC GTI only served to further confirm my own opinions. Inside the cabin, there's certainly a lot of ergonomic flaws that I can nit-pick on. The cabin might have been a nice place to sit in, if the steering wheel was on the left side of the car, but this is Malaysia, so some things are clearly not the way it was made to be.
The switch to disable the engine's auto start-stop function is located on the left of the DSG-labelled gear knob, which means that you can't see it without straining your neck over to the left.
Don't get me wrong, I don't mind the GTI's engine idle start-stop function. For a small capacity four-cylinder engine, it operates smooth enough but you certainly don't want your engine cutting out when you are lining up to pull out of a junction, or inching your way through a traffic jam.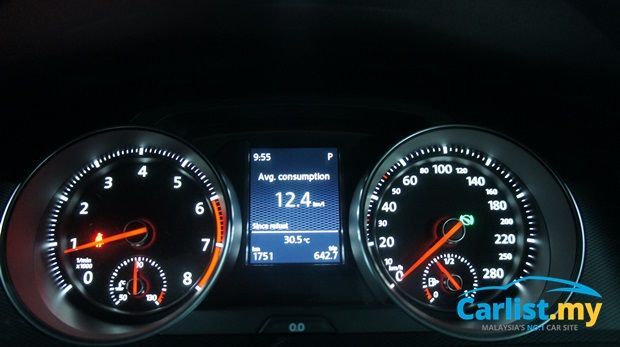 There also isn't a lot of utility space for you to empty the contents of your pockets into. Smartphones, wallet, house keys, office keys, Smart Tag – it is best that you keep another bag in the car for such items.
The much talked about proximity sensor-equipped 5.8-inch touchscreen infotainment system might cause a 'wow' at first impression, with the function menus popping out when you hover your hand near it, but in reality, it only makes them harder to operate on the move, having to wait for the menus to pop-up before operating the menus. Curiously, both our test cars had rather poor FM radio reception.
Compared to its predecessor, this Mk 7 model feels more grown up. The signature exhaust pop that accompanied every upshift of the 6-speed wet-clutch DSG transmission, that 'GTI pop' that's so synonymous with the Mk6 model is now gone. Whether that is a good or a bad thing depends on your preference. There is a new "brapp" sound in place, but you'll have to work the revs hard to hear it.
There's also a general sense of better precision to its steering, which now has a quicker ratio working within a lighter MQB platform that underpins the new GTI.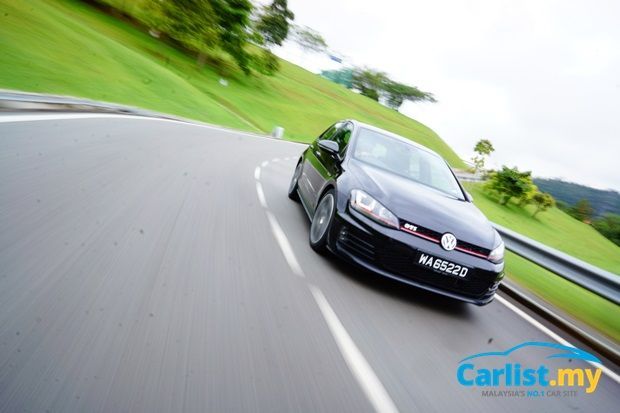 On the move, the non-DCC GTI rides very poorly. Across long empty stretches of highway at high speeds, the GTI bounced about in a manner that was very un-Volkswagen, which is odd because Volkswagen cars, from its most humble Polo Sedan, to the Passat or even Tiguan, are known to have a very well balanced ride.
Off the highway and into twisty country-side roads, the non-DCC GTI's limited scope of damping control makes it difficult to find a right driving rhythm that matches the character of these country-side roads.
You then begin to back off the throttle a couple of notches, which is unfortunate because the car clearly has a wider breath of abilities to play with, but the suspension somewhat refuses to cooperate.
That's a shame because there's a good vibe permeating through the GTI's controls. Once on the move, you begin to enjoy the car and forget about the niggly ergonomic flaws in its cabin.
The dichotomy between the non-DCC GTI and Volkswagen's other regular models made it seem like the engineers at Wolfsburg had either not bothered at all with the standard GTI's ride quality or had intentionally made it to ride poorer to support the case of adopting the more expensive DCC feature.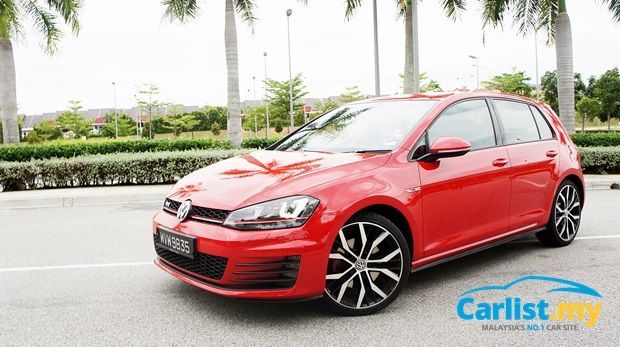 Moving on to the Tornado Red DCC-equipped Golf GTI with the optional 19-inch Santiago wheels, you lose the GTI's signature tartan-like 'Cloth' pattern fabric seats in exchange for plusher 'Vienna' leather upholstery.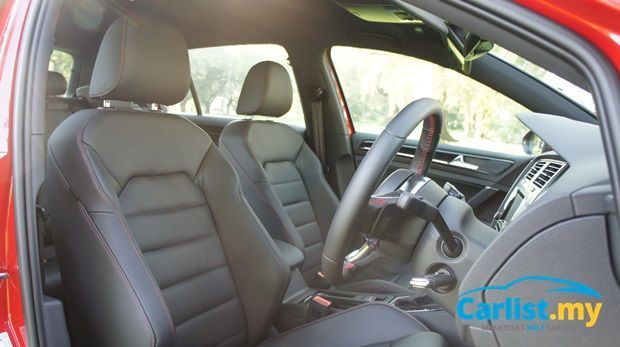 Personally I would have preferred to retain the iconic tartan fabric seats but our small market size means that it is not possible to have separate options for the upholstery and chassis control.
With the DCC in its default Normal setting, smooth highways flatter the GTI's ride but be extra cautious of potholes when driving within the city.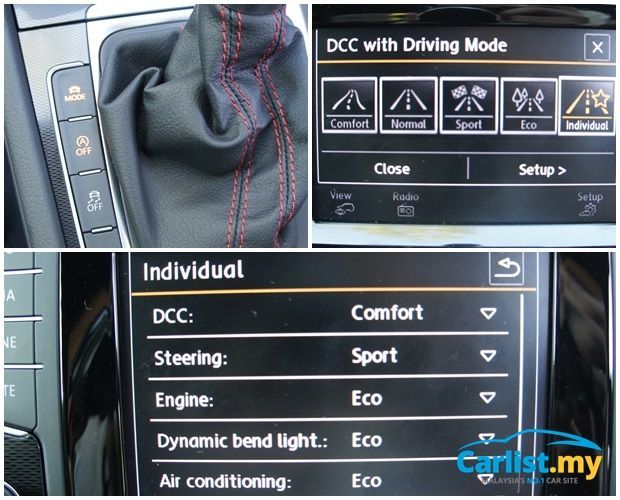 The roads surrounding our office in Bangsar and the nearby Sri Hartamas are pockmarked with mini-craters. There were several instances when we thought the tyres were going to burst, but thankfully they survived.
The 19-inch wheels look good but those rubber band-thin 35-series tyres wrapping around it are going to take a lot of beating and we don't think they are worth the trouble. Save yourself the RM3,000 and stick to the far more practical standard 18-inch wheels.
Contrary to what most may think, the DCC's Sport mode is not the best setting when you want to drive hard. In Sport mode, the suspension's settings are just too hard for one to quickly string together a sequence of corners.
On anything other than a smooth race track, Sport mode simply makes the car very jittery. The slightest rough patch of tarmac is enough to throw the car off its intended cornering line. On a race track, a stiff suspension with zero body roll is ideal but out here on public roads, some amount of body roll is necessary in helping the driver to gauge the limits of the car.
After several runs along a mountainous stretch, we found that the ideal setup is to leave the steering in Sport, and the suspension in Normal. This gives you a very sharp, nicely weighted steering for optimum control with a suspension that is pliant enough to absorb mid-corner bumps without upsetting your steering.
Both cars use the Volkswagen's XDS+ electronic differential lock that allows you to accelerate out of corners faster than you normally could. It's a pseudo-LSD that uses the front brakes to divert torque to either front wheels which has more traction. It works brilliantly but watch out for accelerated tyre-wear!
XDS+ is the one thing that lulls so many poorly trained drivers behind a GTI think that they are very talented. What was previously an exercise of 'slow-in and fast-out' (as opposed to 'fast-in, never came out'), practicing the delicate art of throttle and steering control, adjusting the attitude of the car based on what you feel at your bum, is now reduced to an elementary point-and-shoot exercise. Turn in to a corner, aim, squeeze the throttle and the car shoots away.
The car's excellent traction lulls you into believing that you have more driving talent than you actually do. There's a reason why tow truck drivers are said to be very familiar with picking up GTIs. At some point the tyres will run out of traction and the car's ESC will intervene and when it does, it can be rather disruptive.
For a performance oriented car, the ESC clamps the brakes surprisingly hard, which can upset the car's cornering line. One moment you can be holding your line along a fast sweeping corner but when ESC comes on, you might find the car momentarily pointing another direction. Fast reaction in applying corrective steering is required to maintain your intended line.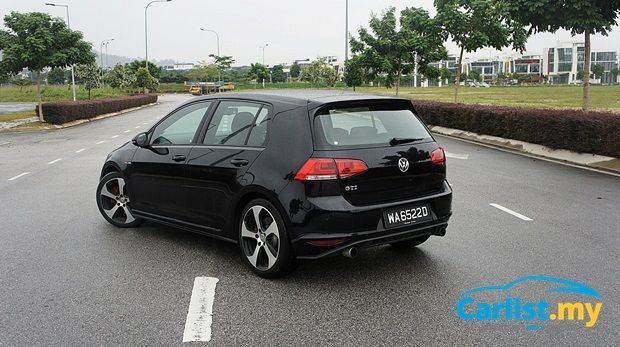 Overall, the Golf GTI is still the gold-standard in delivering fun for people of all levels of driving talent. Purists may snigger at it and go for the Renault Megane RS, but the Renault's breath of capabilities is far too narrow for the masses. And therein lies the Golf GTI's appeal – it is a hero car for the masses, and the missus is not going to get upset riding inside it, so long as you choose the Tech Pack but drop the 19-inch wheels option.
---
---
---
---
Comments