 Let's take a moment's respite from the world of horsepower and driving thrills to delve into the world of fashion. Now I know the subject of fashion doesn't share the same breath with the words of evo, come to think of it, it might not be in the same neighbourhood, or even universe. But bear with me on this, I assure you that haven't quite lost my mind just yet. Then again you don't need me to tell you that the world of high-street fashion and automotive luxury brands has made for some unlikely bedfellows. After all only a fool would be blind to see the potential to reach out to high flying audiences who wouldn't give a toss about a car unless their neighbour had one.
It is said that to make it in the world of fashion you need to create trendsetting halo products, and some of these products can be so expensive and exclusive that only the one per cent club can ever hope to afford it, just to put it on show in their gilded mansions. Those creations however are not there to make money, but to build the mystique in the brand. Then there are the high end products like dresses and exclusive jewellery only worn by celebrities of their choosing. Again, not so much of a profit-making exercise there, but it goes to further reinforce the brand's perception. And with those two fronts accounted for, that is where the industry makes its profits, mainstream appeal, where they can churn out multitudes of products that wear its branding for aspiring fashionistas to snap it up simply because it has the brand of a trendsetting product and celebrity endorsement. You might call it a cynical business, but it works.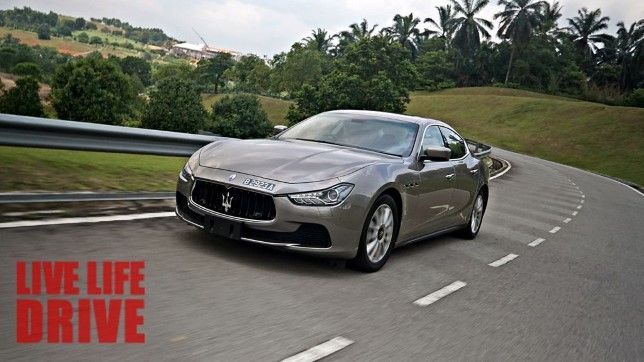 It is also a business model that is seen in the automotive business, after all every now and then car makers would build incredible limited edition halo cars with impossibly high price tags, participate in racing programmes that serve to improve the brand perception, and at the same time, offer budget models for starry-eyed customers with plenty of aspirations but not much dosh. The similarities are uncanny to say the least.
But for car makers it isn't as simple as slapping their brand onto anything with four wheels and an engine, and calling it a day. Making an exclusive flagship model for the well-heeled of their customers, and mass market models can dilute the brand and anger their followers if not done properly. Especially when that brand in question is Maserati, a 101-year old marque that boasts plenty of achievements in grand prix and GT racing, whilst gaining an enviable reputation in making some of the most desirable grand tourers in the world. Maserati certainly has the glitz and the glamour to its name, and now it wants to bring that to a new audience with the Ghibli, a four-door luxury sedan that slots below the Quattroporte.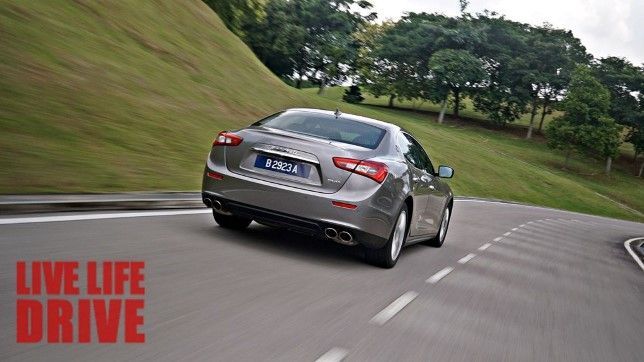 Bearing the Arabic name of a gust of hot air that comes from the Sahara desert, this Ghibli is the third such iteration of the esteemed name from Maserati, though unlike its predecessors, it is a four-door sedan rather than a two-door coupe. Considering the world's love affair with Teutonic sedans, it would be safe to assume that the Ghibli would take the more sensible approach, adopting a quiet and unadventurous form. Built just to challenge its German contemporaries at their own game. And rather thankfully that isn't the case when we see the Ghibli in its unadulterated glory on the open road.
It might be the most affordable Maserati you can buy today, though at a glance you can't even tell if that is the case. It doesn't look the least bit dowdy next to Maserati's more expensive offerings.With the intense gaze of its headlights, the lines on its curvaceous body, and those unmistakable triple side vents that marks it out as a Maserati, it looks every bit as striking as a supercar should, and yet sophisticated enough to attend a black tie-event, as expected of a Maserati should. No gaudy trinkets here, not brash decals anywhere. Looks however, is only part of the litmus test of any Maserati, and the other is what happens when you take it out on the road.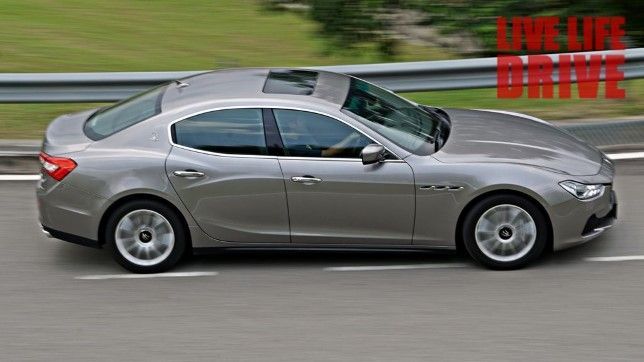 Just like the Quattroporte and GranTurismo series, the Ghibli continues Maserati's fondness for shoehorningthunderous powertrains beneath svelte sheet metal. In the Ghibli's case, it comes in the form of Maserati's brand new 3-litre twin-turbocharged V6 engine. Though only boasting half a dozen cylinders, the V6 isn't short on its claim to supercar royalty. Based on the Quattroporte's flagship 3.8-litre twin-turbocharged V8 that has been developed in-house, and assembled by Ferrari, the Ghibli's V6 produces 330hp and 500Nm of torque in its base form, and is capable of cranking out 410hp and 550Nm of torque in the more powerful Ghibli S. With a 0 to 100km/h time of 5.6 seconds and a top speed of 263km/h, the base Ghibli, is already fast by grand tourer standards. But more than speed, and style, the Ghiblicertainly sounds the part.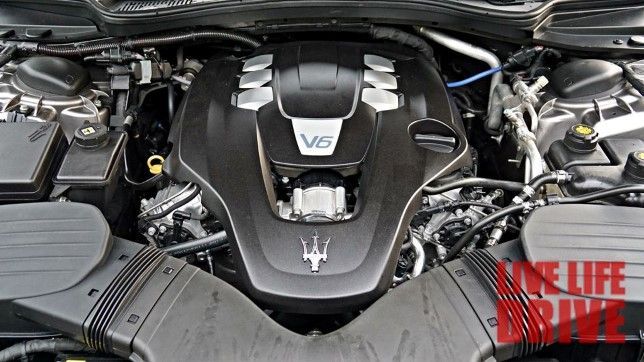 Open up the taps on that V6 and you are treated to an addictive and vocal soundtrack that is lost in the world of turbocharged engines whose songs are stifled by the fitments of turbochargers.Maserati says that its vocal range is thanks to pneumatic valves in the pipes emerging from each bank that diverts exhaust gases through a device known as the Maserati Sound Tank to compose that rich timbre snarl that is distinctive of any Trident wearing car. Though the adoption of turbocharging technology was done in the interests of cleaner emissions, the Ghibli still sounds unapologetically like a sports car should.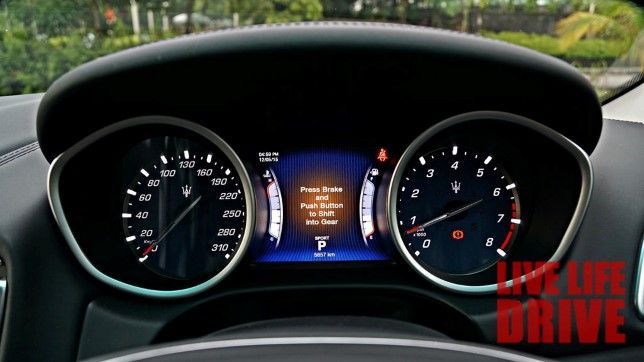 Even being the least of Maserati's line-up, the Ghibli is no shrinking violet. With peak torque available from a very accessible 1,750 to 4,500rpm and power peaking at 5,000rpm, you wouldn't need to push its engine to derive the necessary thrust either. Its smooth delivery of torque is further complemented with the fitment of an 8-speed ZF automatic that works its way through its gears with snappy shifts on its "Sport" settings, and impeccable smoothness when you leave it to its own devices.And for a turbocharged luxury sedan, there is surprisingly little slack to the throttle response, and neither is there any notable turbocharger lag to interrupt the flow of power to the rear wheels.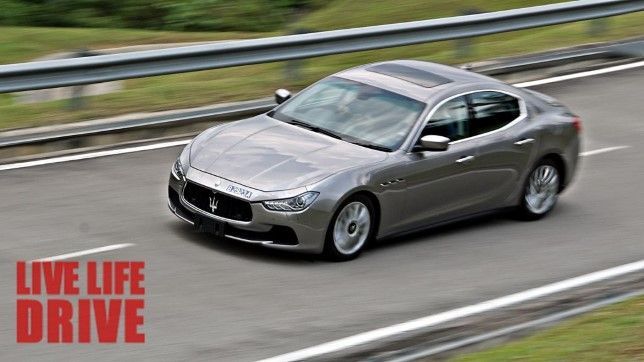 While it has a four door body and decent space in the back,the Ghibli is very much a driver focused car, and that shows from the moment you turn the steering. Where the rest of the world has adopted the electro-hydraulic power steering systems for the sake of efficiency, Maserati recognises the man-machine connect that can only be had through the use of a traditional servo-powered hydraulic system. The Ghibli's steering feels weighty, forging a direct connection with you thanks to its decent levels of feedback and steering consistency. A trait that is rarely found on luxury sedans of today.
Measuring in at 4,971mm in length, the Ghibli does feel imposingly big from behind the wheel, and its 1,810kg weight doesn't sound like it would do it any favours either in the handling department. While its cabin does give a sense of impregnability with its plush appointments and levels of refinements, the more you push it and learn about its nuances, the more does the Ghibli reveals its sporty nature beneath.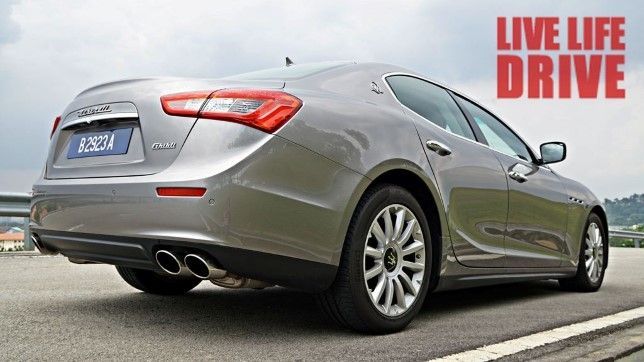 With a pointy nose and taut body control to be had from its suspension, the Ghibli feels more of a four-door sports car rather than your average luxury barge. Despite its weight, it is wieldy thanks to its 50/50 front-rear weight distribution, which is achieved through the use of steel and aluminium alloys throughout its body and even employing the use of a magnesium dashboard cross strut, the Ghibli feels especiallywell-balanced. So much so that it feels at home on the winding roads as much as it was cosseting and refined on the highway. Though 330hp might seem like a handful for some, the Ghibli comes fitted with a mechanical limited-slip differential, a feature that is rare fixture on all but the most high-performance cars on the market. Working in tandem with the Maserati Stability Programme that can vary the engine's torque and actuate the brakes minutely to reduce any loss of traction, the limited slip differential ensures that any driver of any expertise would be able to utilise the Ghibli's performance potential.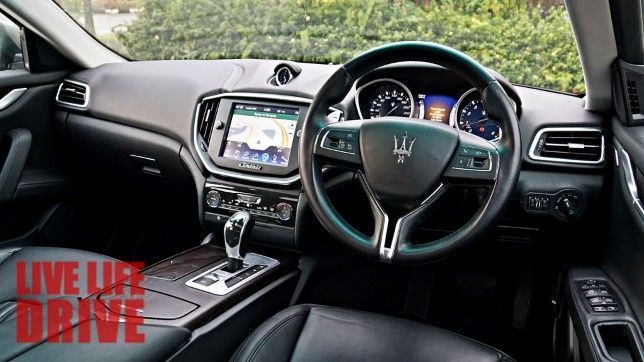 For all its sporty-connotations, you don't have to push the envelope of its performance potential to appreciate the Ghibli for what it is. It may be imbued with a sportier character than what its competitors deliver, but the Ghibli is more than a one-dimensional four-door sports car. At day's end, as we cruise through the MEX highway to join the chorus of traffic shuffling in and out of the city centre, the Ghibli turns out to be a nice place to be. Its cabin is luxuriously trimmed in fine leather certainly fires up the senses. Its dominant 8.4-inch Maserati Touch Control in the middle of the dashboard systems houses all the car's interior functions and features, thus freeing up the cabin from the clutter of buttons. And when you shut off the valves to the Maserati Sound Tank, it is also remarkably quiet inside. For most of the time the Ghibli is a well-behaved grand tourer, and only turns into a rather capable sports car at your behest.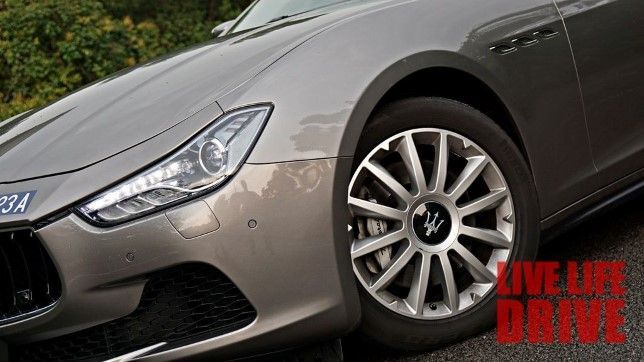 Those earlier thoughts that allude to the Ghibli turning out to be nothing more than a sell-out to the name have quickly fadedaway into distant memory. There isn't anything cynical about it. It doesn't feel like a product that is merely riding on the coattails of an illustrious brand. Well not for a RM538,800 car anyway. Where previous mid-sized four door models from Maserati didn't quite live up to the expectations of a Maserati, this new one does. For its beautiful shape, soulful engine, stylish interior, and sharp dynamics, the Ghibli is every bit a true blue-blooded Maserati as it should be.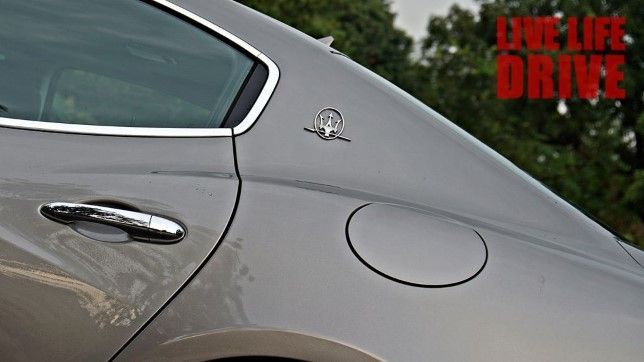 ---
---
---
---
Comments