2015 BMW 2 Series Gran Tourer Review In Zadar, Croatia
Reviews So, we first saw the five-seat-only 2 Series Active Tourer in Austria, and nearly a year later, BMW Group Malaysia took the liberty to introduce the brand's first-ever front-wheel drive model in Malaysia as well, at its popular BMW World Malaysia event.
Not long after, the world saw a second front-wheel drive BMW, dubbed the 2 Series Gran Tourer. And now, just in time for the Malaysian debut of the car, as promised earlier, here is our review of the seven-seater MPV from BMW, from the exotic and richly historic land of Zadar, Croatia.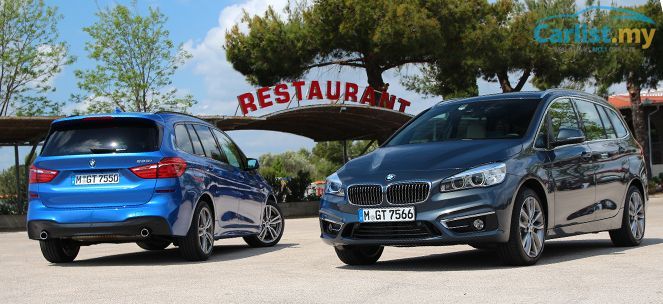 What is it?
As you'd imagine, the concept of a BMW Multi-Purpose Vehicle (MPV), no matter how many seats you put in it, wasn't going to change very much one from the other: as exemplified here, where it's a case of lengthening one's body and wheelbase to make more room for the extra seats without changing too much else.
The lauded additional seats for the 2 Series Gran Tourer (which we'll be referring to as the 2 GT from here on) are optional: having them allows for a total of seven people in the cabin, not having them means you'll get to load a washing machine or a bicycle in the back, easy.
Either way, you're going to be asked out a lot more to help with your extended family and friends' mobility.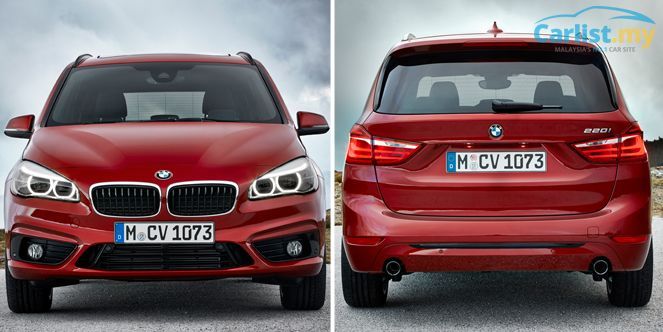 The 2 GT rides on the same architecture as the 2 Series Active Tourer does: it's a modular FWD arrangement that features a transverse-mounted engine up front. For the 2 GT however, BMW has extended its wheelbase and lengthened its rear overhang, which makes it longer than a 2 AT (by 214mm), while the roof of the vehicle has also been pushed upwards (+53mm) to create more headroom in the vehicle. No surprise then that the 2 GT is visibly larger vehicle, with visibly more interior space.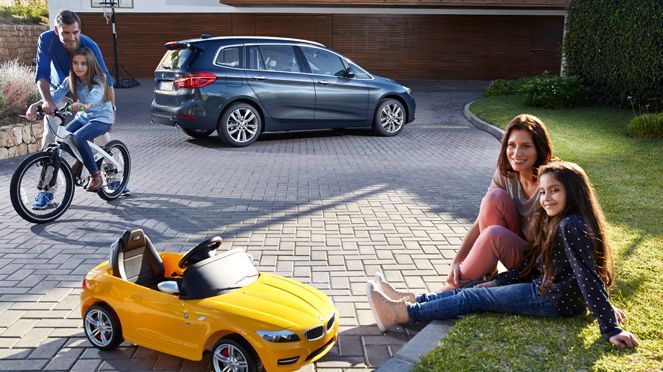 Will you need one?
We know what you're probably thinking now: that there are several premium seven-seaters in the market already, so what good is another one? That's a fair assessment, and BMW's head of Total Vehicle Concept for the 2 GT, Agustin Vallejo-Gonzalez agrees, reminding us of their own X5, as well as others like Volvo's all-new XC90 - all of which do fine jobs at seating seven comfortably.
We were then also reminded of their prices, where the X5 in Germany retails for some 60,000 euros, when the 2 GT is just half that. And it ought to be reflected in Malaysia too, when the 2 GT launches here with a price that we bet is going to be significantly less than the base X5's RM574k.
Having also accepted that seating seven in a car can be had for even less money than the 2 GT commands, BMW's point is essentially that before the 2 GT's arrival, you couldn't transport six passengers (driver excluded) to school on weekdays and then drive the same vehicle like a bat out of hell on weekends.
Boldly, even Mercedes-Benz stays away from such territories, refuting the idea that a larger, seven-seater B-Class was at all necessary. Well, we'll have to let the sales figures settle this score.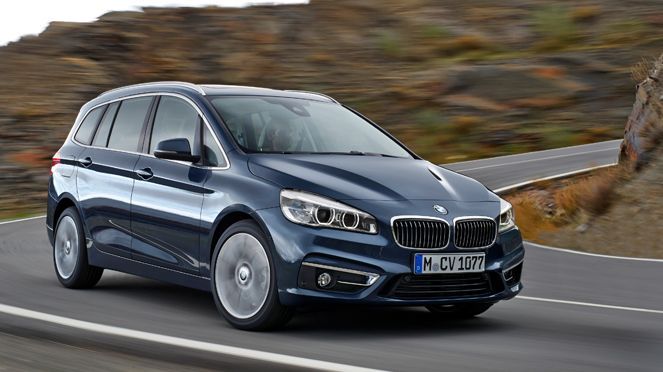 Driving a 2015 BMW 2 Series Gran Tourer:
Two versions of the vehicle were available for us to drive in Croatia: a petrol 220i and a diesel 220d xDrive. Both engines are of course equipped with the latest in BMW TwinPower technology, with the 2.0-litre four-pot petrol version pushing 192hp and 280Nm of torque, and the 2.0-litre four-cylinder diesel making 190hp, and 400Nm of torque – you can already tell which one was going to be our favourite.
POWER: In the 220i first, and it would be inadequate to say that power was anything less than sufficient in such a vehicle. Max torque comes in quick and early, and as expected of a BMW, there's lot of power all through the engine's rev range. Without the added weight brought on by an xDrive all-wheel drive system, the 220i is as lively as you'd expect a BMW MPV to be.
Opting for the 220d xDrive next is where things went a bit crazy: considering that this was a seven-seater MPV that was sending 400Nm of torque to the wheels. Not even the super-hot Volkswagen Golf R makes that much torque (380Nm), nor does the 2 GT weigh all that much more than a Golf R either. With just about 35kg or so splitting them apart (220i vs Golf R 3-door), you can imagine then what kind of performance we're talking about here.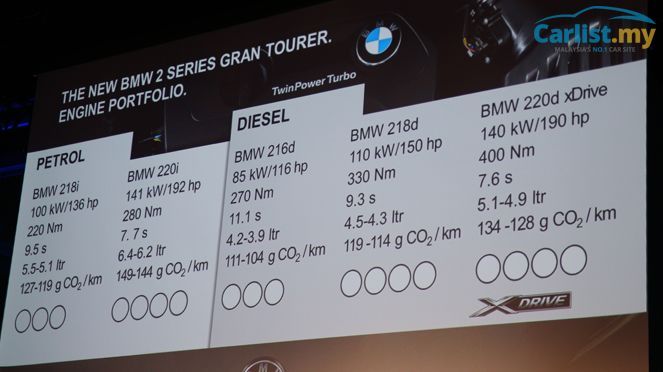 TRANSMISSONS: Also worth noting is that given the new transverse engine layout, BMW has had to look to a different eight-speed torque converter auto transmission for its 2.0-litre four-cylinder engines: one different from the ZF-sourced unit common to all rear-wheel drive, longitudinal-mounted engine BMWs like the 3, 5, 7 Series.
Aisin was with whom a replacement was co-developed, and it's remarkable how seamless the fit turned out to be. For the three-cylinder variants, Aisin has also supplied its transmissions, but in the form of six-speed torque converter automatics. Six-speed manual shifters are in the market, but weren't available for our drive, nor do we expect them to show up back home in Malaysia either.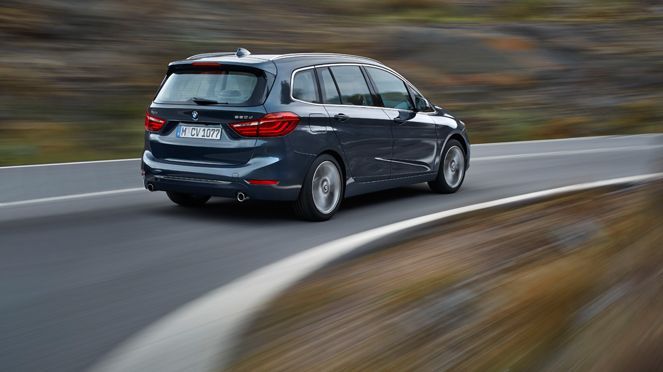 HANDLING: Power aside, what really impressed us was how well BMW has managed to make its front-wheel drive MPV perform when driven hard – not that you should or normally would drive that way, but with BMW insisting on things being BMW-esque with all their vehicles, we had to find out.
Such an opportunity to find out arose when we got a little bit lost on our way to the airport. You see, unlike media drive events in Malaysia, there's no convoy to follow on these international trips: leaving you, your co-driver, and your on-board navigation to figure out how to get from A to B then to D, back to C, before returning to A again. Yes, we got lost in Croatia.
And it couldn't have been a worse time to get lost, because our destination was to the Zadar Airport where we were about to be flown back to Munich. Now, Zadar is a beautiful place packed with historical structures and gorgeous sceneries. Its roads are fantastically smooth and there's nearly no one else on it but yourself at most times. But it's also quite a confusing place to drive, especially when everything starts to look a bit familiar. Again, yes, we got lost.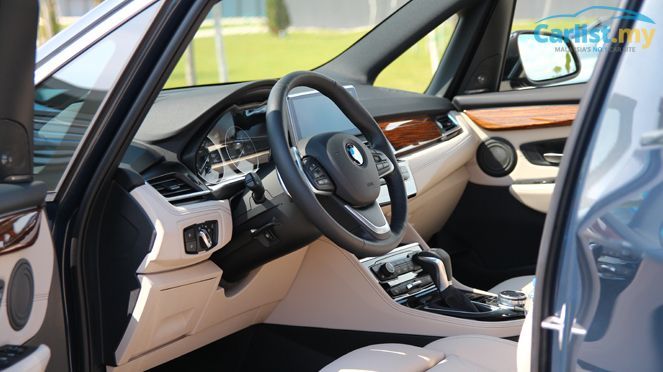 Long story short, it was probably the best opportunity we had to explore the dynamic capabilities of the BMW 2 Series Gran Tourer 220i (see, we're even spelling names out in full now in respect of the machinery). Narrow, windy roads, about 30 minutes on the clock before our plane would take off. I gunned it with as much courage and skill up my sleeves, and wasn't disappointed.
For all the extended rear overhang, longer body, high seating position designed for soccer moms with an appreciation for sitting higher than everyone else on the road, it's amazing how quickly that all goes away, and the 2 GT becomes a proper BMW once you start driving a bit more enthusiastically. Expectedly, there were hints of body roll, but far less of it than you would expect from a vehicle of this height and size.
The steering is unreasonably responsive and intuitive, and as eager as the nose of the car was to dive into corners with front grip by the buckets, the backend never felt unsupportive of your ideas. To be completely honest, I just don't possess the talent it would take to truly experience the depths of BMW's wizardry, but the sensation of doing my level best without getting into a crash or worse was phenomenal.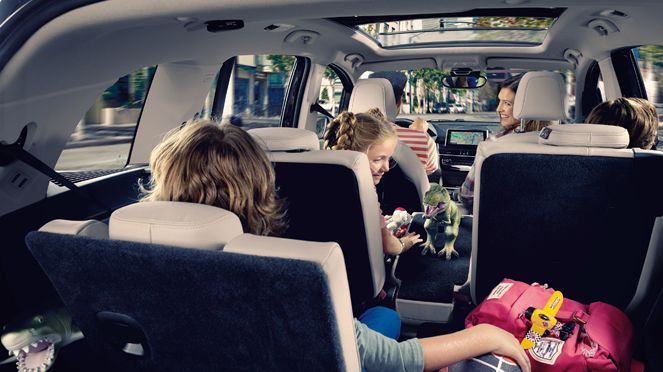 Living with a 2015 BMW 2 Series Gran Tourer:
Back to more sensible aspects of the car, and again, there's lots to impress you with. While the 2 GT's cabin remains very similar to just about every other modern BMW at first glance, there's actually quite a bit to uncover here.
For example: take a quick look at the 2 GT's door pockets, and you'll notice that they're a lot larger now – specifically, they'll easily swallow a 1.5-litre water bottle. Turn your attention to the second row of seats, and if you try to look under them, you'll spot an elastic band that's been put there to store anything from your magazines to your children's colouring books.
Keep your attention on the second row seating, and you'll find that they're actually positioned a little higher than you would find them in a 2 AT: that's because when you do try to fit an adult in the rear-most row of seats, there's actually room for their feet to slide under the middle row seats for more comfort.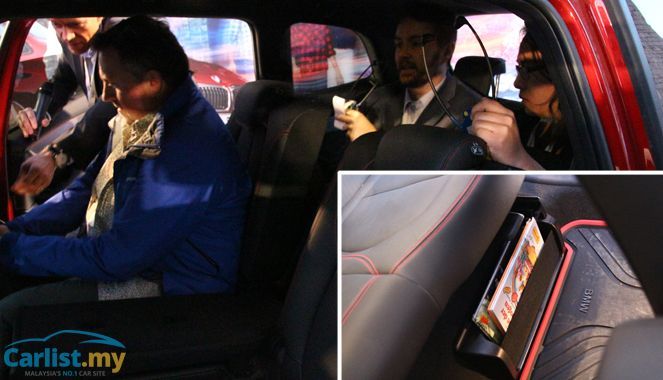 Speaking of the third row seats, the backrest is able to recline further backwards than it does in any other vehicle (so says BMW), allowing adult passengers in the rear-most seats to actually sit quite comfily. I know this, because I've managed to get myself in there, sit for a good few minutes, and then get out all by myself. As a disclaimer, I did have to slide the middle row seats slightly forwards, but the fact that you could do that, works all the more in favour of the 2 GT.
For drivers and front passengers, there's a lot more storage compartments for you to stash away your belongings, and you don't have to dig into the door pockets. The armrest itself opens up to a shallow compartment fit for your mobile phones and such, while if you flip the thing up, you gain access to a deeper pocket that'll swallow things like your wallets, a small drink bottle and more. Need more, and you can look to the new storage slot made just above the air-conditioning controls, worthy of your keys and such.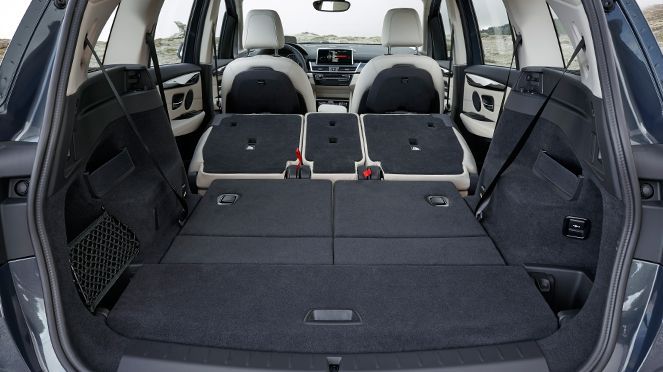 Moving around to the rear of the vehicle, and having specified one with the optional additional third row of seats, you'll appreciate how the backrest can be folded completely flat and tucked neatly into the cargo floor, which itself offers a low loading position so you don't have to break your back lifting heavy items higher than you should or could. If you need more space than the original 645 litres available with the third row seats folded, folding the 40:20:40-split middle row yields a maximum 1,905 litres of usable space.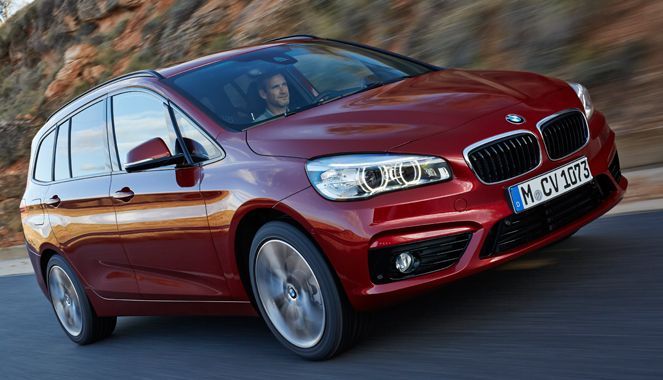 Verdict:
There's really not much you could fault the BMW 2 Series GT for. It is purposeful beyond the 2 Series Active Tourer, a premium and sensible seven-person mover at a more sensible price than normal, and it boasts all the handling and dynamism of a true BMW. The 2 GT sets out to do what it does very well – far better than expected.
Our only inquisitions fall on the area of its demand: is there a demand for such a vehicle? We'd think yes on a global scale, where folks in Europe, for example, may enjoy the premium badge and build for not so premium prices. Back here in Malaysia? The case is far from similar.
Undeniably though, it's quite clear that BMW's best efforts were concentrated here, and if you were in the market for a premium seven-seater MPV, the 2 Series Gran Tourer is definitely worth a showroom visit and a test drive.
---
---
---
Comments