The All-New 2021 Isuzu D-Max - The All-Activity Pickup For Work And Play
Insights The catchphrases 'premium' and 'lifestyle' are increasingly thrown around in the sphere of the automotive market – but few cars and even fewer manufacturers actually meet or understand the criteria of creating a car that combines these two contrasting traits in perfect symbiosis.
---
Let's say you are looking at a premium SUV, i.e.: sporting a snazzy bodykit, large wheels and a swanky interior – ask yourself, will the interior hold up to the mud from the shoes and hands of an intrepid explorer? Would the sleek bodykit shatter at the sight of a large rock? Would the wheels handle the abuse of an off-road trail? Perhaps, no.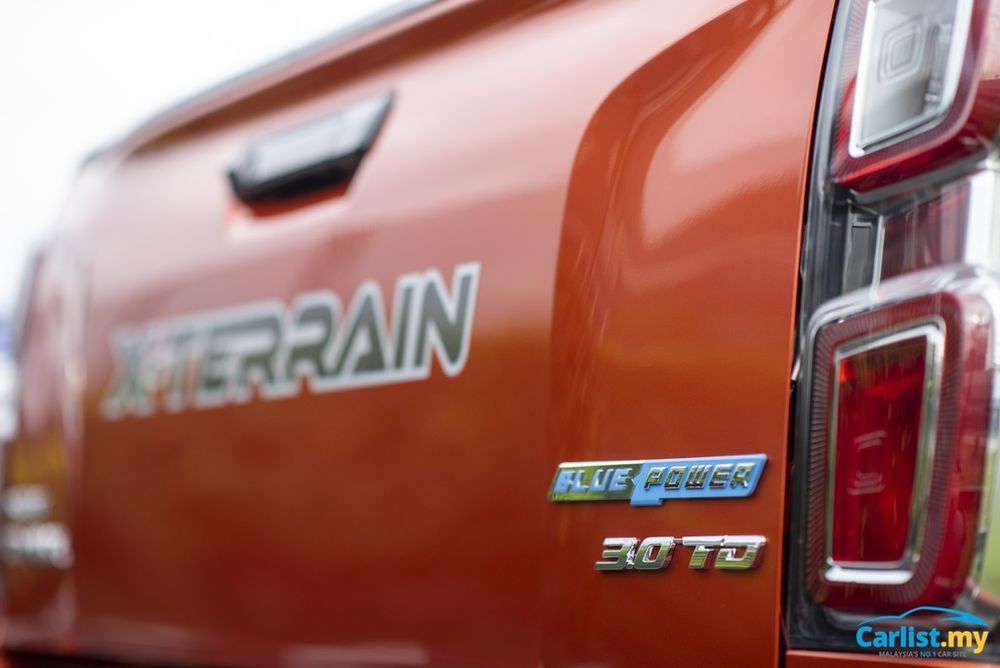 Then what about lifestyle… what good is a superb looking interior without the cargo space for your gear, a high-performance engine without the dependability that really allows you to take the road less traveled, and snazzy styling without the toughness to take you both in and out of your chosen adventure?
More often than not, the cars that manage the duality of purpose first need to have a proven base from which to start with. A track-honed Porsche 911 GT3 is nothing without first being a great Porsche 911, and likewise, an all-activity vehicle, that really goes anywhere and does everything – is nothing if it is not a sublime vehicle in the first place.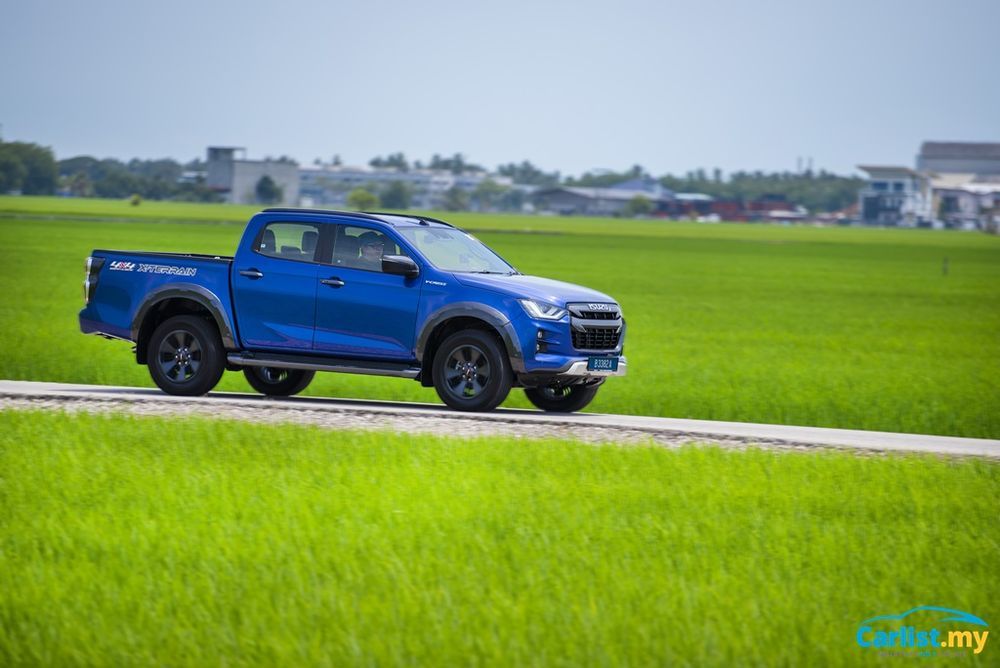 Wait, that is a pickup truck… and yes you'd be right! However, with over a century of expertise in creating some of the toughest and most rugged vehicles ever sold – they have the perfect understanding of first engineering the perfect base for creating a vehicle that sets the benchmark in terms of being able to do anything, and more importantly, go wherever your adventure takes you!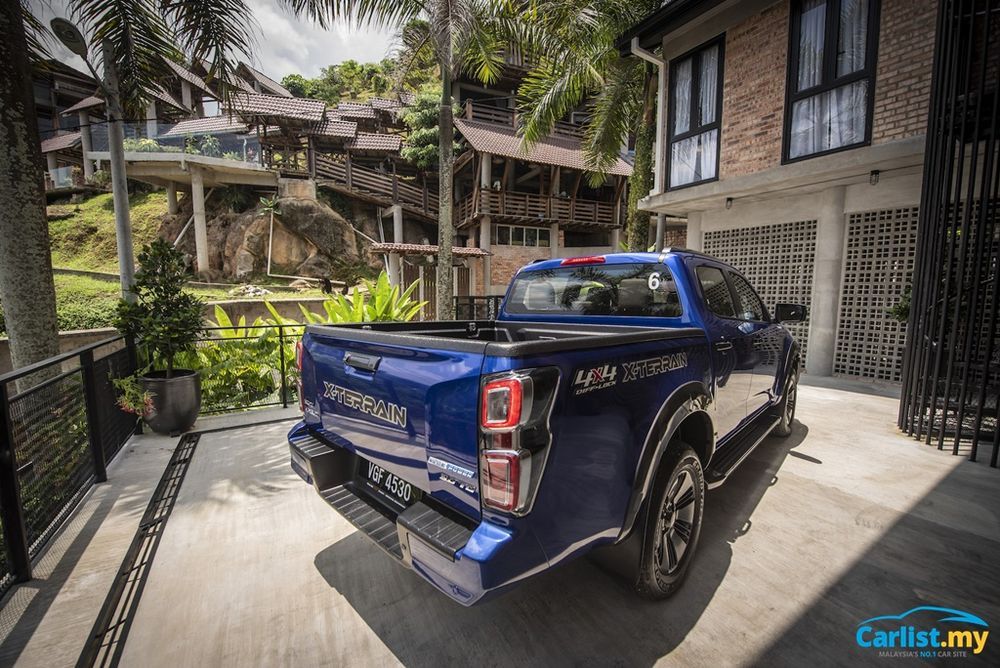 The All-New 2021 Isuzu D-Max X-Terrain now brings to the fore a proven mechanical platform that seamlessly blends the usability and toughness of a pickup truck with the trappings of luxury befitting the most discerning of expectations.
A pickup truck for work… and play!
At first sight, the sheer size and stature of the Isuzu D-Max X-Terrain speak of presence and individuality. Far from the more utilitarian nature of its predecessor – the all-new D-Max X-Terrain mixes sporty styling and sporty colours with the overall proportions of a traditional pickup truck.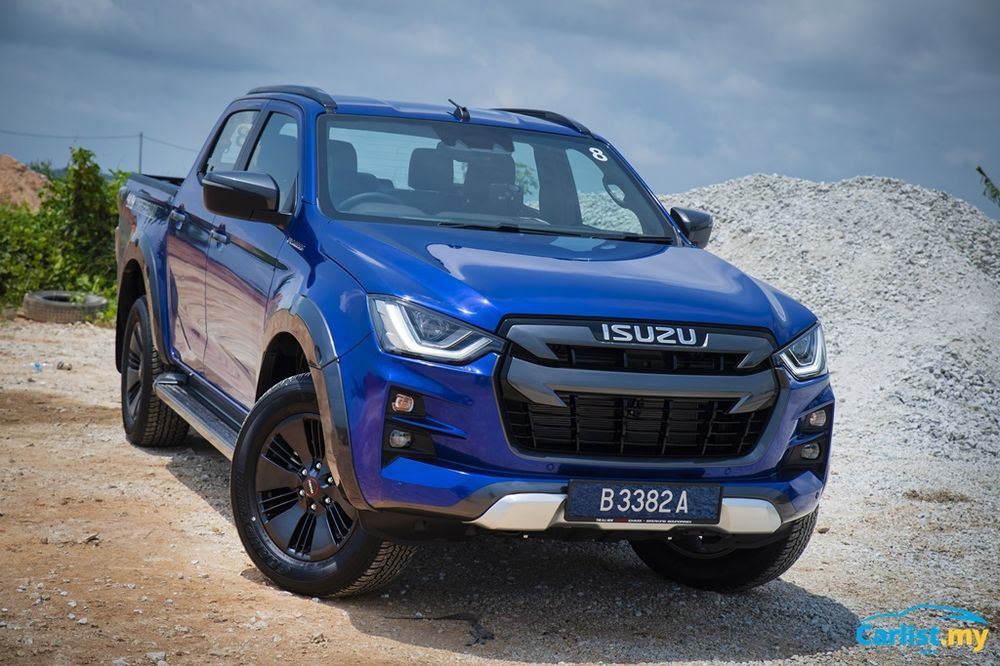 A front fascia that means business is highlighted by sleek-looking Automatic Bi-LED headlamps to provide a unique visual signature. Come round the sides, and the D-Max impresses with taut bodylines and muscular proportions courtesy of wide overfenders and 18-inch alloy wheels, giving it a brawny style.
Round the back, look closely or you'll miss the integrated rear bumper that joins seamlessly to the rest of the car's body architecture, giving the D-Max X-Terrain a clean rounded look, unlike others within its segment. LED rear taillights likewise flank a traditional rear tailgate equipped with Isuzu's "tailgate assist" function for a nice functional, yet technical finish.
A tough yet classy interior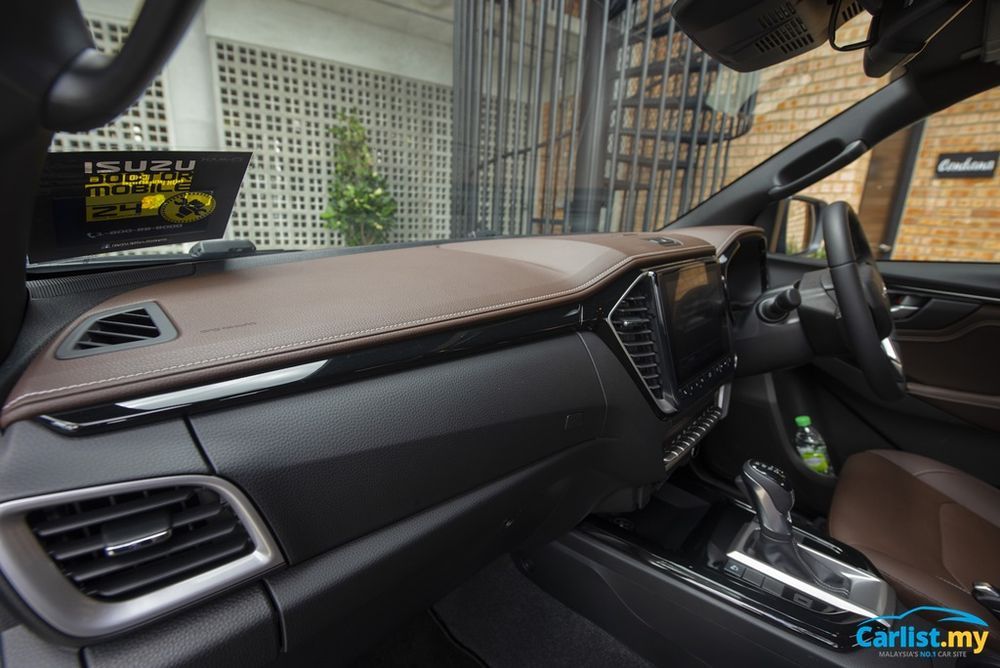 Open the wide doors of the D-Max X-Terrain and find a contrasting coloured and cossetting leather interior – notice the ergonomically designed front seats and the overall architecture that highlight functionality and minimalism. Everything in its place, and a place for everything. The rear cabin space is equally well-engineered for both the family (and your friends) with spacious rear headroom and legroom to impress even the fussiest of passengers.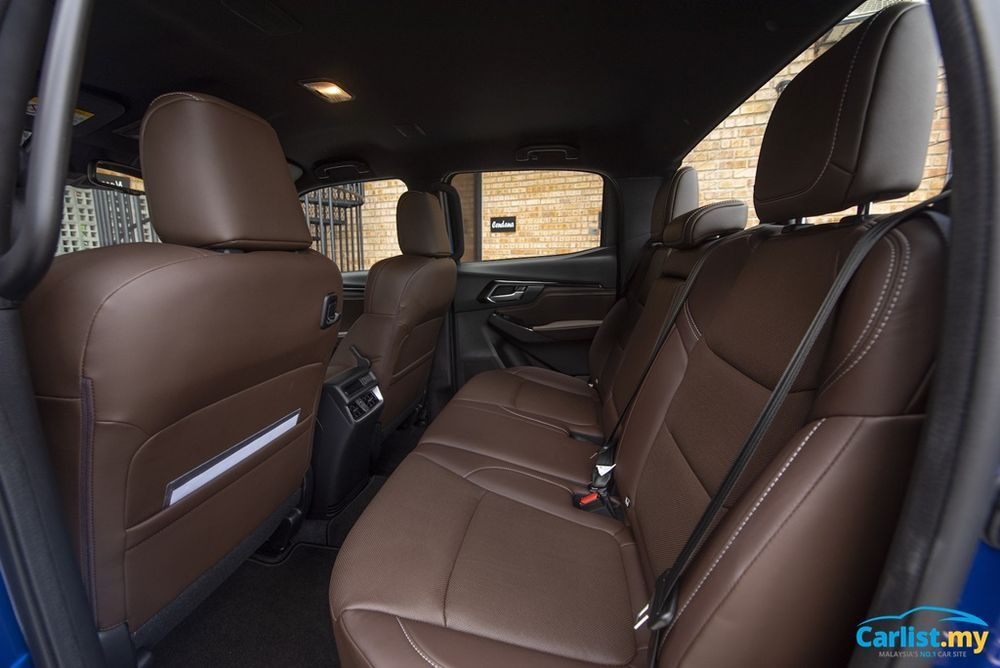 Soft leather trims the most important interior touchpoints such as the seats and steering wheel – while the automatic dual-zone climate control system, steering wheel-mounted controls and 8-way powered driver's seat ensure you have a comfortable and fuss-free place to be in even on the longest journeys. Seven-airbags yet again make the insides of a D-Max X-Terrain one of the safest zones for you and your family.
Power and reliability that goes anywhere…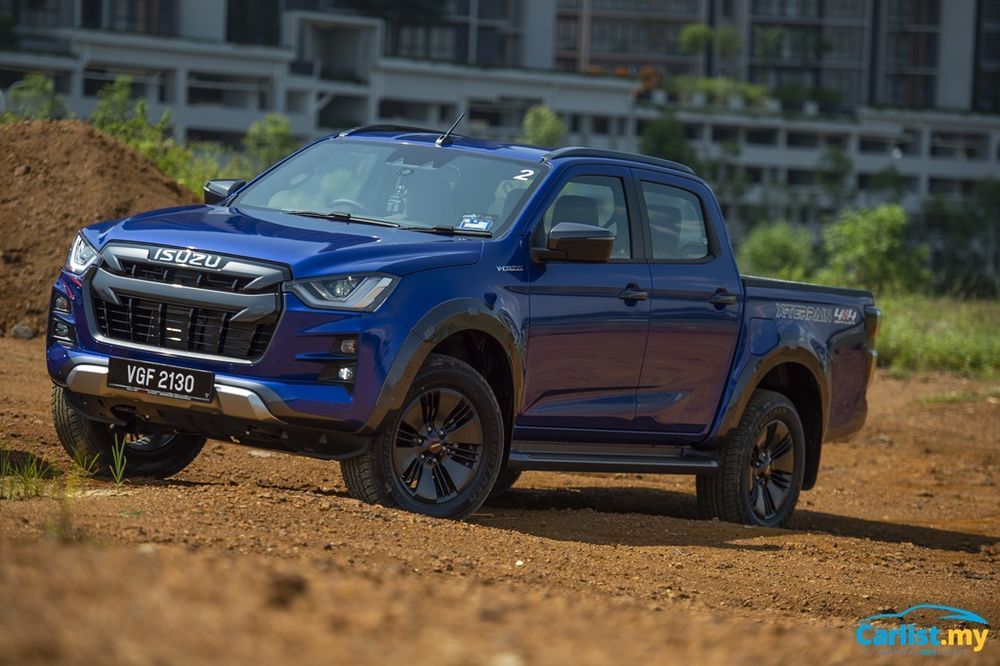 Drivetrain engineering is an aspect that Isuzu rarely needs to speak about. Developed from millions of miles of reliability and honed (locally) from the experience of 11 completed Borneo Safari Expeditions on the backs of their trucks – durability, reliability, and fuel efficiency is at the heart of every Isuzu vehicle.
Built on Isuzu's new Dynamic Drive platform – it's larger, higher and wider than before with more structural reinforcements. This ensures greater toughness, better driving dynamics which is required, because of all the power the D-Max X-Terrain delivers.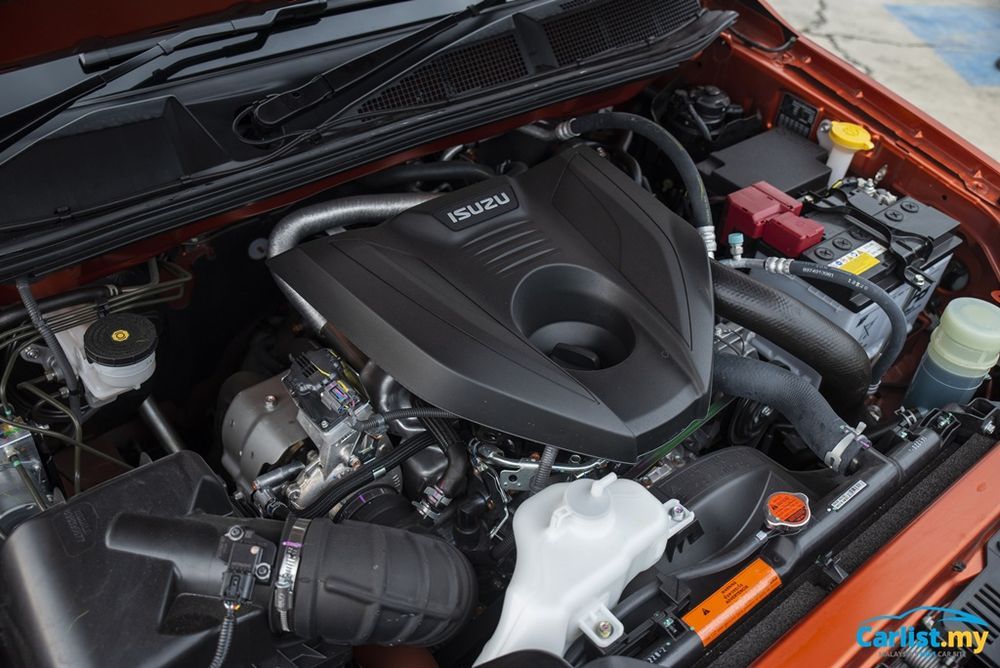 Powered by the latest generation 4JJ3-TCX engine with a new common-rail injection system, and an electronically controlled VGS turbocharger, the X-Terrain's power unit outputs 190PS and a whopping 450Nm of torque between 1,600rpm - 2,600rpm. Power is sent to all four wheels through a new 6-speed automatic transmission – governed by Isuzu's 'Terrain Command' 4WD system which allows switching between 2H and 4H modes (while driving) within 0.61 seconds.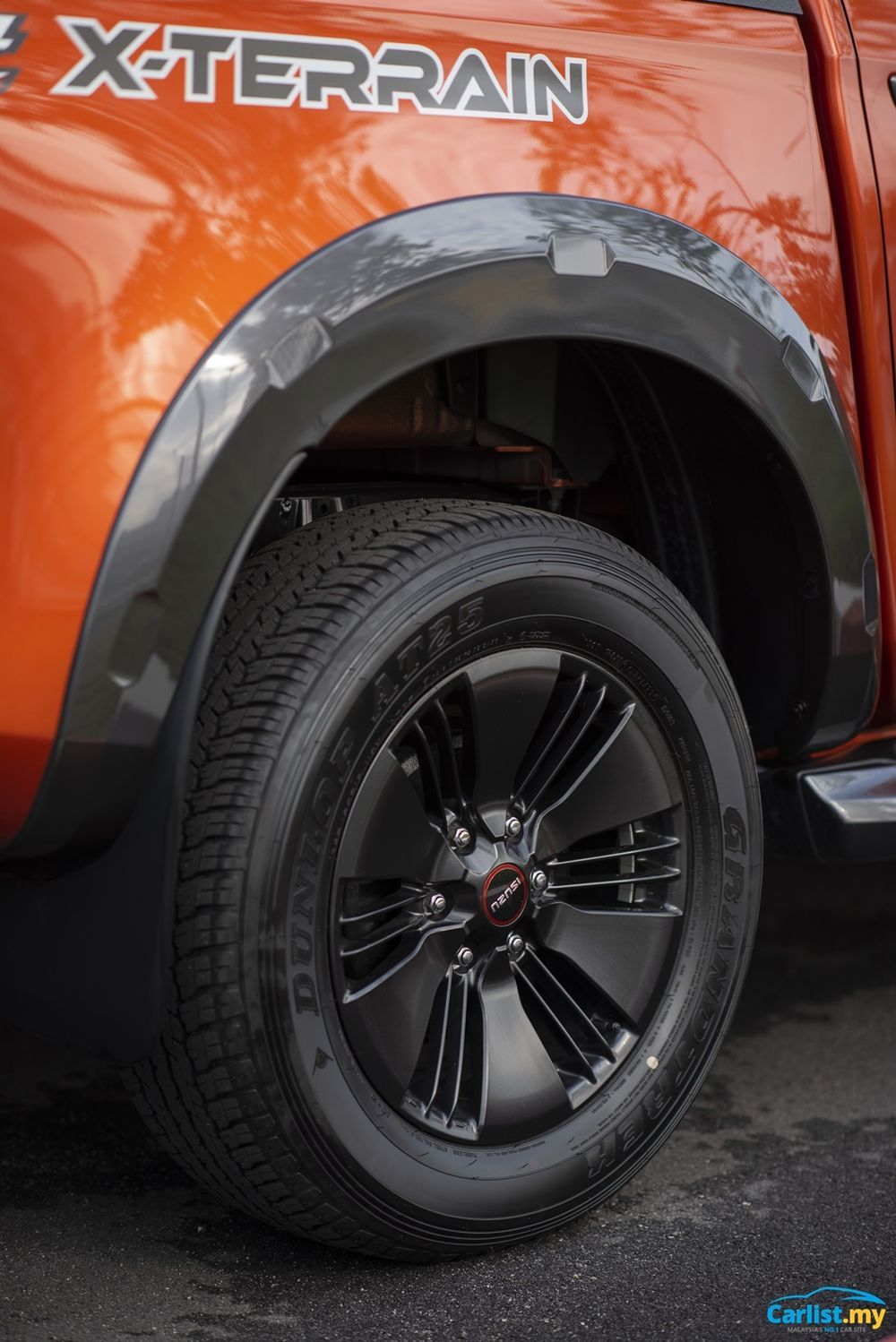 Separately, a rear differential lock – offered when in the X-Terrain's most aggressive 4WD-Low Range mode offers a 50/50 percent torque split between both rear wheels to ensure you get out of the toughest off-road obstacles. Another crucial development of the all-new Isuzu D-Max is its water wading ability – with some clever engineering, the D-Max is now able to pass through standing water of up to 800mm with no issues.
Packing both brawn and intelligence…

Of course, just being tough is not enough in this day and age, that's why the Isuzu D-Max X-Terrain is equipped with a comprehensive suite of Active Driver Assistance Systems or ADAS functions that help keep you and all your passengers safe.
The comprehensive suite of ADAS which include a number of first in class features elevate the D-Max X-Terrain beyond the boundaries of pickup truck and into the realm of premium SUV offerings with the following:
Blind Spot Monitor (BSM)
Rear Cross Traffic Alert (RCTA)
Forward Collision Warning (FCW)
Autonomous Emergency Braking (AEB)
Turn Assist
Pedal Misapplication Mitigation
Adaptive Cruise Control (ACC)
Automatic High Beam (AHB)
Lane Departure Warning (LDW)
Drive it to believe it…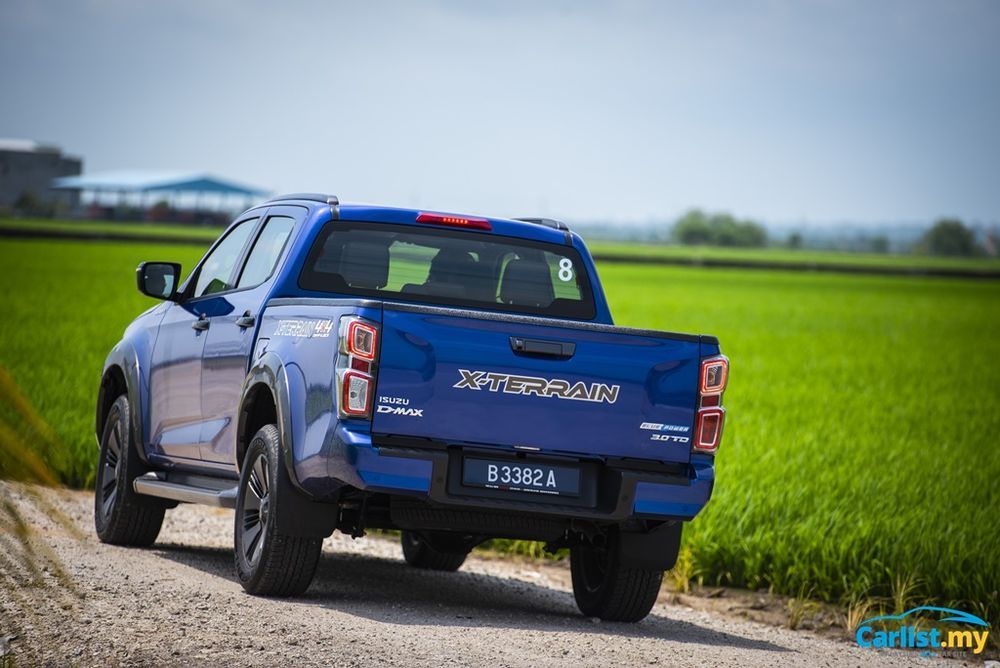 The All-New Isuzu D-Max X-Terrain is now available for viewing and test drives at all authorised Isuzu dealerships nationwide, prices start at RM141,938.
---
---
---
Comments